Wimborne AGS Show, 2016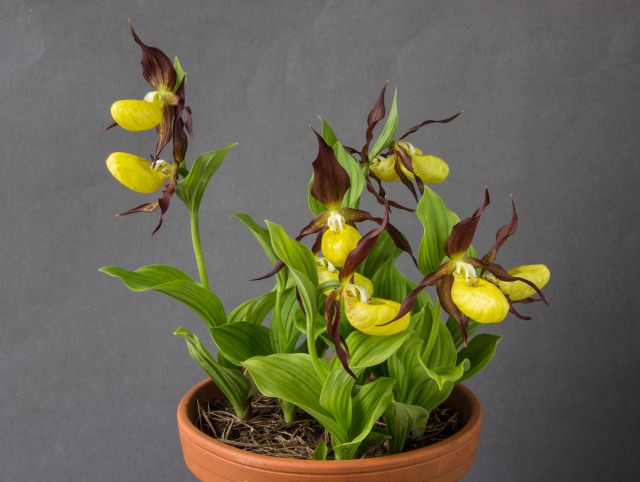 This was a very enjoyable occasion, for all that several members and nurserymen were heard to comment on the disadvantages of arranging a Show that coincided with a Bank Holiday weekend. This part of the south coast brings its own considerable traffic chaos which was very evident on this occasion. The pleasant modern venue is maybe just a step too far for some of the exhibitors comfortably to carry plants from their vehicles to the show bench! This aside - the show was its usual success with a helpful and friendly welcome from show secretary Bill Squire. The benches were a little bit thin in places, mainly the result of the preceding 'confused' seasons but at the same time included plants of high quality and interest. In view of the limited number of venues offering photographic classes this year, the show was enhanced by a strong competitive exhibit of first-rate images occupying the entire length of one side of the hall together with two small non-competitive photographic exhibits - namely 'The Greek Peloponnese in Spring & Autumn', the second comprising some mainly unnamed primulas.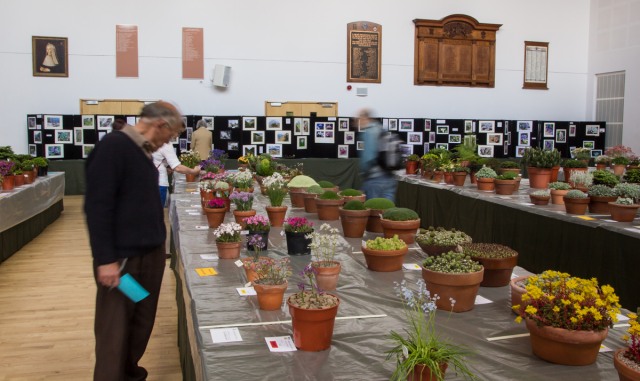 In addition, the adjacent hall attracted a bevy of nurserymen - some of whom had travelled very long distances to attend with their usual inclusion of tempting wares. Each time I entered this part of the show I was aware of a noisy buzz of enjoyment with almost everyone carrying purchases in an assortment of boxes, bags and baskets. Finally, the food and beverages were tempting and abundant with opportunities to sit and enjoy these in pleasant surroundings, both inside and alternatively outside on the campus. All in all, an excellent shop window for the AGS. My journey home through narrow and rural lanes, some in Hardy's Dorset country, made light of the news on my car radio that the M5 motorway was experiencing a 60 mile, almost stationary queue! I feel that this justifies my opening sentence and should be taken into account when arranging next year's show programme.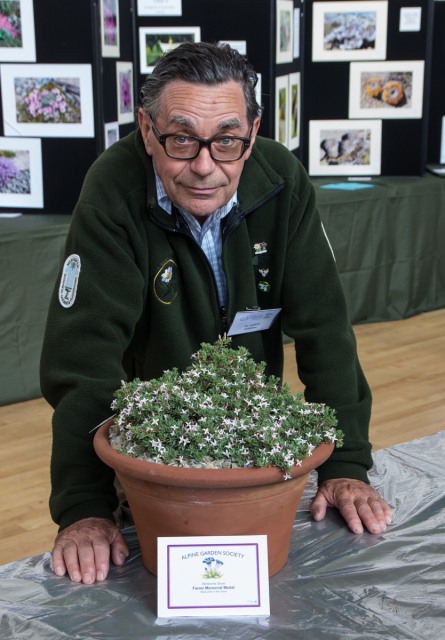 The Farrer Medal was awarded to Vic Aspland's Daphne jasminea. Much has been written in respect of this genus and this species has received accolades on many occasions. All I need to add is the plant exhibited on this occasion was a large, compact and well-furnished specimen of the prostrate form, appropriately and neatly top- dressed with limestone chippings. Quite often it is the exhibitor's response upon learning that their plant has received this coveted award that I find of interest, while at the same time taking the opportunity to share in their pleasure. This time was no exception. Vic is a long-time exhibitor whose name many members will associate with Cyclamen, together with informative contributions on various topics to The Alpine Gardener et al over many years. This represented the first time that this coveted award had come his way and it was evident that he was overcome with excitement and emotion. Nevertheless, he was able to recount that his recipe for successful cultivation and longevity: his plant is grown in an outside raised plunge frame with overhead protection provided by clear corrugated PVC sheeting during the winter periods – so not too much cosseting. For full details of Vic's plunge frame, see his article 'Design and Build' in the June 2007 issue of The Alpine Gardener.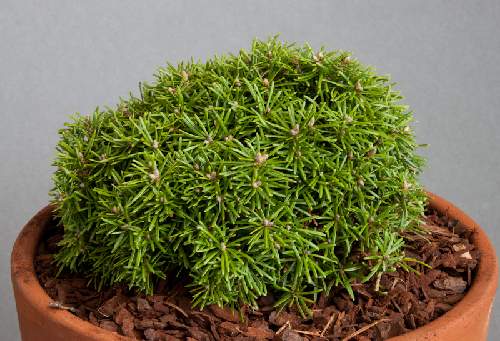 An above average number of dwarf conifers was apparent on the benches; I counted 35! Which one took my eye? Abies lasiocarpa 'DuFlon' is my nomination, mainly because it mirrored my own plant which has been growing happily in a trough for twenty-five plus years. By coincidence the plant at Wimborne also belonged to Vic Aspland and was in an excellent state of health and presentation. The judges had obviously explored its inner parts and established no evidence of brown, decaying material. An almost spherical dome of rich-green needles some 10-12 cm diameter, this conifer has an annual expected growth of between 1 and 2 cm, making it a prime choice for pot and/or trough culture in the knowledge that unlike so many others it will not outgrow its position. It was found in the Olympic National Park over 60 years ago and has had a somewhat chequered career in respect of the numerous spurious spellings that exist in the trade such as "Duflon" or "Du Flon". 'DuFlon' is correct, as confirmed by reviewing public records. I can add that it roots fairly easily, albeit slowly, from very small cuttings in a 50/50 moss peat/grit or moss peat/Vermiculite mix positioned in a semi-shaded site. [Photo: David Philbey's plant, shown at the Southwest Show, 2011].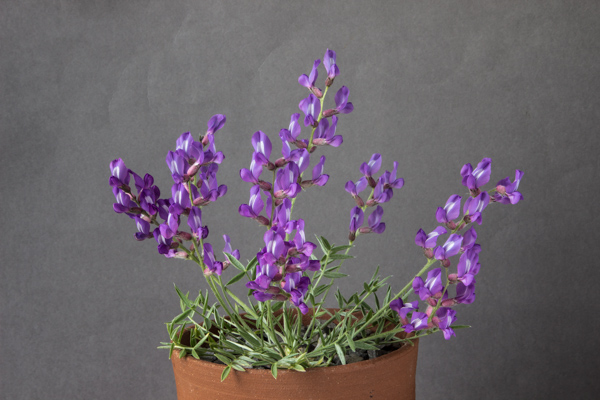 It is too easy and somewhat presumptuous to typecast certain exhibitors alongside specific genera - so be it. Nevertheless, if I am honest it came somewhat of a surprise to find the owners of Oxytropis lambertii (Purple Locoweed) were Lee & Julie Martin. Consider my knuckles rapped. It is a showy member of the Fabaceae that is quite common throughout the central United States. The flower spike was approximately 15 cm high but it does grow somewhat taller in the wild. Its numerous stems of mauve flowers arise directly from the base of the plant. The name Oxytropis refers to the abruptly pointed tip of the keel petal, this acting as a diagnostic feature. The Martins confirmed that they had only been growing this plant for around a year in a compost comprising a mix of 25% loam and 75% grit and sand, commenting that it requires regularly moving on into a larger pot and is long-lasting in flower. Its alternative common name is 'crazyweed' in view of its poisonous phytotoxins which are extremely harmful to livestock, particularly equines. Should this be a warning for horse-owning members?
I've a particular fondness for Ericaceae and two of my choices from this show belong to this family. The first, Menziesia 'Shepherd's Delight', was exhibited by Russell Beeston. One doesn't necessarily think of this deciduous shrub as a true dwarf, for its ultimate height is in excess of one metre with similar dimensions in width. This group of hybrids is the result of crossing M. ferruginea with M. ciliicalyx 'Buchanan's Dwarf' and came about through the combined talents and paint brush of Barry Starling. Plants of this hybrid named M. 'Spring Morning' were selfed and subsequent generations of seedlings raised. He claims that M. Shepherd's Delight is one of his favourites, 'having the most glaucous leaves with deep warm rose-pink flowers reminiscent of an evening sky just after the sun has disappeared below the horizon' (presumably near his Dartmoor home?) Once planted they have no special cultural requirements other than an acid soil. He claims that propagation of this genus has proved difficult from cuttings, with a success rate of just one in seven! For those wishing to access one of the most informative articles of this genus, I recommend 'Menziesias: Cinderellas of the Ericaceae' by Barry Starling in the Rhododendrons, Camellias & Magnolias Year Book (volume 62, 2011).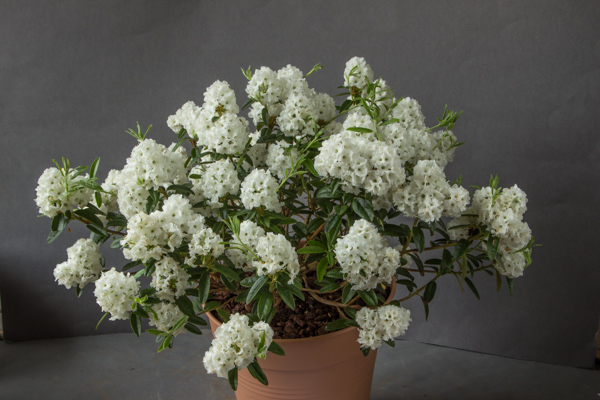 My second choice is Clive Dart's Rhododendron 'Arctic Tern' (Rhododendron trichostomum x Rhododendron [previously Ledum] groenlandicum). I have seen this American hybrid at two shows this year, some four weeks apart so presumably not the same specimen. On both occasions it was very heavily and immaculately flowered – no mean achievement for anything with upright trusses of pure white daphne-like flowers that have had car journeys to reach their Show destinations. It was this feature that 'shouted' for my show reporter's pen. On this occasion the plant was approximately 30 cm high and a precise count confirmed 51 trusses. It will require some judicious pruning to maintain as a container plant. The Wimborne plant was exceptional, displaying its abundant party dress to perfection.
I normally prefer my onions with some lamb's liver but was nevertheless very taken by Ivor Betteridge's pristine three-pan Allium entry, composed of A. bodeanum, A. shelkovnikovii and A. nevskianum – a trio of complimentary colours representing the Asian continent presented in their squeaky clean clay pots. They are generally plants of sunny and well-drained soils and their large globular flower heads are beneficial to some of our insect populations. Each of this exhibitor's selections was shown to perfection, with not a mark on any of the leaves and each flower perfect in every detail upon critical scrutiny. May be I need to widen my ornamental onion horizons!
The Novice Section, here as at most other Shows, was sadly very thinly supported. In fact Michael Powell from Romsey, exhibiting Disa sagittalis, provided the sole entry for the entire Section. The special awards (the New Forest Trophy and the Downland Trophy) were not in doubt with no other plants vying for consideration. Please surprise the Show Secretary next year by providing a large entry in all eight classes. This is an opportunity to support the show and very likely come away with a red sticker or two, at the same time making Bill Squire and his team happy people!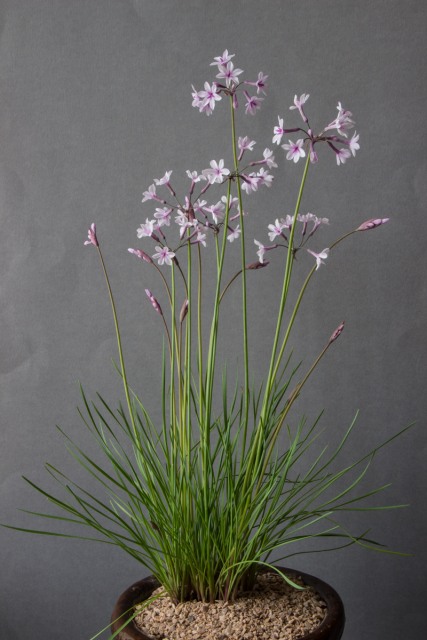 Tulbaghia (violacea) 'Purple Eye', shown by Patricia Parmee of Chandlers Ford – in comparative terms an almost local exhibitor – was most attractive. A very floriferous South African with umbels of starry pale lilac flowers with a deeper purple centre, this comparatively easy plant blooms over a very long period. It also demonstrated that it is not always the rare and the difficult that win first prizes. It is also a reliable performer outdoors in a sunny, well-drained spot.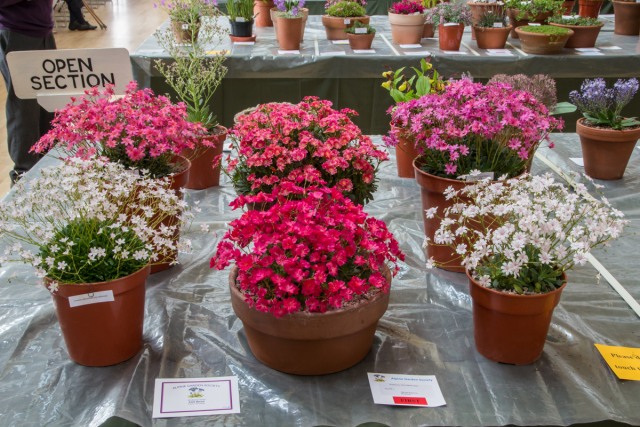 An AGS Medal was awarded to Martin Rogerson, who had travelled all the way from Derbyshire with a large six-pan entry of lewisias. I salute the high standards of skill, cultivation and presentation that underpinned this achievement, though I found the varied 'garish' colours somewhat difficult to appreciate.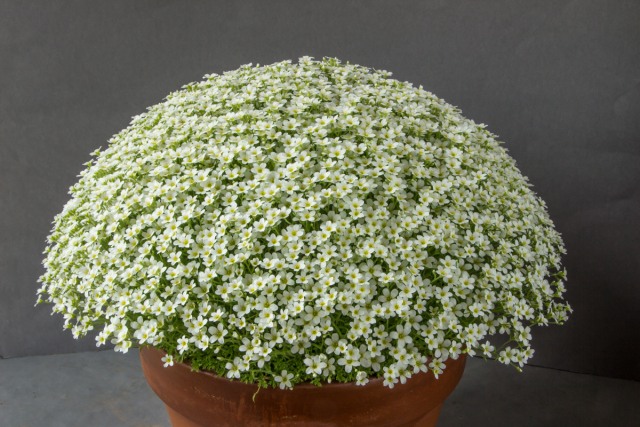 Certificates of Merit were awarded to excellent specimens of Asperula sintenisii (Alan & Janet Cook), Saxifraga cebennensis [right] (from AGS collected seed: David Hoare's very impressive plant was runner-up in the Farrer Medal stakes) and Cypripedium calceolus [top image], again from Vic Aspland. Additionally, Jean Morris received a Gold Award for an exhibit of outstanding merit, made up of a wide range of needlecrafts.
Author: John Sanders
Photographer: Jon Evans