Ulster 75th Anniversary AGS Show, 2014
The torrential rain on the drive from Dublin to Greenmount on Saturday, 5th April seemed to bode ill for the 75th Anniversary Show of the Ulster Group: visions of bedraggled exhibitors carrying equally bedraggled plants into the show hall persisted for most of the journey. But about four miles from the venue the rain began to ease, and, on arrival, stopped. So, from the outset, fortune smiled on this important milestone in the history of the Ulster Group and remained smiling throughout the day and evening.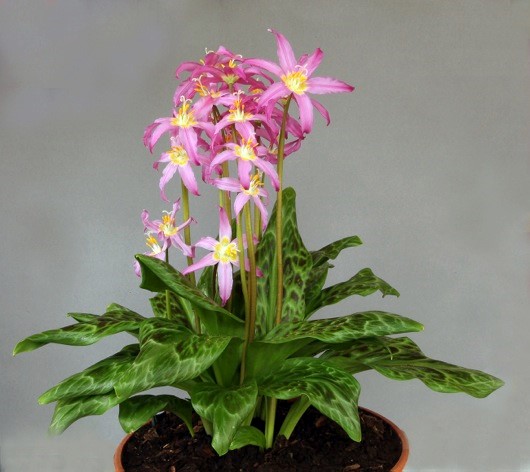 To mark the historic occasion the Joint Rock Committee, including AGS President David Haselgrove, met in conjunction with the Show and provided six heavy hitters from across the water to augment the panel of judges, which was headed up by Ray Drew, whose efficient but unobtrusive direction saw the judging completed in record time.
Pat Crossley, the Show Secretary, and her team are to be congratulated for all the hard work that went into organizing the event and the Joint Rock meeting, as well as the celebrations in the evening to mark the anniversary. Pat has been Show Secretary for 33 years and the Ulster Group owes her a great debt of gratitude for her perseverance over that time. Interestingly, she is only the third person to hold that position over a total of 75 shows.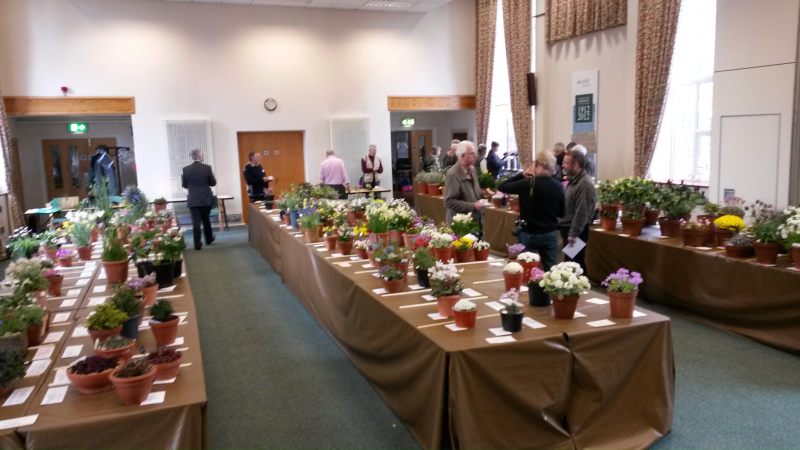 Although the number of plants on the benches was down significantly on the 2013 Show, the quality of the exhibits was overall exemplary, making for a display that was commensurate with such a prestigious occasion. In 2013 entries hit a record high due to the participation of a number of high profile exhibitors from England and Wales, and because the Show was much later in April. In most seasons the show held on the later date, whether in Ulster or Dublin, has more entries. While there were no exhibitors from England this year (apart from in the Artistic Section) the plants staged by visitors from Scotland and Wales made a very significant contribution to the overall display.
Entries in the Artistic Section were also down slightly. Here the honours went to Jon Evans for photography and to Jean Morris for art, both exhibitors from England, although local photographers Joan and Liam McCaughey fared very well.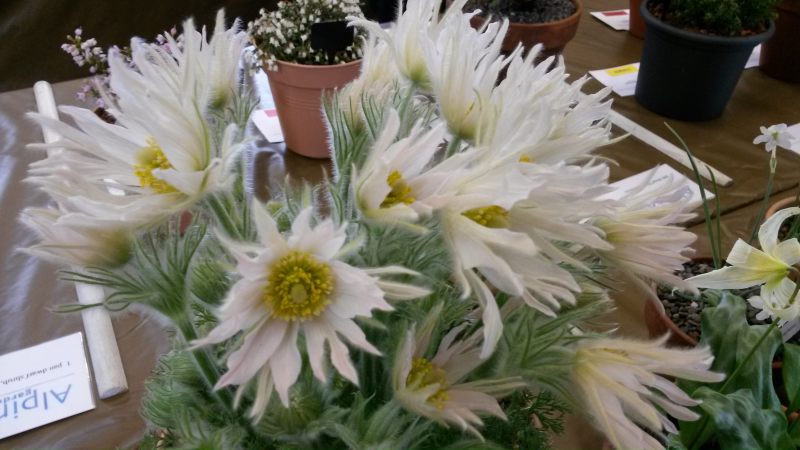 And so to the plants. The award for the most first prize points in the Novice Section went to Mac Dunlop of Glenoe, Larne, as did the trophy for the best plant in that section, Fritillaria graeca subsp. graeca. Kay McDowell of Limavady won the Intermediate Section and her Pulsatilla vulgaris 'Papageno' [right] was selected as best plant. One would like to see more exhibitors in these sections, as the future of the shows is dependent on new people getting involved in showing.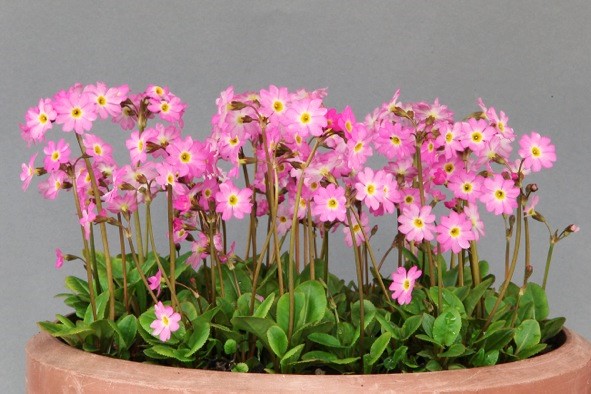 Harold McBride can always be relied upon to have an entry in the large six-pan class at both Irish shows. His beautifully balanced AGS Medal winning exhibit included an Erythronium revolutum selection of his own raising with upward facing flowers,'Waverley Form' [top image]. I was impressed by his large pan of Primula 'Peter Klein' [left] with each plant in the pot fresh and in full flower. Harold was also awarded a Silver Medal for his non-competitive exhibit entitled 'Growing Plants from Seed'. This exhibit showed clearly the path from seed, through seedlings, to a sumptuously planted trough packed with choice alpines, and would surely have prompted visitors to the Show to think about joining the Society.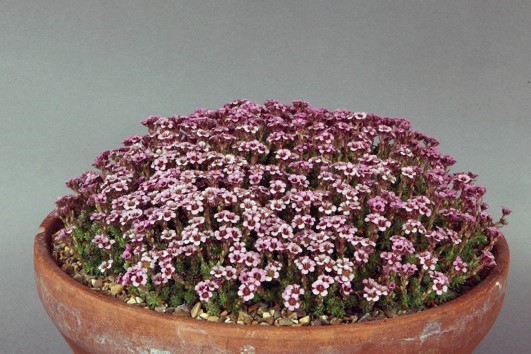 Carole and Ian Bainbridge travelled from Edinburgh, winning the AGS Medal for the small six-pan class in the Open Section. They were also awarded the Festival of Britain (Northern Ireland) Trophy for their three-pan entry in Class 2. Their well-flowered plant of Saxifraga 'Marsyandi' in this entry was much admired.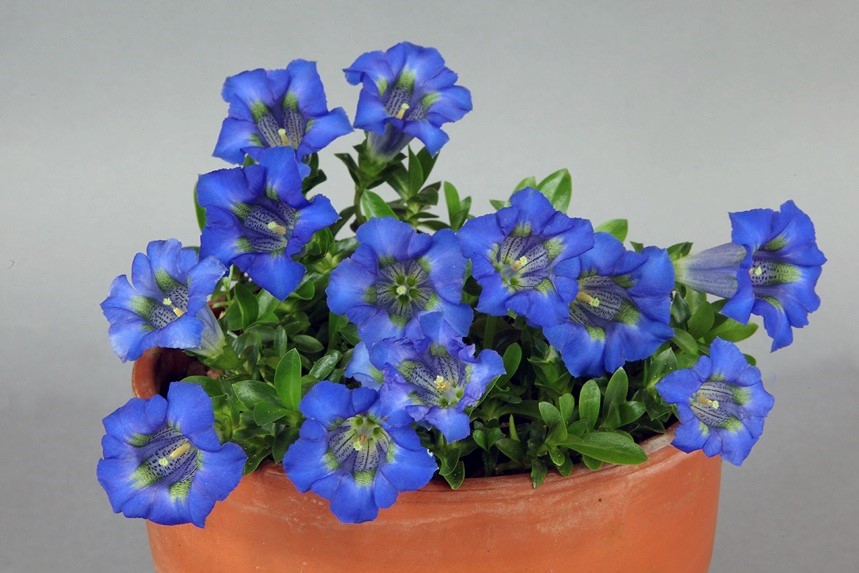 Gordon Toner of Limavady received most first prize points in the Open Section. He also won the Cowan Trophy for his lovely Gentiana acaulis, which had flowers of the most beautiful blue that I have ever seen in this species.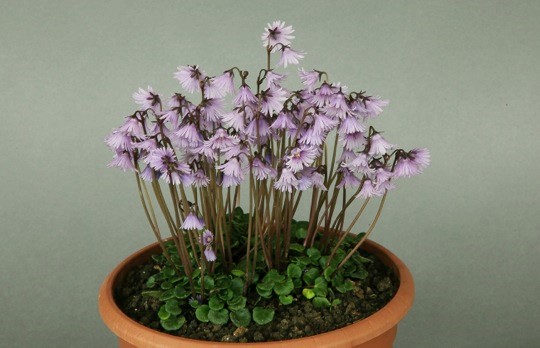 The award for the best plant in a 19cm pot went to Paddy Smith for his very floriferous Soldanella carpatica x pusilla [right], which also was given a Certificate of Merit. Val Keegan of Bray received a Certificate of Merit for a perfect potful of Tropaeolum azureum. This plant was shown at the 2012 Ulster Show and was written about on that occasion. It remained dormant throughout last year and had clearly benefitted from its sabbatical.
Ian Leslie's Tulipa cretica was given a Certificate of Merit. This delicate looking plant is surprisingly hardy and weather resistant and is amenable to pot culture. Ian's exhibit was faultless and was considered a particularly nice colour form. Ian is from Bangor, Wales, and exhibits regularly in Greenmount and Dublin. He had several other noteworthy plants on the benches but space does not allow me to mention them, nor the excellent exhibits of his compatriot, Tim Lever of Aberconwy Nursery, who along with Ian, I am glad to say, looks like becoming a regular exhibitor at the two Irish shows.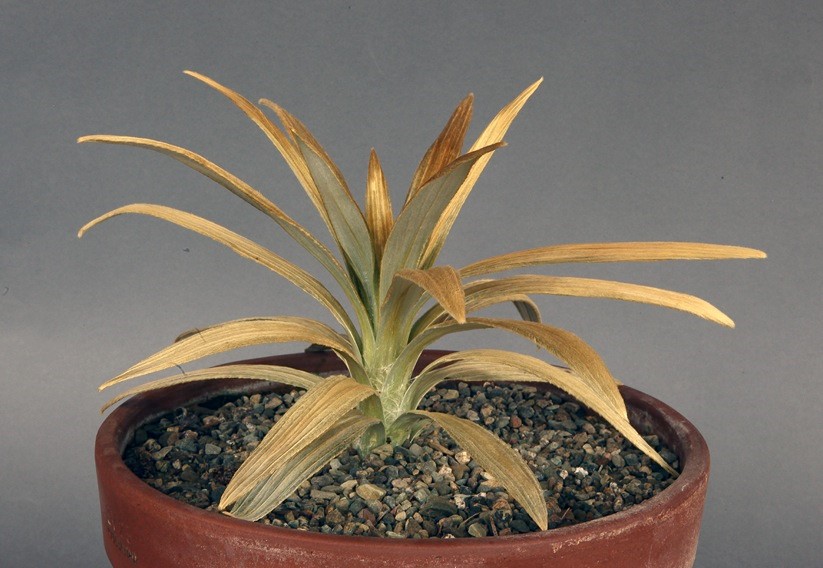 A plant that attracted a lot of attention was Susan Tindall's (Ballynahinch) gorgeous Celmisia semicordata subsp. aurigans, which was judged the best plant from Australasia and given a Certificate of Merit. Susan raised her plant from seed received in 2011. This plant is a native of New Zealand's South Island, growing in rocky sites in eastern and south-central Otago.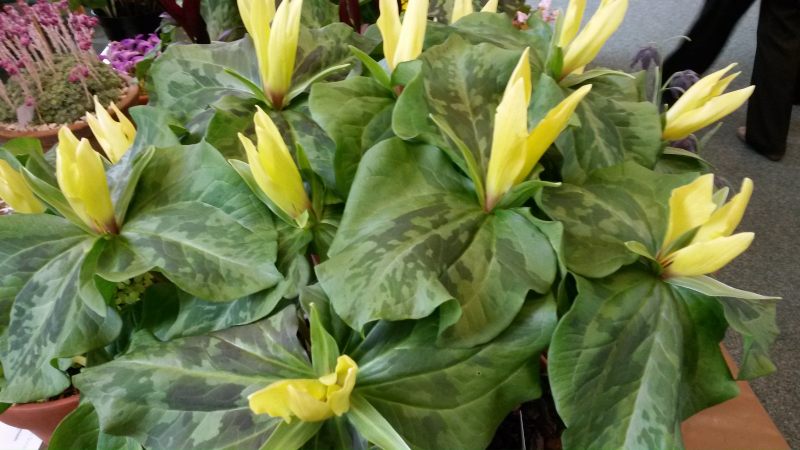 The Farrer Medal went to a yellow-flowered form of Trillium chloropetalum exhibited by your reporter. This species has been self-seeding for some years in Bob Gordon's garden in Portglenone and he noticed that attractive colour variants were appearing. Six or seven years ago Bob gave me some seedlings, suggesting that a few might be yellow. In 2013 I had a fine clump with a good yellow colour in the garden and resolved to lift it for this year's show. I followed Gordon Toner's advice, given to me at the 2013 Show, by lifting and potting the plant last August, burying the pot for the winter and lifting it again in February to avoid the shoots incurring slug or wind damage. It is a superb garden plant and was awarded an AM by the Joint Rock Committee. I proposed the clonal name 'Bob Gordon' as a small tribute to a first-rate, very generous plantsman. Yellow forms of T. chloropetalum have been found in the wild in parts of California near to San Francisco.
This successful and enjoyable show was celebrated in fitting style by a reception and dinner in Parliament Buildings, Stormont, Belfast, kindly hosted by Councillor Mervyn Storey MLA. There were speeches of thanks and congratulations to everyone who helped make the 75th Ulster Show such a resounding success.
Author: BIlly Moore
Photographers: Jim McGregor and Heather Smith