Ulster AGS Show, 2012
There are several obvious criteria for assessing the success or otherwise of a show (such as the number of exhibits and the quality of plants) but one factor is often overlooked: was it a happy occasion? Answers to this question can only be subjective, for one person's 'happy show' may be another's disaster, depending on how the judging turns out. In particular the bestowal of a Farrer Medal is likely to be an unforgettable event for the winner.
For me, and, I think, for most people present, this year's Ulster Show was a really happy event. Certainly the number of exhibits was down but there were numerous plants of high quality. My own enjoyment of the Show came not from personal triumphs on the benches - in fact, I managed to scrape only one first - but from seeing happy, smiling faces all around. I don't know what steps show secretaries should take to bring this about, but Pat Crossley (who after over 30 years in the job must be one of the longest-ever serving AGS show secretaries) got things just right. Thanks are due to her and her team for ensuring that everything ran so smoothly, and also to Director of Shows Ray Drew for his firm but unobtrusive mediation.
Before coming to the plants, mention must be made of the excellent Artistic Section where, with six firsts, Joan & Liam McCaughey bagged the aggregate award, as well as Certificates of Merit for two of their entries. A Gold Award was given to David Lapsley's non-competitive photographic exhibit, 'Spring and early summer in my garden'. This comprised a series of excellent photographs, mainly of alpines, taken by David from April through to June last year.
The Novice Section was very good, thanks largely to new exhibitor Mac Dunlop, who received most first prize points and whose well-flowered Cyclamen persicum was deemed best plant in flower in that section. Grown from seed and potted on a couple of times, the corms had been in their present pot for three years, getting just an occasional feed. There were probably four corms in the pot, accounting for the variation in flower colour and leaf pattern, which made for an eye-catching exhibit. Mac is a very welcome newcomer: judging by the quality of his exhibits, he will soon be competing in the Open Section.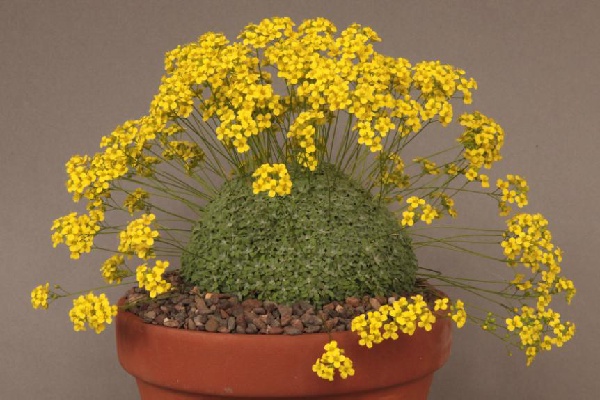 The number of exhibits in the Intermediate Section was disappointing, due mainly to the recent exodus of several key exhibitors to the Open Section. The best plant in that section was adjudged to be Joan & Liam McCaughey's Draba longisiliqua (they're not just photographers, you know). From the Caucasus, this is a relatively straightforward species for the alpine house, needing a free-draining, low in loam compost and a draughty position. Kay McDowell received the award for the most first prize points in the section.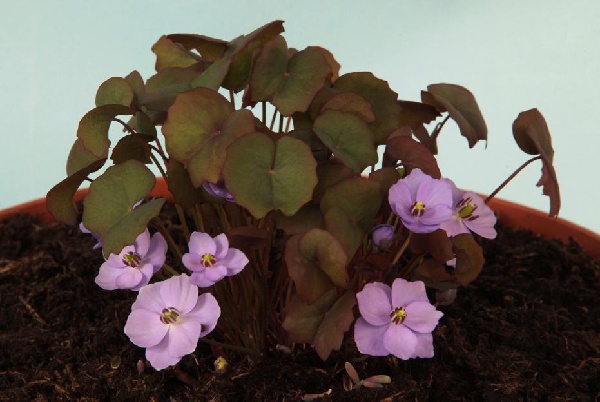 A plant in the Open Section I found particularly appealing was George & Pat Gordon's delightful Jeffersonia dubia, seen in its very early stages of growth. With age the leaves turn light green and the flowers take on a pale lavender blue shade, but it remains a beauty. One of the aristocrats of the woodland garden, from north-eastern China and Korea, it likes a humus-rich soil in dappled shade and is fully hardy. Raised from NARGS seed, the plant is kept in its pot in the greenhouse, in a typical woodland compost, and receives full sun as the flower buds emerge.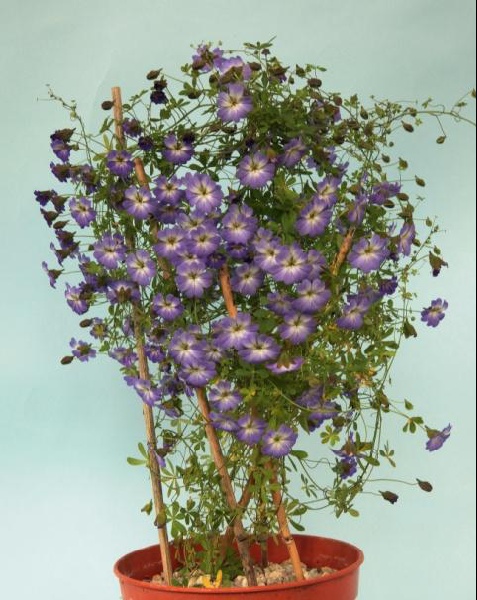 Tropaeolums can be difficult to present for exhibition, often requiring elaborate structures to support their climbing growths that look out of place on the showbench. This is especially true of T. tricolor (which can grow 1m or more high), but T. azureum is more modest in growth and a more suitable subject for competitive display. Annoyingly though, even when its flowers are perfect and the upper foliage is fresh, the lower leaves tend to turn brown, spoiling the overall appearance of the plant. Not evidenced in Val Keegan's exhibit, which was pristine but achieved only a second in its class, an example of the stiff competition in the Open Section. This desirable plant, from the foothills of the Chilean Andes, is easily raised from seed and can be kept going if it is re-potted regularly and kept completely dry when dormant. In my experience it is hardier than sometimes suggested, one specimen having endured several degrees of frost in my alpine house over a number of years.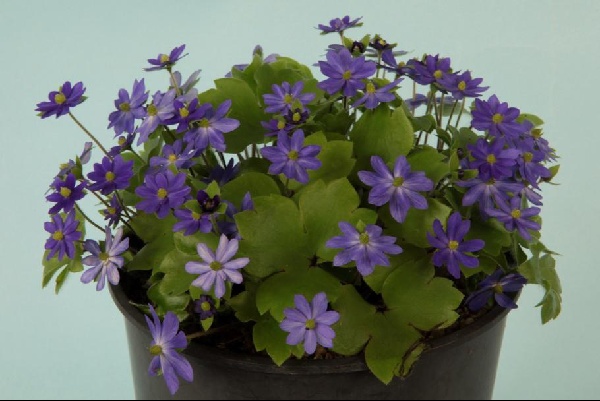 Hepaticas don't often feature at the two Irish Shows because they are usually over by the customary April show dates. But this year, Ian Christie showed the lovely Hepatica x media 'Millstream Merlin', which having been brought from one of the coldest parts of Scotland, was still in good flower. It was judged the best plant in a 19cm pot and was widely admired. Completely sterile, it has to be reproduced vegetatively by careful division, either in very early spring, or the autumn.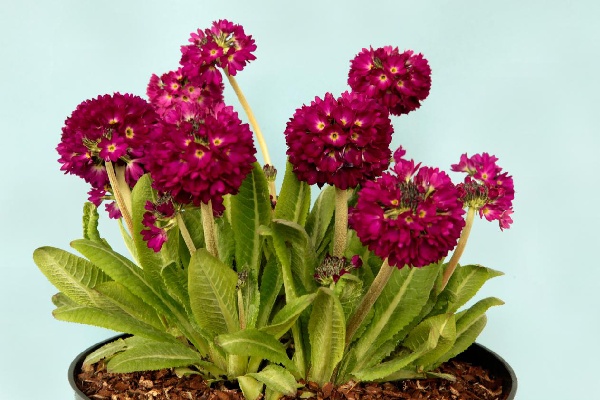 Another exhibit from Ian was his very floriferous, vividly coloured Primula denticulata 'Rubin Ball' which positively glowed on the bench. It is a German selection of this well-known and easy Asiatic species which varies from pure white to almost crimson in flower colour. He has had it for more than ten years and propagates it by division only, lifting it from the garden for the Show.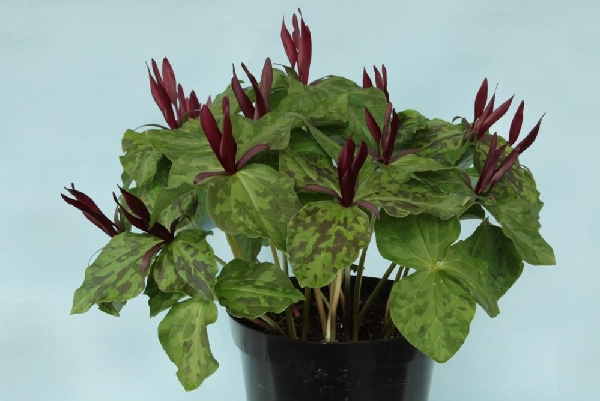 Trilliums are traditionally a mainstay of the Ulster Show and Gordon Toner showed a fine example of T. chloropetalum with really dark flowers and a wonderful spicy scent. Grown from seed sown in 2002, it had been lifted from the garden about two years ago and kept in a pot thereafter. A compost consisting of 50% each of leaf-mould and good loam is used, with an occasional top-dressing of blood, fish and bone.
As can be seen from the photograph there was more than one seedling present, judging by the variability in the 'leaf' patterning, although the flower colour was uniform. But this species is notoriously variable both in flower colour and leaf pattern and there is often the suspicion that in some forms a degree of hybridisation may be a factor. Gordon's exhibit was very pleasing to the eye, and to the nose.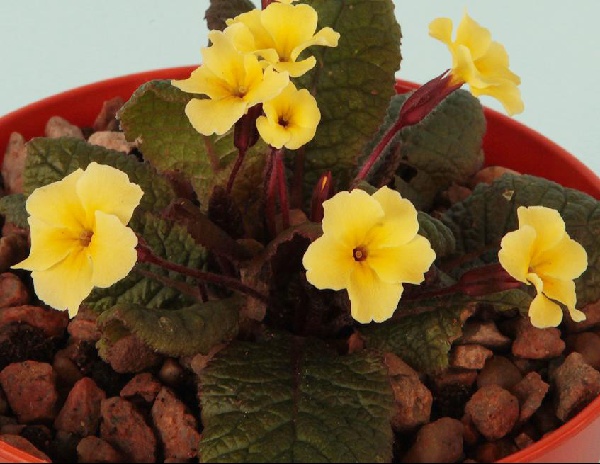 Liam Byrne once again received the award for the most first prize points in the Open Section as well as a Certificate of Merit for an excellent Lewisia tweedyi in abundant flower. He also exhibited, as part of a multiple pan entry, Primula vulgaris 'Maisie Michael', a plant raised by Joe Kennedy of Ballycastle, Co. Antrim, who is a lifelong amateur breeder of old Irish primroses and who featured on BBC2's 'Gardeners' World' on the evening before the Show. This lovely primrose was named for the late Maisie, a prominent and most popular member of the Ulster Group until her death 25 years ago. It is an excellent garden plant and should be more widely grown.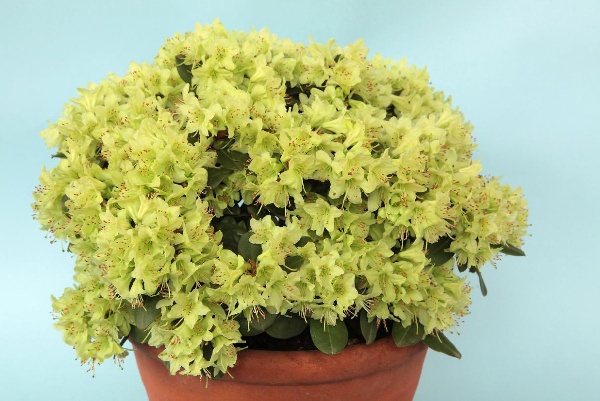 Harold McBride had a typically very successful show, winning a plethora of awards including the Farrer Medal, which was unanimously bestowed on his sumptuously flowered Rhododendron ludlowii hybrid. Harold bought this in 2005 from a Suffolk nursery in a 10cm pot and grows it in the open garden, from which it was lifted in February and potted up for the Show. (Ed. This looks very much like one of the Glendoick 'Bird' hybrids involving R. keiskei var. ozawae 'Yaku Fairy' such as 'Wren', flowering a week or two earlier than one might ordinarily expect.)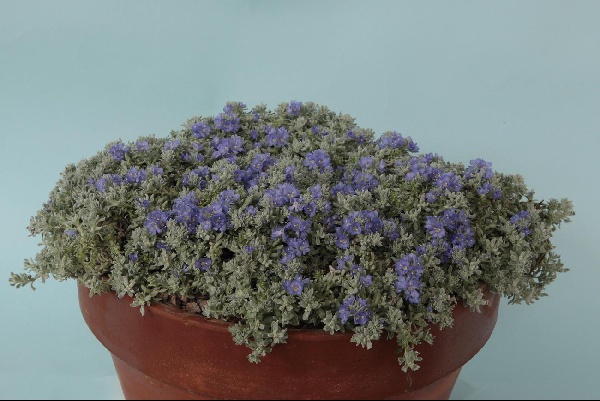 Harold was awarded Certificates of Merit for another well-flowered rhododendron, R. pumilum, and for a large pan of Veronica bombycina var. bolkardaghensis, a Turkish endemic for the alpine house requiring perfect drainage and great care with watering in order to stave off botrytis. As an added precaution Harold places 5cm of grit under the plant to protect the foliage from excessive damp.
Well done to all the exhibitors who, no doubt, are already considering plants that will be in peak condition for the Dublin Show on 28 April. I am sure that this too will be a happy show.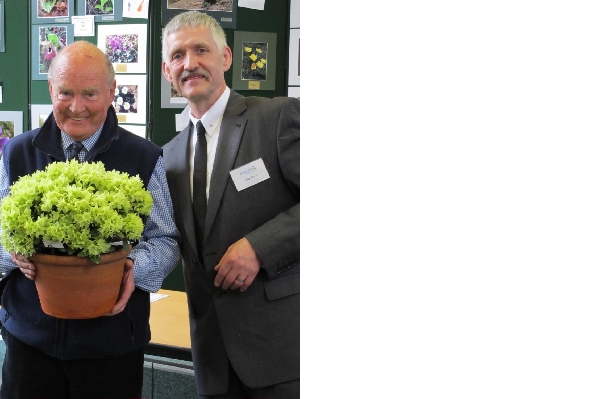 Author: Billy Moore
Photos: Heather Smith