Sussex AGS Show, 2005
A little to the north, the vineyards of Dorking glowed golden in the warmth of an Indian summer; a little to the south, sunbathers crowded Brighton beach. Little wonder that the Mediterranean bulbs and corms normally so colourful at Horsham had largely taken their chances earlier, responding to a brief dip in temperature and whatever moisture came their way, and were long since over by this, their traditional flowering date in British gardens.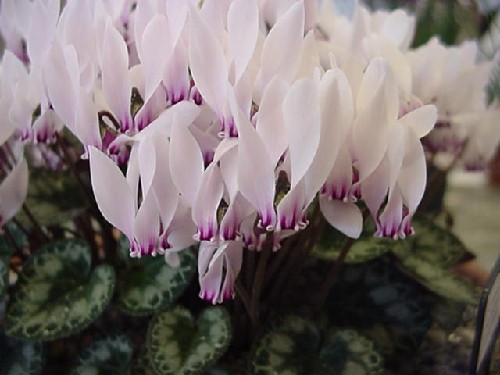 A few considerately persisted – three pans of Galanthus reginae-olgae 'Cambridge' (I. Betteridge) upheld its reputation as perhaps the finest selection to date; a novel clone of C. boryi, 'Brimstone', came through the ground fierily, opening cream with yellowish margins (A. Edwards); a large pot of acid yellow Sternbergia sicula offered some 60 flowers but was already well into leaf (Mr & Mrs D. Monk); a wild-selected Cyclamen graecum (CSE 96466), with heart-shaped, silvery-grey on blackish-green leaves and an abundance of delicate pink flowers, won the Saunders Spoon for the best example of the genus exhibited (Cyclamen Society, custodian I. Robertson).
 Replacing them, a sizeable, diverse contingent of southern hemisphere substitutes – some of them unarguable alpines, some from regions with Mediterranean climates, and a few from subtropical climes (though not from subtropical mountains) – bestowed variety, interest, beauty, and novelty. Celmisia philocremna, a near-pulvinate species from New Zealand's Eyre Mts, gained the trophy for best plant raised from seed (I. Leslie, who also staged a much larger sister seedling elsewhere, inadmissibly bereft of a sowing date).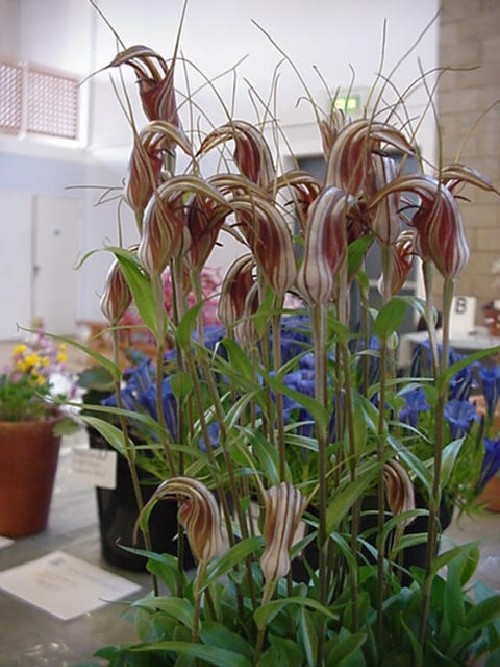 Two other Australasians vied for ownership of the best in show accolade – a mighty tangle of that weird, weeping Tasmanian conifer Microcachrys tetragona (P. Ingwersen), abundantly set with tiny reddish cones, and the eventual victor (a Farrer Medal was not awarded), Diplodium coccinum, a lowland orchid hitherto included in the genus Pterostylis, whose 19 cm pot was tightly set with apple green rosettes, from whose sides Arisaema-like but erectly whiskered cowls, candy-striped red on white, arose singly in a crowded congregation.
Robert Rolfe