Summer South AGS Show, 2008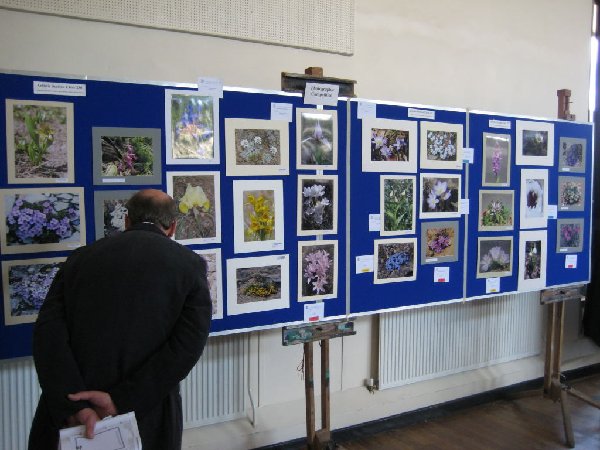 Although Wimborne is not the most accessible venue on the show circuit, the excellent light levels of the spacious show hall and the proximity of the large car park ensure it's popularity. The temporary demise of the Summer show north this year also increased it's importance to aficionados of such families as Campanulaceae and Caryophyllaceae.
A period of cool, dull and at times downright wet weather broke just in time but it appears the changeable build up may have contributed to a reduction in entries, particularly in the large open classes. It was however encouraging that section C attracted 38 entries, 36 more than in 2004!
Wimborne also includes a small photographic B Section.
To encourage local, and possibly new, exhibitors there is an award for the best plant in sections B & C shown by a local group member which was won for the second year running by Tony Bennett with a firm, healthy cushion of Silene acaulis 'Frances'.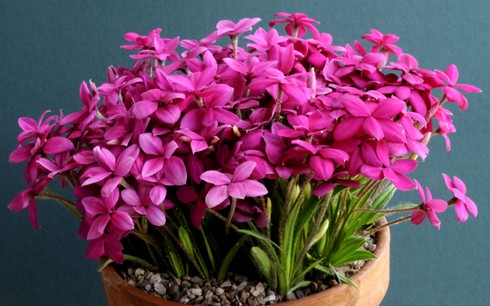 Last year Tony also won the Downland Trophy for the best plant in section C with a campanula relative Symphandra zangezura, a native of Armenia which forms a graceful 20cm network of wiry stems from which hang pale lilac pendant bells. A different specimen of the same plant was again admired but was beaten to the trophy by Colin Dolding with a full pot of Rhodohypoxis 'Tetra Red', one of several enabling him also to win the Surrey award for the most first prize points in section C.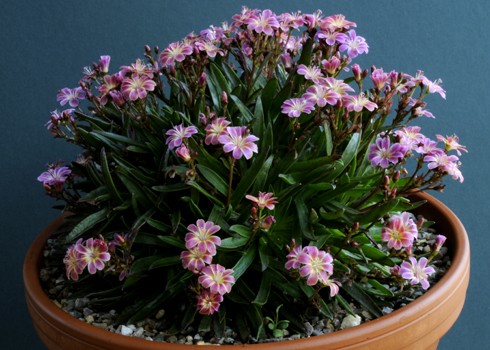 The Wessex Trophy for Section B was hotly contested between Margaret and Robin Pickering who had made the long trip from Goole, honours finally going to Margaret. (Picture is her Lewisia Corousel hybrid.)

In the open section most of the usual suspects attended and Lee and Julie Martin had certainly mustered a varied and colourful entry enabling them to win both the large and small six pan classes (Picture: large 6-pan). Not surprisingly they won the Stanton Award for the most first prize points at a canter. At least this year they managed to fit all their plants into their car; no need to resort to the alarming use of a trailer as they did a few years ago!
Despite numerous beautifully flowered plants, one which caught the eye bore not a single bloom. Santolina rosmarinifolia 'Lemon Fizz' won class 27 for one plant with golden or yellow foliage. Entries in this class sometimes stretch the colour definition but not so in this instance, the finely dissected yellow foliage glowing across the bench.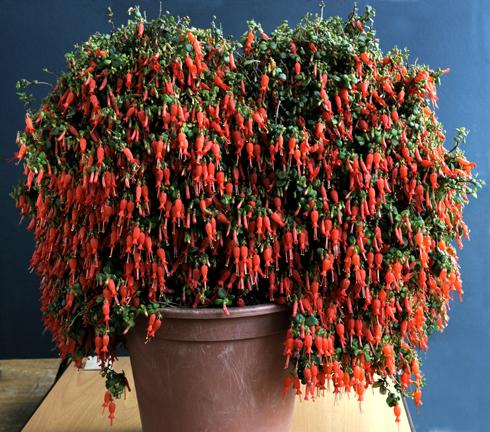 Two plants contested the Farrer medal for the best plant in show. Cecelia Coller's enormous Sarmienta repens, itself a previous Farrer medal plant, was eventually rewarded with a Certificate of Merit. Over ten years old, it clothed and totally obscured a piece of bog oak. It is rarely repotted and the leafy, humus rich compost is refreshed with ericaceous liquid feed.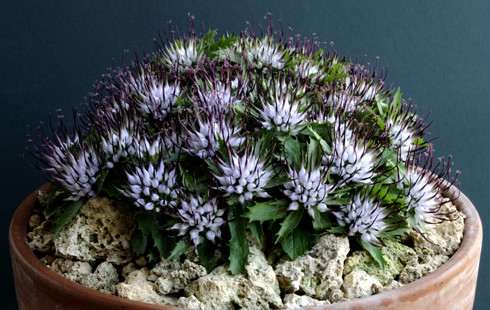 The eventual winner in a split decision was a venerable and heavy Physoplexis comosa shown by Paul & Gill Ranson. Sown in 1989 it lives in a part shaded raised frame, covered in winter and last winter it unusually retained much of it's foliage.
Martin and Anna-Liisa Sheader once again brought a comprehensive selection of their Ourisia x bitternensis hybrids but it was also their various Calceolaria species which caught the eye, prominent amongst which was Calceolaria umbellata from the high altitude puna moorland of northern Argentina. Numerous clear yellow distinctive pouch like flowers were held in panicles some ten centimetres above a central leaf rosette. It was widely admired/coveted.
Paul Ranson