Summer South AGS Show, 2014
Rising at 4.45am is not normally in my nature. But it was worth doing so to hear the dawn chorus and to witness an almost clear sky (unlike the heavy clouds and rain of the preceding few days) bringing a promise of sunshine, and making my journey on the winding roads from Timsbury to Wimborne bearable. Sure enough the sun soon rose: by mid-morning most exhibitors had removed their jackets and coats and were basking in the summer heat. Although this show doesn't attract many of the 'high flyers' ‒ just 36 exhibitors participated on this occasion ‒ there are always some good and unusual plants on display.
One troubling feature here, which is also true of many of the shows countrywide, is the lack of exhibitors in the Novice Section: just three at Wimborne, bringing a total of nine plants. Needless to say this seeming lack of interest isn't only affecting the AGS but many other clubs and organisations in the UK. On the other hand the artistic classes, (an Intermediate Section only at this show), came up trumps with nine exhibitors showing 76 photos. Such was the high standard that two exhibitors' entries, Kit Strange's Muscari armeniacum and Christine Hughes' Sternbergia lutea, were awarded Certificates of Merit.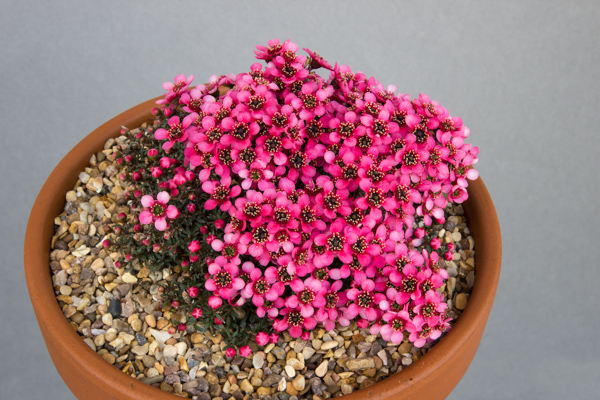 Not surprisingly there was a lack of Campanulaceae on show, reflecting my own experience so far this year, but members of other plant families took my eye. Anne Vale from Braintree had a beautiful Leptospermum scoparium 'Nanum' that formed a low, deep red mound in a small three-pan class. This had been grown from a cutting taken from a plant she obtained from a nursery and exhibited several years ago. Left outside all summer in half shade, it is happy in the rain at this time of year but prefers a limited amount of heat.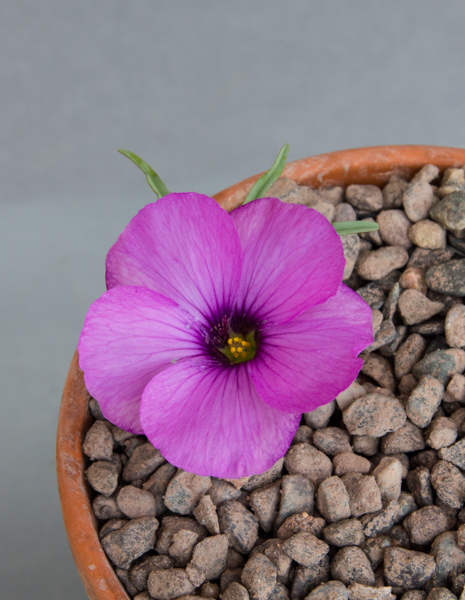 In the same colourful vein, two entries in the 'rare in cultivation' class took my eye. First a large-leaved, large-flowered Oxalis laciniata from Argentina's Santa Cruz province, exhibited by Martin & Anna Sheader (Southampton). It occurs in a restricted area of sand flats around the estuary of the Rio Deseado on the Atlantic coast and shows very little variation in that area. The exhibitors grow it in a sandy, open compost but they are finding it rather more difficult to grow than other forms of this always desirable species.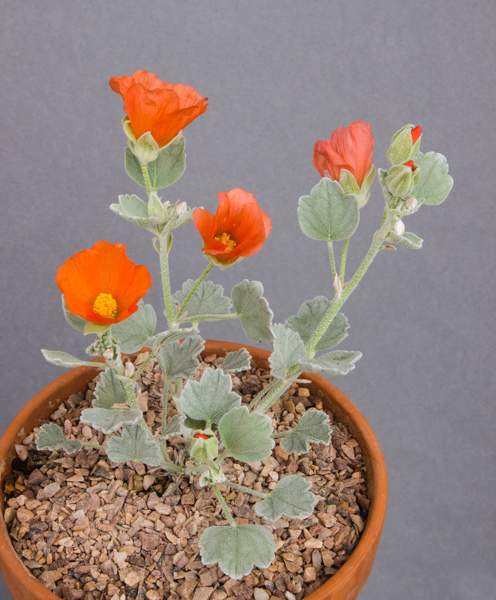 Sphaeralcea caespitosa, commonly known as the Globe Mallow and exhibited by Graham Nicholls (Timsbury), may look like a colourful weed in its wild habitat but in cultivation its orange flowers brighten the show bench. It is endemic to the Great Basin limestone barrens of Millard Co., Utah, where it receives little water throughout the summer. Because its roots go so deep it is able to draw on moisture at depth, whereas in cultivation, even when grown in a long tom pot with a very gritty compost, it requires water all spring and summer to keep it healthy. If the plant doesn't receive enough water it starts to defoliate.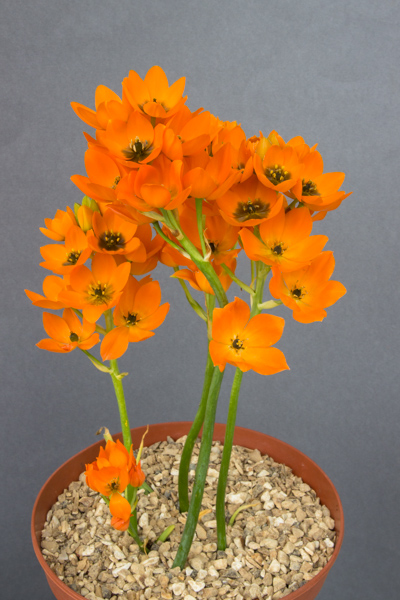 Staying with brightly orange-coloured flowers, the South African Ornithogalum dubium from Cape Province, exhibited by Russell Beeson (Broadstone) was noteworthy. It is best overwintered in a dry, frost-free place, then re-potted in spring. The main soil requirement is excellent drainage, with ample water early in the growth cycle and full sun, then no water whatsoever during its winter dormancy. There was some discussion among the judges concerning its hardiness, with a tongue-in-cheek suggestion that the specific epithet dubium could also mean 'dubious' in this respect. Although yellow and orange colour forms predominate in cultivation, it can also appear in a white form – the predominant colour in the genus overall.
In the class for a plant from North America, Cypripedium kentuckiense exhibited by Diane Clement (Wolverhampton) put on a lovely display with its huge flowers. This plant was received some six years ago via John Saxton, who in turn had obtained it from Kath Dryden: both superb growers, unfortunately no longer with us. It is grown in a plastic pot plunged in a frame all winter and is kept shaded in spring and summer. The compost is a free-draining mix of leaf-mould, bark and perlite. In the wild it can be found primarily in scattered colonies in the states of Alabama, Arkansas, Louisiana, Kentucky, Mississippi, Oklahoma, Tennessee, and the easternmost counties of Texas, growing on moist woodland slopes, often near streams or in ravines.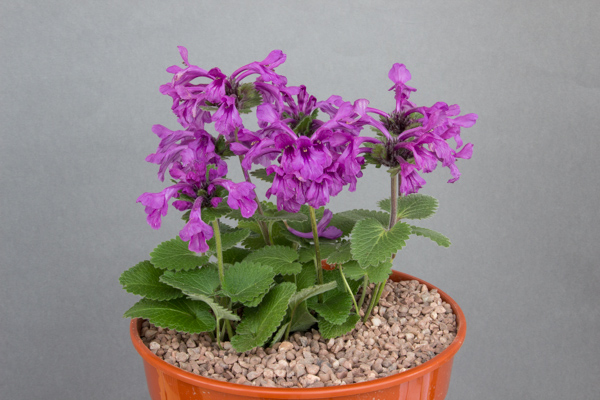 Diane also brought along a lovely clump of Stachys macrantha. This Caucasus native is normally fairly tall, causing some to wonder whether it had been strategically positioned low in its pot to make it appear dwarfer than the reality. Not so, for this was assuredly a compact form, selected by Vojtěch Holubec in the wild, and sown in 2009 from this gathering. Plants are better kept outdoors all year, as this three-year old had been.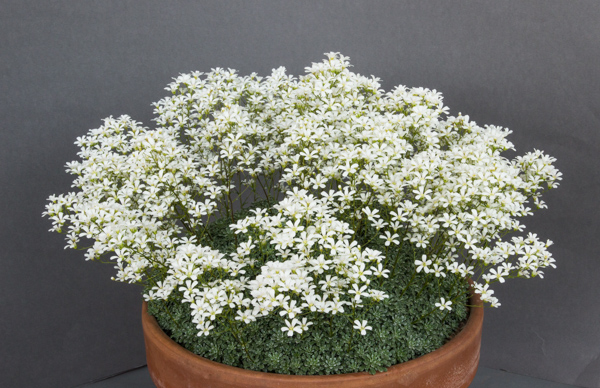 After much discussion the Farrer Medal went to a superb eight-year old Saxifraga cochlearis 'Probynii' exhibited by Alan and Janet Cook of Dinton. This selection, first brought to general attention just over a century ago by Henri Correvon, is one of the most condensed versions of this always attractive species, the silvered leaves at most 1cm long and arranged in tight rosettes, while the arching panicles comprise up to 25, exceptionally even more clean white flowers. Grown in the alpine house in a compost of one part John Innes No. 2, two parts grit and one part bark, it is kept out of strong summer sun to prevent scorching.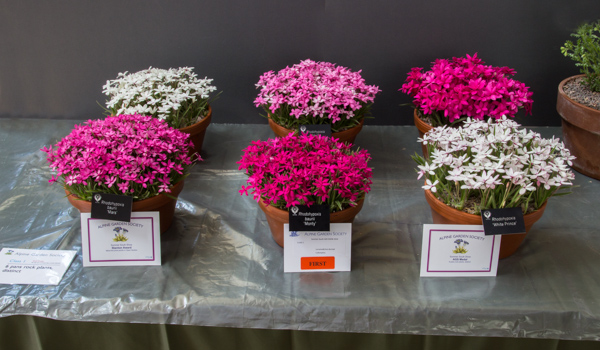 Although there was only one entry in the large six-pan class, the AGS Medal deservedly went to Lorraine and Chris Birchall (Cullompton) with six of the best pans of distinct Rhodohypoxis baurii cultivars I have seen in years. There wasn't a brown leaf or a faded flower to be seen! This couple also received the Stanton Award for the most first prize points in the Open Section.
I said earlier that there was a lack of Campanulaceae in the show. Nonetheless two unusual campanulas were present. A Chinese species, C. crenulata, grown from Holubec seed and exhibited by Dorothy Sample in the 'new in cultivation' class, was reminiscent of C. pulla but had pale blue flowers. It remains to be seen whether it will prove a good 'doer'. Rather more of an acquired taste, C. 'Albert Kirkham' had the judges puzzled. Its many upfacing, lilac-pink flowers do not open, and are held in dense heads on stiff, unbranched, 30-40cm tall stems. While C. zoysii also has flowers that do not open, it is vastly more attractive than this one! Also, judging by the concentration of robust foliage at the pot edge, it is a serious 'runner', similar to C. dolomitica. The nursery selling this unusual plant notes in its catalogue: "Baffled responses from many knowledgeable people force us to conclude that it's a novel hybrid. Found by the eponymous Mr Kirkham and distributed by Jenny 'Entwood' Harding."
Finally I must record my thanks to those who organised the judges' lunch. As always it was varied, tasty and well presented with enough left for seconds or even thirds! Thank you.
Author: Graham Nicholls
Photographer: Jon Evans