Summer South AGS Show, 2013
This event fully lived up to its description as a summer show, with bright sunny weather and temperatures into the low 20s. The number of plants benched was up in comparison with the previous couple of years, and there were many interesting and well-grown exhibits on display.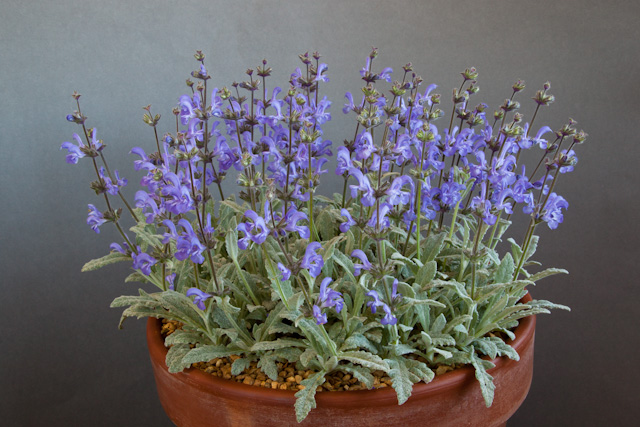 The Farrer Medal was awarded to David Richards for a large pan of Salvia cyanescens, in pristine condition for the show, with its blue-violet spikes of even height sitting neatly over the silver-grey foliage. This perennial subshrub is native to Turkey and Iran. In cultivation it grows rather slowly, but will eventually fill a large pan. Damp winters are its undoing.
Five Certificates of Merit awarded were awarded, such was the high standard overall of the plants at the show: Iris cycloglossa (Lee & Julie Martin), Pleione chunii (Ian Robertson), Loasa nana (Martin and Anna-Liisa Sheader), Eriogonum ovalifolium var. depressum (Ivan Pinnick) and Rhododendron 'Leucanthum' (Cecilia Coller).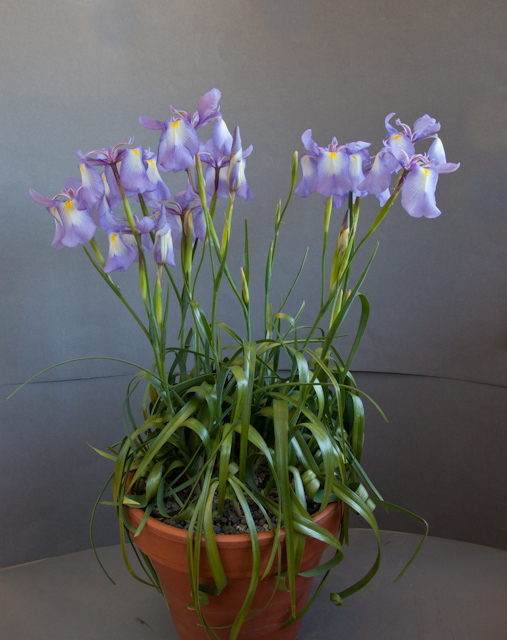 Iris cycloglossa is an unusual, late-flowering Juno iris that grows best in the open garden with an open root run than in a pot, and, indeed, this is how it is grown by Lee and Julie, contained within a lattice pot. The soil around the plant is kept moist in both summer and winter, and the plant is lifted and transferred under cover as the flower spikes appear, mainly to protect the long leaves from wind damage. The flowers are intensely clove-scented. In its native Afghanistan it has a limited distribution, growing in wet soil along stream margins.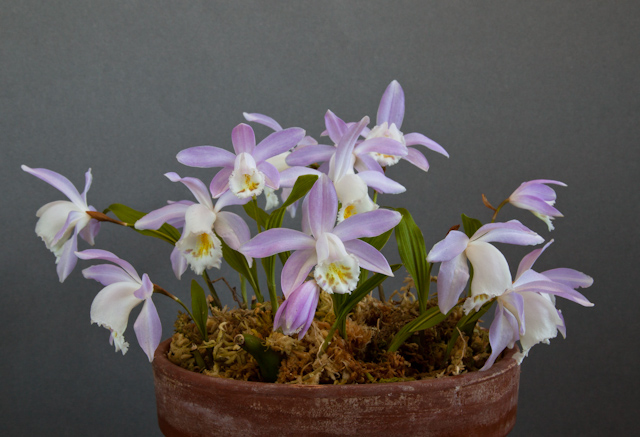 Pleione chunii has smaller flowers than most in the genus and, when it occasionally makes an appearance on the show bench, is easily overlooked. Ian grows this species in frost-free conditions. Other pleiones that he grows respond well to a bark-based compost, but this species fares better in live sphagnum moss; in its native China is invariably grows amongst moss. When the leaves die down after flowering, the pseudobulbs are lifted and dried off, with repotting taking place around Christmas.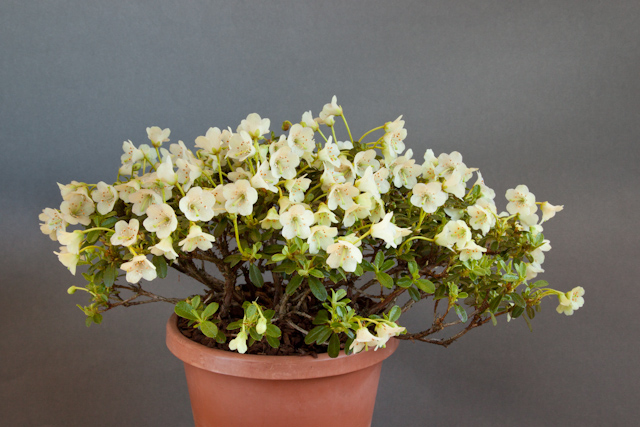 The third Certificate of Merit plant was awarded to Rhododendron 'Leucanthum'. Others will very likely be growing this plant under the name R. campylogynum (white), under which name it has been distributed by various nurseries, or else R. c. var. leucanthum, a name coined by Collingwood Ingram in the 1960s to particularise this eventually 30cm high, very free-flowering version of a more often rose-pink to claret-coloured, thimble-flowered, Sino-Himalayan species. Cecilia grows this by plunging its pot in an outdoor peat bed in her Norfolk garden. Growing well in these conditions, it had clearly appreciated the near-constant rainfall last summer, for it had produced a mass of creamy-white flowers this year.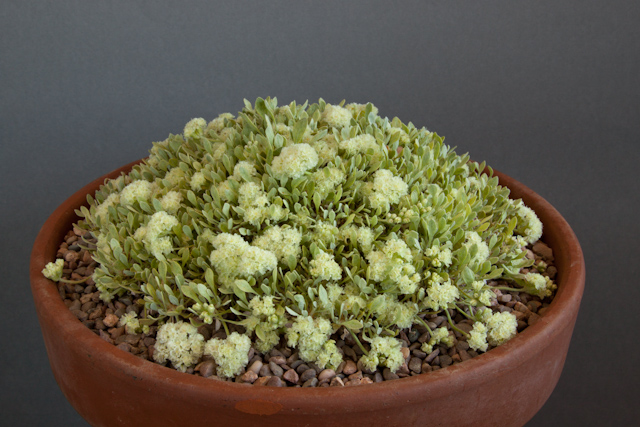 Ivan's Eriogonum ovalifolium var. depressum formed a tight silver cushion with balls of flowers sitting down in the foliage. The flowers eventually age to pink. This is a six year old plant and has appeared at several shows in previous years. It is grown in an open compost consisting of 60% John Innes compost and 40% grit. This variety has a wide distribution, being found on isolated peaks in Idaho, Montana, Nevada, Oregon and Wyoming: the plant exhibited was from seed collected in Custer County, Idaho.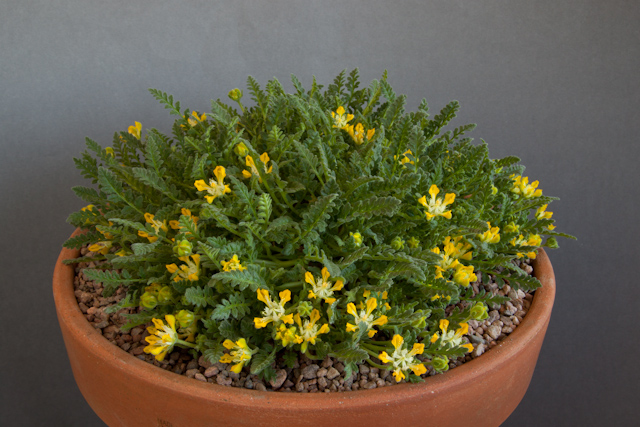 Mentioning the genus Loasa to some judges elicits a Pavlovian response, indicating previous experience with this genus and related Caiophora. Thankfully, Loasa nana is one of the non-stinging species in the South American, nettle-like Loasaceae. This species is from high mountain slopes and bare ridges in northern Patagonia, extending north into the central cordilleras. Seed was obtained from Chileflora and the seedlings grew rapidly to flower in three years. This species needs an open compost and a deep pot; even so, it will rapidly root down into the plunge if allowed. Plants from the north of its range, from where I presume this seed was collected, have smaller, paler flowers, often on trailing stem; those in the south have deep yellow, large flowers and are more compact.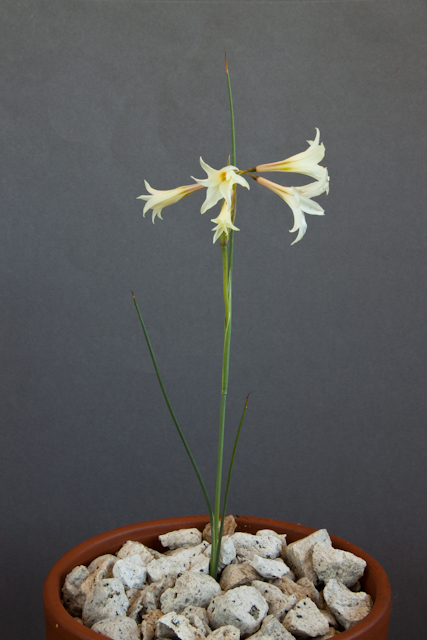 Yet another South American, Olsynium biflorum, was shown by Rick Lambert. Although the plant only carried a single flower stem, the quality of the inflorescence was exceptionally good, with five fresh, creamy-white, unmarked flowers. This rhizomatous member of the Iridaceae is native to southern Patagonia. In its windswept habitat, when in flower, it opens a new corolla each evening, is strongly perfumed, and is presumably moth pollinated. The flower fades through the following day to be replaced the following evening. A raised bed is its preferred home in cultivation. For us, if grown in a pot, it does better outside for most of the year, but brought under cover for flowering.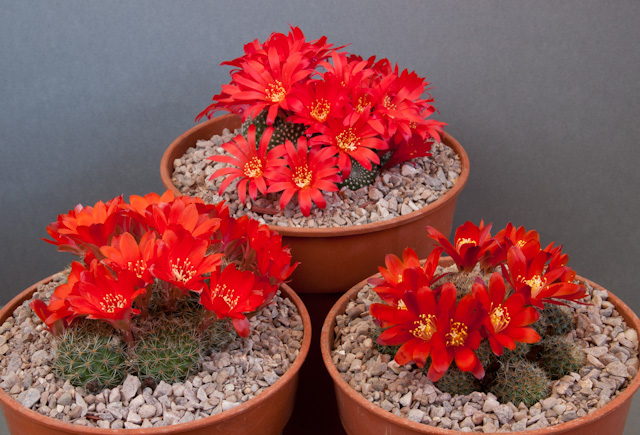 Vic Aspland showed an eye-catching trio of cacti in various shades of red, which, not surprisingly, attracted much attention. The species shown were Mediolobivia brunescens [left] and Rebutia potosina (syn. R. steimannii) [right], both from Bolivia, and Rebutia krainziana (syn. R. minuscula) [centre] from Argentina. All grow at altitudes in excess of 2,800m. Vic grows these cacti in a well-drained open compost, withholding water from the end of September to the end of March. These species require sub-zero temperatures to initiate flower bud formation. Cactus species from the high mountains of South America now add to the diverse array of plants at our late spring and summer shows, much as many low altitude woodland or forest plants enhance many of the early season shows.
Author: Martin Sheader
Photographer: Jon Evans