Summer South AGS Show, 2012
After a very cool spring, summer arrived with a welcome vengeance on the weekend before the show. A week of sunny humid weather with temperatures in the upper 20s did not seem to have adversely affected the plants, for this year's show was full of a delightful array of the voluptuous, the downright gaudy and the seldom-seen, grown to perfection by the exhibitors. This was a tribute to Bill Squire who has decided that this was to be his last show as secretary. Congratulations are due to him and the Dorset team for their past efforts and in particular we wish them all good fortune in identifying a successor. The hall and facility have undergone a substantial facelift which has not been without its problems for the team but has resulted in what must now be one of the best venues in the country for a show. A light and airy foyer is large enough to accommodate all of the nurserymen and the hall is very well lit by natural daylight. The show must go on!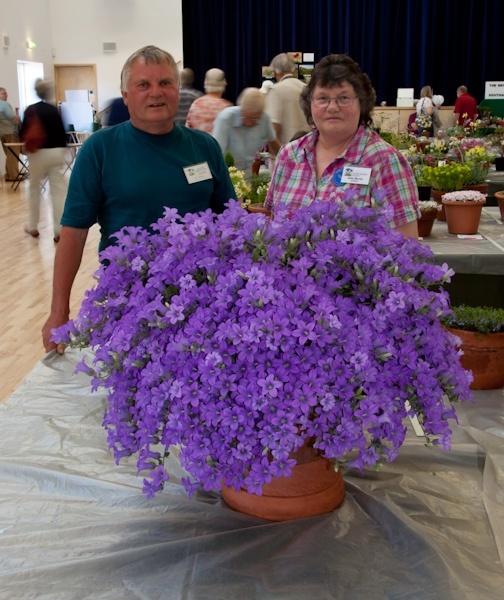 The first thing we noticed on entering the hall was the largest Campanula that I think that we ever seen. It formed the centrepiece of an excellent AGS Medal winning six-pan class and duly wrested the Farrer Medal for those Campanula experts, Lee & Julie Martin. C. sp MELJ 200944 had been introduced from seed from a north-facing cliff near Napflion in the Peloponnese and a few seedlings had been passed on the exhibitors just two years ago. It is one of the rock crevice dwelling, monocarpic species and seems to have greatest affinity with C. andrewsii. The seedlings were pricked out into individual pots of 1 part loam, ½ part leaf mould, 2 parts grit sand and ½ part perlite and then kept growing by frequent repotting; it had been moved on six times during its short life. The only other treatment meted out is removal of the central, upright leading flower shoot at an early stage, encouraging the stems to radiate outwards into the fabulous blue cascade was on view. Although only 40 % of the flowers had been out for the Malvern Show a fortnight earlier, it still received a Certificate of Merit there. The potful had been moved around to keep it shaded ever since.
This was not the only outstanding plant: three Certificates of Merit went to Joy Bishop's Tropaeolum sessiliflorum, quite the largest example of Dionysia involucrata 'Gothenburg White' we had ever seen (Gill & Paul Ranson - left) and a prodigiously-flowered Salvia cyanescens (David Richards).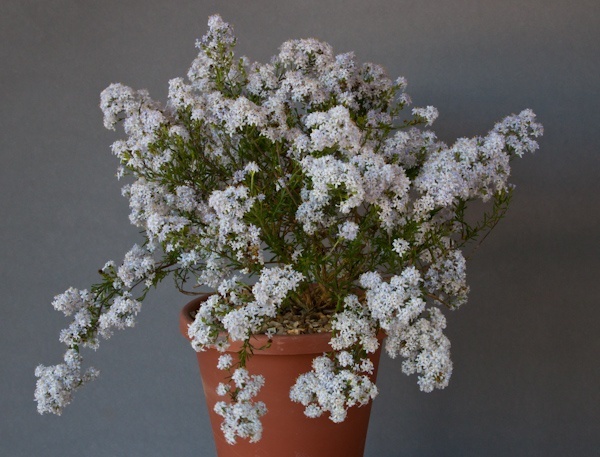 Cecilia Coller habitually exhibits unusual southern hemisphere plants and seems to have close to a monopoly in the dwarf shrub classes. Selago galpinii was part of her three-pan entry. It makes a dome of frothy blue flowers, its delicacy belying its hardiness. It came as no surprise that a host of other well grown plants allowed her to win the Stanton Award (most first prizes in the Open Section), an AGS Medal for six 19 cm pans and the Roger Smith Cup for six plants grown from seed.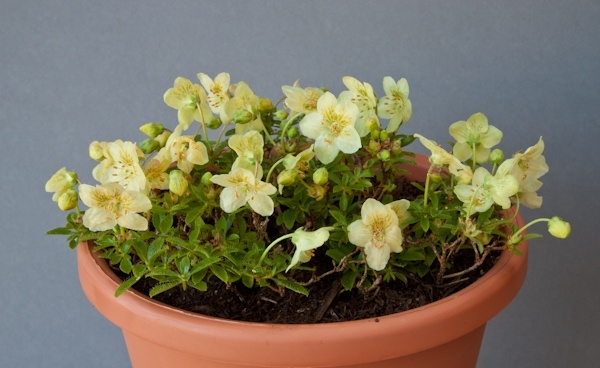 Rhododendrons are still in full flower in parks and gardens and two superb dwarf species shown by Dave Mountfort made their presence known for quite different reasons. R. kiusianum, raised from NARGS seed sown in 1996, was completely covered in small flowers, hiding the tiny leaves, whereas R. lowndesii [left] was noteworthy for producing any flowers at all. The latter, a very difficult plant to flower well, had yielded a succession of flowers over the last few weeks thanks to Dave growing it (in fact both species) in dappled shade rather than full sun. Automatic watering ensures that the ericaceous mix is constantly damp.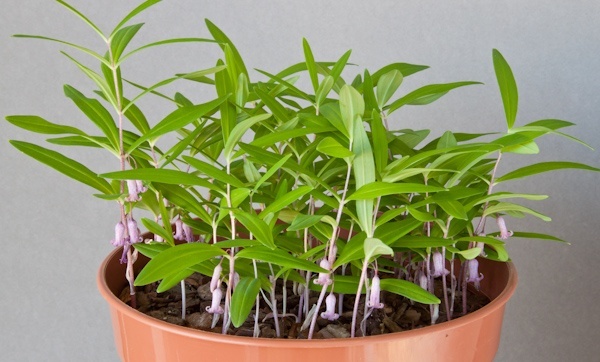 Polygonatum aff. prattii (shown by Ivan Pinnick - right) would be a fitting companion for the above. There are some tall species emanating from China but this is quite the opposite, being a mere 15cm high with rather sombre, 1cm bells dangling beneath, and the added bonus of quite a strong almond scent. Also from China, Pleione chunii (shown by Ian Robertson) is one of the later flowering species. Ian grows this frost-free in a compost comprising pure sphagnum moss peat, the pseudobulbs fed regularly with quarter strength fertiliser (high nitrogen before July and high in potassium afterwards until dormancy sets by the autumn).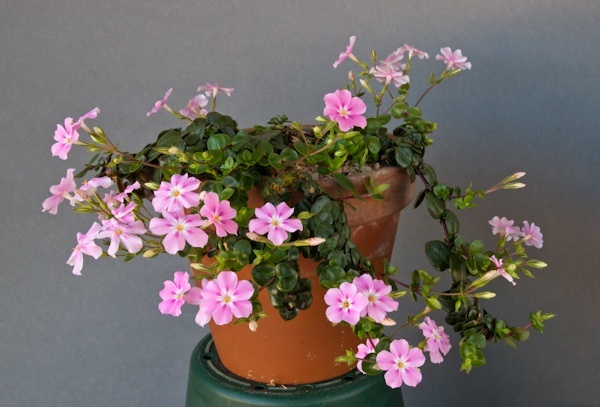 We had not seen Phlox adsurgens 'Mary Ellen' before. This very compact form from southern Oregon was introduced by Rick Lupp of Mt Tahoma Nursery. Graham Nicholls has maintained it in a moisture-retentive soil of 3 parts Ericaceous mix and 1 part grit in a shaded spot where it has thrived ... as long as the local molluscs are kept at bay.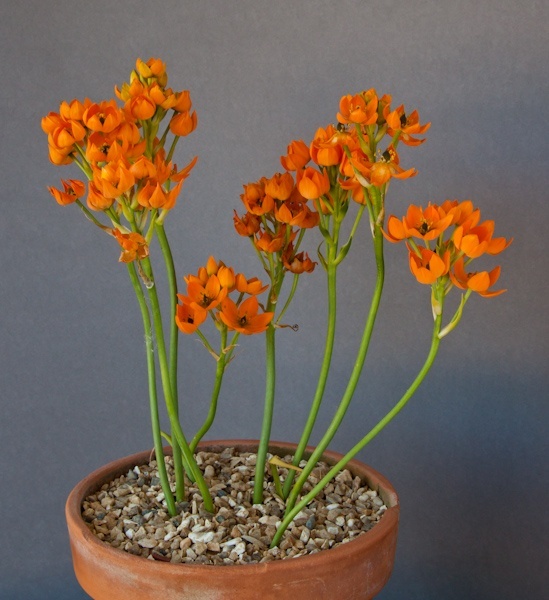 Although the Wessex Trophy for the most first prize points in the Intermediate Section was won by Clive Dart, the plant which advertised its presence most stridently was the bright orange-flowered Ornithogalum dubium , grown by Russell Beeson. This was an excellent example of how a well grown pot of readily obtainable, reasonably-priced bulbs can provide a prize-winning exhibit.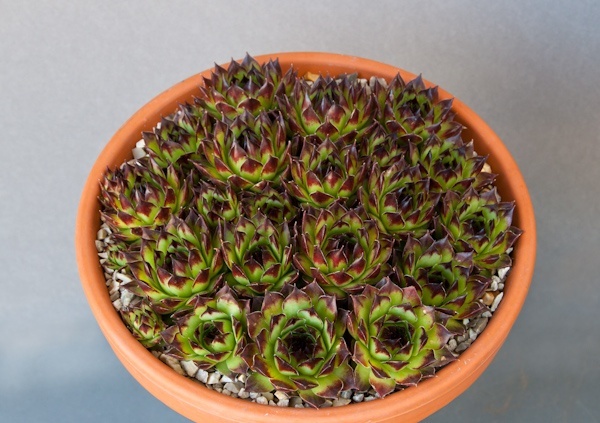 Andrew Ward continues to be the front runner in the Novice Section, winning the John Blanchard Cup for the most first prize points here as well as the Downland Trophy for his Sempervivum tectorum which was adjudged the best plant in the section.
Bob and Rannveig Wallis