Summer South AGS Show, 2005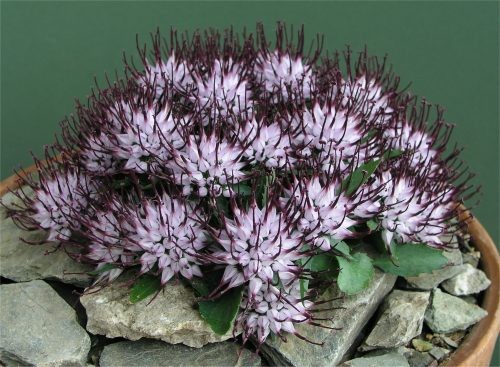 There is always a warm welcome to exhibitors and the many visitors attending the Summer Show South (AKA The Rocky Flower Show), a joint event co-ordinated by the local Dorset / Hampshire groups under the efficient and apparently effortless management of Stefan and Maurice. As usual, a selection of nurseries catered for a broad range of tastes from woodlanders to high alpines and sales were brisk. 
The show was a study in green and mainly blue, with Campanulaceae very much to the fore. The Farrer Medal for best plant in the show was awarded to a tight plant of Physoplexus comosus in peak condition shown by Alan Taylor.
Two Certificates of Merit were awarded, the first to a floriferous and attractive plant of Campanula thessala shown by Lee and Julie Martin, and the second to a hybrid between Nototriche aretioides and N. macleanii  shown by Martin and Anna Sheader. The latter sported crocus-like pale blue flowers dotted over a mat of hairy foliage.
The B Section was well supported, though C Section was a little thin. Hopefully some of the many visitors will be encouraged to bring plants along next year. 

Martin Sheader