Summer South AGS Show 2011
As a consequence of a notably cold winter, followed by a long, warm, dry spring, many of the plants usually seen at this show were absent. It was also held earlier than usual, and as with recent events elsewhere, the number of exhibits was noticeably down. Undaunted, a reliable, skilful core of keen exhibitors brought a range of interesting plants, although some, especially the campanulas, probably needed a week or so in order to reach peak flowering. The Artistic Section here is restricted to the Novice and Intermediate Sections, and all available space was filled with an excellent array of photographic and other material. We are rapidly reaching the point where more display boards will be needed.
Cacti are becoming regular exhibits at this show, with Rebutia marsoneri winning for Ian Sharpe in the class for a plant native to South America. This species is from the mountains of Jujuy province in northern Argentina and, in the spirit of rationalization, has recently been 'sunk' within the more widely-distributed R. minuscula. Ian has been growing the plant for about five years. Many hardy cactus species have flowered exceptionally well this year following the cold winter.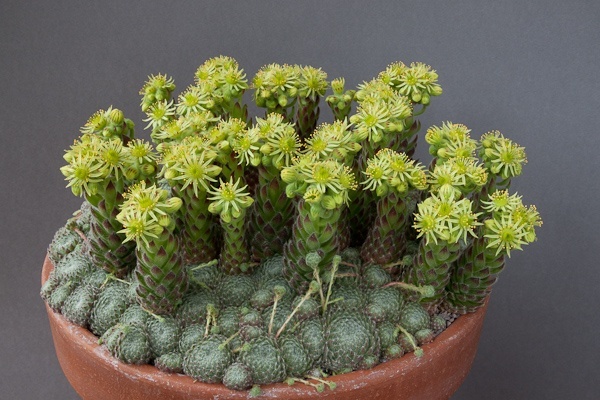 Sempervivums are not the easiest of plants to show. Newly-planted rosettes take time to firm up, increase and pack together to form the desired hard mature mat or cushion, and this process is easily upset by flowering, as those rosettes involved die back, leaving holes that take a couple of years to fill. Most are shown devoid of bloom, to display their decorative, sometimes densely criss-cross-cobwebbed rosettes, but a well-flowered pan can be most attractive. Don and Heather Hyde had a Certificate of Merit for a well-flowered, fresh-looking pan of Sempervivum ciliosum in the large single pan Sempervivum or Jovibarba class. The large, star-like yellow flowers are extremely attractive and in particular repay close observation. The owners maintain that the secret of growing this Balkan species is neglect: it is left outside for much of the year, and only given cover during the winter months to protect it from excess rain.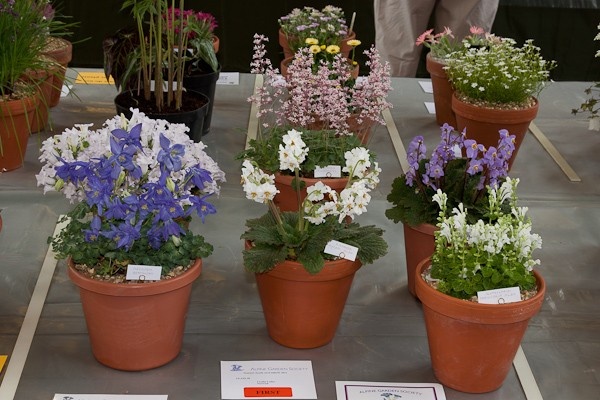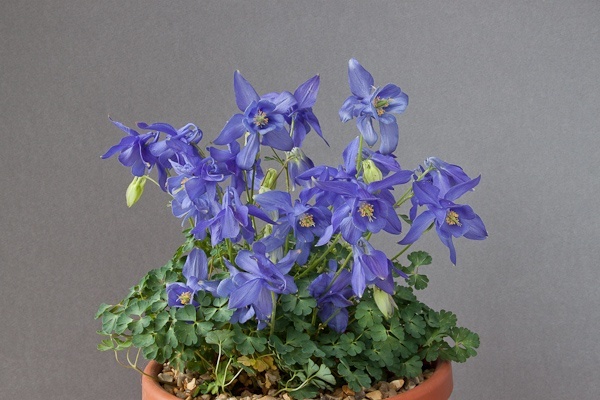 Benign neglect was also the order of the day for another exhibit, Aquilegia bertolonii, shown by Cecilia Coller in her winning, blue- and white-themed small six-pan entry (shown above). This dwarf, colourful columbine had been dug up from the garden and potted just prior to the show. A principal difficulty in maintaining Aquilegia species in the garden is their tendency to hybridise readily with each and every relative, but since Cecilia grows no other (and hybrids involving this have very seldom been reported in any case), the problem is solved and it is free to seed around. Found locally in the high mountains of southernmost France and Italy through to the Julian Alps, it is one of Europe's smallest, arguably most attractive species.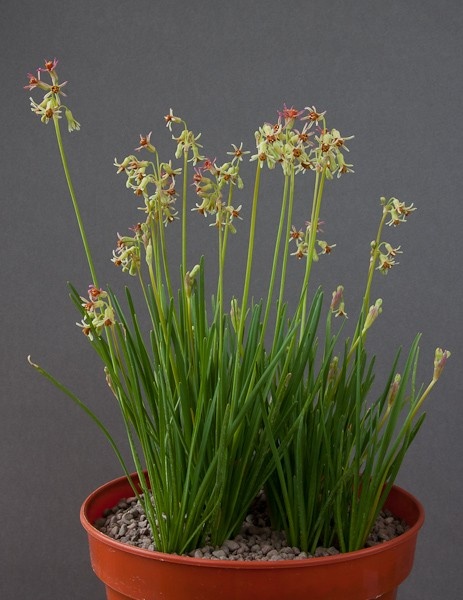 Ian Sharpe brought along an interesting colour form of Tulbaghia capensis. There is always a question of hardiness with many South African bulbs but perhaps not for this Allium relative, which can be various shades of brown and green, or else purple, though always with an orange corona, and nocturnally fragrant – Ian keeps this pot of bulbs outside all winter! Most of the 20 species cope well with the British climate and are now in commerce, together with a selection of hybrids and clones, and given their attractive flowers they are well worth growing, bulking up rapidly if conditions suit.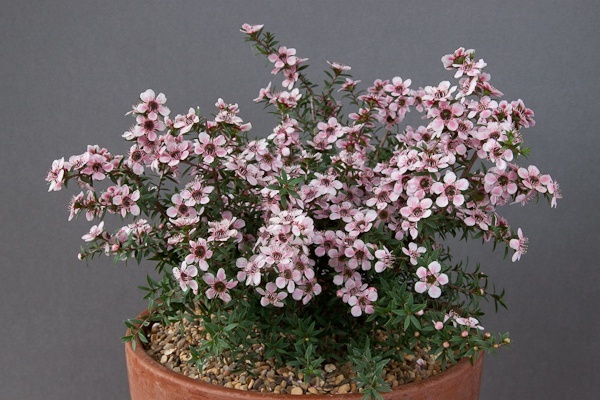 Anne Vale exhibited a well-flowered Leptospermum scoparium 'Nanum' in the small pan dwarf shrub class. A member of the myrtle family from Tasmania, Victoria and New Zealand, occurring at up to subalpine levels, it requires a moist, well-drained, acid to neutral soil but can take full sun. Frequently exhibited in the 1970s and 1980s, it is less frequently seen nowadays, and its hardiness has frequently been questioned. In a pot it is vital not to let the compost dry out completely when the plants are in active growth. Container-grown specimens flower better than those in the open garden and the flowers are less likely to suffer marking or damage.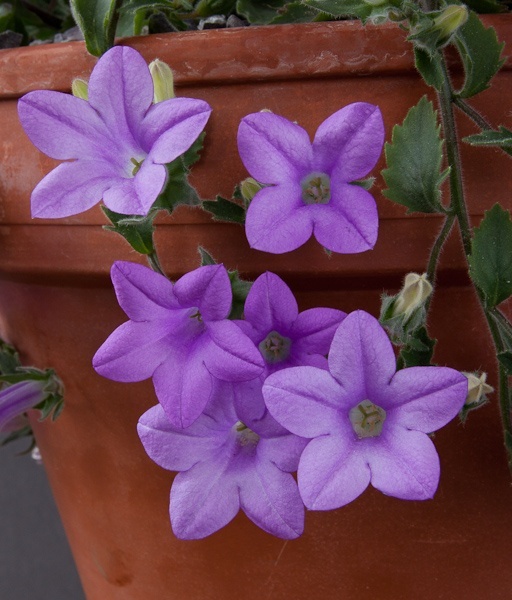 Campanula pelia was grown from AGS seed by Lee and Julie Martin. The plant shown was selected from a batch of seedlings and had attractive darkish violet flowers. A few more days would have improved the flower cover but the plant was still easily worthy of a first prize. This monocarp normally takes a couple of years to reach flowering size, with the best results achieved by potting on and feeding regularly. A gritty, open compost and alpine house conditions are recommended.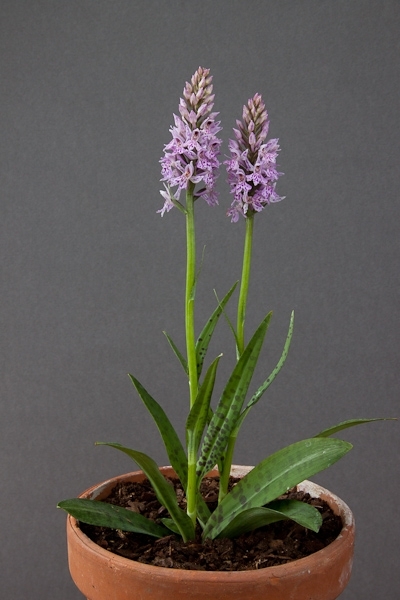 Russell Beeson won the Downland Trophy for the best plant in the Novice Section with a diminutive Dactylorhiza fuchsii. This was a chance seedling, presumably wind-blown, that appeared in a pot alongside another 'nurse' plant. It will be interesting to see if the plant retains its compact habit: exceptionally spikes of this, the Common Spotted Orchid, which occurs throughout much of Europe, as far east as Russia, and sometimes forms huge swarms, can be held up to 70cm aloft.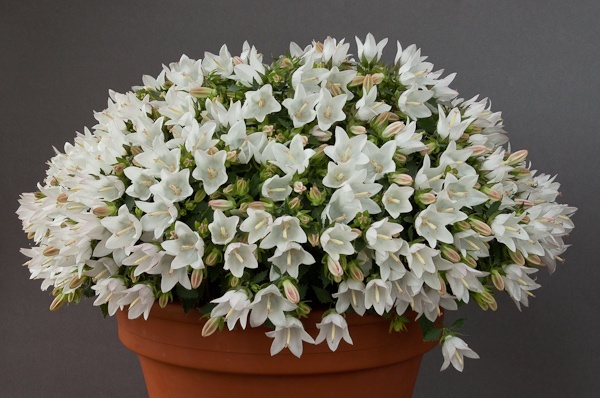 Two plants in the large six-pan class received awards for Lee and Julie Martin. A floriferous Campanula choruhensis received a Certificate of Merit and might have been a serious contender for the Farrer Medal, had all its flowers been fully open.
No matter, for a neighbouring Saxifraga 'Tumbling Waters' (the clone is almost a century old, having been raised by Captain Symons-Jeune in 1913) was awarded the Farrer Medals for an exuberant display comprising 15 magnificent spikes. Six years from a small cutting, it had been grown in a 60% grit, open compost. During the early years it is important to remove some of the new rosettes to ensure that those that grow to maturity have sufficient room to develop and a channelling of resources to produce a large flower spike. Those removed provide useful cutting material, rooting easily.
Martin Sheader