Summer North AGS Show, 2007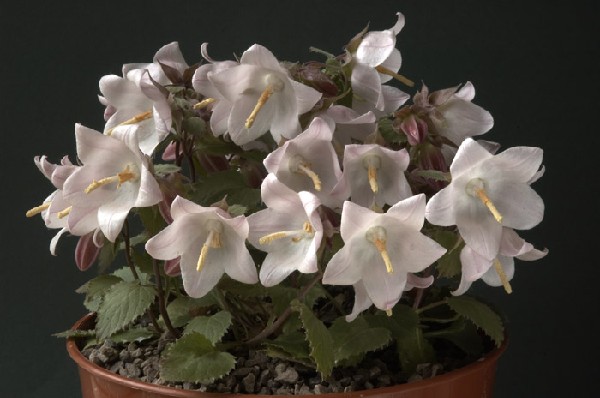 As always at this show large pots of campanula and Orchis foliosa were among the eye-catching exhibits, although neither were exhibited in the numbers normally seen at this venue. In recent years the relatively recently introduced Campanula choruhensis (right) has become popular with exhibitors. This is a Turkish, limestone cliff dwelling species of limited distribution which has come under pressure in its homeland as new dams and reservoirs deplete the species favoured environment. It is a white or pink flowered species with the large flowers bowl shaped or widely campanulate. The initial introductions were usually white, but in the last few years attractive pink forms have been introduced and usually take the first prizes; a particularly compact plant ( as they grow bigger the species tends to take on a laxer more spreading habit as it does on its natural cliff habitat ) in a 19cm pot was awarded a Certificate of Merit.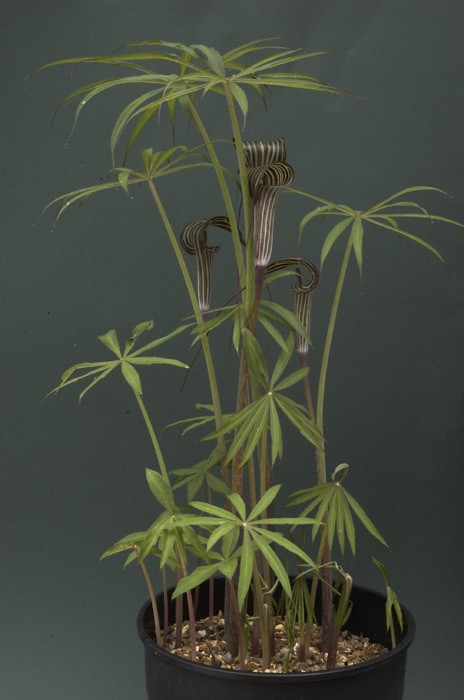 Fashion implies changing tastes and styles and few areas of our culture are immune from it, and whilst `haute couture` does not generally appear to be a high priority for many of our exhibitors ( devotees of Giorgio Armani excepted ), trendy and in vogue plants can deplete the coffers just as effectively.
Arisaemas currently fall into that category being `chic` and `a la mode` and could well adorn Ascot millinery creations in the future. Increasingly many species justifiably grace the early summer show benches. Perhaps the most visually attractive was a pan of eight or so of the relatively short ( 30cms including the spathe ) and sturdy Arisaema candidissimum with its pale pink, white striped spathes, the leaves unfurled and still clasping the stems. Taller, at 40cms, and rather hiding the flowers beneath a canopy of typical narrow `spoked` leaves were two attractive exhibits of A. jacquemontii with narrow green spathes and A. consanguineum (shown here) with spathes in a shade of brown suffused red with red stripes the latter exuding droplets of moisture from the tip of each leaflet.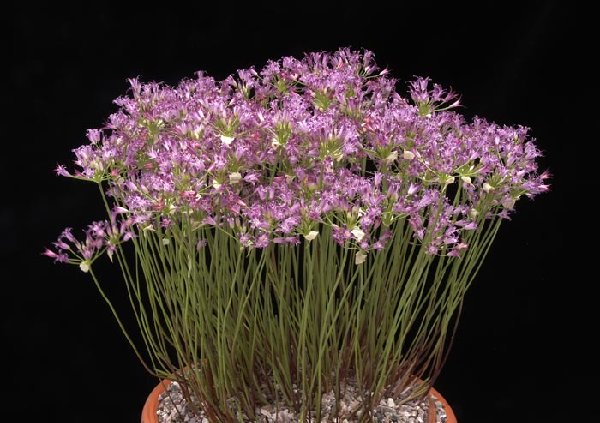 Elsewhere a splendid pot of Allium bolanderi was awarded a Certificate of Merit. This allium has its home in N.W. California and north into Oregon. The exhibit displayed innumerable 30cm stems topped by an umbel of up to twelve two toned rich purple flowers.
A Daphne which has a wide distribution throughout the Mediterranean and the Caucasus mountains and an altitudinal range from near sea level to over 3,000m can be expected to be very variable in form. The plant winning today was particularly compact Daphne oleoides with many clusters of the creamy white flowers sitting as attractive posies set off by a ruff of grey-green leaves.
Plants that are native to the British Isles are not that common in our shows, so it was pleasing to see two good examples displayed. The first, in Section B of the show, was Gladiolus illyricus. This is a plant found growing on the acid loams of the New Forest, and the exhibit displayed half a dozen stems with up to six reddish six petalled flowers set among very narrow rigid leaves. The other was a particularly compact and extremely floriferous Thymus polytrichus forming a dense mat of pinky-purple flowers. This is a widespread and common British species, but certainly not one to be ignored.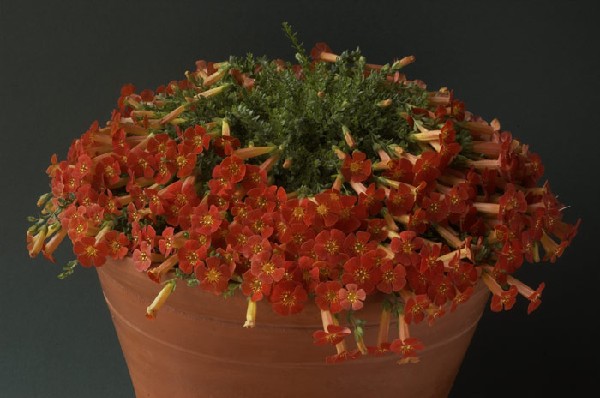 Other plants worthy of note were the diminutive and rare Iranian violet, the deep blue-purple Viola spathulata (below) demanding cultural conditions similar to that of dionysias; the imposing white form of Roscoea humeana below) and another Certificate of Merit plant, the extremely eye-catching south American Ourisia polyantha `Cliftonville Scarlet` (left).

In all another well organised Leeds show with some impressive plants of a high standard and, as we have come to expect, an excellent lunch.
Alan Furness