Summer North AGS Show, 2006
The 30th Anniversary of the Summer North show featured (not too) warm sunny weather, as befits a show at this time of year, and the scene, for the benefit of those unable to attend, was completed by a cricket match on the adjacent pitch giving a pseudo-rural feel to the event.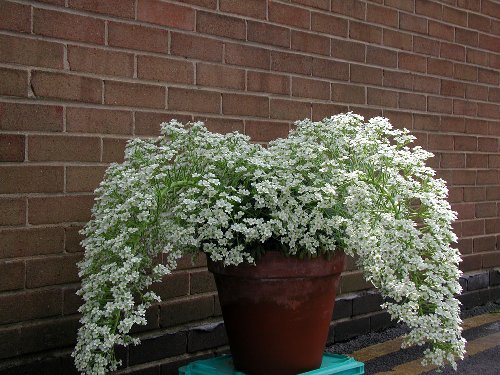 The plants were varied and generally in good form, benefiting from the excellent light conditions in the hall. There were two very different contenders for 'best in show'. The first was a veritable giant of a plant, Saxifraga longifolia, manhandled onto the bench by its grower, Ian Kidman. With four large rosettes, obligingly flowering simultaneously, this must rank as one of the largest plants ever staged in terms of area occupied! Unfortunately, as with some of the large campanulas shown, this species is monocarpic, channelling all its energies into one glorious reproductive event and then dying.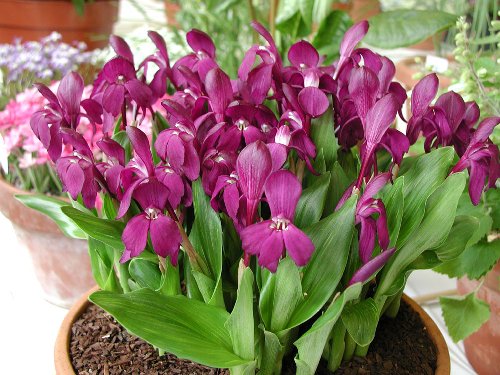 The second plant, Roscoea humilis 'Inkling', to which the Farrer Medal was awarded, was by way of a complete contrast, with a mass of closely-packed shoots, topped with a canopy of inky-purple flowers. Congratulations to its owner Cecilia Coller.The usual denizens of summer shows, ferns, conifers, sempervivums, campanulas eriogonums and ourisias, featured strongly, though the season, at least for some of these, appears to be running late, perhaps to the benefit of the Pershore show in 3 weeks.
The artistic section was well supported, as is usual at this show, with examples of photography and embroidery at their best.
Two interesting exhibits were staged as part of the anniversary event, both receiving Large Gold Awards. The first, by Brian Russ, was a collection of porcelain decorated with alpine flowers, featuring the ubiquitous gentians, but also less obvious plants such as calochortus. Frank Tindall showed part of his alpine art collection, with a range of subjects and styles, including notable studies by the late artists Duncan Lowe and Lawrence Greenwood.
Martin Sheader