Summer North AGS Show, 2014
Moving show venues is always a risky undertaking as it is not until the big day arrives that the suitability (or otherwise) of the new location, and its appeal to exhibitors, is fully revealed. The organisers of this year's Summer Show North must have gone home relieved and pleased that they had picked a winner. The only complaints I heard related to the subdued light in the show hall (as much due to the sunless day as to the hall itself) and doubts about whether Derbyshire can fairly be described as being situated in the North of England! Otherwise there were fulsome compliments from exhibitors, nurserymen (whose stalls were close by the show benches, elegantly screened one from the other by Jean Morris's Large Gold Award needlework display), and the spouses, families, and friends of exhibitors who, for a change, had a very likeable town to visit within very easy walking distance. Some welcomed the massive carvery lunch, all that was on offer in the café adjacent to the show hall; others would have preferred a sandwich (and could have sourced one by crossing the bridge over the trout-filled River Wye to visit the farmers' market shop.
The Show Secretaries confided that a few days before the show there was serious concern about the number of entries, but they need not have worried as many were received at the last minute, so that in the event the benches were well filled with a wide range of good quality plants. There was one concern, however, which was that there were no entries in the Novice Section. It is hoped this will change if (as is anticipated) the show is at the same location next year and more local gardeners who may not have exhibited before are encouraged to bring their plants along.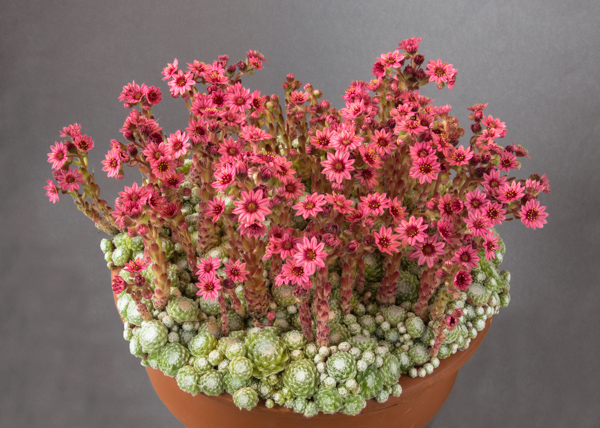 Pride of place is given in these reports to the plant chosen by the judges as 'Best in Show', and awarded a Farrer Medal, provided one of sufficient quality to merit that accolade is exhibited. There was no hesitation here in awarding this to a splendid Sempervivum arachnoideum exhibited by Tony Lee from Long Eaton, a stalwart exhibitor of the shows for many years who had, surprisingly, not won a Farrer Medal before. I think it is fair to say that Tony was delighted and surprised in equal measure; it is very rare for a Farrer to be awarded to a Sempervivum, however good. (One has to go back 22 years to instance the last such example, at this same show fixture when held irrefutably in northern England, at Pudsey.)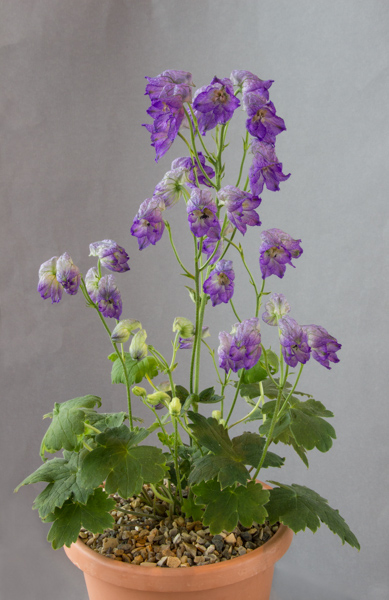 Whenever Cecilia Coller turns up at a show you can be sure that she will be among the chief prize-winners, and as we have come to expect she won the Ridings Salver here for the most first prize points in the Open Section. Her winning entry in the small six-pan class (as such winning an AGS Medal) contained a number of excellent plants, including a nice albino form of Scutellaria indica var. parvifolia [below] and a good example of the Himalayan Delphinium brunonianum [left], which looked a bit pale on the bench but showed its true colour when taken to the sunlit window in order to have its photograph taken.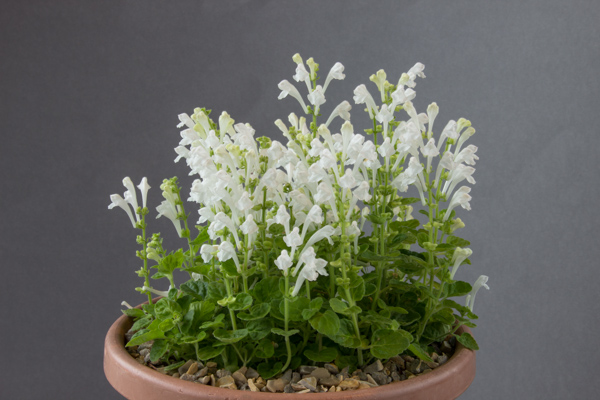 Neither of these plants is difficult to cultivate and both can be quite easily raised from seed, which is regularly offered in the AGS Seed Exchange (although in the case of the Scutellaria the normal blue form rather than the albino predominates). Beware though of inadvertently raising hybrids of the delphinium, for I have found that it crosses with others of its kind in the garden.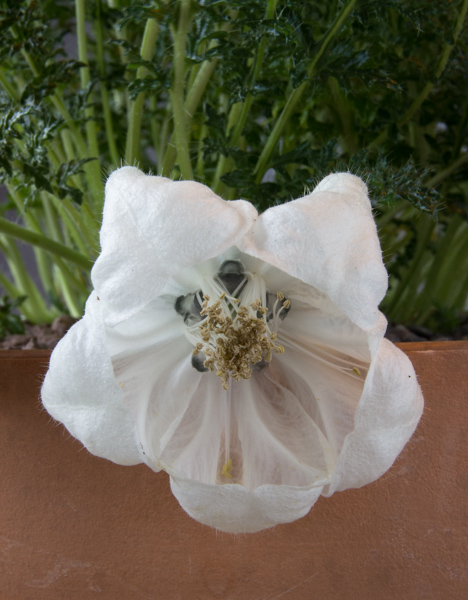 Martin and Anna Sheader won the Bill MacKenzie Trophy for three pans native to one continent with three first-class plants from South America, two of which were awarded Certificates of Merit. Many of us have heard of or seen photographs of Caiophora coronata, one of the legendary alpine plants of the central cordilleras, stretching from Chile through Argentina to Bolivia and Peru, but few of us had seen it in flower since the BCW introduction over 40 years ago. This was a splendid specimen, carrying a good number of its large (5 cm diameter), pure creamy-white, lampshade-like blooms on longish stalks at ground level, below the abundant dark green foliage which glistened with reflected light as a result of its covering of an antagonistic deployment of spiny, stinging hairs. Martin explained that there is a good reason for the flowers to be displayed in this manner as they are pollinated by small mammals which sip the nectar copiously released into the sac-like flower pouch. There was admiration all round for the show photographer, Jon Evans, when without too much fuss he gently extricated the large pot from the bench and carried it off for photography – mercifully no first aid (either for stings or for hernias!) was required.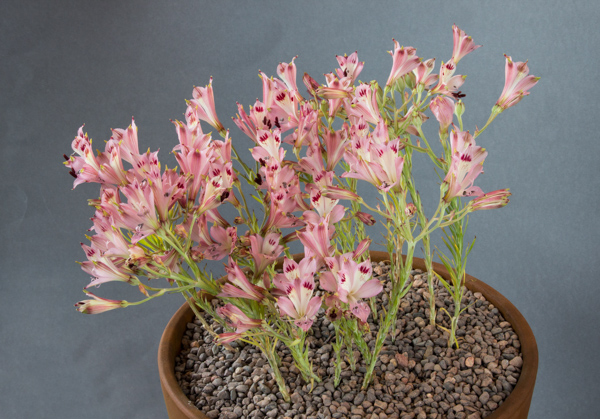 The other recipient of a Certificate of Merit in this exhibit was the rarely seen Alstroemeria diluta subsp. diluta, which produces compact winter foliage, low and mounded, and afterwards flowering stems in late spring about 24-46 cm (10-18") tall when the foliage has mostly withered away. In this form, which comes from between 34º and 36º south in the low rainfall, northern part of the Chilean Andes, the flowers are light dull pink with dark red highlights at the tips of the upper inner segments, whereas in subspecies chrysantha the upper flower segments are yellow flushed. In nature this species is found at low elevations but it appears to be hardy under unheated glass, provided it is kept dry after flowering until the new season's growth appears in autumn. The latter requirement makes it unlikely that it could be cultivated outside without protection from summer rains in the UK.
Before I leave this exhibit I would like to take the liberty, as I have done on previous occasions, of saying a few words about the person whom the trophy commemorates. Bill MacKenzie, who died at the ripe old age of 91 in 1995, was an outstanding plantsman who rose from humble origins in Argyllshire to become Curator of the Chelsea Physic Garden (1946-1973). Being the son of a head gardener he was always keen on hands-on gardening, having a special interest in propagation and describing the period when he worked in the propagation department at the Royal Botanic Garden at Edinburgh in the 1930s as a 'marvellous time'. Understandable when one realises that this was when many new plants were introduced by the great Scottish plant-collector George Forrest, and also Frank Kingdon Ward and Joseph Rock. Bill had a vivid memory of these golden days for it was his job to look after the seeds of Meconopsis, Omphalogramma, Primula, Lilium, Nomocharis and Rhododendron which were arriving for the first time into cultivation. These experiences awakened a special interest in alpines and he was promoted to assistant curator in charge of the Alpine and Herbaceous Department. In 1961 Bill was awarded the Royal Horticultural Society's Victoria Medal of Honour (VMH). Many of you will know his name through the yellow Clematis 'Bill MacKenzie', a chance seedling that he noticed in the garden of Valerie Finnis, who propagated it from cuttings and gave it his name. I knew him briefly towards the end of his long life; he visited our garden at the time of the AGS's Golden Jubilee Conference in Bangor in 1979. What I chiefly remember are two things. Firstly, he enthused over a large plant of Mutisia spinosa that was in full flower at the time. Secondly, he charmed my wife, Pam, by complimenting her on her cake-making ability!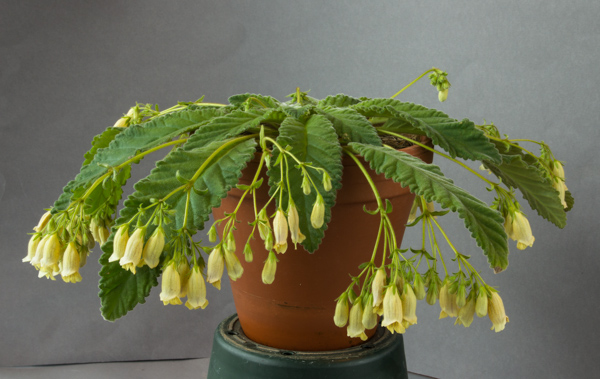 A good specimen of an unusual member of the Gesneriaceae, Briggsia muscicola, shown by Wilma and Jim Wright in the class for a rock plant native to Asia, marked the return to the show bench of a species little seen nowadays. This grows at intermediate altitudes (2,400-3,500 m) in SE Tibet and adjacent NW Yunnan on mossy rocks and as an epiphyte on trees. It has large, softly hairy leaves arising directly from the crown, from which also emanate the flower stalks, each bearing a few creamy flowers. While not a plant for the open garden, it will grow happily in a barely frost-free glasshouse, in a pot of very well-drained, organic-rich soil. Alternatively, I am told that it does well in a hole bored in a large chunk of tufa.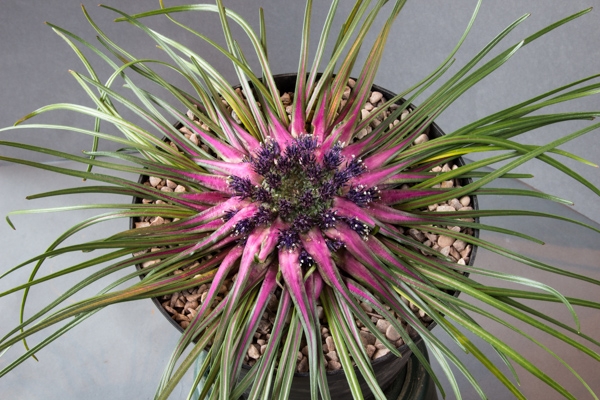 Tim Lever showed a couple of noteworthy plants, and one of them caught the attention of everyone else at the show too! If there had been a class for the most unusual looking plant (as there is at our local N. Wales AGS Group Show), Saussurea stella would have won it hands down. I have grown this singular species several times over the years, most distantly when I bought it from Jack Drake's Inshriach Nursery in the 1970s. I never managed to grow my plants to the size of Tim's splendid specimen, which would certainly have covered a goodish-sized dinner plate. It is a true alpine, widely distributed in western China and Tibet where it reaches altitudes of 5,400 m, growing in wet grassland, marshlands and bogs. In cultivation it does not require such wet conditions but benefits from regular watering when in growth. The plant exhibited will soon be but a memory, for the species is monocarpic.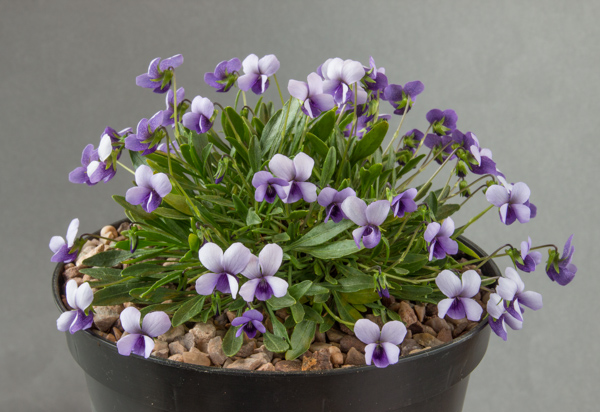 The other of Tim's plants that took my fancy is entirely different, a miniature, rare violet from Dionysia country in the Elburz Mts of Iran, Viola spathulata. There it grows on north-facing limestone cliffs close to Dionysia aretioides and receiving some shelter from the intense heat of summer. Sweetly scented, it prefers a very well-drained soil in a crevice, where its carroty root can delve deep. Another alpine house plant, where it will repeat-flower from April onwards if kept cool and Red Spider Mite-free.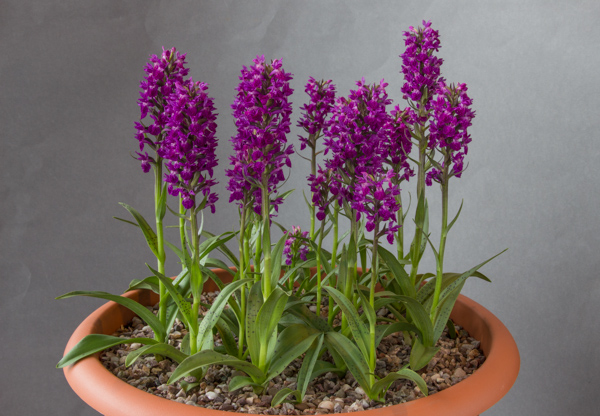 As is usual at the summer shows, there were quite a lot of ground orchids on the benches, mostly comprising the larger Dactylorhiza species and hybrids. While I like and grow these plants in my garden I always find them somewhat overpowering when towering over other plants on the show benches. But I had no such reservations concerning the charming exhibit of a potful of Dactylorhiza purpurella (the northern marsh orchid) shown by Ian Instone. Apparently these plants were among many that had appeared spontaneously among various other pots of orchids in his garden in 1998, and had been teased out and potted up ‒ a regular occurrence there that many of us wish would happen with us! The compost he uses is neutral to slightly acidic and loam-based.
Author: John Good
Photographers: Jon Evans and Doug Joyce