Summer North AGS Show, 2013
After a cold-affected, stuttering start to the Show season, the changeover from spring to summer was marked dramatically by a Show of abundant colour and variety, the exhibits set off by strong sunlight streaming into the hall. The wide geographical distribution of the exhibitors was underlined by the variance in the flowering times of their plants this year, with at least six weeks difference between those resident on the south coast and those in the north.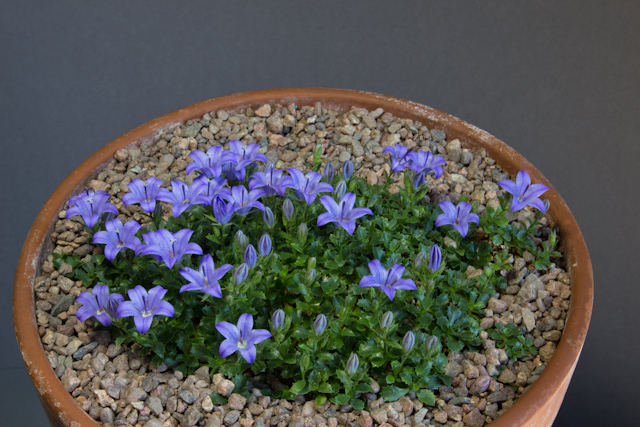 Campanulas provided clear evidence of this, with the best of them brought upcountry to delight visitors and northern exhibitors, with whom many species were barely in bud. Martin and Anna-Liisa Sheader drove from Southampton and displayed two plants of Campanula shetleri, both raised from Alplains seed, that had been and selected for their darker colour (plants can vary from white to dark blue in flower). Also called the Castle Crags bellflower, after a peak in California's Klamath Ranges, it grows on granite outcrops, often in pockets of scree.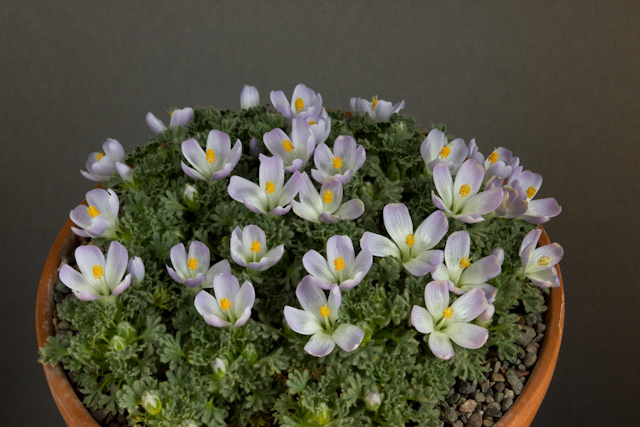 The plants shown were extremely compact, achieved by sitting them under glass without artificial shading. Both were grown in relatively shallow pans, as was a mature, Certificate of Merit-winning Nototriche macleanii from the same exhibitors, bearing more flowers than ever seen before at a show, though (like a hybrid between this species and a fellow Peruvian, N. aretioides) still with a promising succession of buds to come.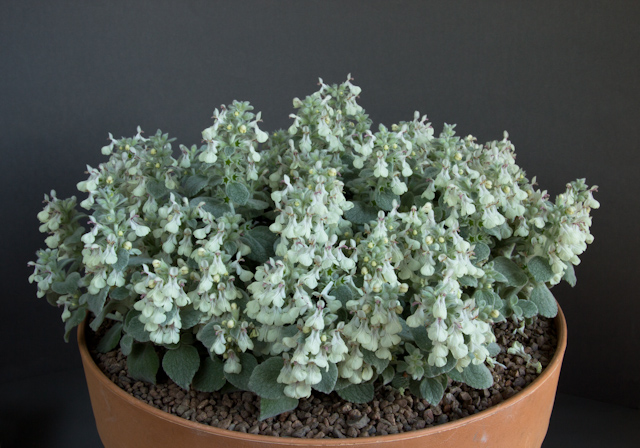 Three further Certificates of Merit were awarded. The first went to the same exhibitors for a very large, peak of condition Stachys candida, a southern Greek species whose abundant flowers soon dislodge as the display reaches its zenith, so staging a plant with every flower in place and in its prime is commendable.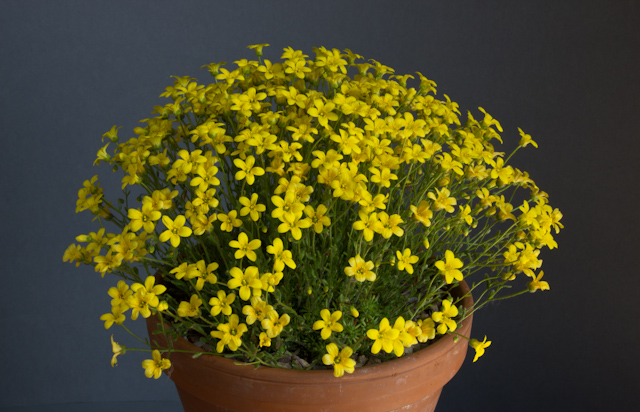 Geoff Rollinson (Holmfirth) had the largest plant of the increasingly popular, rich yellow Saxifraga llonakhensis, a Sikkimese species that has proved more obliging and longer-lived in gardens than most Section Ciliatae members. Upstairs, in the well-supported Artistic Section classes, Peter Maguire's photograph of Asarum campaniforme was the remaining award recipient.
A word of recognition here for the sterling work carried out by Jon Evans, who the day before spent considerable time and effort mounting an artistic competition that involved some 215 separate exhibits. After taking photographs of the main showhall exhibits for much of Saturday, he was then faced with returning upstairs to take down the entries, and finally travel several hours home to Hampshire!
The Farrer Medal was awarded to what Alan Furness (Hexham) commented was his oldest alpine in a pot. As seen, Lewisia rediviva was a complete dome of soft pink flowers, overlapping the sides of a 19cm pot in a performance few have coaxed from this species. Raised from seed sown in 1985, this is a superior selection, for the petals are broad, even, and of good substance. After all these years, the caudex is apparently the girth of an average cucumber, although it is supported by a surprisingly small root system. Var. minor, occasionally exhibited, differs in having spathulate rather than cylindrical leaves: it is frequently white flowered.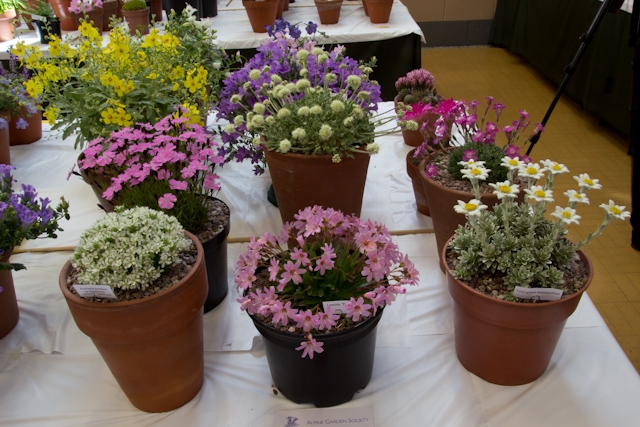 The Open Section Aggregate was won by the ever-reliable Cecilia Coller (Norwich), the Intermediate by Jackie Street (Derby) and the Novice by Heather Barraclough (Bradford). George Young (Stocksfield) had a number of good plants, the pick of them gathered together in a well balanced, pink and white themed small six-pan display that gained him an AGS Medal [left]. A small, floriferous mound of the white Arenaria hookeri var. desertorum, from Utah, was especially eye-catching.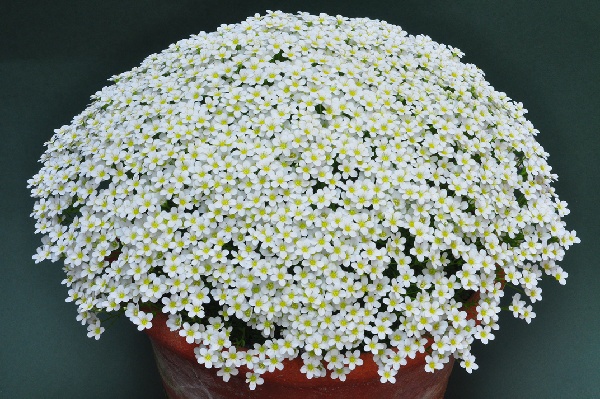 Also white, though of varying intensity, Saxifraga cebennensis was shown by several exhibitors. A dwarf variant, sometimes labelled 'Minor', was shown by John Mullaney, and has been passed round over many years by him: a 10 year old plant was exhibited by Robert Rolfe. This 'mossy' species, endemic to the Cévennes of south-central France, will persist outdoors in British gardens if grown in tufa, remaining exceptionally tight in growth.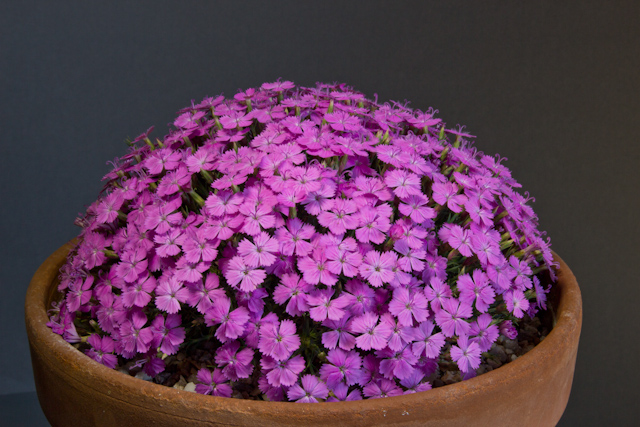 Edward Spencer (Eggington) staged Dianthus 'Eileen Lever' almost 10 years after this excellent hybrid first received awarded a Farrer Medal when shown by Lee & Julie Martin. The dense pink dome he had managed to coax hinted at the prospect of another such conferral. Originally selected from a batch of seedlings of D. webbianus x haematocalyx subsp. pindicola raised by Jim Lever, and named after his wife, it is very free-flowering, and happily very long-lived.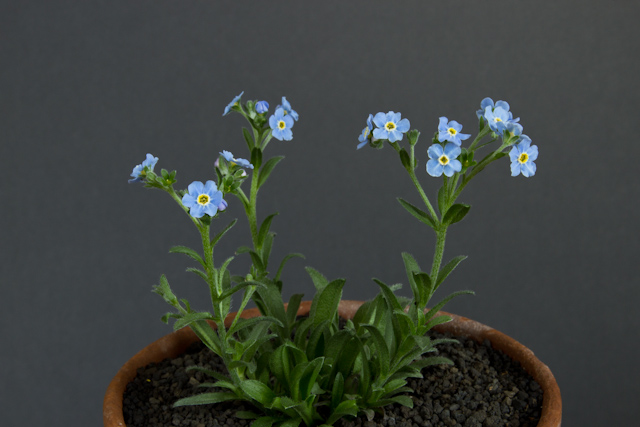 Yet another of the Sheaders' plants attracted attention in the new and rare classes, namely Eritrichium sachalinense. Found in mainland Russia and via Sakhalin to Hokkaido and central Honshu (where it has a very restricted range), this is a plant that Japanese botanists believe to be synonymous with E. nipponicum. Their merging is disputed by Russian taxonomists, according to the collector Vojtĕch Holubec.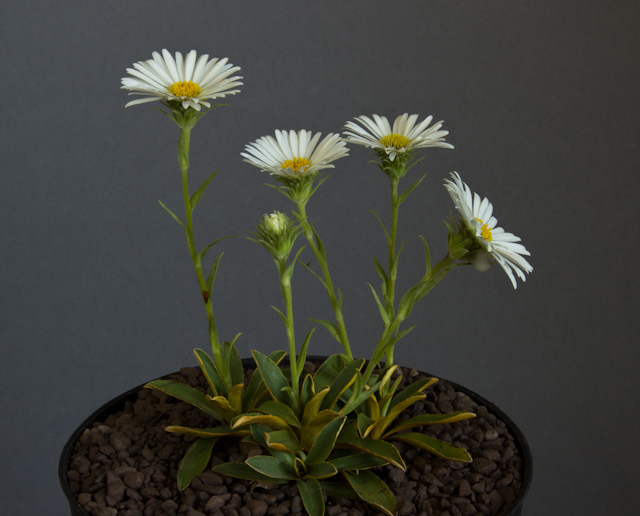 John Richards (Hexham) showed another member of his varied Celmisia collection, C. hieracifolia (the Hawkweed-leaved Celmisia). For me, this represented the perfect balance of flower to leaf, for sometimes the latter predominates in larger members of the genus. An extra attraction: the backs of the leaves are clothed with golden hairs. It occurs on both North and South Islands in New Zealand at 900-1,400m in snow tussock herbfields.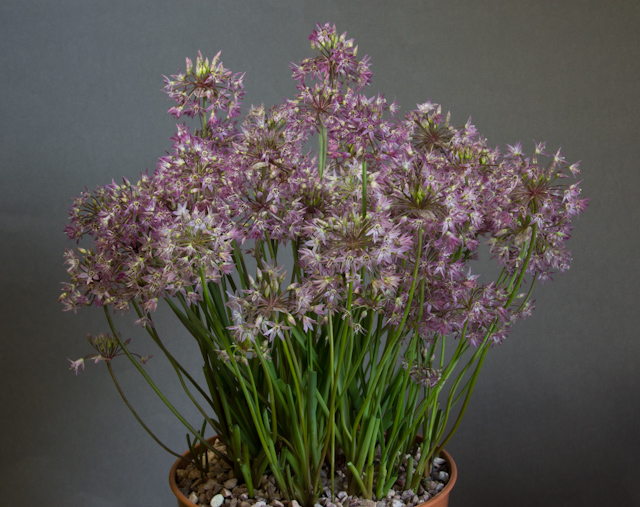 Two onions caught the eye, the one with most impact being Robert Rolfe's Allium campanulatum grown from seed offered by Ron Ratko in 2003. One among many Californian representatives of the genus, it can be anything from 5-30cm tall, and various shades of pink (the collector used to offer selections from different sites on this account). In this example, the dark rose-coloured florets numbered between 10-50 per head, and had coalesced to form a dome of flower.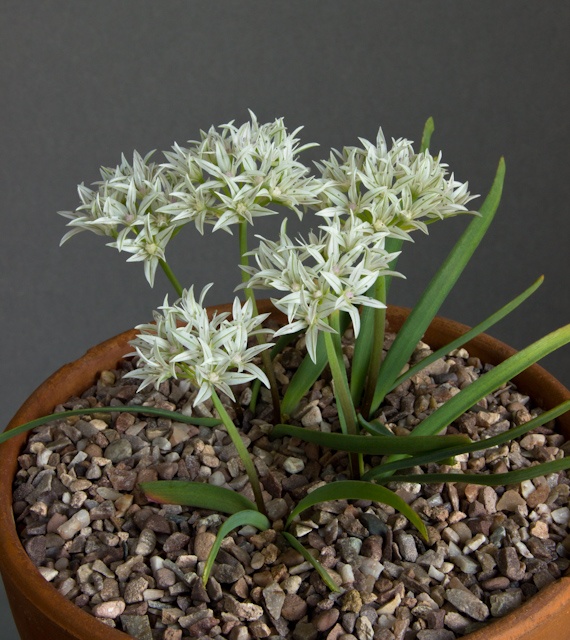 In the wild it can be found east to Nevada, whereas Allium crenulatum (shown by both George Young and Tommy Anderson) is from further north, in Washington's Olympic Mts. Lauded by the just-mentioned Ron Ratko as 'possibly the hardiest of the West Coast alliums, it is also one of the dwarfest and most ornamental of them all, with subtle differences in the flower markings, evident upon the close inspection that these plants often repay.
Author: Dave Riley
Photographer: Jon Evans