Summer North AGS Show, 2005
The aptly-named Summer North Show was blessed with hot and humid weather in the preceding week, probably the main cause for the decrease in the number of plants exhibited in the Open Section, but thankfully an there was an increase in plants staged in Sections B and C.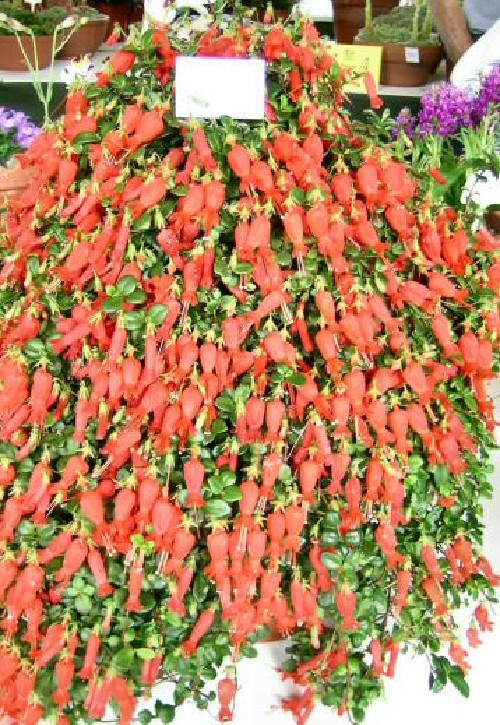 An overview of the benches confirmed that we were once again in Campanula mid-season, with the predominant colour blue, contrasting with splashes of red from South Americans Sarmienta repens and Ourisia polyantha. It was nice to see a reappearance of the trigger plant Stylidium graminifolium sporting even more flower stems this year and justifiably receiving a Certificate of Merit. Two further Certificates were awarded, the first for a large pot full of Nomocharis aperta seedlings showing interesting variation in spotting on the tepals, and the second to a 19cm pan of Campanula cenisia with delightful pale blue upward-facing flowers.
Some of the shows have adopted a class that requires a mix of flowering and foliage plants, and an excellent well-matched six pans was exhibited by Cecilia Coller containing Cheilanthes fendleri, Aenopsis cabulica and Pteridophyllum racemosum as contrasting foliage in the front row and a blue/purple threesome of flowering plants Monopsis unidentata, Roscoea humilis and Lallemantia canescens in the back row.
The Farrer was awarded to a ten-year old plant of Campanula myrtifolia, filling a large pan with a low mat of tiny white flowers. This is a slow growing limestone crevice species; the plant shown was an introduction from Ermenek, Turkey.
Martin Sheader