Summer North AGS Show, 2009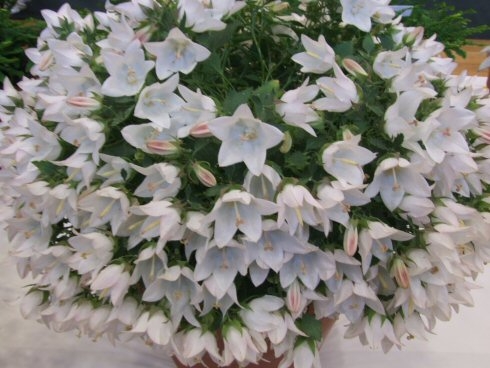 Returning to the show calendar after a year's gap, and to its previous home after a spell just a few miles to the east, in Headingley, this was a welcome restitution that drew exhibitors from as far afield as the south coast. Travelling up from Sussex, Lee & Julie Martin brought with them several of the Show's finest exhibits, including a large, very heavily flowered, chastely white (it can be heavily pink-flushed) version of the eastern Turkish Campanula choruhensis. Voted best in show, it was frustratingly just slightly past its peak, so that while every spent flower had been fastidiously removed, the main stems had elongated and parted under their heavy load, leaving gaps.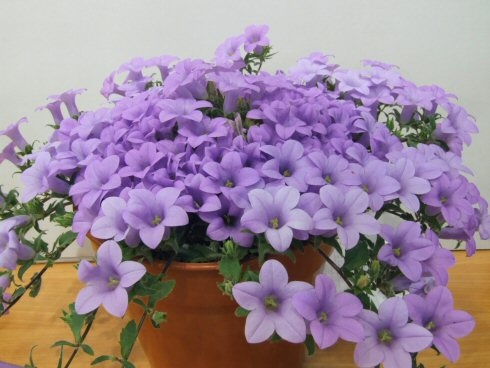 Another of the genus, the Greek C. pelia, with which these exhibitors excel, gained them the 80th Anniversary award for the best plant shown in a 19 cm pot. Frequent repotting and not even the hint of a check in the first year after germination make all the difference.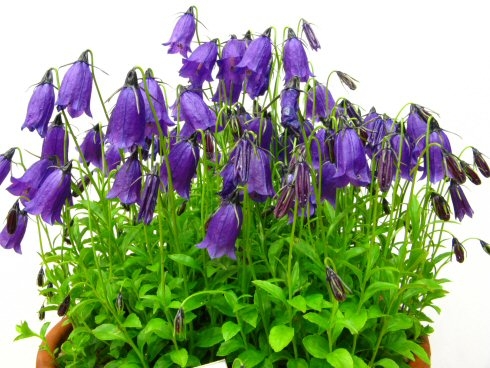 Journeying almost as far, Anne Vale (Braintree) entered a floriferous, notably healthy clump of Campanula pulla that was awarded the Charles Graham Trophy for the best plant in Section B. A lime-lover in its native Austria (records from Italy are few, and need further confirmation), it has no such requirement in the garden, where a rich scree suits it best. Division of the suckering mat should be carried out every few years to maintain vigour. Within the general harebell alliance, it is one of the most richly coloured (though there is also a white form in commerce), and among the most rewarding.
Once again, Cecilia Coller brought with her a vanload of plants, retaking the Ridings Salver for the most first prize points in the Open Section. Wins in both the small six pan classes boosted her total, but she also scored time and again elsewhere. Notable among her many entries were Petrocosmea kerryi BSWJ 6634, a large-flowered selection of this shade-loving gesneriad with abundant shortish-stemmed, white flowers, and the Australian Goodenia heteromera, sourced long ago from the old County Park Nursery (Essex), but shown for the first time, its mat of suckering shoots topped by a level capping of fragile-stemmed, deep yellow flowers of novel appearance, for short, parallel 'arms' connect the corolla's upper and lower elements to the centre, almost spanner-like.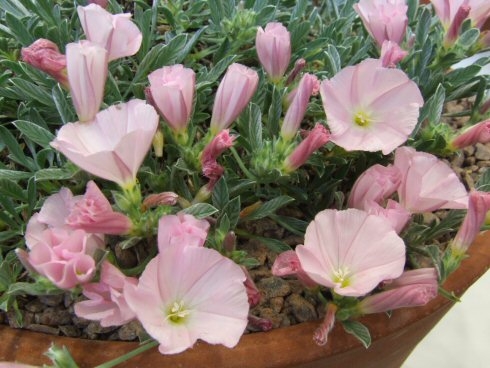 Her nearest rival, George Young, came down from Northumberland with a range of rarely-seen, well-grown plants that one hopes will reappear time and again.
Convolvulus boissieri
, the most distinguished of the genus with a proven track record in gardens, is usually cultivated either in its southern Spanish guise, or more rarely as subsp.
compactus
, of Turkish extraction. These are palest pink or white, whereas
C. boissieri
subsp.
sundermannii
is a Bulgarian endemic, little-known to gardeners (seed was offered a few years ago, gathered at 1850 m, the plants forming 'dense silvery polsters, 3 x 5 inches'). A well-established specimen, of greater circumference but lesser height, represented a much earlier introduction, and bore quantities of sugar pink flowers close to the rather narrow, deeply veined, silvery leaves. Heel cuttings taken in late June, after flowering, meet with reasonable success. Repotting demands a long tom and minimal disturbance: mix a very gritty compost, knock the plant firmly out of its container, finish with a deep topdressing – and hope for the best.
The same exhibitor also entered a dwarf Turk's cap lily, labelled Lilium henryi. It can't be that species, however, for quite apart from its height (c. 15-20 cm, whereas its Chinese alter ego is up to 3 m tall), the bright red, unspotted flowers, two or three per stem, were muskily scented (L. henryi is unperfumed). The leaves were too broad, and too sparsely arranged to make an identification as L. pumilum tenable, but like the latter it appreciates a leafy, well-drained soil, for preference lime-free, and a vigilant guard against that increasingly widespread bane of the genus, the Lily Beetle.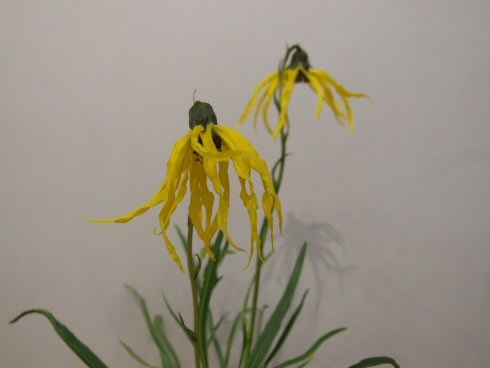 Damper conditions, and for preference cool summers, are pre-requisites when it comes to growing cremanthodiums, denizens of the higher, wetter extremes of the Sino-Himalayan ranges that can be magnificent when seen at their finest, but often disappoint in gardens. Again the name is in some doubt: choose between C. angustifolium, which also occurs in SE Xizang and NW Yunnan (this dwarf findling, at most 20 cm tall, came back as seed from the Sino-Scottish Sichuan Expedition), usually in high altitude swamps or on stream banks, and C. forrestii, 10-30 cm tall, but with divergently greyish-green, petiolate leaves, uncertainly from Yunnan and Xizang. Few gardens offer acceptable conditions from one year to the next. But at the opposite end of the spectrum, moving far westwards, and from damp to periodically very dry, Eriogonum tumulosum, from Colorado through to Utah, where it favours shaley clay soils, is one of the dwarfest, most condensed of buckwheats. The thrift-like heads of bloom are almost parchment-coloured, and are borne on the shortest of stems above tuffets of huddled, silver-grey leaves. An alpine house positioning in full sun, and a compost of leaf-mould, John Innes no. 2 and two parts fine grit had yielded promising results from a 2005 start date.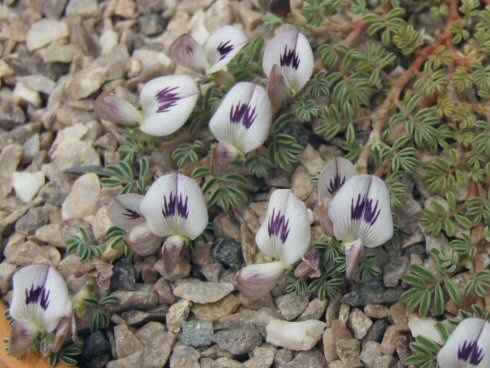 From North to South America; it was a delight to see a small but perfectly in character mat of a distinguished member of a pervasive Andean genus of Andean 'peas',
Adesmia microphylla
. Raised five years ago from a rare (F&W 10722) sending, made at 2000 m in Argentinian Patagonia, Trevor Whitaker's winning 'rare in cultivation' entry was prostrate, with stems radiating to 10 cm from a central crown, adorned with near sessile, greyish-pink, dark-flecked flowers. Grown in a well-ventilated alpine house, using a compost of three parts sandy loam to one of sharp grit, and given a dryish winter, it had flowered freely and promised well – unlike various others that have been attempted.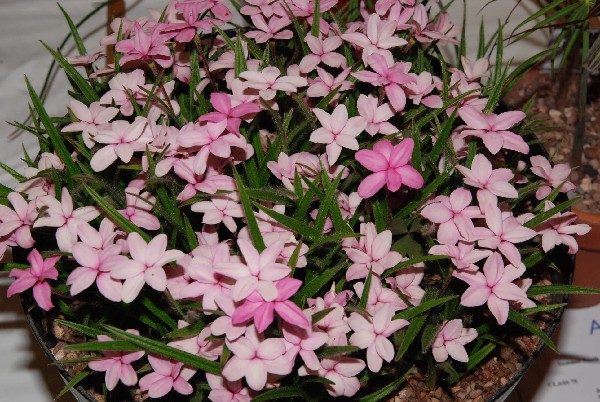 Rarities and relative commoners jostled cheek by jowl in the senior and the intermediate classes: Section B (and in consequence Tindall Shield recipient) victor Colin Dolding showed some excellent Rhodohypoxis baurii selections (very much his forte in recent years) but also had a lovely pan of Dactylorhiza pupurella x fuchsii (with very healthy, unspotted leaves), and a prodigiously-bloomed example of that pernickety narrow endemic from Wayne County, Utah, Gilia caespitosa (which arguably showed signs of hybridity).Another exhibitor in this Section, Colin Henderson, brought along the best-flowered Sempervivum arachnoideum exhibited since this species was awarded a Farrer Medal (at this same venue, coincidentally) 17 years ago, in 1992. This had to be re-entered in Section A since it was oversized, whereas another of his entries – and another classic European alpine, Leontopodium alpinum, stayed within the pot size limit, and reminded visitors that even the most hackneyed of alpines have sterling merits.
Of the many other exhibits deserving of mention, it is important to acknowledge the high standards evident in the fern classes (Brian & Shelagh Smethurst's trio of Asplenium trichomanes, Cryptogramma crispa and Cystopteris fragilis was rewarded with a Certificate of Merit, worsting six contenders in the same class), some formidable, tight as a drum cushions, and a catholic array of alliums, from the whitish, pink-stamened Allium crenulatum (Jim & Wilma Wright) of North American origin, to the narrowly endemic European, solid pink A. insubricum, brought along by Show Secretary Eric Rainford.