Summer Mid-West AGS Show, 2014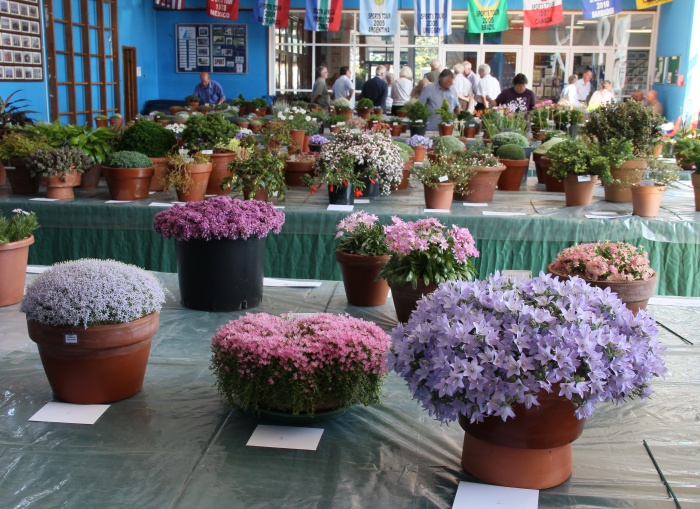 It is fully 20 years since the inception of this show, held first in Cheltenham, then Pershore, and more recently relocated to a couple of venues mid-way between these towns, just off the M5, on the outskirts of Tewkesbury. Having attended every single one of these events, I can claim some sort of historical perspective in assessing what has been shown over the years, backed up by notes revealing that Campanula petrophila received the earliest Farrer Medal (the only plant seen on the show bench in 2014 flowered a month beforehand), that on the same occasion a serviceable entry of C. morettiana was unplaced (this Dolomites endemic has since all but lapsed from cultivation, in the British Isles at least), and that the equally distinguished, Californian C. shetleri was entered by several exhibitors, as were two lilies from the same state, L. parvum and L. pitkinense (the latter a Sonoma rarity nowadays deemed a subspecies of L. pardalinum). Other onetime flourishes absent in 2014 included the high alpine Himalayan umbellifer Cortiella hookeri, and even Anomatheca laxa var. alba.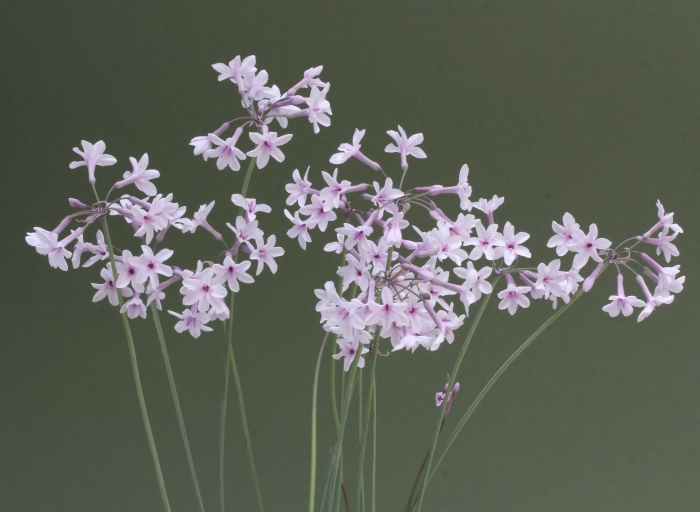 The last-named is a widely-cultivated South African, and plants from this part of the world were otherwise very well represented at this year's show. Ivor Betteridge wrested the Frank Badrick Memorial Trophy with two of these, Tulbaghia 'Purple Eyes' [left] and Cyrtanthus epiphyticus (which grows not only in moist rock crevices but also on trees, and had lasted well from its previous appearance at Bakewell, with only three of the eleven spikes of reddish-orange flowers neatly removed four weeks on), and its epithet-linked to this region but Sino-Siberian Allium neriniflorum, easily grown, pleasant if not audaciously attractive, and given its present classification since 2006 but often still listed as a Caloscordum.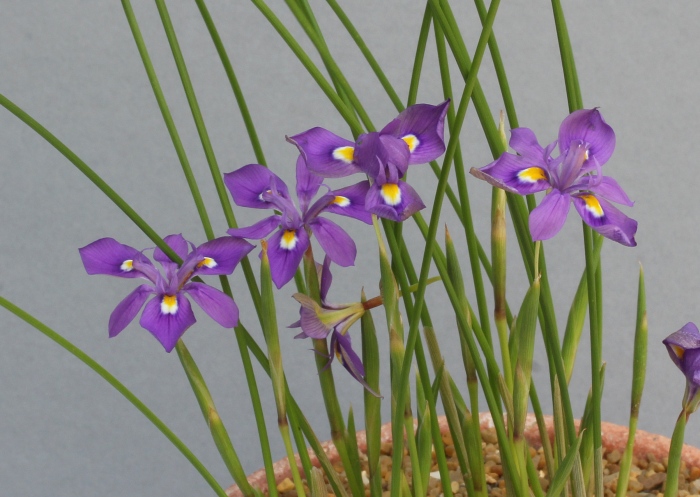 Next door, in the one-pan bulbous plant class, Alan Newton (one of several visitors from north-eastern England, and surely the farthest-flung of exhibitors at Tewkesbury) brought with him the little-shown Moraea natalensis, whose short-lived, small blue flowers came in a fortuitous flush on the day of the show. These are timed to fade after 4 p.m., which is as if tailor-made when one considers the closing time of our shows. Normally November to January or February-flowering in the wild, this elfin species extends as far south as the Eastern Cape, taking in Kwazulu-Natal (as its name dictates), but it also occurs extensively in Mozambique, Zambia and Zimbabwe, sometimes on rock outcrops at altitudes and giving a reasonable prospect of winter-hardiness under glass, sometimes along rocky stream banks lower down that dictate protection from frost, as with many of the surprisingly diverse species from the stronghold of the genus (120+ species) in the Western Cape.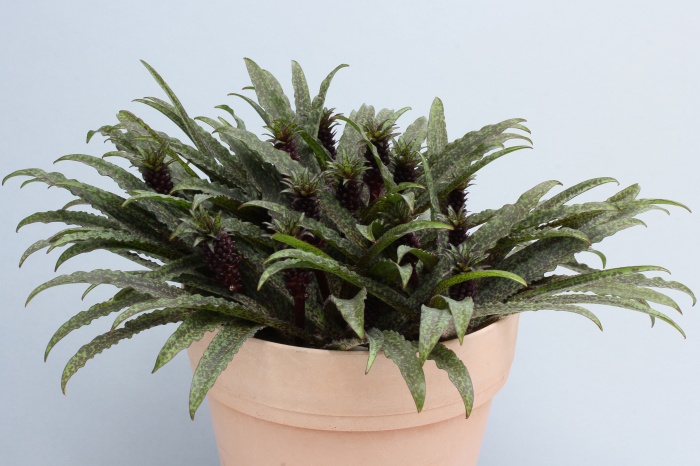 Some moraeas are pleasantly fragrant (the light yellow M. fragrans especially) whereas others are malodorous (M. lurida is a fly-pollinated, principal offender): when it comes to the more statuesque, so-called pineapple lilies (Eucomis), all are attractive but, in an olfactory sense, a few are utter stinkers, the more so as temperatures rise, as they did on a rather muggy day in mid-July. Some have reddish-purple blotched leaves (and stems too), the most exotically-adorned of these the Mpumalanga endemic E. vandermerwei [left], described 70 years ago but only popular with British specialists since the turn of the century, which is when Joy Bishop obtained her stock at an East Anglia bulb auction, increasing it appreciably since then so that it not only received the Glebelands Trophy (nowadays awarded to the plant with the most attractive foliage) but also the first of four Certificates of Merit, more in a moment of those bestowed on other exhibitors' entries.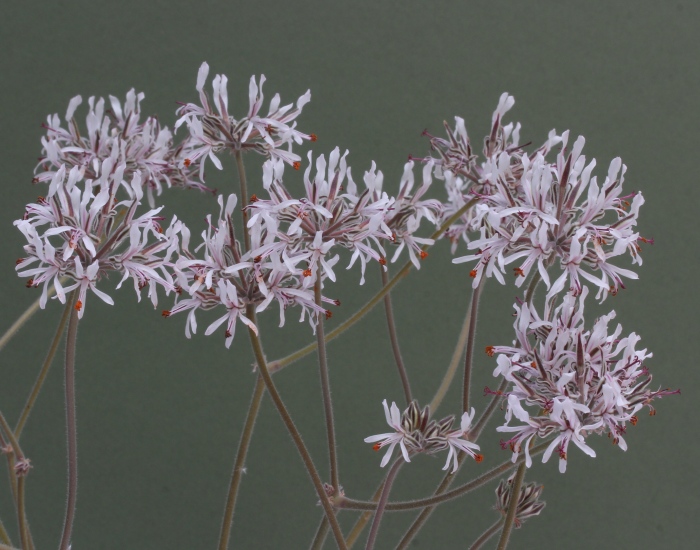 Another Eucomis, only a short distance away, formed part of a distinguished three-pan staged by George Elder, all the components from southern Africa and all of them raised from seed. His Pelargonium auritum subsp. carneum [right] was present in a personal best performance; the ghostly white chalices of Androcymbium striatum were just opening but held much promise ('It's increased well', I murmured: 'I've had it quite a few years', he countered); and Eucomis amaryllidifolia (the most distinctive of several taxa at first recognised independently, then grouped at subspecific rank under E. autumnalis, but last year this element was convincingly re-established as a species in its own right) was perhaps the finest of its sort seen to date, for the apple-green leaves were splayed and very neat, the stubby inflorescences on their diagnostically club-shaped peduncles only 12cm tall, well displayed, but pale lime/jade green rather than 'whitish' (a variant sometimes reported). Typically found in rock crevices on mountain slopes at up to 3,000m in Orange Free State and Eastern Cape, it is another of the summer-growing species that make up the majority of the genus, and attracted the covetous attention of several leading exhibitors: ''Do you think he'd swap material?', I was asked twice.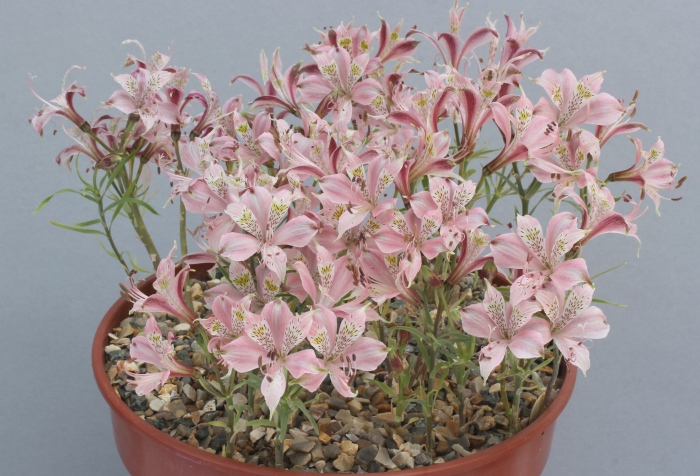 Alstroemeria hookeri was shown in Cecilia Coller's uncontested large three-pan exhibit, this a typical low-growing example with pale pink flowers, somewhat sere in bud but beautifully marked with maroon when open [left]. George Elder had a different take on the species, from a J&JA listing sown in November 1997, more upright and quite differently adorned, which (in the absence of field notes) one wondered might be another onetime subspecies from Coquimbo and beyond, now recognised as A. cummingiana (though not at the time that the seed was sown). A worthwhile and reliably hardy plant that brightens the alpine house after the main flourish has passed in such structures, whatever its precise identity.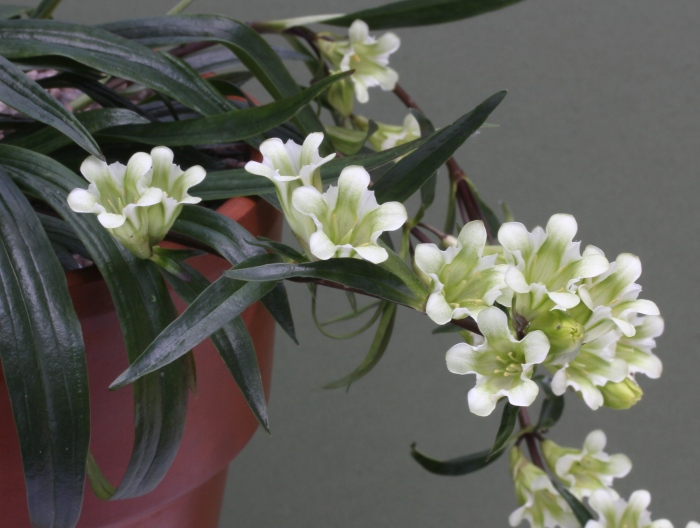 This event has a track record of show-casing novelties, including in past years an aberrant, cristate dwarfed foxglove that masqueraded as a high alpine, and the debuts of mainly Mexican, red Hedeoma ciliolatum (just one plant of this present in 2014) and that Drakensberg oddity of wide appeal, Eucomis schijiffii. Asian newcomers too, including a superlative Adenophota uehatae of yesteryear, but when it comes to gentians, these have been very few and far between. Jim & Wilma Wright, regular exhibitors at the Summer Mid-West Show, provided a talking point with a plant labelled Gentiana gracilipes [right] (it had been sown as such, from a blind collection made by Vojtěch Holubec) but upon flowering, after a four year wait, obviously not that species. The same basal rosettes of dark green, lanceolate leaves, but the arching stems had flowers not just at their tips, but pairs of these in most of the three or four axils along their length, and crucially they were pale yellow-green, with whitish, triangular and slightly furled plicae. Having perused other likely suspects in past lists (G. purdomii figures prominently in these, from a variety of western Chinese locales), at a guess the true identity is G. straminea, from several western Chinese provinces, and west to Nepal, at up to 5,000m. So far it has grown well in a rich, slightly gritty, loam-based compost, for it is both hungry and thirsty in equal measure.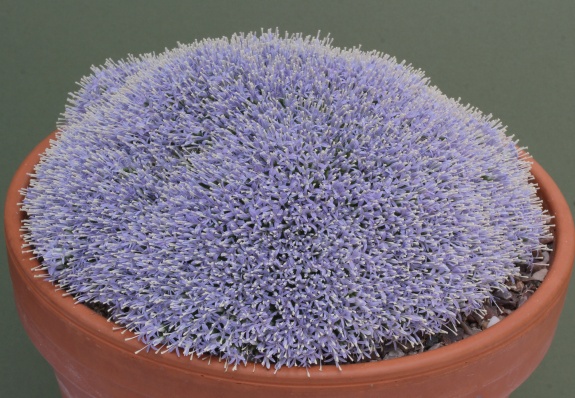 It had been bought as a seedling from the fondly remembered Blackthorn Nursery, the proprietors of which were both present (in years past Sue White has had her hands very full back in Hampshire) in order in part to exhibit just one plant, a long-established Daphne jasminea that distanced its nearest rival (show secretary Eric Jarrett's fellow southern Greek Campanula asperuloides [left], for all that there were other likeable examples, some just past their peak, and variously labelled Trachelium and Diosphaera of that ilk, referencing previous coinings) to win the Farrer Medal for this notably late-flowering species, capable of further flushes if it is given light liquid fertiliser feeds and is generally well-tended.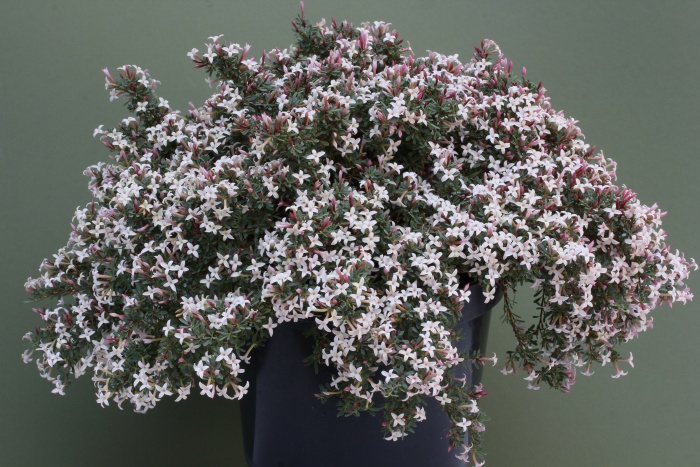 Technically found also in Crete and Libya, the finest forms are from Delphi and a few cliff faces lower down on the winding road that leads to Itéa (but not ubiquitously on these, despite some reports, as I discovered ‒ or rather failed to discover ‒ one hot June evening after pushing through brambles and wiry vegetation to be confronted with more or less gaunt limestone cliff faces, devoid of the daphne). The mature, 35cm+ mound cascaded over the sides of its large black pot, presenting its deep-pink backed flowers in quantity, but requiring last-minute grooming, for these dislodge after just a few days, and need picking over to leave an immaculate covering. Rarely grown outdoors, it will suffer in a severe winter, on occasion defoliating or losing branches when easterly winds strafe its billet: better to shelter it under glass, and to keep young plants (soft wood cuttings root well, especially if the plant is kept under a bench and allowed to etiolate somewhat) coming on.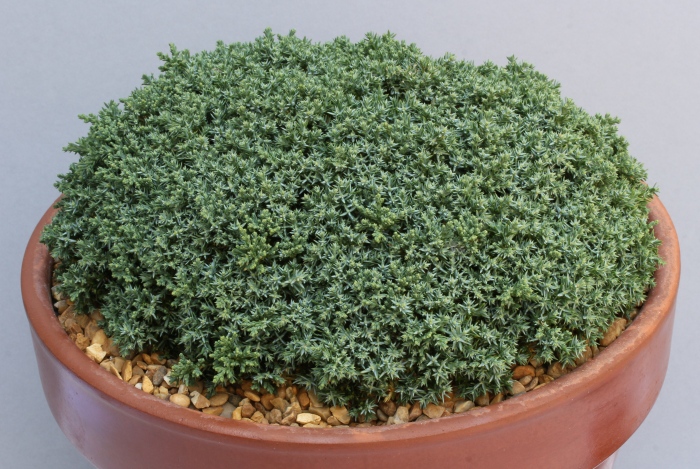 From analogous sites, though in Italy, not Greece, Campanula fragilis was the most popular of the genus on display, and several mature, well-flowered exhibits were present, that shown by David Richards arguably the finest. He also had some excellent conifers, the densely compressed, grey-green Juniperus horizontalis 'Neumann' [left] the out and out leader in its field. Two heartening pieces of news: a batch of this notoriously difficult to strike plant has rooted well under mist at Aberconwy Nursery. And David's previously Farrer Medal winning Salvia cyanescens, which took a nasty tumble at the Malvern Show, is reportedly all the better after a subsequent repotting, having yielded several cuttings as a bonus.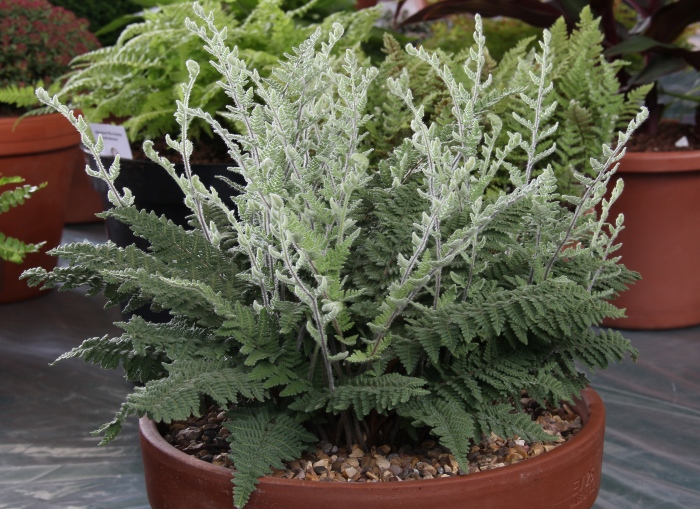 Another plant of this Salvia, along with Santolina elegans and Veronica bombycina, won Lee & Julie Martin the three-pan plants with silver or grey foliage class against formidable opposition; in the single pan class Dorothy Sample's Turkish Convolvulus compactus glistened in the sun, clearing enjoying the deep root run of its long tom clay pot. She scored again in the fern class with an immaculate Cheilanthes wootonii (in general this genus likes to be slightly pot-bound, and water should be kept away from their fronds), yet it was a younger C. tomentosa (staged by Alan & Janet Cook) [right] that really shone, for the whitish new fronds were at their apogee, contrasting with the splayed, tripinnate, older ones. This sampling was from the Santa Rita Mts, close to Tucson, Arizona, but the species has a disjunct distribution that extends right across to the Appalachians, and sometimes co-occurs with the popular C. eatonii, inhabiting rock crevices at up to 2,400m. An acid or neutral, friable soil is recommended, for all that the species sometimes inhabits limestone areas. Don't be unduly worried if the fronds die away in the winter months, notwithstanding its generally evergreen character if provided with sufficient moisture at the root. (One reads that a preparation branded 'Monty's Joy Juice' is recommended by some North American growers, which a certain well-known television garden presenter might care to syndicate the other side of the Atlantic.)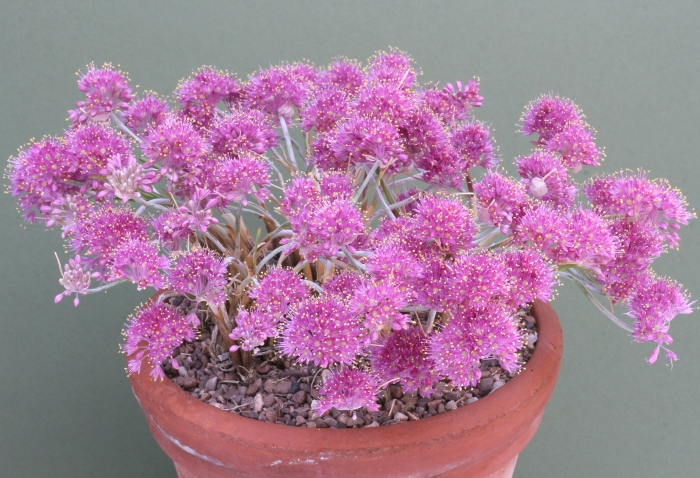 Foliage plants of one sort or another impressed throughout the show, from Paul & Gill Ranson's 20-year old, immaculate Dionysia mounds, through to younger but hard as nails cushions such as those grown in spartan conditions outdoors in his Derby garden by Chris Bowyer (a trio of Abrotanella forsterioides, Arenaria lithops and Saxifraga paniculata var. minutifolia was one of eight fine entries in the three-pan small cushion class, where the Cook's Alyssum caespitosum helped win them first prize: has it ever been grown more fetchingly in character?) Mention of this Turkish species prompts me to sign off by acknowledging another, in resplendent flower, Janet Asplands's Allium kurtzianum ACW 2372 [left], which has several times appeared at previous shows around this date, but has now built up into the sort of vibrant clump that even those who view alliums with suspicion or general indifference came back to admire a second or third time.
Author: Robert Rolfe
Photographer: Jim Almond