Summer Mid-West AGS Show, 2013
If you've been to an AGS show while staging is taking place in the early morning, you'll most likely have seen exhibitors swathed in sweaters and fleeces, holding cups of tea to warm their hands as much as to supply refreshment, and even using umbrellas to shelter their cosseted plants from the rain while carrying them to the hall.
So it was almost surreal to arrive at this show in blazing sunshine, the temperature at 9am already well into the twenties centigrade, and to witness exhibitors in T-shirts and shorts fretting about the heat. And it didn't stop there. By lunchtime the temperature had topped 30C, and such was the discomfort that it was decided to close the show an hour early.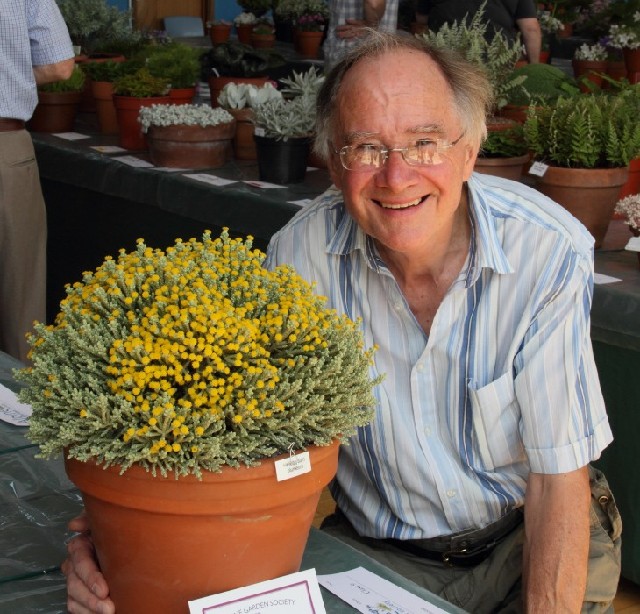 As befits a summer show, the benches were adorned with a good amount of colour supported by the foliage of many fine cushions, ferns, conifers and sempervivums. An eight-year-old specimen of Ozothamnus plumeum, first exhibited four years ago by Show Secretary Eric Jarrett when this event was held at Pershore, was awarded the Farrer Medal, the judges undeterred by its noxious scent! This was the first time it had flowered well enough since that Pershore outing for Eric to consider bringing it back to the benches. He finds this Jack Drake introduction easy to maintain and keeps it in an alpine house all year in maximum light. It grows readily from cuttings and sets seed, but as yet Eric has been unable to germinate any. Happy in a mix of around 70 per cent aggregates and 30 per cent John Innes No. 2, it prefers to be kept slightly drier than other New Zealand plants. Having remained in a 25cm pot for the past three years, this pot-bound state promotes flowering, although this former Helichrysum will also grow well outside in tufa.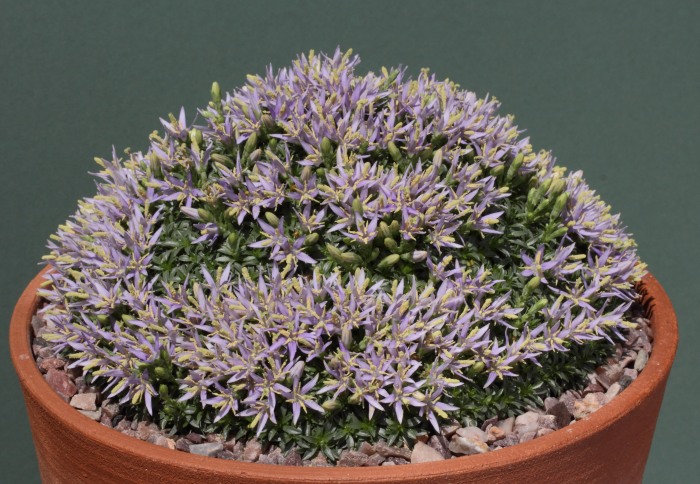 Eric also picked up a Certificate of Merit for his pot of Asyneuma pulvinatum, a rare native of Anatolia, Turkey, found in crevices in hard limestone rocks and cliffs at 1,500-2,000m. This member of the Campanulaceae family has a reputation for being difficult to flower in cultivation. When happy its foliage has a bluish tinge: a greener hue indicates that flowering is unlikely. Eric has two plants, propagated from a cutting received from Les Cheeseman. Neither has set seed and Eric believes that another clone is necessary to encourage this – but it is thought that presently there is only on clone in cultivation. The young plants require regular repotting until they occupy a 19cm pan, after which stage growth slows down considerably. Eric uses the same compost already described and offers a note of caution: at the end of winter the Asyneuma cushion develops bald patches on the foliage but the temptation to pull them away should be resisted. They maintain the plant's shape and new growth will soon cover them. Ideally the flowers are held tight to the cushion on short stems and in quantity, but in cultivation such flourishes are only occasional.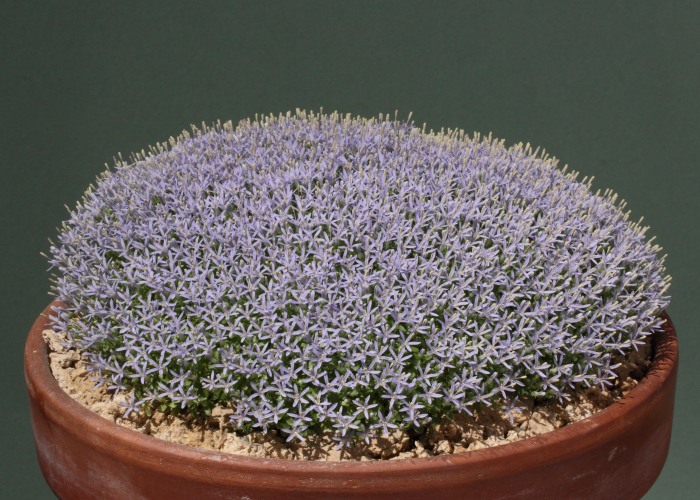 Another Certificate of Merit was awarded to Paul and Gill Ranson for a ten-year-old specimen of Campanula asperuloides, one of five specimens that they had on show. There was also a scattering of this species from other exhibitors. Classified for many years as Trachelium asperuloides, it has been redetermined as a Campanula following research by Swedish botanist and expert on the Greek flora, Arne Strid. Found on shady limestone cliffs in gorges along the River Styx, in the Ranson's Chippenham alpine house (where the plants are kept plunged alongside numerous dionysias) it has responded well to a gritty alkaline mix with a top-dressing of two-inch tufa lumps, and. Repotting normally takes place annually but their two larger specimens have not been moved on for three years because of their fragility. Naturally cushion forming, the plants' symmetry is maintained by removing around half an inch of stem when cutting off the flowers. A collection of spiders inhabit the cushions, creating a fine netting of cobwebs that have to be removed regularly.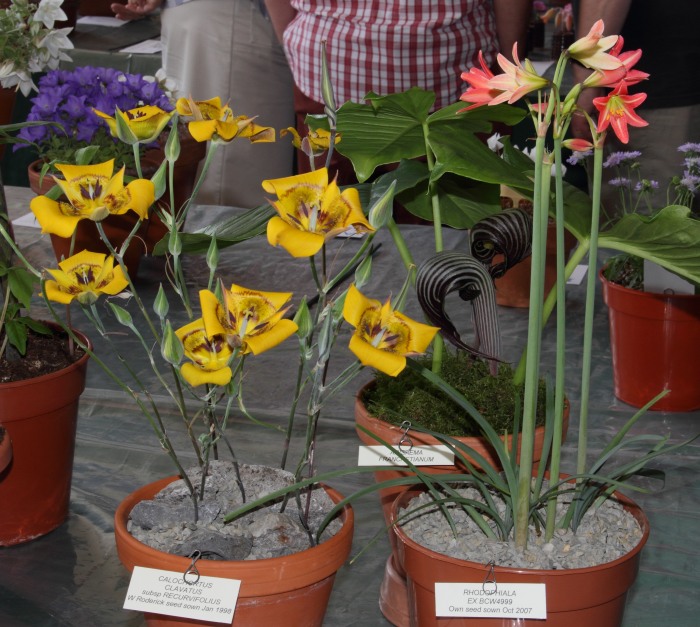 The Frank Badrick Memorial Trophy for three pans of bulbous plants was won by Bob and Rannveig Wallis. One of the trio, a Rhodophiala labelled ex BCW4999, took the exhibitors by surprise. Bob explained: 'We were looking for things in flower to bring to the show and came across it in our seed greenhouse, where we keep various seed-raised bulbs while they mature. There it was, displaying a bunch of flower scapes!' Grown in a 50-50 mix of John Innes No. 2 and grit-sand, the seedlings are left undisturbed when repotted, with the entire contents moved en masse into a larger plastic pot. The leaves are apparent for most of the year: even in summer the seedlings are fed occasionally with a proprietary tomato fertiliser. The initial stock, several generations since, was raised from an AGS Seed Exchange offering. Bob adds: 'I don't know if BCW4999 was ever formally identified but it looks very similar to another potful that we have labelled as R. advena.'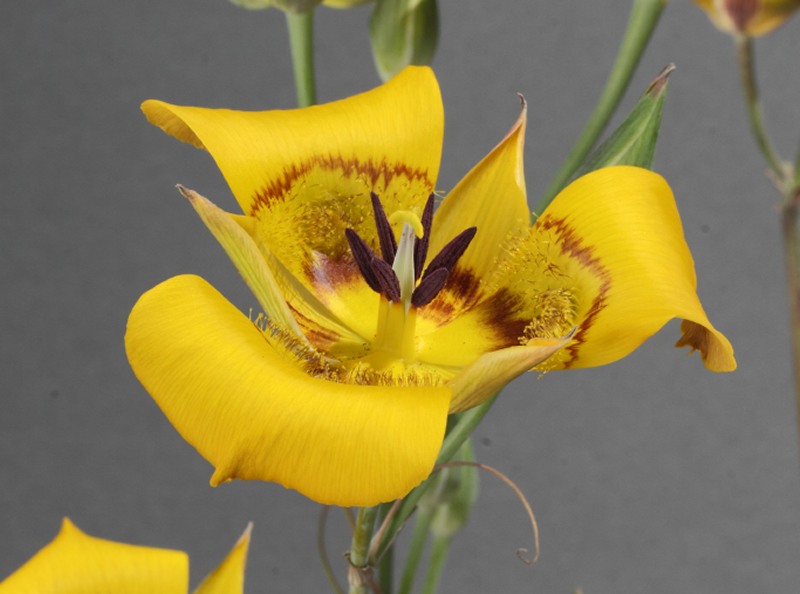 The three-pan exhibit was completed by Arisaema franchetianum and the flamboyant yellow blooms of Calochortus clavatus subsp. recurvifolius. The latter, from seed supplied by Wayne Roderick in 1989, enjoys the same mix as the Rhodophiala and is kept in full sun in an unheated greenhouse. The pot is plunged in sand and is allowed to dry out from the time the leaves die down in June until it is watered again in about October – the same treatment received by all the Wallises' Calochortus. This stock is particularly dwarf, which makes it much better for exhibition than other clones.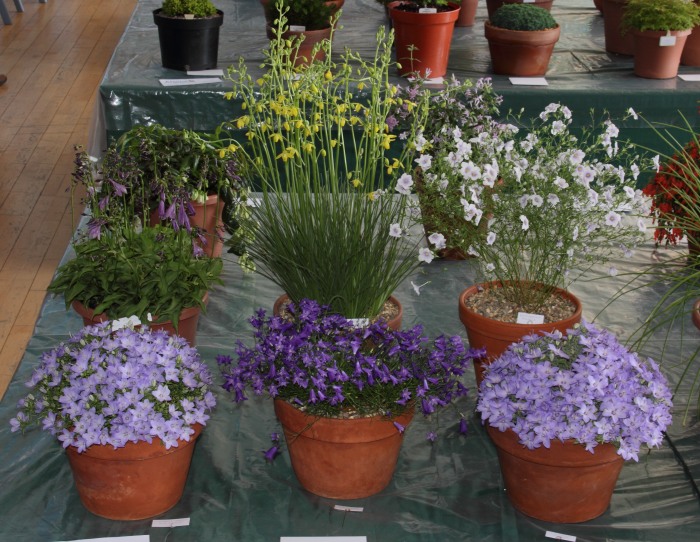 Cecilia Coller is anther stalwart of the multi-pan classes and won AGS Medals for both her large and small six-pan entries. Her usual eclectic mix of plants was dominated by campanulas, with the large six [left] containing C. fragilis, C. f. subsp. cavolinii and C. 'Covadonga' accompanied by Albuca shawii, Nierembergia pulchella and Hosta kikutii var. yakusimensis. Two campanulas in her small six – C. hercegovina 'Nana' and C. rotundifolia 'Jotunheimen' – were joined by Digitalis minor, Monopsis unidentata, Teucrium pyrenaicum and Pelargonium endlicherianum.
Two exhibitors won Certificates of Merit with South African plants. Alan Newton showed a plant labelled as Ledebouria cooperi. Subsequent investigation has led him to believe, however, that it is probably L. ovatifolia, a member of the Hyacinthaceae that occurs from the Eastern Cape to tropical Africa and Sri Lanka in stony grassland up to 1,980m. It has flat, glossy, ovate leaves, often faintly speckled or with purple spots. The very attractive flowers are nodding, pink to purplish green, with recurved tepals. Alan keeps his plant outdoors all year in a gritty compost.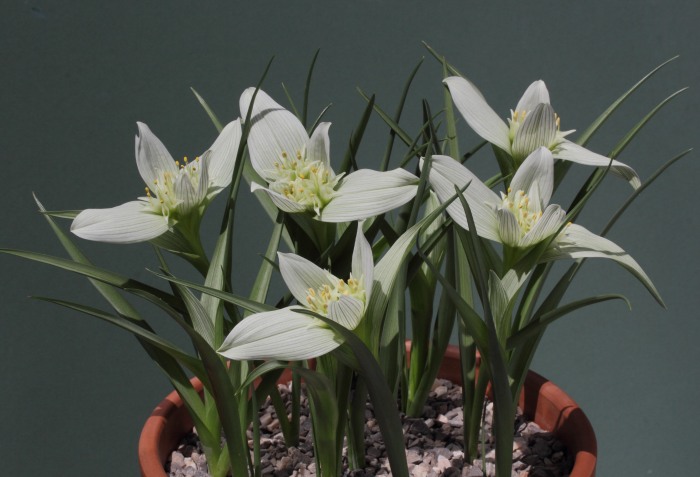 George Elder showed the elegant Androcymbium striatum, which he grew from Silverhill seed sown in 2001. Unusually for a Certificate of Merit plant, it only received third place in its class, with just five flowers open but another half dozen in bud. The compost, a 50-50 mix of John Innes No. 2 and a grit/perlite/sharp sand concoction, is allowed to dry out under glass in winter: the pan is brought into the open in April before growth resumes in May. Repotting is carried out every other year.
Visitors to this show were treated to a charming specimen of the diminutive Primula tibetica, grown by Lionel Clarkson. The clusters of tiny rose to purplish-pink flowers with a yellow eye were a delight to see. Kept outdoors in a mix of two parts John Innes No. 2 and one part grit, this three-year-old is clearly just as at home in Blackpool as it is its native Tibet, Nepal, Sikkim and Bhutan!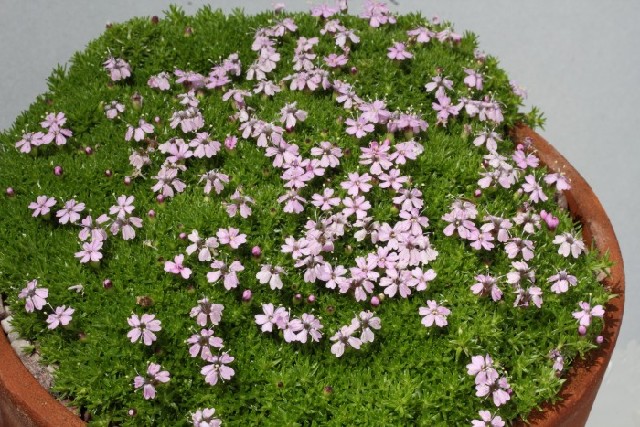 There was a good entry in the Novice Section, with six exhibitors staging 28 plants. Pauline Carless from Redditch won the Wessex Water Trophy for the best plant in the section, a cushion of Silene acualis 'Mount Snowden' with a scattering of pink flowers. Pauline, who started exhibiting only this year, also won her Bronze Medal.
Author: John Fitzpatrick
Photographer: