Summer Mid West AGS Show, 2012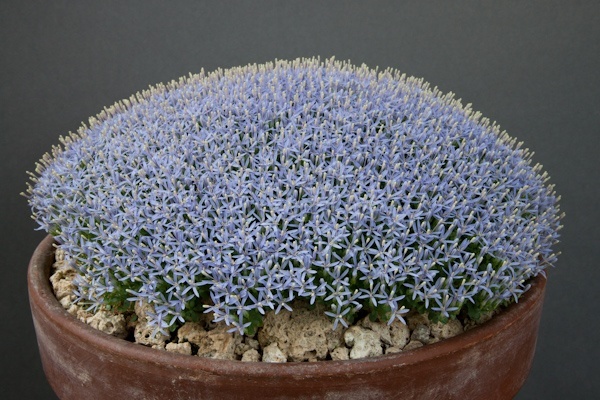 On Saturday July 14th a rainbow came out amid this year's summer gloom. Every colour was represented, from darkest green to deepest violet. Vibrant red and orange were contributed by several cacti; yellow from Goodenia (a new one on me); pink by Ourisia x bitternensis and Anagallis tenella 'Studland' (no doubt its health was in part due to the cool damp weather); green (ferns and conifers); and blue from a couple of first-rate Trachelium asperuloides [right] but most of all the pale blue to the dark violet of the campanulas. One of these, C. zoysii − a little gem from the southern Alps − won the Farrer.
Despite a lack of entries in the Intermediate and Novice Sections (the latter tally barely reaching double figures), overall the event was very well supported. The show hall at the new venue was bright and airy, and so easy to find (just off the off the M5) for exhibitors. A change of venue is always a challenge but Eric Jarrett and his team made it a good day for exhibitors and visitors alike.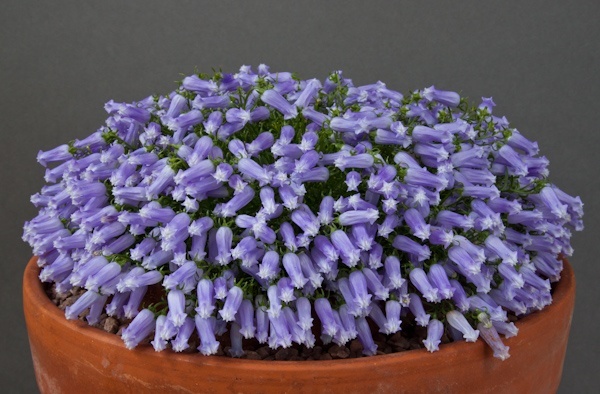 Winning a Farrer Medal it is always something special. But when it is your first ever Farrer you discover what the term walking on air means. Peter Farkasch wasn't in a state to talk to me until after lunch, when we sat down and he told me that he has grown it on for three years. It was sold as 'Clone B' by Blackthorn Nursery. Peter keeps it in a south-facing plunge bed, where it is grown in a fairly standard alpine compost mix but fed with Vitax Q4, liquid seaweed fertiliser and Tomorite.
Cecilia Coller never ceases to impress with the wide breadth and depth of her plant collection. Again she won both six-pan classes and various others as well, as such gaining the Hilliard Cup for most prize points in the Open Section. Among her small six-pan plants was Goodenia heteromera, an Australian member of a diverse genus whose flowers reminded me of tiny yellow violets. Obtained long ago from an Essex nursery, it requires an ericaceous compost and frequent watering. No wonder it has done so well this year.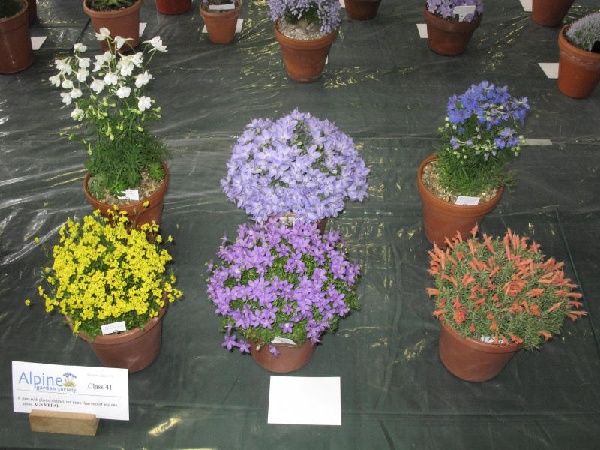 In the same exhibit was a vibrant Delphinium tatsienense, together with an unusual, almost white version that had just the faintest touch of blue. Native to Qinghai, Sichuan and Yunnan at 2,300-4,000m, it has been in cultivation for many years. Cecilia obtained her seed from the NZAGS seed distribution. For good measure, a delicate pale pink Pelargonium havlasae which she sowed on 4/2/10 won for her the AGS Seed Distribution Trophy.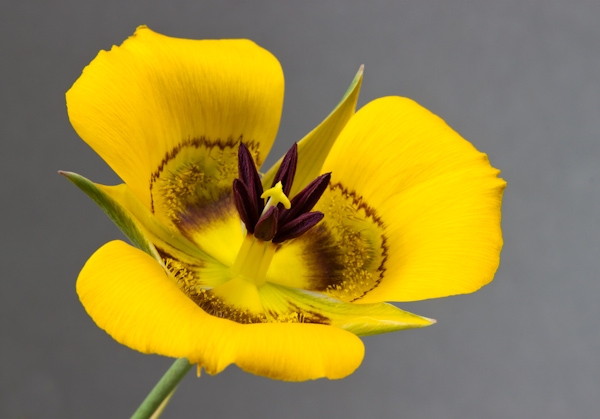 Bob and Rannveig Wallis had a lovely three-pan bulb entry that received the Frank Badrick Trophy. It included a lovely clump of bright yellow Calochortus clavatus var. recurvifoliu, standing strong and firm in its pot. This native of the southern Sierra Nevada and coastal ranges of California won them a Certificate of Merit.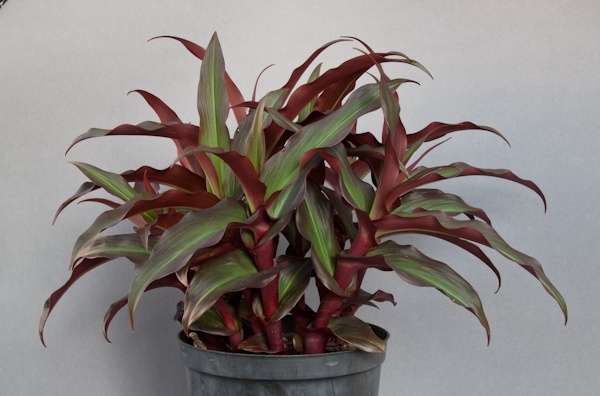 The same accolade went to a dark and mysterious Roscoea purpurea 'Royal Purple', bred and shown by Robin White of Blackthorn Nursery. Needless to say the stock he had for sale on his plant stall didn't last very long.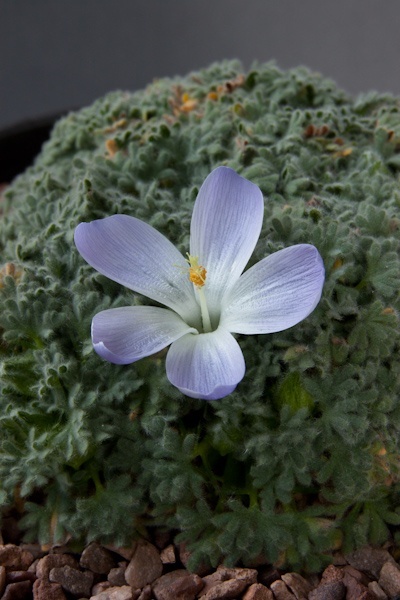 Also from this part of the world, Lionel Clarkson's Nototriche macleanii from 4,600m high in central Peru had opened a lovely flower, larger than almost any other in the genus. This plant has a long flowering period, and up to seven have been produced simultaneously for Lionel. It is potted in standard JI3 with extra grit.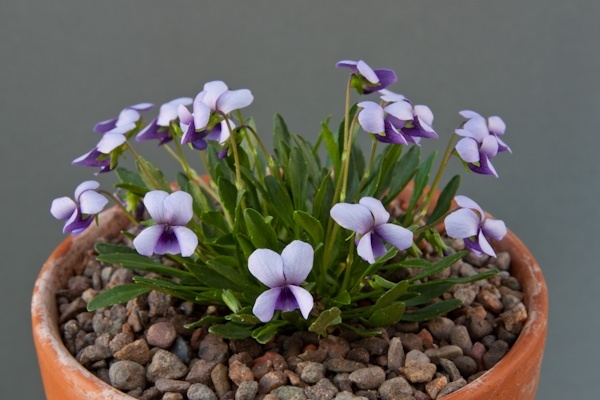 Paul and Gill Ranson exhibited Dionysia haussknechtii in good bloom, four months after its main period of bloom. In its native Iran this sometimes grows intermixed with Viola pachyrhiza, and coincidentally, at Tewkesbury, the closely-related V. spathulata was shown in full flower nearby, courtesy of Martin and Anna-Liisa Sheader. They find that it grows readily under glass in a standard alpine potting compost with just a little leaf-mould to keep it damp. Simple, isn't it?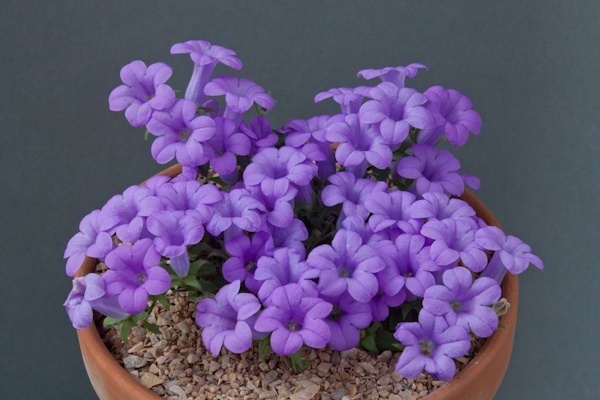 A well-flowered plant of the Greek Campanula pelia, exhibited by Graham Nicholls, represented a seedling left-over from a sale batch that he took pity on and potted up. The seed had been given to him by Lee and Julie Martin, gathered from a large specimen that had won them a Farrer Medal. Be warned: it is monocarpic, so if you want to build up a large plant you should remove any flowering stems for the first couple of years and repot frequently. Other than this treatment, a standard alpine compost, good light and alpine house protection are all that is needed.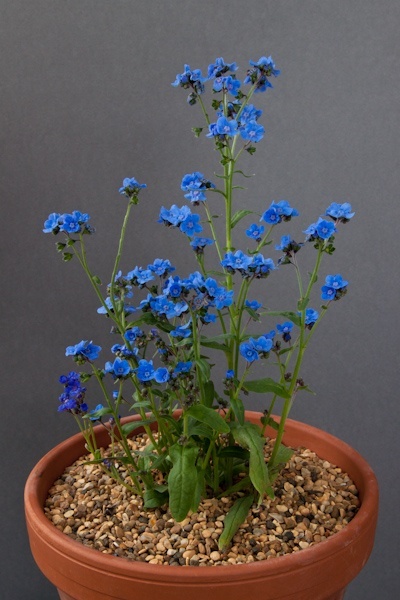 Which brings me to another eye-catching plant, Eritrichium canum, brought along by Anne Vale. This Central Asian and Himalayan species has the bright blue corollas typical of the best of its genus, but instead of forming a cushion it is of upright habit, to around 20cm as seen, with the flowers carried in branched clusters. Anne tells me her plant is two years old and grows in a raised bed filled with grit and sand, where it has seeded around. Graham Nicholls adds that like the aforementioned campanula it is short-lived. Seed sown late in the season will germinate rapidly, the plants over-wintering and blooming from early summer onwards: sow in late winter and it will come up the same spring, flower within a few months and then die. (Ed. The identity of the plant shown is uncertain: it doesn't match those few illustrations of E. canum published, and may well belong to a related genus such as Cynoglossum or Lindelofia.)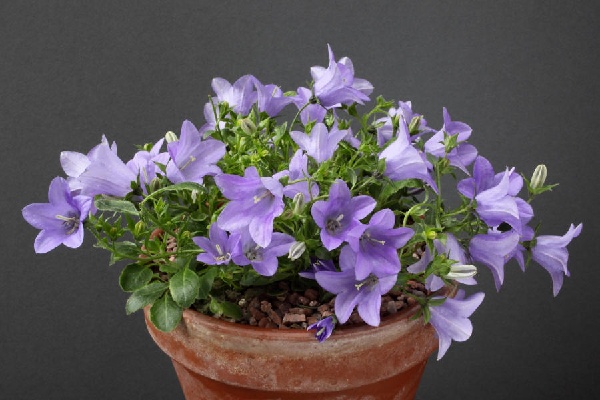 A nice plant of Campanula 'Joe Elliott' won best plant in the Novice Section and the Wessex Water Trophy for Colin and Kathleen Billington.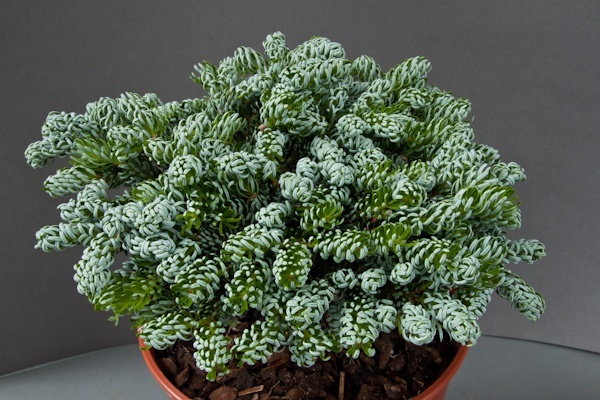 This show has a unique award, the Glebelands Trophy,for the weirdest plant on display. This was won by Diane Clement's Abies koreana 'Kohout's Ice Breaker'. Perception of what is weird and what is beautiful is a very personal thing and I thought this little conifer with frost on its needles was lovely. Up against it were several contenders, including a Chinese Sedum (that looked as if someone had slammed a door in its face) and Sutherlandia montana, which had the weirdest seed pods I have ever seen (the same specimen had been seen in full flower at Summer Show North a month earlier).
At the summer shows the cushions, those perfect domes in every shade of green and varying textures, make an intriguing sight, a picture of perfection in form. In the keenly-contested, large three-pan class Eric Jarrett had an excellent entry (Benthamiella nordenskjoldii, Dionysia microphylla x archibaldii and Helichrysum pagophilum) that was widely admired.
Congratulations once again to Peter Farkasch on his first Farrer Medal.
Author: Jo Walker
Photographs: Doug Joyce and Jon Evans