Summer Mid West AGS Show 2011
In the almost 20 years that this peripatetic show has been held on the western fringes of the Cotswolds, it has shifted from Cheltenham to Pershore, and now takes place midway between, in Tewkesbury. While the latest venue cannot vie with the grandeur of its initial setting, the Grade 1-listed, colonnaded, Georgian Pittville Pump Room, there are several utilitarian virtues to recommend this warehouse on an industrial estate, unpromisingly reached from the rear via a warehouse loading bay, and with the fledgling walling and roofing assignments of trainee builders on display in a fenced-off section within, but also with very easy access to good parking areas, proximity to the M5 motorway, and excellent light transmission (even when the heavens opened mid-afternoon, subtle supplementary lighting illuminated the exhibits sympathetically).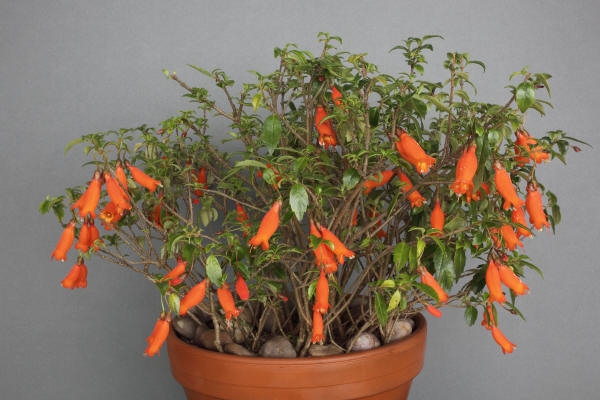 Some of the plants normally seen at this gathering were either absent or else under-represented: I failed to notice a single Eriogonum or Triteleia, for example, and Ourisia polyantha had this year well and truly finished its displays (though one of its hybrids with O. microphylla, 'Cliftonville Pink', was well-shown by Alan & Janet Cook, using a pot upright balanced on pot inverted set-up to enable its cascade of comparatively large flowers an unimpeded flow). No Sarmienta repens either, but instead we saw its alter ego, Mitraria coccinea (Jim & Wilma Wright), self-supporting and more truly shrubby when not associated with the Nothofagus trunks up which it is apt to climb in its native Chile. With pendant, typically twinned or tripleted bright orange-red flowers almost 4cm long, its relationship with Old World gesneriads mentioned later on in this report) would not occur to the casual observer.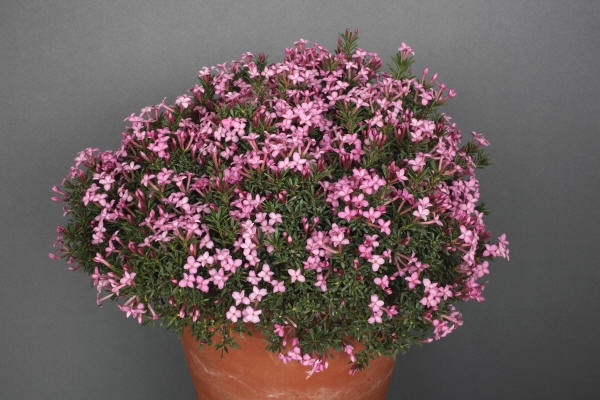 Flowering shrubs were decidedly thin on the ground, though there was a scattering of on the whole youngish Daphne jasminea, and a mature specimen of one of its hybrids with D. petraea, D. x whiteorum 'Beauworth', raised some 20 years ago (and shown here) by Robin White. Notable in that it inherits a good measure of its north Italian pollen parent's pink coloration, and also for its powerful, lingering perfume, if kept well-watered it will repeat-flower throughout the summer after the fashion of its mother, increases far more readily than its D. petraea father, and is easily rooted from cuttings taken throughout the summer from the new growth; grafting is feasible but unnecessary.
Conifers, on the other hand, were out in force, the dwarfest of them all, Juniperus horizontalis 'Neumann' (shown by David Richards) a German selection made by the one-time head propagator at Jeddeloh Nursery. A North American species that grows at most to c. 30cm tall but can eventually spread a couple of metres across, this would take an eternity even to approach such dimensions. In 15 years its mat-like, barely-mounded low hummock was scarcely 3cm high, and only just reaching the margins of its 19cm black plastic half pot. The silvery grey-blue leaves are smaller than any other conifer I can summon to mind, though in relative terms it was rivalled elsewhere by Ivor Betteridge's Picea abies Dumpy', a dramatically diminutive version of the ordinarily 60m tall Norway Spruce. This much brighter green, bun-like huddle arose as a witches' broom on a specimen of the two centuries old clone 'Pygmaea' 40 years ago at Red Lodge Nursery (Chandler's Ford, Hampshire), and is tinier still than that rather tricky to propagate dwarf. Five years after purchase from the few nurseries that reliably offer stock you will be lucky to have a mini-mound of showable size, so patience is a necessity, not just a virtue.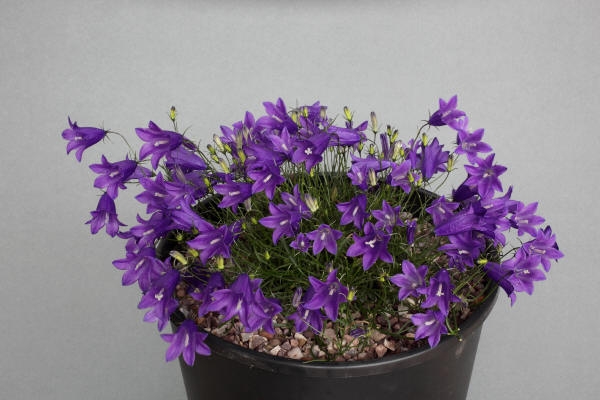 Campanulas were present in variety, though few could compete for sheer massed spectacle with several seen, before the hordes descended, on the Aberconwy trade stand. How often have you seen solid blocks of Campanula raineri in prolific flower (a dozen crammed together in a pan, and made to resemble a single plant, might have hoodwinked the judges into conferring a Farrer Medal), a white form of this species (suspected of hybridity of late, but lovely whatever the truth), and an indubitable hybrid with C. morettiana, C. 'Joe Elliott', which its namesake launched in his 1979 'Broadwell Alpines' catalogue to instant acclaim. Forty years earlier, and also in July, his father Clarence put a Picos de Europa find before the three years old RHS Rock Garden Plant Committee, C. scheuzeri 'Covadonga', having come upon it in 1935 and observed that 'among a number of other forms growing at the foot of a cliff, no two plants … [were] exactly alike'. Lionel Clarkson's plant ( shown) was especially tidy (a second-flush flowering he noted, and as such shorter-stemmed and less sprawling) with a striking display of deepest, brightest purple, horizontally-held bells above a congested clump of wiry leaves. Its allegiances have been debated at length, shifting from C. linifolia (now subsumed within C. carnica, and from the eastern Alps, not northern Spain), C. rotundifolia (buds diagnostically held erect) and finally to the widespread C. scheuchzeri (buds horizontal or pendent).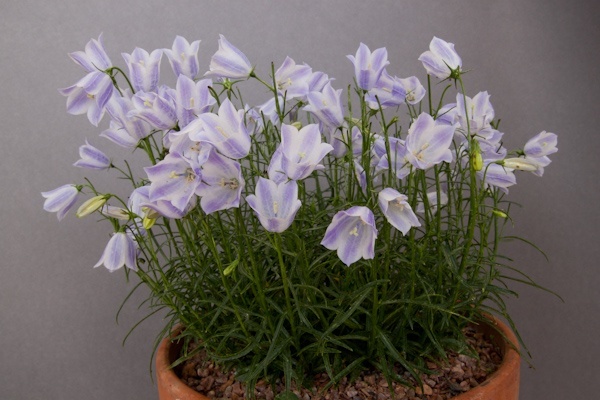 This last can be found from northernmost Spain right through to the western Carpathians, and a novelty with almost pyjama-striped, mid and watery-blue harebells is probably ascribable to the same species. Shown by Graham Nicholls under the clonal name 'Margaret Brine', it is like no other, and will doubtless prove popular once it has been increased to saleable levels. One scrutineer thought it might eventually be sold en masse at Homebase, nestling in supermarket trolleys alongside the obligatory petunias and trailing lobelias!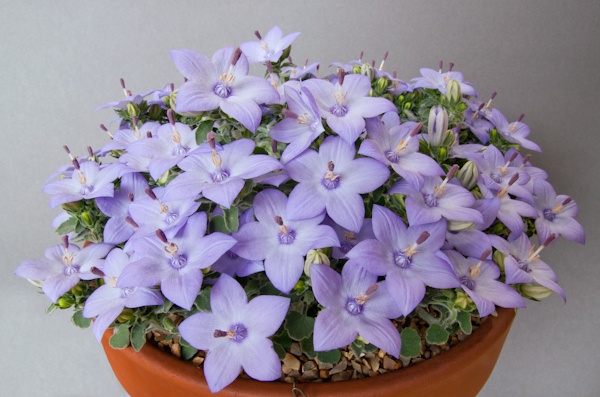 Brian Burrow's Campanula 'Cantata' (zoysii 'Lismore Ice x pulla 'Alba') represents a deliberate 1998 cross. As shown by David Richards, it was both smaller and paler in flower than Merv & Sue Holland's subsequent raising of analogous parentage, C. 'Challenger' (Vic Aspland), dwarfer and with larger, darker blue flowers, produced singly or in trios on stems that hovered a few centimeters above the coarse limestone chippings through which it had nosed its way from a bare-rooted sending in 2010, apparently unaffected by the reversal of seasons caused by its export from New Zealand. The Italian Campanula fragilis has appeared almost without fail at this show, but this year a larger representation than usual was seen, the best of them entered in a large three-pan class by Paul & Gill Ranson, who wrested the Hilliard Cup (for most first prize points in the Open Section) from frequent recipient of the trophy Cecilia Coller. This one had the typically splayed, furry white stems and a chiefly radial display of bloom, but the clustered, upward-facing and flat-faced flowers were of especially generous size and powdery blue towards their margins, with a central bull's-eye several shades deeper than the surround, from which projected an arrow-like, grey-tipped style. Hardier than sometimes supposed, though saxatile rather than truly alpine (this, the coastal subsp. fragilis occurs at 600-700m; subsp. cavolinii further inland at 500-1300m), it germinates easily but like so many campanulas should be potted on frequently in its early stages; if checked, plants seldom develop satisfactorily.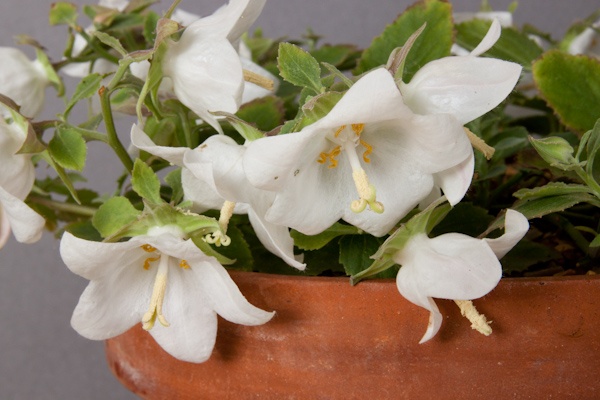 In the same entry the Ransons also showed the NE Turkish Campanula seraglio (very similar indeed to C. choruhensis and C. troegerae, but distinguished from the first by its exserted style, and from the second by its less deeply-lobed corolla) together with one of two tufa-surrounded, in peak of bloom Trachelium asperuloides, the second of them, in the next class along the bench, comfortably filling a 26cm pan and the closest rival in the Farrer Medal stakes, where a phenomenal Cyclamen purpurascens (Ian Robertson) romped home. (All three of the entries in the class for a pan of Campanulaceae excluding Campanula were of the variously touted Diosphaera/Trachelium, which some authorities nowadays classify as a bona fide Campanula!)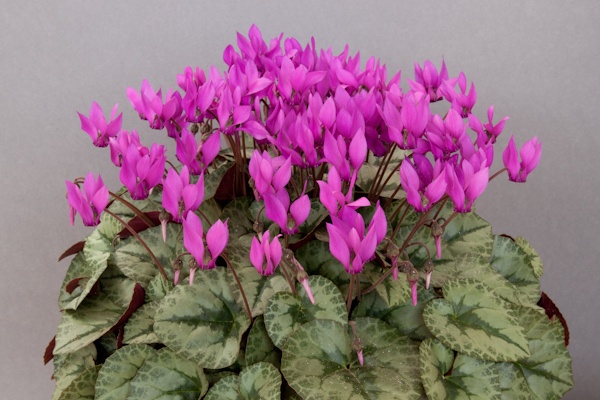 This was a highly fragrant, rich purple-pink exemplar, sown 10 years previously after cross-pollinating selections with attractive foliage originating from the Lake Garda and Lake Bled areas, and in the opinion of a highly distinguished coterie of Cyclamen experts present the finest they had witnessed on the showbench, though its owner later delicately parted the immaculate dome of heavily marginally-marbled leaves to reveal masses of further buds, noting that in most years it reaches its apogee in earliest August. Less rotund in its flower form than many, and of a size that one very seldom encounters in its native woodland haunts, it relishes shade; this elegant, vibrant example had been grown in a polytunnel close to the side-netting in order to promote good airflow.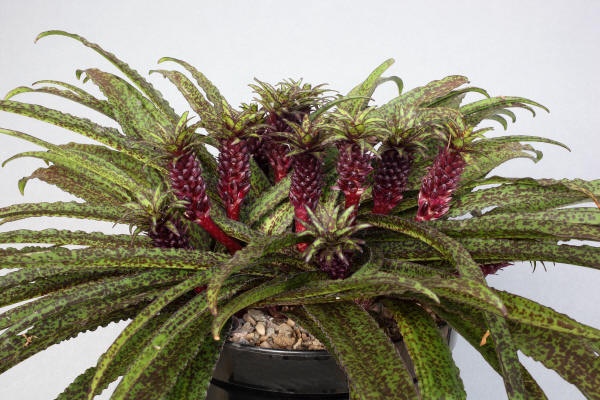 Another award, the Glebelands Trophy, goes to the weirdest plant present (but not from next year onwards; donor Simon Bond has agreed to a less contentious transferal). No shortage of contestants in this, its last flourish under existing guidelines, though some judges have a determination to select the ugliest or the worst-grown plant exhibited (the dictionary definition counsels 'suggesting something supernatural, uncanny'). Happily the winner, Joy Bishop's twelve-spiked Eucomis vandermerwei, came under neither heading, though its fleshy, abundantly speckled leaves, its slightly malodorous, blackish, cylindrical flower spikes with their pineapple crests, and a slightly sinister mien won through, yet again.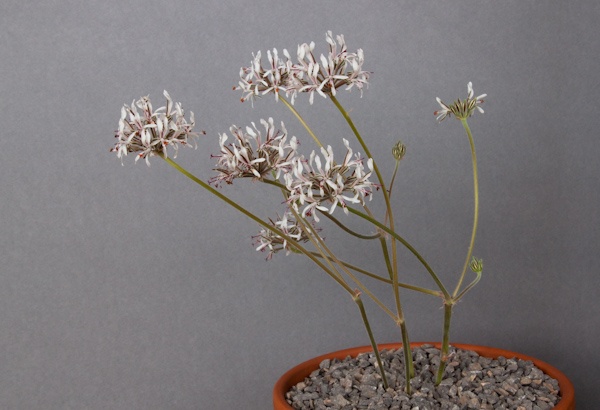 Rivals included the massively mono-leaved Petrocosmea vanderleurii (George Elder), and a Brunsvigia from Natal (Joy Bishop); southern Africa obviously has a sizeable contingent of vegetative oddities. Also in the fray, as such, was a bizarrely skeletal-branched, tuberous-rooted Pelargonium from the Cape, with a few large-sized, primrose-coloured flowerbuds apparent. (The elegant, smaller, whitish to pale pink P. auritum subsp. carneum (George Elder) belongs to Section Hoarea and is from the Eastern Cape, meeting its blackish-purple flowered, western counterpart around Port Elizabeth; the sometimes unusually ovate, at other times tripinnate foliage dies down before the 10-15cm flowerheads appear, and a six month dormancy is par for the course. Do not overfeed, overwater or overpot.)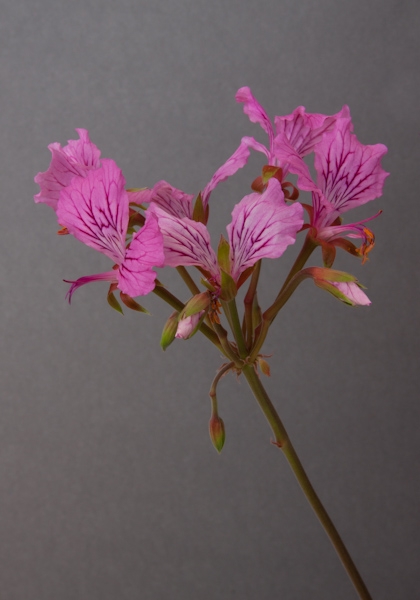 Pelargonium endlicherianum, for all that it looks as if it's South African, is in fact one of two distant Turkish outliers belonging to Section Jenkinsonia. The more widespread of the two (the taller P. quercetorum only has a toehold in the south-easternmost corner, and on into Iraq), it is usually given as of central Anatolian distribution, though many years ago I was surprised to chance upon a dwarf form on the summit screes of Baba Daš, overlooking the western coastal resort of Fethiye. Joy Bishop's 15-stemmed potful was very likely from a Jim Archibald introduction (they haven't exactly been ten a penny) made much further east, in Erzincan Province, due south of Trabzon; this was from igneous, not limestone screes as with the aforementioned, at 1500m. Seed germinates well, and the species is long-lived if kept under glass and watered with restraint. In drier gardens it will endure outdoors, but can't be expected to tolerate soggy autumnal weather year after year, nor perishing winters of the sort experienced in Britain last time round.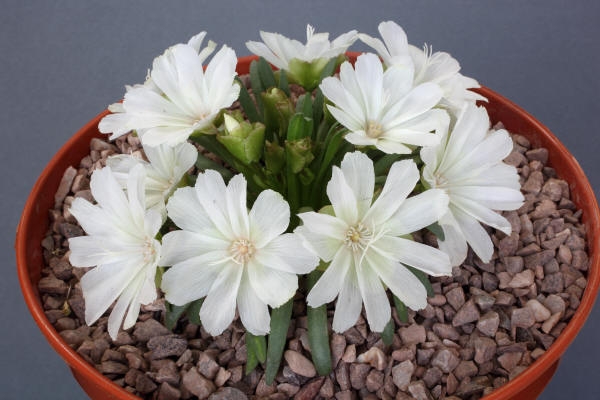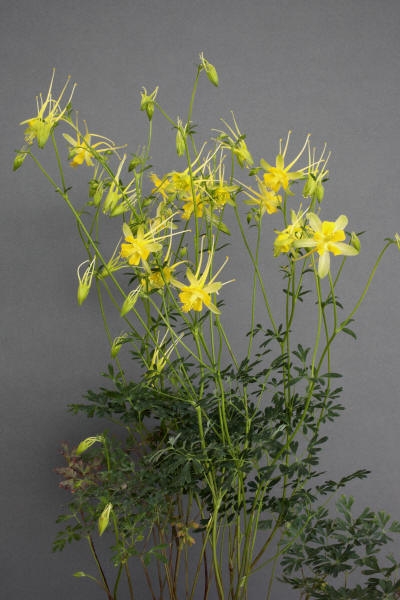 In conclusion one should mention a diverse, distinguished scattering of North American plants. Of these, the long-spurred, soft yellow columbine flowers displayed by Aquilegia chaplinei (Anne Vale) appeared surprisingly late in the season, most species having finished at least a month previously; lewisias too had a late showing, most notably in the form of a white Lewisia rediviva hybrid , shown above(Martin Rogerson). Rob Price showed both the unusually cream-flowered Wyoming crucifer Physaria eburniflora, a single rosette of spathulate grey leaves that was actively dividing and promised well, and the more typically yellow-flowered P. lanata (both are martyrs to greenfly, but infestations are easily repelled), and Dorothy Sample brought along a very healthy cushion of near-white Phlox hendersonii, one of the latest-flowering and most rewarding of the 'microphloxes' (shown below).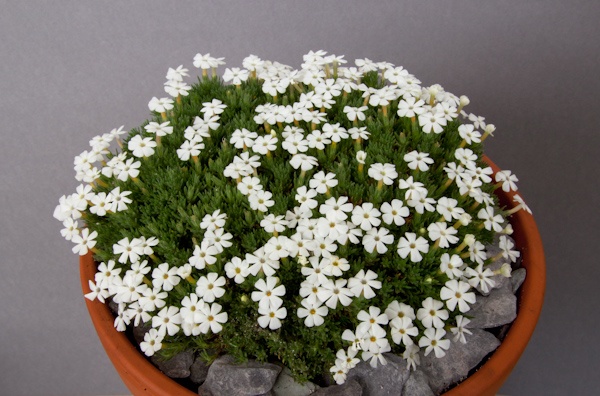 Robert Rolfe