Southport AGS Show, 2008
For the general public, a visit to an AGS Show might just comprise a ten minute detour, the result of a snap decision made on the way home from the weekend shopping. For the exhibitors, volunteers and other keen AGS members, it provides the chance for a day out amongst interesting plants and congenial company. It can be quite a long day; an exhibitor can expect to spend about eight hours at the Show, not counting travelling time. As a consequence, distractions during the day; 'other things to do' are often welcomed, not least by a slightly less dedicated alpine spouse.
The previous Show Hall just north of Southport's famous Lord Street provided plenty of potential alternative entertainment for the jaded exhibitor. Also, it was conveniently placed to attract the casual passing visitor. In contrast, the present venue is peripheral, hovering between Southport's outermost suburbs and saltings, so that if local visitors are to attend, most need to make a special journey. However, Stanley High School certainly provides abundant alternative entertainment should the exhibitor be ornithologically inclined (as many are). Within a ten minute walk of the Show Hall, this observer noted more than 50 species of bird, including breeding Avocets, Garganey, Shovelers and Black-tailed Godwits, while the Director of Shows' representative for the day noted a Glossy Ibis in the morning.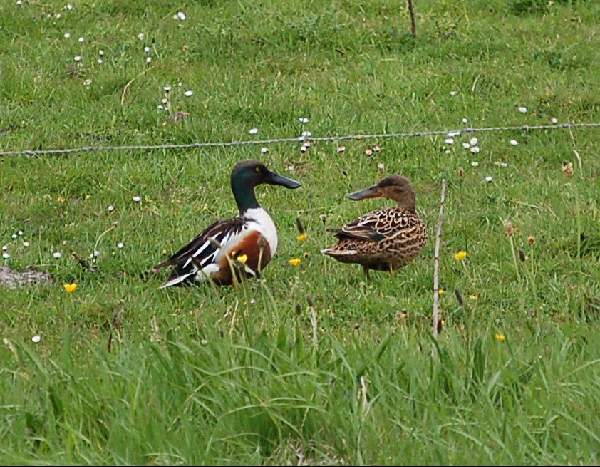 Back in the Hall, spring was well advanced. This Show is not overburdened with Classes, so that many were hotly contested, the number of entries in the majority of single pan classes running well into double figures. Not surprisingly, lewisias were much in evidence, but as befits the advanced date, it was a singularly diverse show with no other genus claiming precedence.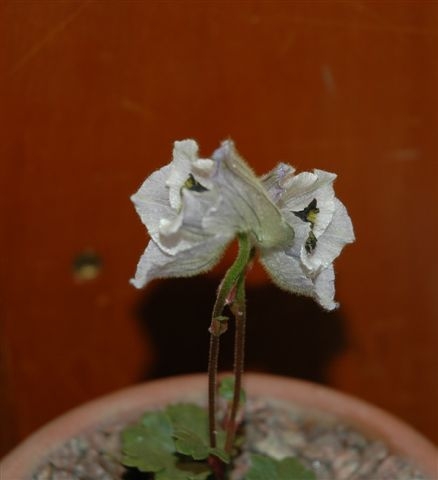 'New' and 'rare' classes have often been poorly furnished this year. Not so here, where there were ten entries in 'rare'. A interesting victor was provided by Ian Leslie's Delphinium chrysotrichum var. tsarongense grown from seed offered by Vojtec Holubec, from plants growing at 5100 m on gneissic scree on the Tibetan Dongda La. This pass lies on the main road to Lhasa west from Deqin in north-west Yunnan and has become increasingly accessible in recent years. The delphinium can reach 20 cm in height, but can be found at an altitude as low as 3000 m in western China. As seen, the two year old plant was only 10 cm, with two whitish, violet-veined flowers and black honey leaves. This variety has appressed hairs, while those of the type variety are spreading.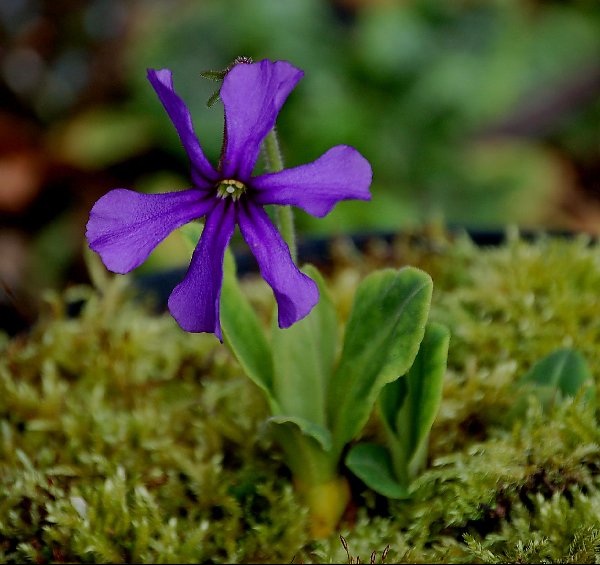 Another rarely seen plant in this class comes from a similar area. Omphalogramma vincaeiflorum bore a sumptious violet cylindrically-tubed flat-faced six-petalled flower which at 6 cm diameter was as large as the plant. This plant has a curious history, as your correspondent bought a similar plant from Edrom nurseries this spring. No sooner had the flower dropped, than it became clear that another, well-established plant was about to flower nearby. Recourse to records showed that this plant had been purchased from the same source in 2006, but had failed to put in an appearence in 2007 and was presumed dead. Edrom had obtained it from Mike and Polly Stone as O. forrestii, but that species has funnel-shaped flowers. Both individuals key out as O. vincaeiflorum but differ between themselves in leaf and flower shape. Our understanding of the taxonomy of this exotic genus is as yet rudimentary.
A third Asian subject was provided by that stalwart supporter of the Ericaceae, Harry Roberts. Rhododendron petrocharis may not be the showiest of dwarf rhodos, but the bright white cup-shaped flowers contrast beautifully with the lime-green calyx and chocolate anthers. At 30 cm diameter and 15 cm high, this was a substantial individual, redolent of years of careful cultivation. Like another species introduced fairly recently, R. dendrocharis (neither were in cultivation when Peter Cox wrote in 1973), this relative of R. moupinensis is hardier than its more familiar relative, coming from mossy boulders at about 3000 m in NE Guizhou.
Most 'Silver' saxifrages (section Aizoon) make familar excellent garden plants. However, the smallest of all, S. valdensis (George Young) is very rarely seen. This is also a very local plant in the wild, being confined to limestone crevices along the French-Italian border from Iseran south to Monte Viso. Diagnostically, the lime pits are not only found on the leaf edge, as in the other species, but all over the leaf, giving it a warty appearence. After more than ten years in the alpine house plunge, this plant, originally a gift from the late Eric Watson, is all of 6 cm in diameter.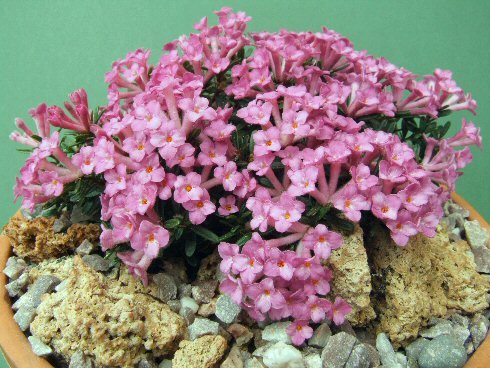 Amongst slow-growing European chasmophytes, Daphne petraea is perhaps the most reknowned. We are fortunate that several clones are now becoming available to the discerning grower, although many years elapse before careful culture results in a Show plant. Robert Rolfe's example of Peter Erskine's late-flowering 'Persebee', introduced in 1997, has now reached a respectable 12 cm diameter. Unlike most of its ilk it lends itself to propagation, for the considerable extension growth will root as cuttings, while judicious juggling with a bristle will lead to seed-set.
A less crotchety European chasmophyte, but one that still rewards careful culture is Stachys candida from the southern Peloponnesos. This is an ideal subject for a sunny alpine house, where regular propagation and a firm trim after flowering will promote tight silvery plants. Cecilia Coller's plant was unsual in that the flowers were less than normally marked with pink against a cream ground colour; typically the flowers are palest pink. It is more than possible that this attractive variant represents a hybrid with its close cousin from immediately to the west, S. chrysantha.
John Richards