Southport AGS Show, 2006
Held at the very end of spring, in most years this event has the feel of a summer Show, conveyed both by the plants entered and the warm, sunny weather prevailing. Not this year: with floods closing sections of the M6 motorway, and driving rain making the simple transfer of plants from car boot to show hall a drenching experience, the only people lingering outdoors were birdwatchers, drawn to the nearby RSPB reserve by a record avocet count.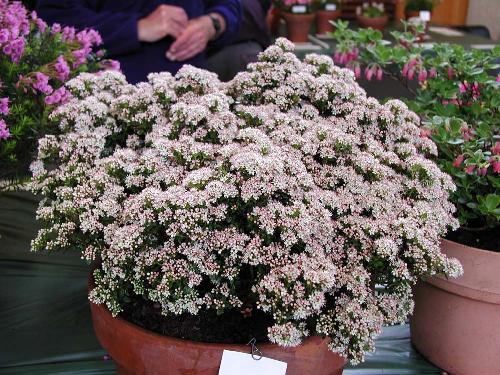 But while some plants were adversely affected by the dull conditions – in particular, few of the half dozen fine pans of Lewisia rediviva opened fully, the cool, damp build-up of the previous week had certainly suited many dwarf shrubs. These have appeared in exemplary condition at all the mid to late spring AGS Shows this year, and for the third week on the trot a Farrer Medal went to one of their coterie, this time round a magnificent, venerable Leiophyllum buxiifolium, fully a metre across and at that most pleasing of stages when the great majority of the tiny, abundantly-produced flowers are fully out, but with a foil of reddish buds. In warmer weather, even if kept moist at the root and shaded after lifting from the open ground (pot-grown specimens rarely if ever grow as well), mature plants almost inevitably shed their earliest-opening flowers by the time that the last ones catch up. For good measure, the owner, John Saxton, also won the Goffey Cup with an elegant, very generously flowered plant of that largest-flowered of cassiopes, Cassiope selaginoides L, S & E 13284.    
Cecilia Coller easily won the Redmayne-Jones Cup (for the most first prize points in the Open Section), her chances sizeably improved by the redeployment of several long-flowering plants that had seen action throughout the spring, but remained in prime condition. These included several asarums, a white form of Rupicapnos africana (first shown at Harlow in early March!), and that distinguished Turkish deadnettle Lamium eriocephalum, the last-named a key component of a pink and blue themed entry that won the small six pan class. Such plants require sustained preening (dead-heading, the removal of any discoloured leaves, judicious doses of liquid fertilizer, a prompt return to cool yet light positions after each outing) to remain in show condition; this meticulous approach also paid dividends in the notably well-entered three pan foliage class, which she also won, despite keen competition from six other exhibitors. Some opted for a flashy approach (an entry comprising mature plants of the cream and green Chiastophyllum oppositifolia 'Jim's Pride, Sedum sieboldii 'Variegata' and Arabis ferdinandi-coburgii 'Variegata' made purists recoil but was greatly admired by others), some went for a more subtle approach (the vibrancy of a second-placed trio comprising Sempervivum 'Ohio Burgundy', Hepatica nobilis and Astilbe japonica var. terrestris drew all eyes); all were very creditable. Just to prove that it was no fluke, Brian & Shelagh Smethurst, who staged the latter entry, also brought along an immaculate plant of the parsley fern, Cryptogramma crispa, which received a Certificate of Merit.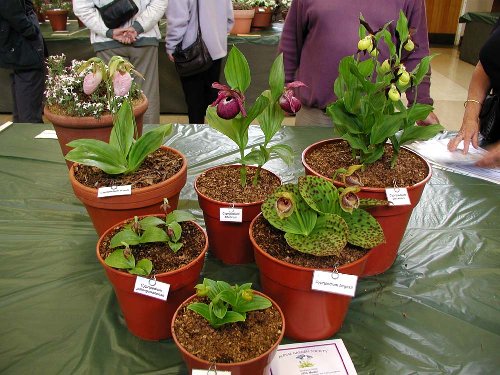 Cypripediums were also present in force; a mature clump of Cypripedium Gisela grex shown by Linda Pickering also earned itself a Certificate of Merit, though it was a large six pan entry staged by Barry Tattersall that proved a focus for those keen on the genus; in particular a clump of the rarely-seen, diminutive C. bardolphianum drew covetous glances.
Another recent introduction, the Iranian Allium skelkovnikovii, was exhibited by Diane Clement in especially fine form. Also notable was an Arnis Ruksans collection of the Central Asian A. oreophilum which he has named 'Kugart's Curl'. These, together with some large pans of Rhodohypoxis baurii, a striking clump of the Cypriot Ornithogalum chionophilum, and a very accomplished clump of Fritillaria camschatcensis f. flavescens (Alan Furness), were the pick of the bulbous plants at a Show with an exotic blend of old favourites and promising introductions from every continent.
Robert Rolfe