Southport AGS Show, 2016
The weather is never, of course 'quite right' for any gardener, but this applies especially to exhibitors. An abnormally warm or cold period can play havoc with the timing of show plants. Pity then those exhibitors preparing for the Southport Show, who had alternating freezing cold and scorching hot days in the week leading up to the event. In spite of these trials, they triumphed, finding a large array of fine plants which filled the benches to near-capacity.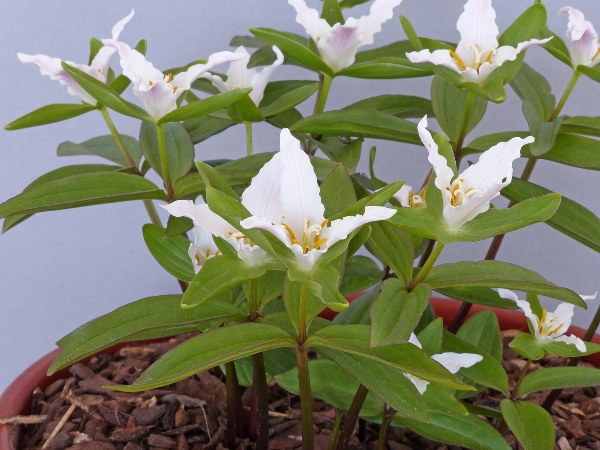 Being a Trillium enthusiast myself, my eye was immediately attracted by a fresh and pristine-looking pot of Trillium pusillum var. ozarkanum exhibited by Alan Spenceley. The fifteen perfect flowers had deeply wavy edges, adding an extra 'lift' to this smaller species. Named for the Ozark Mountains, one of its centres of distribution, this is the only upland variety; all of the others are from lower, wetter areas. Alan told me that it had taken 8 – 10 years to build up from the original single rhizome. It is grown outside with no protection all year. The plastic pot is plunged in sand to keep the roots cool and constantly damp.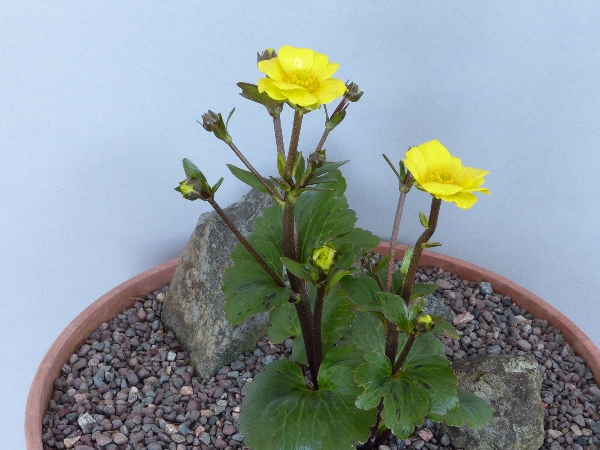 The New Zealand endemic Ranunculus insignis is only occasionally seen on the show bench, because in a few years it can make a large specimen. Even a comparatively small plant needs a large pot to accommodate the massive root system. The seed is ephemeral, so must be sown very fresh. In this case it was imported from Steve Newell. Cliff Booker germinated six and three survived (it is not the easiest of subjects!) The specimen on display was transferred immediately to a large pot to grow on. It is grown outside all year, where a wet spring and summer meet its requirements. It may be kept drier for the rest of the year ('If I remember to put a pane of glass over it', Cliff confessed). The compost used is a very gritty 'scree' mix. I liked the presentation, embellished by two asymmetrically-placed rocks and matching gravel. This is the third of Cliff's exhibits this year in which he has gone the extra mile for a naturalistic effect. The commonly-used sieved quartzite or granite grit is readily-available, adequate and tidy, but completely artificial. I wish that a few more exhibitors would give their imagination and artistic side a nudge!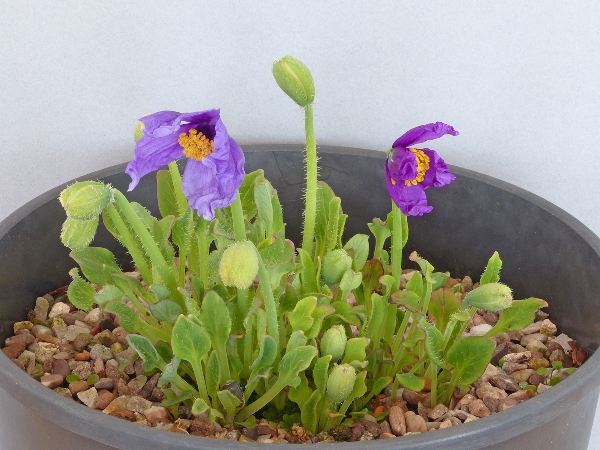 Overcoming the problem of ephemeral seed was also well demonstrated by Lionel Clarkson's abundant pot of Meconopsis delavayi grown from seed. The single, original flowering plant had been allowed to self-sow directly into the surrounding topdressing. You can't get fresher than that! As seen, the thriving seedlings were over five years old. The flower which was open was the typical glowing violet, looking like crumpled silk.
Returning to presentation, pleiones are usually presented spread across the flat surface of a pot, often loosely covered with moss. Colin and Kathleen Billington's Pleione Shantung gx. 'Ridgeway' pseudobulbs were dotted across a mound of moss, breaking away from the usual style and giving a more natural appearance.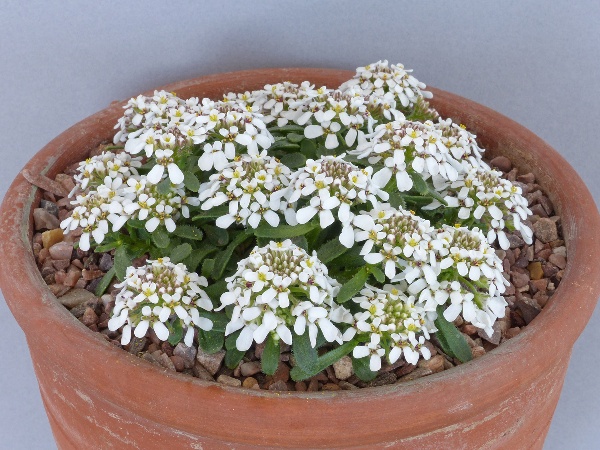 An unheated south-facing greenhouse, shaded from about the end of April, a very gritty compost and a 'quite moist' sand plunge comprised John Bunn's recipe for producing a fine, compact specimen of Iberis oschtenica. A narrow endemic from the western Caucasus, it has a long flowering period, so would seem to be the ideal show plant, but also has a deserved reputation for flowering itself to death, so annual propagation is a good idea.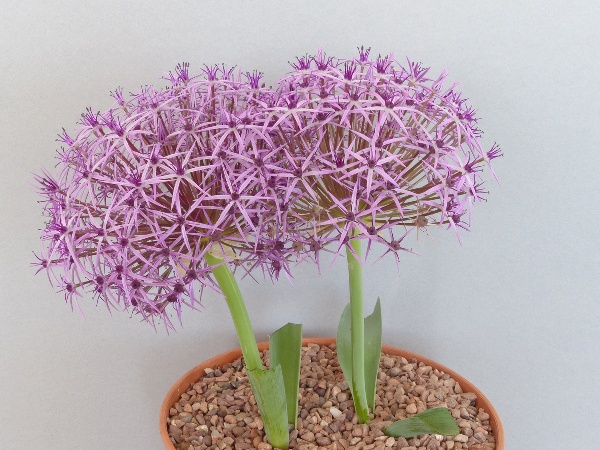 In recent years, there has been a steady trickle of Iranian onions onto the show bench, some represented by a single clone. Latterly seed-raised plants have started to offer more variation, and at Southport the species that caught my attention was Dave Riley's Allium bodeanum, reminiscent of a dwarf A. cristophii. The narrow, pointed petals were a similar shade of pale lilac, with the same almost metallic sheen. The flower heads to 12cm diameter on 10cm stems made this a welcome addition to the panoply of ornamental onions. A lean, gritty compost (up to 60% grit) was used, and it had so far proved to be hardy to -15C.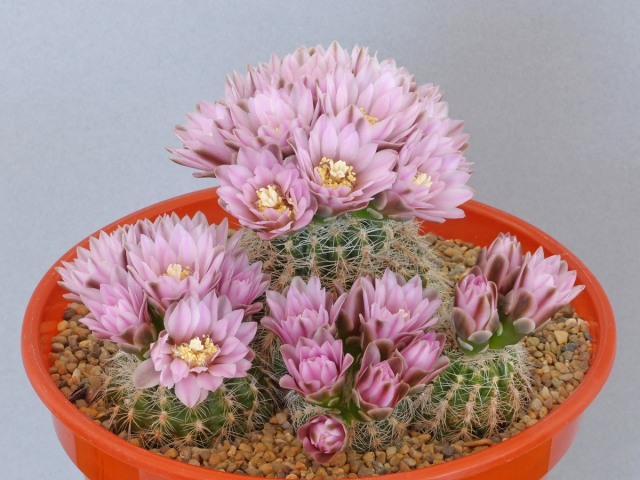 The star of the show for me, and winner of the Goffey Cup for the best plant in the 19 cm classes, was Paul Street's Gymnocalycium bruchii var. niveum. The type species is distributed across parts of Cordoba and San Luis provinces in central Argentina, at altitudes of 500-2,000m, but this variety is from the higher end of this range. So far it has proved hardy to -5C. A very well-drained, low-nutrient compost is used, so it had taken five years to build up the plant exhibited from the original single stem. Until the last minute before judging began, the plant was kept in full sun in the car in the hope of inducing the flowers to open fully when they were assessed. But, in the cooler hall, would they close up again? Paul need not have worried! Your reporter was able to watch them continue to open, having been pre-programmed in the car, and when judged they were fully developed. Argentina, Chile, Peru and especially Bolivia harbour a large number of high altitude cacti which share many characteristics with 'ordinary' alpines, including their small size, large root systems, disproportionately large and brightly coloured flowers and hardiness. They also have the advantage that most flower in summer, outside the main 'alpine' period.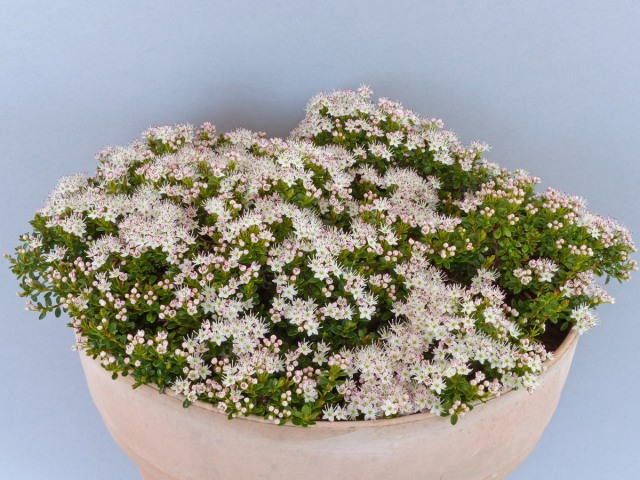 The Farrer Medal and Southport Jubilee Goblet (for the best pan of Ericaceae) both went to a fine specimen of Leiophyllum buxifolium var. prostratum grown by Ian and Maria Leslie. The abundant white flowers with a delicate pink flush sat on a close cushion no more than 4cm high. In recent years we have seen specimens of the type plant up to 15 cm tall with a disconcerting undercarriage of unsightly bare stems, so this superior plant was a real head-turner. It had taken 12-15 years to reach this size, grown outside the year round. This treatment in the Bangor climate is clearly ideal and serves as a lesson to us all: choose plants suitable for your climate and you do not need a fancy alpine house to win a Farrer!
Author: Vic Aspland
Photographer: Don Peace