Southport AGS Show, 2015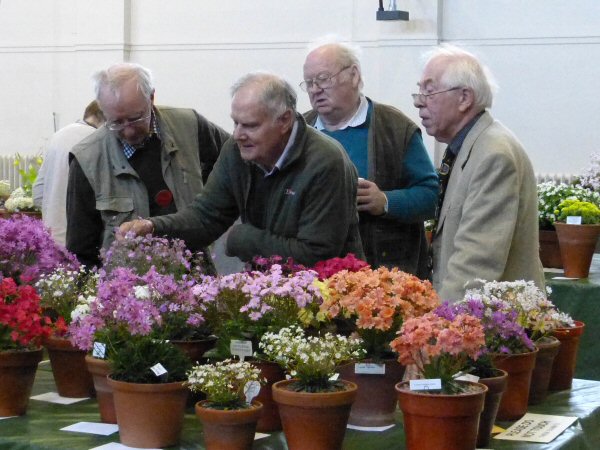 Southport is an ideal location for a show in that there is so much to do other than admire the plants. Exhibitors that I spoke to had variously been bird watching from local hides, plant-hunting in the dunes, viewing the Antony Gormley sculptures on Crosby Beach, scouring second-hand bookshops and, inevitably, shopping in the town on a bright sunny day when a chill wind blew throughout.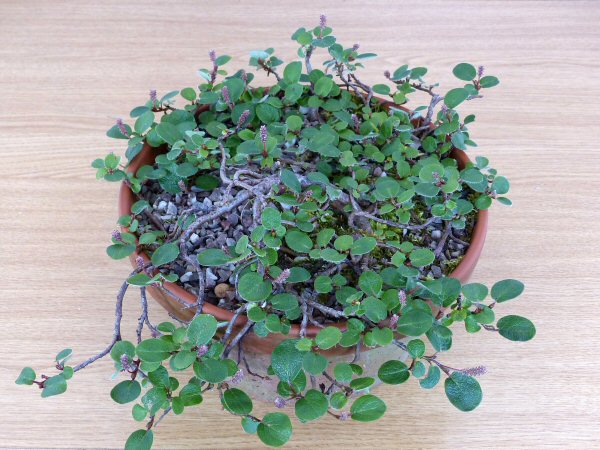 My impression was that there were more plants than ever on the benches, especially in the Open Section. The one disappointment was a lack of entries in the Novice Section (just six in total) although Rose Turner did herself proud by winning the Greenfield Trophy for the best plant in this Section (a very pleasing Salix reticulata) and the Southport Junior Challenge Bowl for most first prize points therein.
An interesting non-competitive display staged by Andy Squires was a terracotta bowl of alpine plants, the main one of which was a saxifrage similar to Saxifraga longifolia, with an impressive inflorescence, bought last year at this show.
As usual a wide variety of plants was present, much of the flower colour concentrated in the Lewisia classes. The Farrer Medal was won for the second year running by Clare Oates, last year with a superb Lewisia 'George Henley', this time round with a large pot of the black Fritillaria camtschatcensis. Its close runner- up was a well flowered Ramonda myconi (Don Peace) that received a Certificate of Merit. Bob Worsley produced a delightful pot of Cypripedium calceolus that won him the Ron Moncur Trophy for the best plant in the Intermediate Section.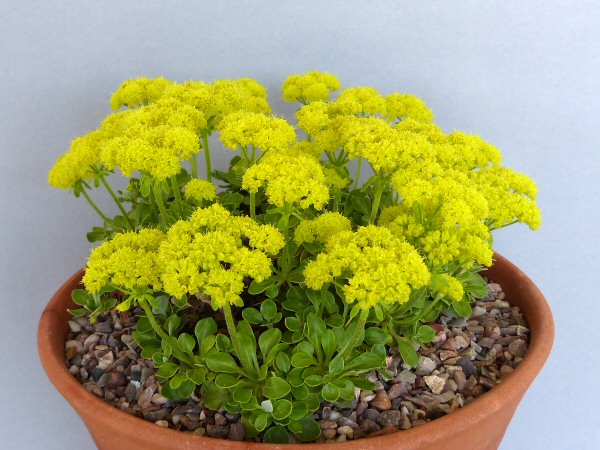 Among other plants that caught my eye was a beautifully flowered Polemonium chartaceum (Peter Farkasch). This seldom seen, rather difficult plant requires scree conditions, as does another North American, awarded an equal first in the class, Trevor Whitaker's Eriogonum umbellatum var. haussknechtii, which was also awarded a Certificate of Merit.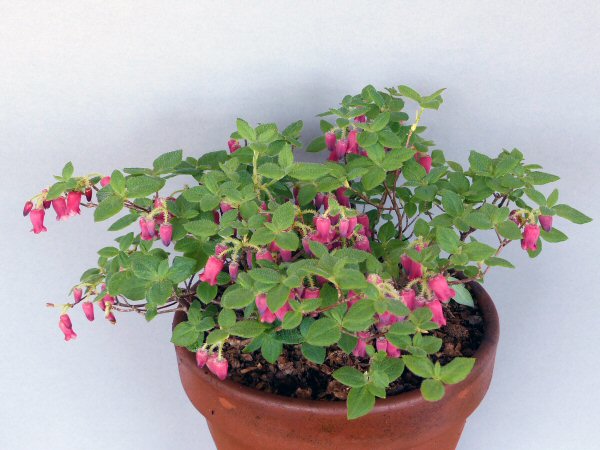 There were also, in a year when ericaceous plants in many areas have not done as well as usual, a number of attractive representatives of this family. Ron and Hillary Price's Rhododendron 'Sarled' won the Southport Goblet and a lovely three-pan in the small Open Section (Rod and Shirley Johnson) featured Menziesia ciliicalyx at the back [right], Vaccinium chaetothrix and Gaultheria procumbens still in berry at the front. The plants, all in lovely condition, had been staged to perfection.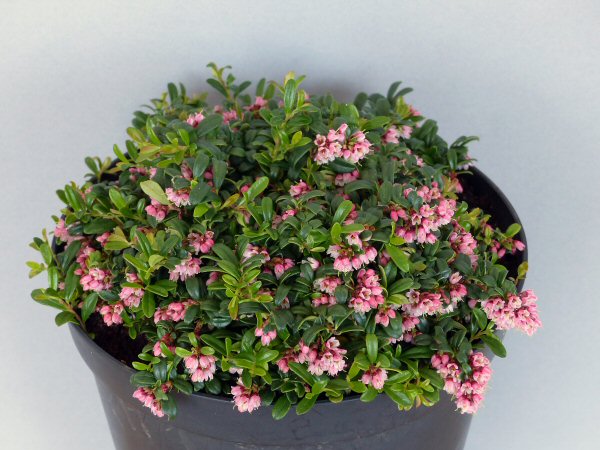 In a neighbouring class was a good example of V. vitis-idaea var. minus, shown by Ivor Betteridge, with which to compare and contrast V. chaetothrix, with its pale cream flowers and paler leaves. The latter occurs in broad-leaved and Abies/Tsuga forests of NW Yunnan and NE India, growing as an epiphyte at 2,500-3,200m. All three plants, originally from John Saxton's stock, had been grown in an ericaceous compost, their pots plunged in a trough in shade and turned occasionally to ensure even growth and flowering. To protect them from the worst of winter weather, they had been covered with a pane of glass.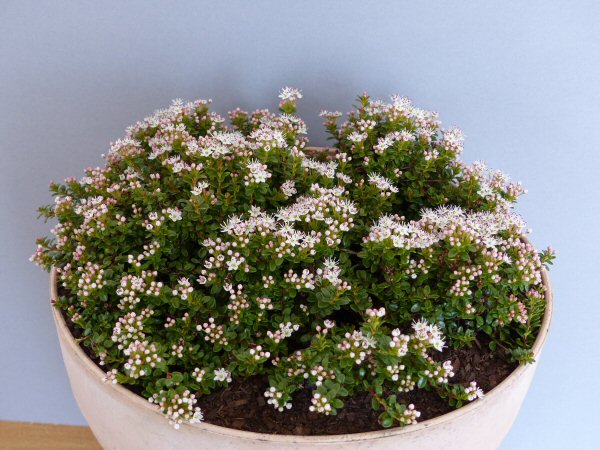 My fondness for dwarf shrubs leads me on to mention Ian and Maria Leslie's Leiophyllum buxifolium var. prostratum which contrasted with a more upright form that I grow. Quite apart from its concise growth habit, the leaves appeared more rounded (some others examples are spathulate). It comes from New Jersey to Kentucky and North and South Carolina, inhabiting sandy pine barrens principally, the smaller forms typically found in the mountains of the Carolinas. The plant shown, second in its class since only two thirds of its flowers were out, is grown in a standard ericaceous compost and repotted infrequently.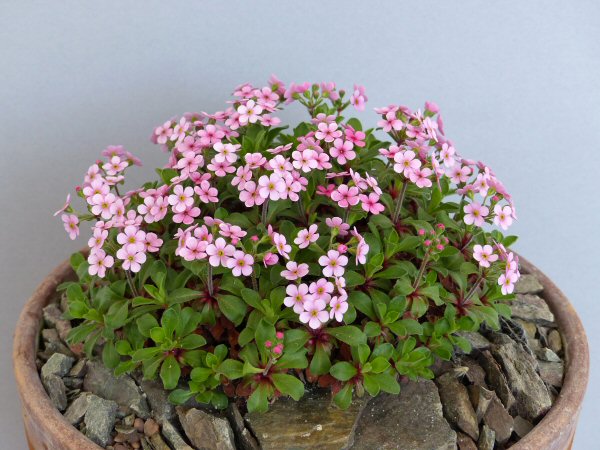 Frank and Barbara Hoyle staged Androsace wardii, from China and SW Tibet (Xizang), a species rarely seen in cultivation that had been obtained from Aberconwy Nursery around seven years ago, but had never flowered until now. Frank mentioned that in winter it looks 'like a brown ball' and that 'as it starts into growth, it produces small green shoots that then look as if they are going to die'. Do not despair, for it then rallies, producing healthy foliage and, this year at least, flowers. Grown in a standard alpine mix of 50/50 John Innes no. 2 and grit with the addition of bracken-mould, perhaps it should be pointed out that care should be taken with this last ingredient: bracken spores are carcinogenic! The plant is a magnet for greenfly, so a constant vigil must be mounted. Tim Lever, in his report for the Merlin Trust, described how he found it growing on the north side of a grassy slope of the Bai Ma Shan, 'in a myriad shades from pale pink to almost red'.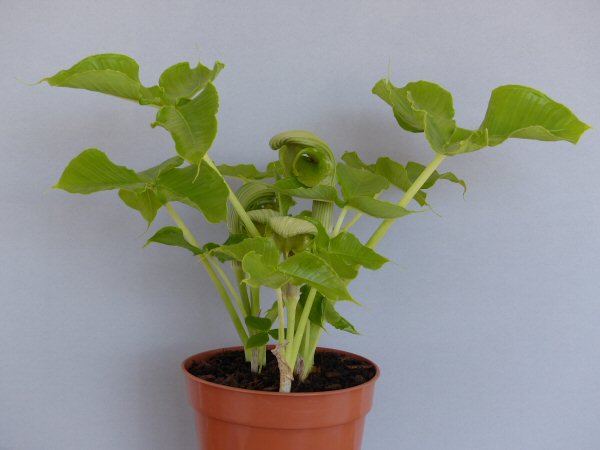 Another Chinese plant, though also occurring in Japan and Korea, Paul Street's Arisaema ringens was considered the best bulbous plant in the Intermediate and Novice Sections, winning the Kath Dryden Award. It caused much comment as it was a much paler version, both in leaf and spathe, than other specimens on the benches; indeed one person described it as almost an albino. The colour range of the spathe can range from green to purple, while the leaves are usually a rich, glossy green. A woodlander, it had been grown in equal parts of John Innes no. 2 and grit, with the addition of composted bark. The pot had been plunged to depth of around 7cm in a shady part of the garden. At the show its leaves were still slightly furled, but they opened extended during the early part of the following week.
In the new in cultivation class, Diane Clement's Aquilegia atrovinosa was linked, though the botanical notes provided, to introductions made under the various guises A. kuhistanica, A. sp ex Kuhistan, A. sp. ex Halda and A. sp. ex Tajikistan. Closely related to A. karelinii, it differs in sepal shape and colour. Whatever the name, this member of the Ranunculaceae, while tallish – approximately 35cm − had grace and refinement. It is happy in mildly acid or alkaline soils, in full sun or part shade and needs regular watering. Another attractive, more petite member of this genus, shown by Colin and Kathleen Billington, was A. canadensis var. nana under its cultivar name 'Little Lanterns'.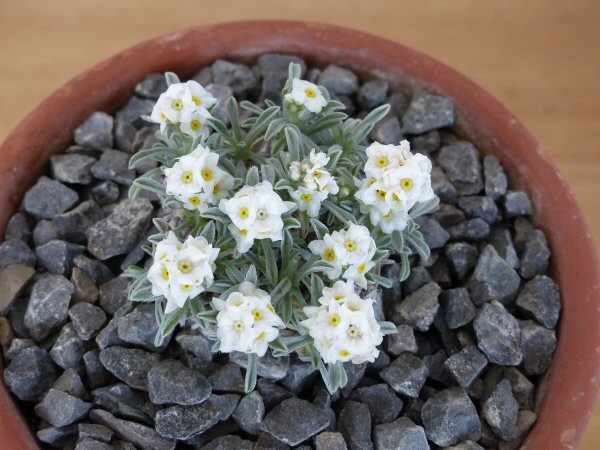 Cryptantha compacta (Alan Furness), from south-western Utah and adjacent parts of Nevada, I found beautiful in all its parts and very eye-catching, but then beauty, they say, is in the eye of the beholder! A silvery-grey, velvety, cushion-like plant (its common name is 'Mound Catseye'), of restricted distribution but locally abundant, it has almost sessile flowers and appeared in the class for plants rare in cultivation. A montane desert perennial, occurring between 1,524-2,560m, its numerous stems arise from a woody stock. Very hardy indeed, tolerating temperatures as low as -17C, in our climate it needs alpine house protection from winter wet, along with full sun and good drainage.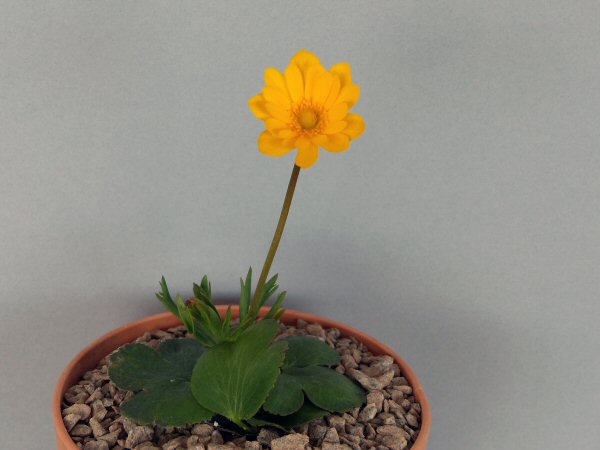 To finish, two plants from lower altitudes that fit in well with the high alpines seen at this show. Anemone palmata (Ian and Maria Leslie) [left] was raised from AGS seed sown in December 2006 and was shown in the class for three plants grown from seed, along with a small Podophyllum hexandrum and a delightful, diminutive Lupinus caespitosa from Alplains' seed. Described as a clump-forming, herbaceous woodlander, it had been grown in equal parts of John Innes no. 2 and sharp grit. One of the 'Windflowers' (Anemone translates as 'Daughter of the Wind'), this species has rounded, lobed, green leaves and a showy yellow flower with an attractive brown/dark orange blush to the petal reverses. Its range encompasses the Iberian Peninsula: it is also recorded from southern France, Sicily and Sardinia.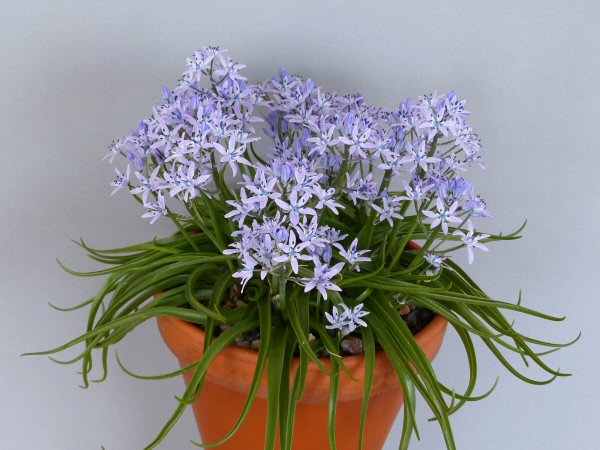 Hyacinthoides vicentina (Don Peace) from the Cape St. Vincent area of Portugal (hence the specific epithet) was introduced by Vic Horton many years ago. The stock on view had been obtained from Paul Christian, who inherited his collection. It has increased well and the exhibitor now has two full pots. Related to Scilla, the genus is separated from this in having two bracts beneath each flower. There is a lovely white form that is occasionally available. Grown in the growers 'standard' bulb mix – two parts of John Innes no. 3 plus one of sharp grit, it is surprisingly hardy, preferring full sun and alpine house or frame protection.
Author: Dave Mountfort
Photographer: Don Peace