Southport AGS Show, 2014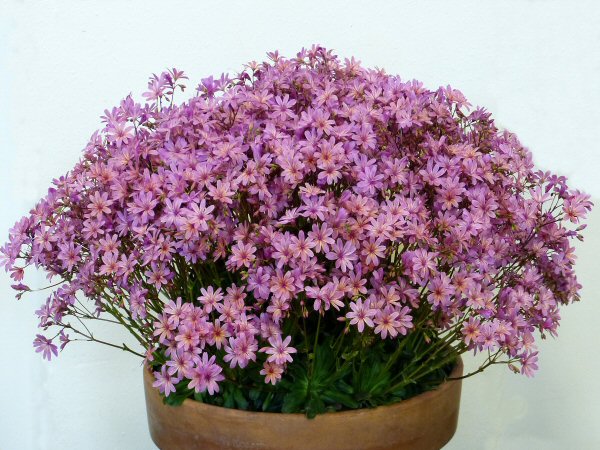 In its mid-twentieth century heyday, the firm of W.E.Th. Ingwersen was responsible for a run of mesmerising exhibits at the Chelsea Flower Show (which is held in the third week of May, and as such starts just two days after the AGS Southport Show). The best of them were orchestrated by George Henley, the nursery manager, who is remembered not just for these but for the plants that he raised, most notably Lewisia 'George Henley', a rather stridently coloured, reddish-purple hybrid between L. columbiana and L. cotyledon dating back some 60 years. Half a dozen exhibitors brought along plants of this, varying in floriferous, rosette size and general vigour, but by far the largest was shown by Clare Oates. It would have been larger still, had she not last year trimmed away all the peripheral rosettes that overlapped the pot rim, and administered occasional high potash liquid feeds by way of apology.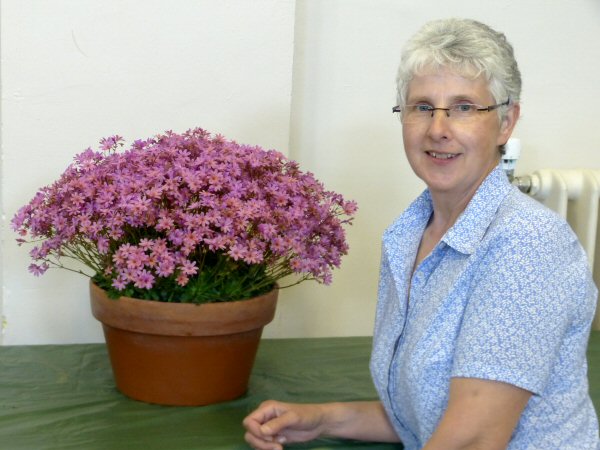 In its root-bound state (mature plants benefit from repotting every third year, but when the largest pot that you can lift is reached, the above course of action is recommended, and provides dozens of cuttings as a bonus), it had responded by producing a bumper crop of flowers. These had been picked over meticulously, given that even at its peak the first to open will be on the wane: among the thousands on display, none of this order could be found, making the bestowal of a Farrer Medal a salute to the diligence involved in the operation, as well as recognising the plant's maturity and rude good health.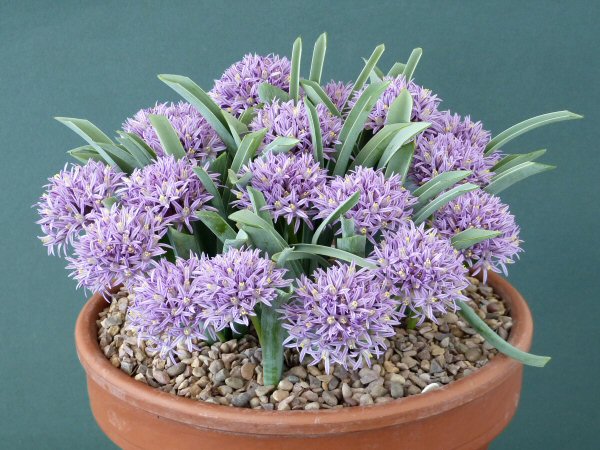 Its closest rival was a large clump of the Iranian Allium shelkovnikovii, which failed to establish from the few introductions made in the 1960s, but has fared much better from a 2000 re-sourcing. At its best this is one of the most attractive ornamental onions, with well-filled heads of lilac-pink flowers, but like so many of the genus it needs valeting before it appears on the showbench, for the fairly broad, glaucous leaves typically begin to die back in late spring. The answer is to trim the ends neatly, using a razor, later mopping up the moisture exuded along the cut edges. Ivor Betteridge, who grows this species as well as anybody, gained a Certificate of Merit for his best effort to date, but also staged four other, smaller panfuls, one of them from home-saved seed.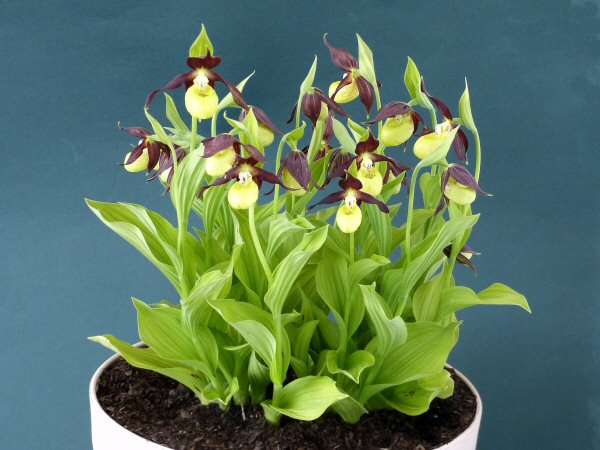 Cypripediums have appeared at Southport for many years, but until recently never in the wide variety currently shown. Ian Leslie brought along a large clump of Cypripedium calceolus, which some readers will feel is every bit as attractive as any of the Chinese species that have come into cultivation, the trickle that started in the 1980s now approaching a flood. One of the latter, the beetroot-coloured C. franchetii [below], earned the same exhibitor the Goffey Cup for the best plant shown in a 19cm pot.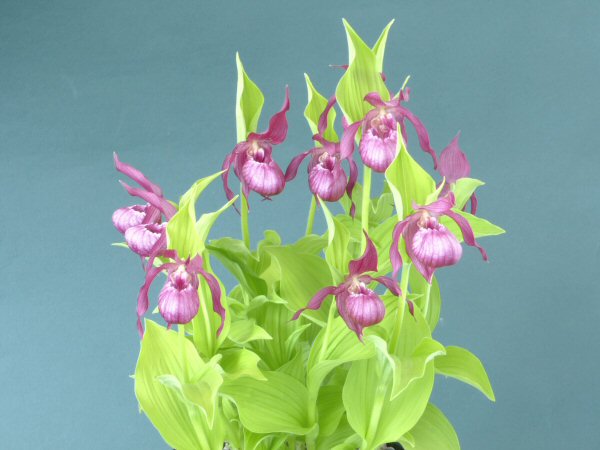 This occurs in a cluster of provinces from Chongqing to Sichuan, attaining respectably alpine altitudes (to 3,700m) on occasion, where it flowers as late as July on damp, grassy slopes. The slipper varies in width and shape from fairly narrow to almost bloated: the example shown was refined, with 5cm pouches, the flowers held singly on 25cm tall, almost furry stems. As yet, it appears not to have been artificially, extensively mated with other species, although a few hybrids exist, one involving C. calceolus, which strikes me as less appealing than either parent.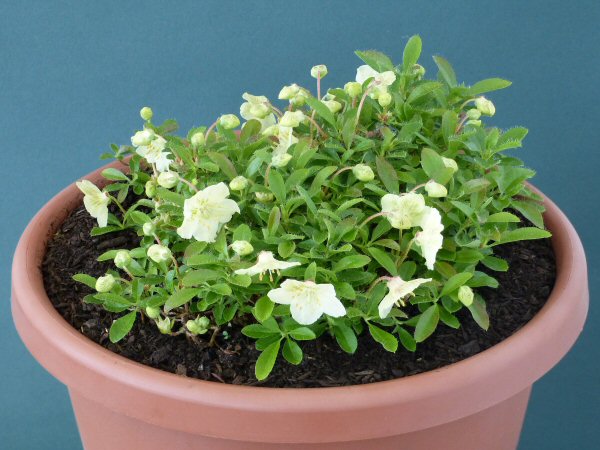 Cypripedium franchetii was described just over a century ago by 'Chinese' Wilson: another plant-hunter, Donald Lowndes, is commemorated by the Nepalese Rhododendron lowndesii, when well-grown one of the most appealing of the really dwarf species ‒ but how seldom one sees it in that happy state! As with the cypripediums, there are hybrids to be had, notably 'Wagtail' (x keiskei var. ozawae 'Yaku Fairy'), but the purist and the connoisseur will always prefer to struggle with the notoriously demanding parent species. It prefers dappled shade, so growing it under a deciduous tree such as an apple will help to keep it happy.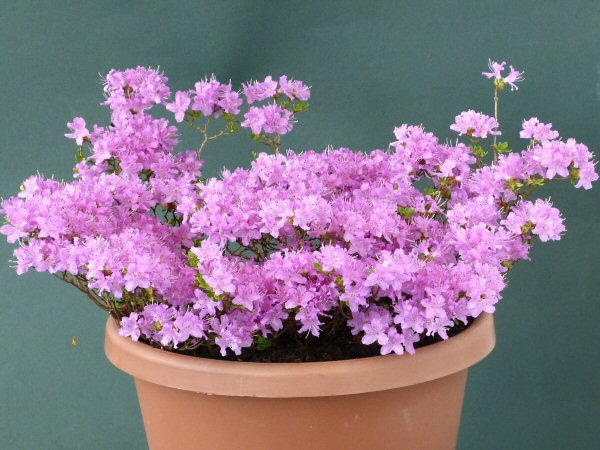 Dave Mountfort's plant, approaching 30cm diameter after many years, was frustratingly not yet in full flower (the scores of buds needed just a few more days of the warm weather that blessed this show in order to open). But the judges, a less callous bunch on occasion than is sometimes suggested, awarded it a Certificate of Merit, and a few cast votes for it to gain the Southport Jubilee Goblet for the best pan of Ericaceae. No matter that it lost out to another deciduous species, the Japanese R. kiusianum in a bright pink form (other selections vary in colour from white through to orange-red), for this too belonged to the same man.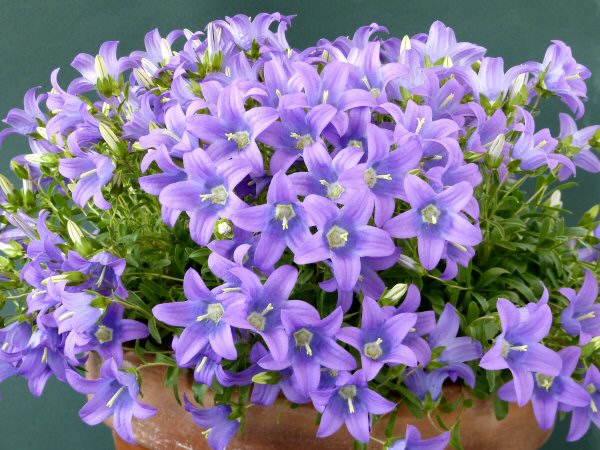 Timing a plant's performance to coincide with a particular show is seldom straightforward, witness Alan Furness's large and very heavy potful of a Caucasian Campanula, grown from seed sent to him from the USA by Betty Lowry and sown in December 2004. Although it has flowered reasonably well in previous years, this promised to be its annus mirabilis, for only a few weeks before hand it had been tight mass of buds, which its owner had endeavoured to promote by ferrying the pot around to bask in whatever rays of sun favoured his Northumberland garden, watering enthusiastically the meanwhile. Forcing it in this matter meant that a very generous number of flowers had opened, but some among the forest of stems had lengthened in consequence. For all that it was a highlight of the show, with rich violet blue flowers, the prominent white eye hexagonal and well-defined: these were larger than almost any other saxatile species that comes to mind, measuring 6cm across, and as much deep. Clearly a member of the numerous C. aucheri/C. saxifraga alliance, it would appear to represent C. anomala, which is native to the western and central Caucasus, occurring at up to 2,500m in screes and high meadows, usually on limestone. Whether it will repeat such a mighty performance is open to doubt – the reputation for members of the genus sometimes flowering themselves to death is no myth ‒ but in any case Alan has several seedlings to perpetuate this fine introduction (whether he will countenance another weight-lifting bout is another matter.)
With some misgivings, the judging trio elected instead to award first prize in the class instead to a smaller but still very well-established Edraianthus serpyllifolius ‒ not the large-belled clone 'Major', but a Croatian re-introduction from Biokovo, where it forms cushions in the limestone crevices and produces up-facing flowers on much shorter stems than forms hitherto cultivated. He also scored with a dwarf form of the too little-seen Anemone narcissiflora, a species that will be familiar to those who visit the Alps in June or early July, where stands up to 40cm tall grace the upper meadows, while in some localities (one thinks of the Schneeberg in eastern Austria especially) it is only a third that height. A number of nurseries hold stocks, and according to the exhibitor it is tolerant of maltreatment, having been in the same pot for the past five years, making its infrequent appearances in gardens the more puzzling. Perhaps misnaming is partly to blame, A. multifida masquerading for the true plant, as it did on the Southport benches in the case of plants labelled both Pulsatilla ambigua and Anemone drummondii!
Brian also had a notable win in the three pans new or rare in cultivation class, where ‒ unlike the examples just cited ‒ his Androsace sarmentosa was indeed that species, from a Pete Boardman, Namche introduction, and not A. studiosiorum (A. sarmentosa 'of gardens'), the critical difference lying in the bracts, which are narrow and of similar length in the real McCoy, although as seen it was also a dawrfer, more elfin plant. With it were Stellera chamaejasme var. chrysantha with the first of the many flowerheads in early bloom, and the real rarity, both in cultivation and in its Scottish home, where only around 50 plants are known, Hieracium grovesii. There are hundreds of these Hawkbit relatives, but this is one of the few that gardeners will wish to grow (rather than weed out of their lawns), since it forms neat rosettes of ovate leaves, and has comparatively huge, solitary, rich yellow flowers like refined dandelions, on stems just 7cm tall. This stock is being grown as part of a programme to bolster numbers and contribute to the seed bank at Wakehurst Place.
Much more statuesque, and with appealingly crumpled flowers of a much softer lemon, Meconopsis pseudointegrifolia is an often biennial species that can reach over 1m tall, and has semi-pendant, rather open flowers with the style clearly visible, whereas those of M. integrifolia are upright or more akin to those of a Globeflower (Trollius europaeus). Various expeditions to NW Yunnan in particular have sent back samplings, and since it sets plenty of seed in gardens, this non-blue Himalayan Poppy has settled down in a number of gardens, unsurprisingly in the main north of the border and in cooler parts of England. John Richards, only just back from a holiday, had almost straight after returning been out into his garden and carefully dug up a plant, whose dozen or so nodding flowers were some 12cm in diameter, with all their petals still in place, despite a rather lengthy drive across country from Hexham.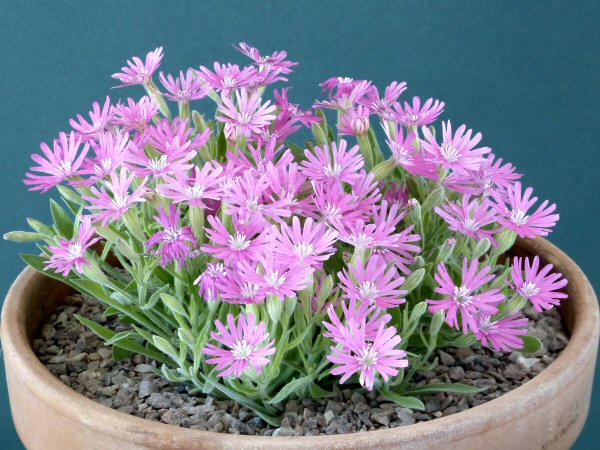 Barry Winter had made a similar journey, though from a slightly more southerly start-point, and his large six-pan entry received an AGS Medal. Aside from yellow Tetraneuris scaposa and one of the numerous large lewisias that he has exhibited at this and other late spring shows over the years, another North American, Silene hookeri, was noteworthy, this form light raspberry pink, whereas Lionel Clarkson had a larger-flowered, deeper pink version on the opposite side of the hall [below].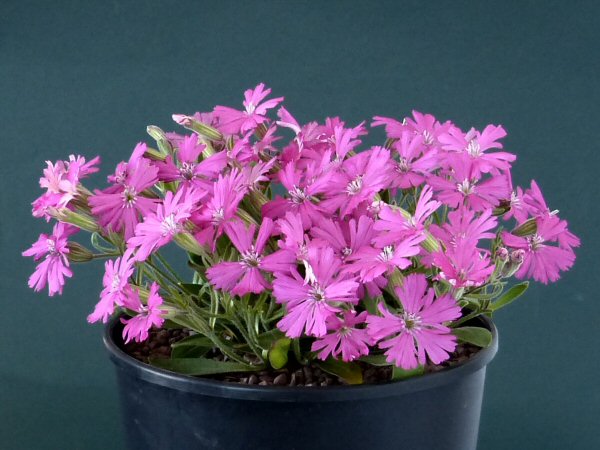 A species dies down without trace later in the year, it needs to be kept rather dry at the crown while sleeping: plants grown outside, in an acid scree bed for preference, normally require covering with a sheet of glass during their dormancy if they are to endure.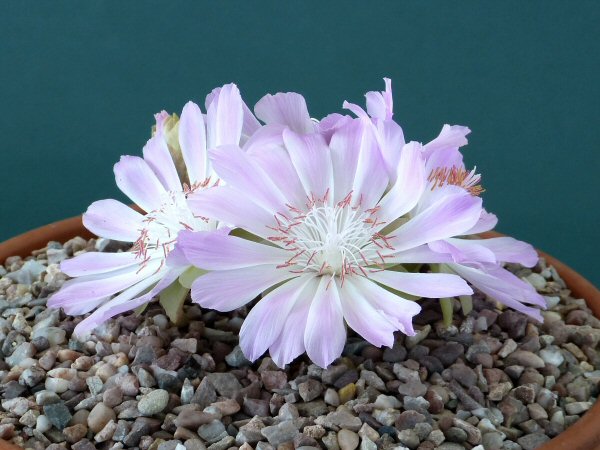 The same can be said of Lewisia rediviva, very occasionally planted in a trough or raised bed, but overwhelmingly considered an alpine house plant. For much of the year it requires little attention, other than to check for aphids when the new crop of leaves emerges, sometimes in early autumn, sometimes much later, depending upon how dry the compost remains, and atmospheric moisture. The flowers are short-lived, and show little of their potential when closed, but on a warm, sunny day such as the one at Southport, the petals open flat in flaunting fashion. At least, this was the case with a mid-pink form, the plum component in Tommy Anderson's victorious small six-pan (he also showed three others, two white, one pale pink, a few classes further along), but an even finer offering, raised from AGS seed sown in January 2006 by Ian Instone, refused to develop beyond the halfway stage. In this the white, semi-double flowers were cactus-like (a number of the latter appeared at the show, none of them the species with which this lewisia can co-occur), with pale lemon stamens and an ivory, swizzle stick style.
Yet whereas Lewisia rediviva is universally held to be a bona fide alpine, even if some populations occur at well under 1,000m, cacti strongly divide opinion, with one school of thought suggesting that they should be barred from alpine plant shows one and all. Having seen some of these supposedly 'unalpine' plants growing at almost 5,000m, once in a snowstorm that turned the upper slopes of the volcano on which it grew white within minutes, on another occasion growing as part of a typically high altitude community of plants, I can only marvel at the deviousness of the arguments advanced in attempts to strip them of their often impeccable credentials. Many are; many aren't: can't we leave it at that?
Author: Robert Rolfe
Photographers: Don Peace and Robert Rolfe