Southport AGS Show, 2013
Cloud (thick, grey and suggestive of heavy rain) covered the Southport sky as exhibitors approached the school venue from the north, along the coast road. Further south, the Ainsdale sand dunes were rendered opaque by morning mist. As the resort was neared, this gave way to improved visibility, revealing vast expanses of sand and wader-rich salt marsh stretching away to the horizon where, one supposed, there might be a glimpse of a thin, silver ribbon of sea. Southport is no longer recognised as a seaside resort but is certainly a well-regarded fixture on the AGS show circuit. The school assembly hall, freshened by a cold, almost alpine breeze blowing through open doors, was filled with plants in abundance, but growers, showers and others nonetheless bemoaned the continuing absence of the long-awaited spring.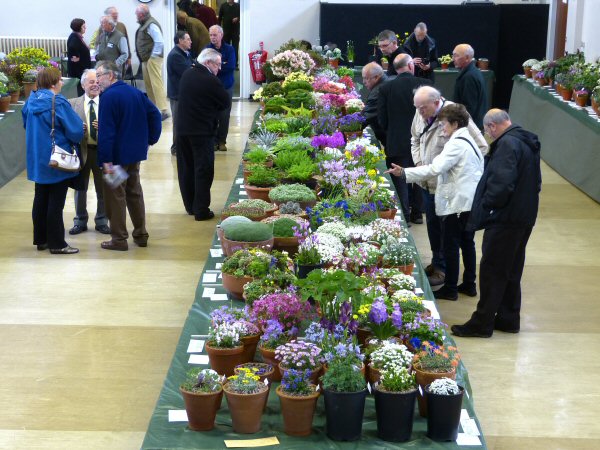 Entry was gained, 'supermarket style', by passing the admissions desk, the tombola stall, a raffle table and an array of plant sales, eventually reaching the target area, to wit the Show. That oft-used phrase, 'a riot of colour', could not be bettered on this occasion, for the long tables set out down the length of the hall were laden with exhibits in pinks, reds, whites and purples with a dash of yellow and blue here and there.
As usual, the Open Section left no one in any doubt about the ability of assorted growers to produce first class exhibits of the sort that typically elicit gasps of appreciation from those on their first visit to an AGS Show. Classes in the Intermediate Section were, on the whole, well represented but, regrettably the Novice Section had only a scattering of plants. Clearly some thought by the show subcommittee and local show secretaries is needed in order to encourage new exhibitors to show off their undoubted skills. They represent the future of shows, presently (bearing in mind the age of some key exhibitors) at a crossroads.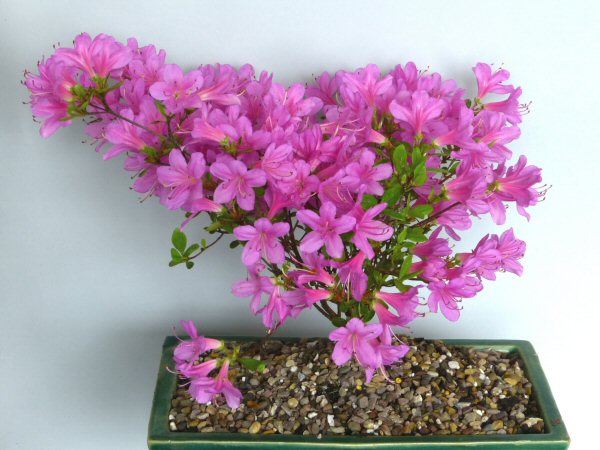 Wigan is not a town that immediately springs to mind when contemplating centres of alpine excellence. So it was something of a surprise that the best plant in the Novice Section was from that pier-possessing, ex-mining town. Although there is some doubt about the validity of the clonal name, Rhododendron 'Pink Duet' is one of the Japanese, evergreen kurume alliance, winning for Ruth Richmond (from the aforementioned town) the Connie Greenfield Trophy. Connie too was born in the north-west and a onetime doyenne of the Show scene with trademark plants such as Androsace helvetica and Daphne petraea 'Grandiflora'. She also had to make a start somewhere and it was in Epsom, where she made her married home, that her prowess developed to the envy of all. Her last days were spent back in the north and it is fitting that this prize should go to a Wiganite.
Also from the north-west, Duncan Lowe was another of the wonderful characters who make up the show fraternity. Sadly no longer with us, he has nonetheless left us a fine legacy of plants, among them Saxifraga 'Duncan Lowe', a Nepalese collection by his great friend George Smith. Frank and Barbara Hoyle from Preston showed a fine example of this selection of the Himalayan Saxifraga andersonii. Its ability to withstand the rigours of winter is evidenced by its survival outside in Northumberland (a county with a sometimes cruel climate) and beyond. The taxonomy of this and semi-related species has yet to be satisfactorily organised.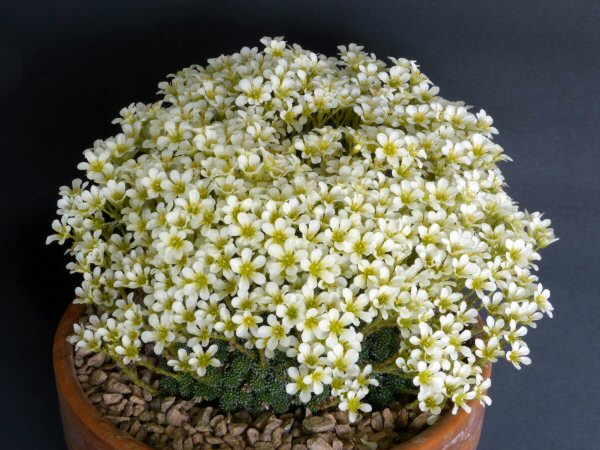 There are times when the judging cohort find occasion for differences of opinion, bordering on outright disagreement. Ian Leslie's entry in the class for a Saxifraga in a 19cm pot was a case in point. Shown as S. diapensioides, and so spectacularly abundant in flower that it received a Certificate of Merit, this identity was queried, with the hybrid S. x malbyana (S. aretioides x diapensioides) suggested in its stead. Several of the most knowledgeable scrutineers present felt otherwise, so the matter was referred informally to Peter Erskine by email, who knows the species well in its French stations. Noting its Sündermann nursery origin, he observed that the very pale cream hybrid 'Hedwig' came from that source, and is far paler and narrower in petal than the plant once distributed as Saxifraga diapensioides 'Lutea' (= S. x malbyana 'Primulina' of late.
At the show, discussion focussed not only on flower colour (perhaps influenced by environmental conditions), but also leaf form and inflorescence structure. Whatever its true identity, Ian's was undoubtedly a very fine plant, named for a photographer from Woodford (Essex), Reginald Alfred Malby, a friend of Reginald Farrer.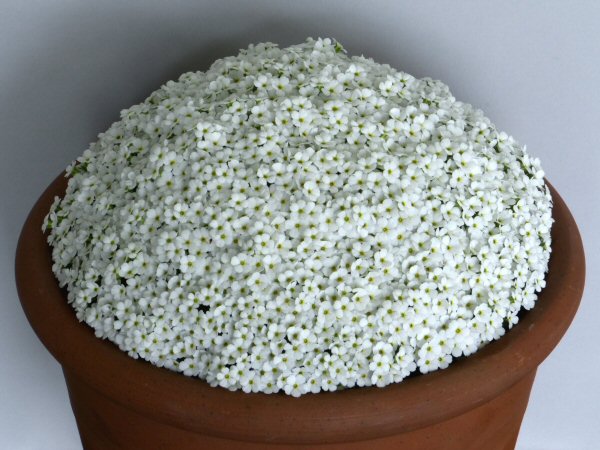 Such lively discussion was not limited to saxifrages but extended to various androsaces, of which there were several very distinguished examples of Androsace cylindrica, one of Geoff Rollinson's winning duo receiving a Certificate of Merit, In this instance, however, it was a plant of Androsace villosa var. taurica that experts locked horns over. The type species is widely distributed in nature from Spain across to the western Himalayas, and with such a vast range it is no surprise that there are a number of recognised forms. The plant shown by Lionel Clarkson was a perfect cushion, well-furnished with blooms, each with a distinctly greenish suffusion in the 'eye'.
In his book The genus Androsace, co-authored with George Smith, Duncan Lowe writes that var. taurica, 'which comes from the Crimean mountains (not the Taurus) is a distinct and beautiful form with flowers that regularly turn pink with a scarlet eye'. Those with a profound knowledge of the genus took the view that this was another species, var. robusta from Nepal, less hirsute but with almost as much variation. Both make good garden plants, performing admirablyl on well-drained soil in sunny positions and, despite the lack of expert agreement, the plant shown was greatly admired.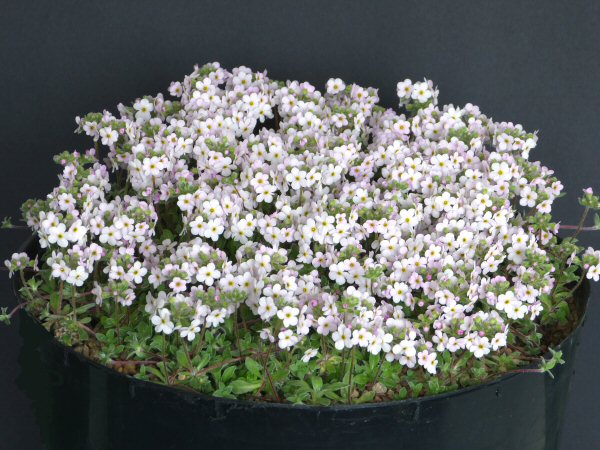 There was no dissent over the identification of a very large potful of Androsace studiosorum 'Doksa', exhibited by George Young in his large six-pan entry. Here was a supreme example of the grower's art, a frothy confection of white, pink tinged flowers over a stoloniferous bed of grey-green rosettes produced in perfect condition. Such a shame that the group overall, despite this Certificate of Merit constituent, was considered just short of the standard required for a first prize.
Paradise Camp in the Lahuli valley in the northern Himalaya is known by the local population as Doksa and thus, when a white flowered form of this usually pink population was introduced from their campsite by Henry & Margaret Taylors of Invergowrie 22 years ago, they named it in tribute to the native people. A raised bed or large trough is a suitable site for this relatively easy plant, though it benefits if given glass covering over the winter months.
The Rufford branch of the Leeds and Liverpool canal runs seven miles due east of Southport and, this spring particularly, cowslips have been especially fine on its banks and towpath. One of five species of Primula native to the British Isles, P. veris is so well known and recognised as to need no further accolades. Yet it would be a sad affair if this year's report did not do justice to Clare Oates's fine specimen in a 19 cm pot. Why bother to grow such an obviously straightforward garden plant in a pot, and why, having done so, bring it to an alpine show? Well, the answers lies in the quality of cultivation, the excellence of the form selected and the fact that it brings to it to the attention of those who might wish to make an initial foray into showing. The Novice Section would surely benefit from entries such as this: we neglect the commonplace to our cost.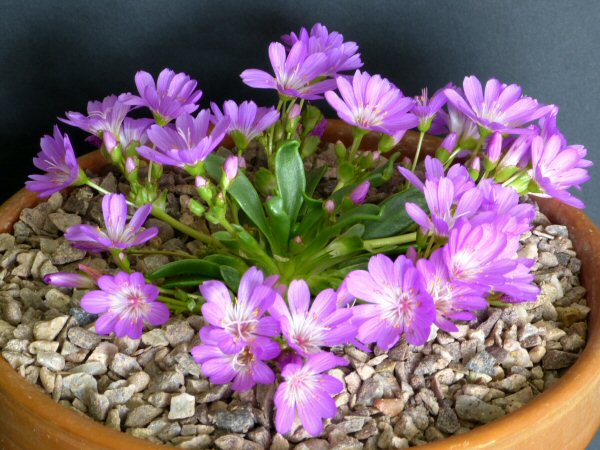 As is usual in May, lewisias were much in evidence but, perhaps, not in such numbers as in other years. As compensation another of George Young's plants brought complimentary remarks from all who recognised it as a rather rare species, making an even rarer appearance at a show. His Certificate of Merit specimen of Lewisia stebbinsii was presented in a class for three rock plants new or rare in cultivation. What really caught the eye was not so much the perfect, glossy basal leaves but the sheer quantity of flowers, only infrequently produced in such abundance by this Californian species, which, like Lewisia rediviva requires a good baking when in its dormant state.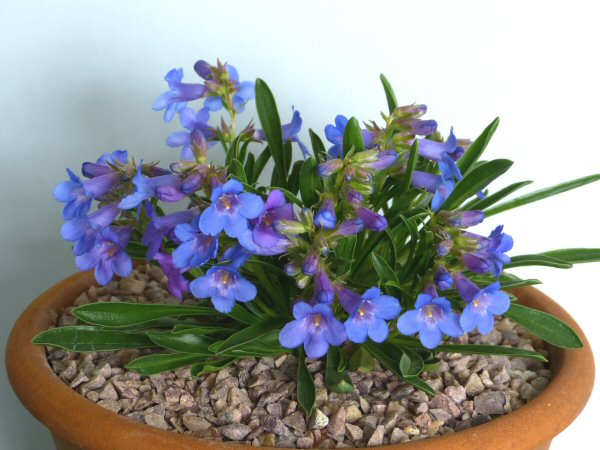 Another North American from George's collection was a lovely example of the little-seen Penstemon uintahensis, an endemic from the Uinta Mountains of Utah. The species received a Preliminary Commendation from the Rock Garden Committee meeting at the East Cheshire Show in 2010, and at Southport received the Goffey Cup against strong competition.
It is somewhat rare to see a judge tasting a show exhibit but these days anything goes. Such was the brassica-like mien of Raffenaldia primuloides that one of the luminaries could scarce resist a nibble. 'Rather like rocket' was the verdict, so if the Hoyles need to spice up their salads, they have the leaves at hand. Once classified in the genus Cossinia, this North African is also found in white and purple flowered forms.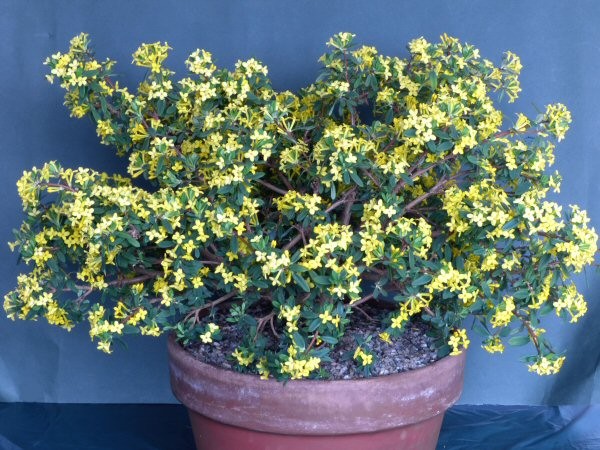 So varied was the range of plant material on display that Trillium cuneatum, a fine plant of Primula rusbyi subsp. ellisiae, the charming, soft green-fronded Woodsia intermedia and pre-eminently a magnificently flowered Daphne calcicola 'Gang Ho Ba' [left], the winner of the best in show and a Farrer Medal for Cyril Lafong, will all have to be described another day. Clearly the cloud, humidity and chilly coastal breezes had done nothing to deter plants, exhibitors or visitors.
Author: Peter Cunnington
Photographers: Robert Rolfe and Don Peace