Southport AGS Show, 2012
Weather forecasters told us that May, with its prevailingly unseasonal dull and cool weather, was experiencing temperatures on average 2C below normal. The show day was no exception. Many exhibitors commented that plants normally in flower for this show were still in bud. Campanulaceae and Caryophyllaceae class entries were lacking in entries, but on the other hand, the weather allowed exhibitors to stage plants normally in flower weeks earlier. Viola lutea grown by Brian Burrow and exhibited in the small pan rock plant from Europe class, was a reminder to just how close some of us live to our native alpine plants (it can be found 50 miles north-east of Southport, around Settle).
Brian Russ, a local member, staged a tiered display of porcelain and china decorated with alpine flowers and bulbs that occupied half the rear wall of the show hall. He was awarded a Gold Medal. The packing and presentation must have taken far more time than preparing plants for exhibit!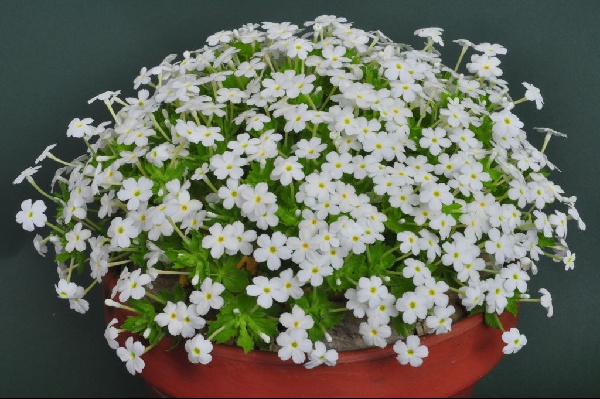 A plant now seldom seen on the show bench, Dionysia involucrata 'Gothenburg White', took advantage of the unseasonal weather to remain in flower and gain a further Farrer Medal for Geoff Rollinson. The long-tubed, pure white flowers gave the appearance of jostling with one another to protrude through the foliage above a 15cm diameter cushion. Considered difficult to reach this size, the premier award plant reflected the skill of the grower. Introduced into cultivation in 1975 from Central Asia, the species is unique in being the only (as far as it is known) species in which the corollas are all of the same type, neither pin nor thrum-eyed. As a result seed is set on a solitary plant without the need to pollinate artificially.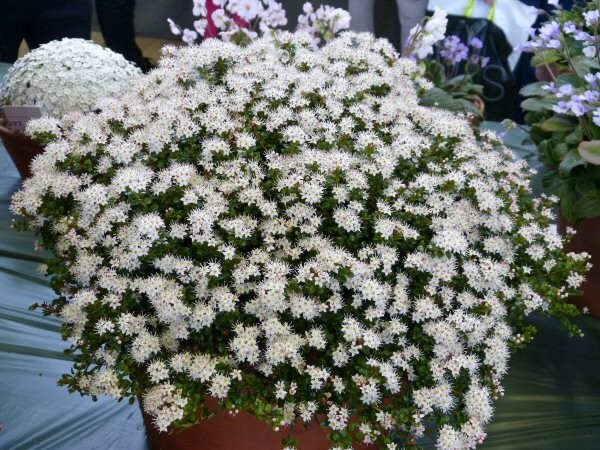 The Farrer plant was dwarfed by its similarly white-flowered contender, Leiophyllum buxifolium, exhibited by Dave Riley and found in eastern North America. This plant won the Southport Jubilee Goblet for the best pan of Ericaceae.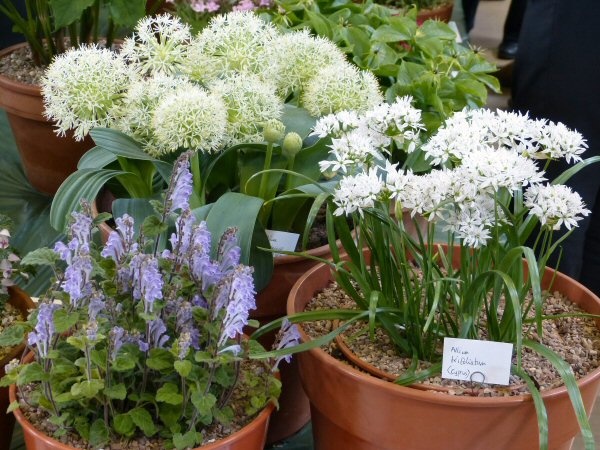 Seventeen pots of Allium were on display, all still in good leaf, taking advantage of the lack of sun that had inhibited a withering away of the foliage. The largest pan, Allium karataviense, was exhibited by Diane Clement, as one of a large three-pan entry for rock plants from any one continent. All were from Asia and gained her the Bill Mackenzie Trophy. The plant held eight erect large white blooms in tight formation with a scent of honey. Found in the limestone mountain screes of Central Asia, seed appears to germinate well and come true.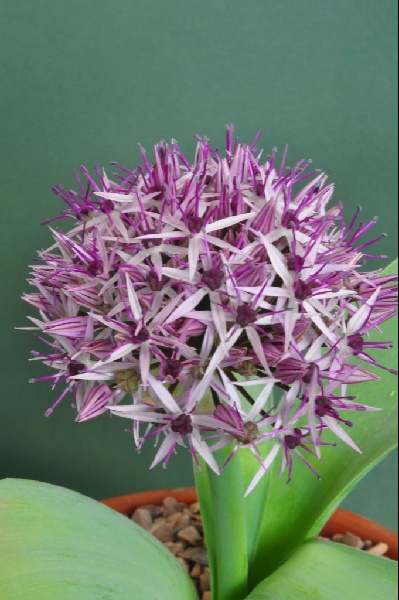 An attractive, single-flowered spike of Allium bodeanu, was shown by Ivor Betteridge. Rarely seen at AGS shows and not flowering reliably each year, the purple tepals contrasted with the deep purple stamens and seed capsule in the centre of each bloom. Found in western Asia, growing in gravelly slopes in well-drained to moist soil, this plant is a true sun-lover. How and why it has performed so well this year is a mystery!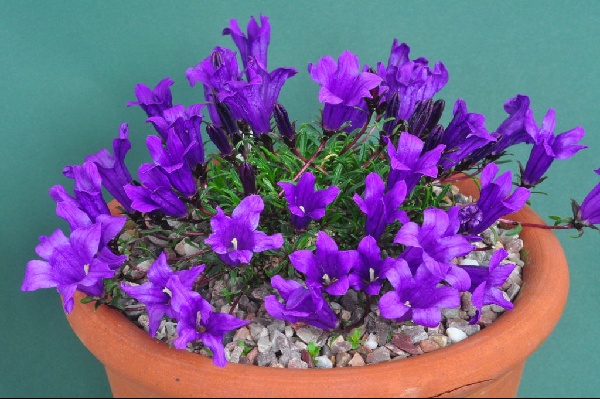 Entered in the small pan Campanulaceae class by Brian Burrow, Edraianthus serpyllifolius was a homing beacon among neighbouring plants, its large, intense blue-violet, upfacing, bell-shaped flowers of striking appearance. Found in Dalmatia, this is reliably early-flowering , and as such an excellent plant for shows in mid to late May.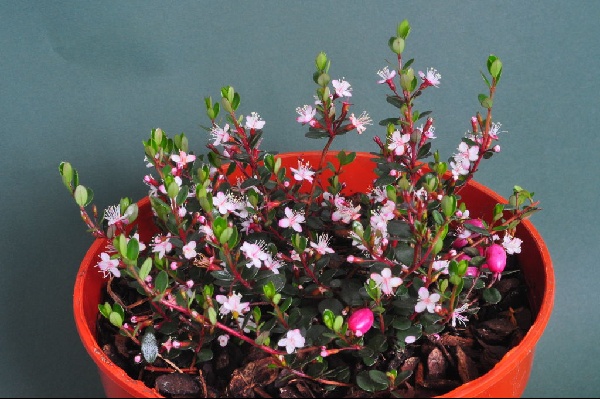 A delightful small shrub, Myrteola nummularia, exhibited by Diane Clement, had star like creamy-white flowers accompanied by a few pink berries, similar in shape to a miniature plum tomato. Native to southern Argentina and Chile, including the Falklands, this shrub is slow-growing, requiring moist acid soil and a sunny site. Somewhat unusual in producing flowers and fruits at the same time, this shrub is a welcome addition to the array of such plants seen at our shows.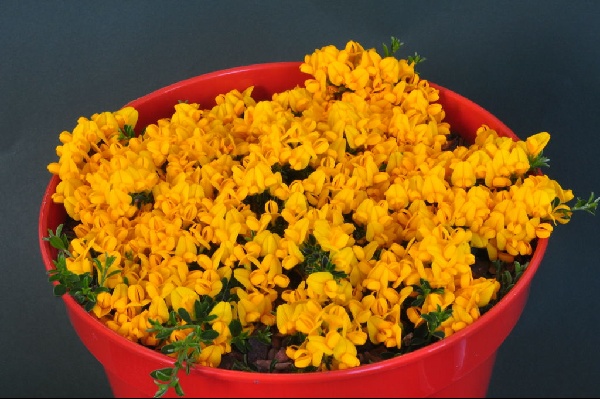 A Certificate of Merit was awarded to another shrub in a small pan, Genista pilosa var. minor, exhibited by Frank Dobson in the Intermediate Section. Many exhibitors wondered how he had managed to flower the plant so well when many were struggling to do so with this species. The pan was crammed tight with flowers along prostrate foliage, the latter showing no signs of trimming.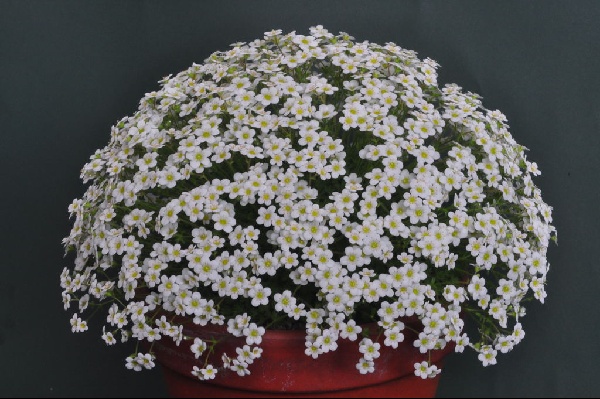 The Ron Moncur Trophy for best plant in the intermediate Section was awarded to Alan Jones for Saxifraga pubescens 'Snowcap'. This plant is a popular choice for the show bench and always at its best during early to mid-May.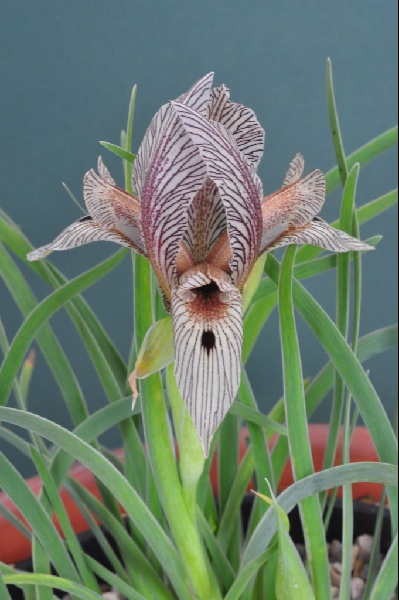 An Oncocyclus iris species, of dwarf stature, from northern Iran and adjacent Turkmenistan, was awarded the Connie Greenfield Trophy for the best plant shown in the Novice Section. Iris acutiloba, shown by Andrew Ward, is clump forming and when mature very floriferous, although on this occasion just a single flower ws on display. Andrew grows his plant, along with other Oncocyclus irises, in 50% John Innes no. 3 compost and 50% grit, with 'total summer neglect.'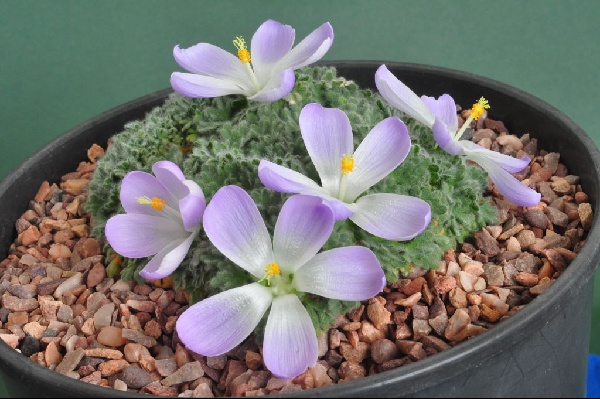 A species from south-central Peru found at over 4,000m and until comparatively recently considered impossible to grow, let alone flower, Nototriche macleanii was exhibited by Lionel Clarkson in a three-pan class. Five large violet-blue flowers protruded from a small (by comparison) woolly ash-green cushion. Lionel considered himself lucky to present the plant with all its flowers out at the same time.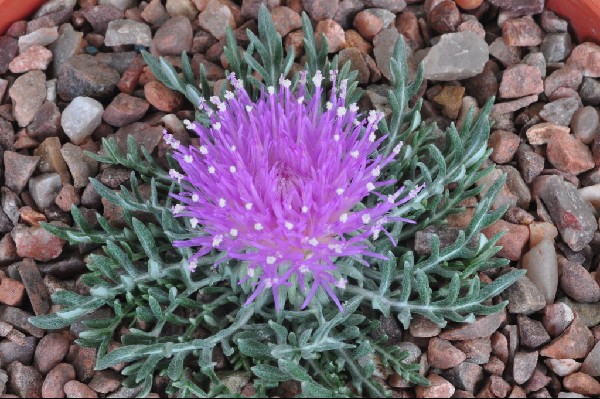 Brian Burrow's Jurinea humilis was also one of a three-pan entry in the new or rare in cultivation class. A single, stemless flower of pale pinkish-purple, similar to a delicate thistle, squatted on a leaf rosette, resting on the grit dressing. Growing in southern Spain and Portugal up to 30cm in diameter, this infant plant from seed is very slow to develop. In a genus often deemed more interesting than beautiful, this plant certainly fell into the latter category, giving the appearance of a star burst at a firework display.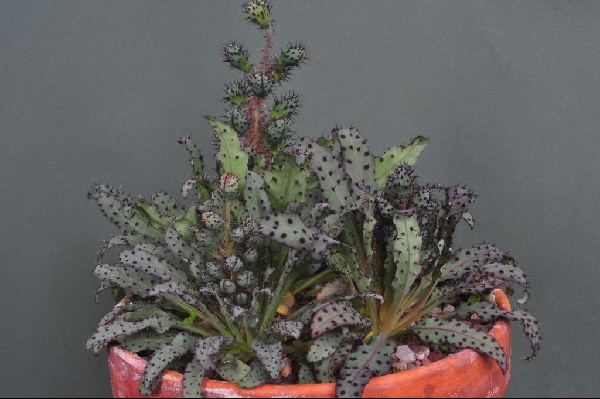 Perhaps the most unusual entry for a foliage effect plant was John Richards' Meconopsis rudis. Grown from seed in January 2011,the plant was clearly a Poppy family member, but how different! Spots, spines, hair and colour combined to give the effect of a camouflaged plant going into battle!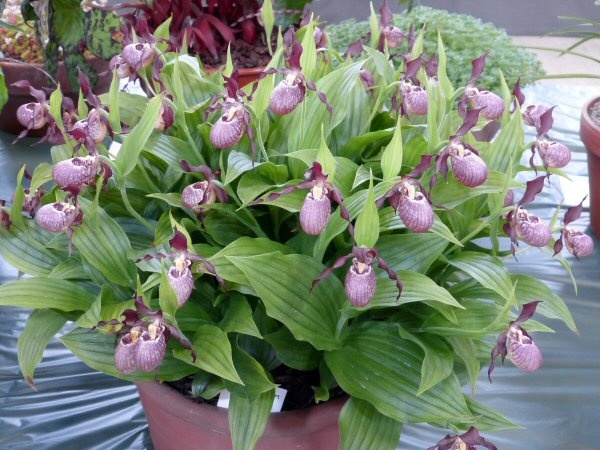 Two further Certificates of Merit were awarded. Cypripedium Gisela grex [right], exhibited by Robin Pickering, and Brian Burrow's Eriogonum thymoides, were both of considerable age. Robin's orchid had mustered perhaps the most flowers of this hybrid to date seen on the show bench. Brian's plant is a subshrub suitable for growing in an alpine house, or outside in a well-drained position.
Author: Chris Lilley
Photographers: Don Peace and Robert Rolfe