Southport AGS Show, 2005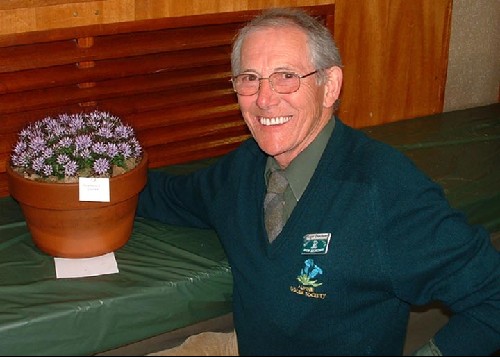 This was a Show of 'firsts': the first Show in the new venue of Stanley High School; the first AGS flower show to be overlooked by numerous portraits reminiscent of the famous Monch "Scream"; a first time local exhibitor picking up the premier C section award and the hard working Local Show Secretary finding that his fine plant of Physoplexis comosum  had been awarded the Farrer Medal (picture).
Despite some foul weather the exhibitors had, as ever, beaten the elements to stage a bright, cheerful and colourful Show. The benches were slightly dominated by some superb Ericaceous plants, but the North West climate is particularly favourable for many of these so we would expect to see such good quality here. There were good Rhododendron kiusianums, Ledums with their little white sunbursts of flowers and Vacciniums. South African plants, too, were present in some quantity giving us the chance to study the golden Hermannias in detail.
This is very brief as Chelsea has intervened. A much fuller report will be submitted for the Alpine Gardener.
Mary Randall