Southport AGS Show, 2011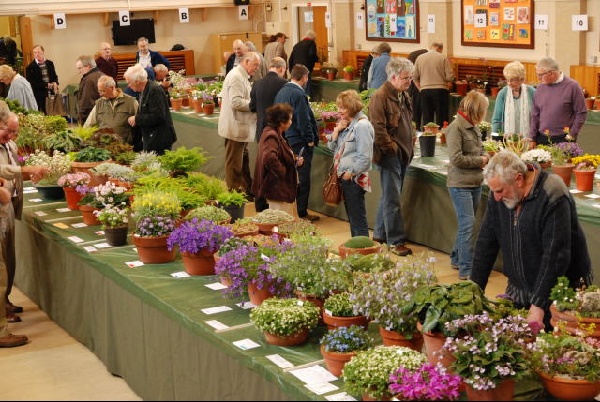 There was only one subject being discussed as the plants were being staged for this year's Southport Show - the weather! Nobody could remember such an early spring, following on from such a long and cold winter, and few could remember such a long and sustained drought. Given the 'here today, gone tomorrow' blooming of many alpines in temperatures which soared regularly into the upper 20's centigrade throughout April and early May, it is a relief to be able to report that the Show was a great success, with a very wide range of lovely plants on display.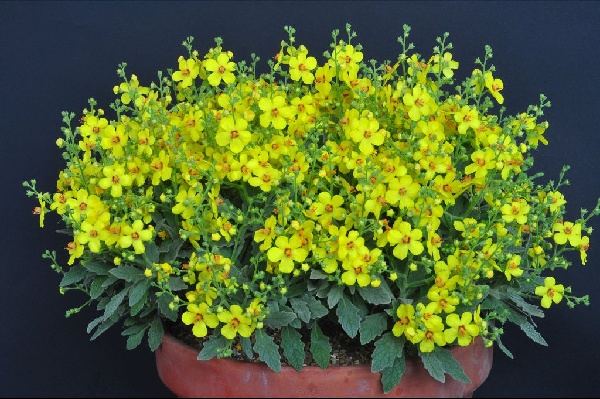 Unusually, two dwarf shrubs vied for 'Best in Show', a splendid plant of Verbascum x 'Letitia', covered with flowers, none of which were noticeably past their best, a difficult achievement of which the relatively inexperienced exhibitor (Anne Vale) should be proud, especially as the plant was awarded a Certificate of Merit,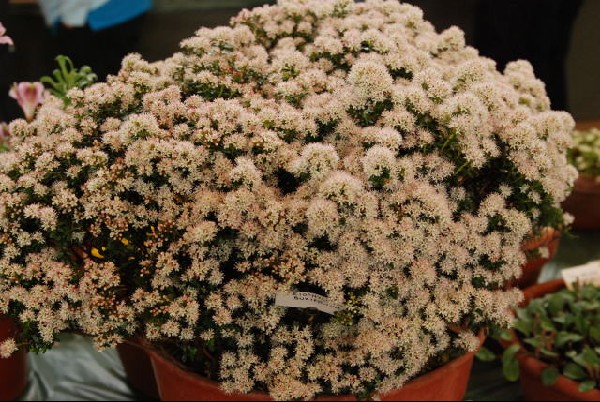 and the eventual winner and recipient of a well-earned Farrer Medal, a venerable plant of Leiophyllum buxifolium, dug up from his garden by Brian Russ. There are a number of varieties of this ericaceous shrub in cultivation, varying principally in habit and growth rate - some grow taller and faster, others are more prostrate and slow growing. This was not the most prostrate form but it was dense and, as the photograph shows, literally smothered in flowers.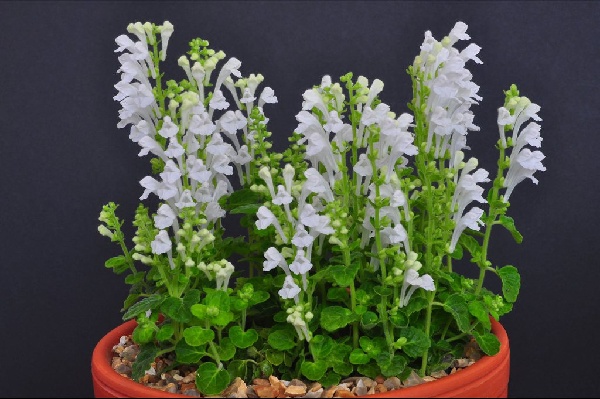 Cecilia Coller's AGS Medal winning small 3-pan exhibit contained a much admired Scutellaria indica var. parvifolia (she also exhibited an excellent pan of the white form in another class) and an attractive pan of Ramond myconi, one of several good ramondas on the bench.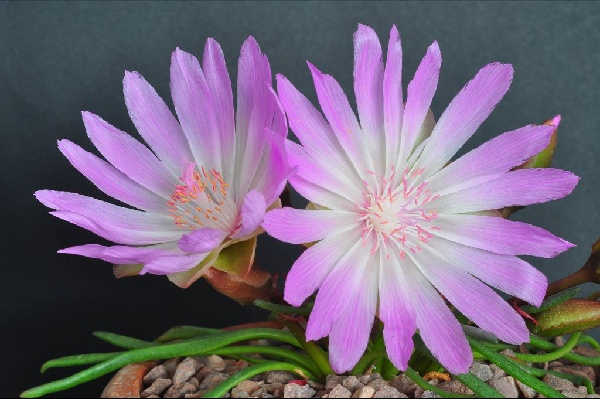 There was a generous range of forms of the gorgeous Lewisia rediviva on display in all colours from white to darkest rose-pink, and varying in petal number and width. Apparently all of these forms, and more, can be found growing together in some locations in the wild; it must be a fabulous sight! My favourite on this occasion was the one shown here, exhibited by Martin Rogerson.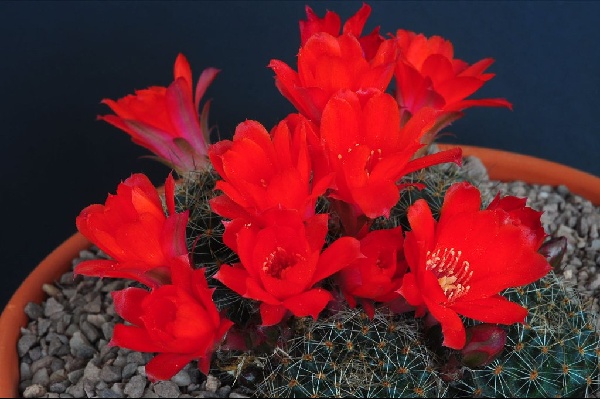 Talking of lewisias, which are summer-dormant succulents from semi-desert regions in western USA, leads me to mention two closely related cacti shown by Vic Aspland that attracted a lot of attention due to their sumptuous flowers, and the fact that they are still relatively uncommonly seen at AGS shows or in the alpine houses of enthusiasts. Labelled as Mediolobivia brunnescens (shown) and M. haageri var. salmonea, these could equally well (perhaps more correctly) be labelled as reboutias, into which genus they have been recently placed. Both come from c. 2500m in Mexico and are quite frost-hardy provided they are grown in a lean compost that is kept dry in winter. Like many high altitude cacti they require a cool period (<10C) in winter to stimulate flower bud production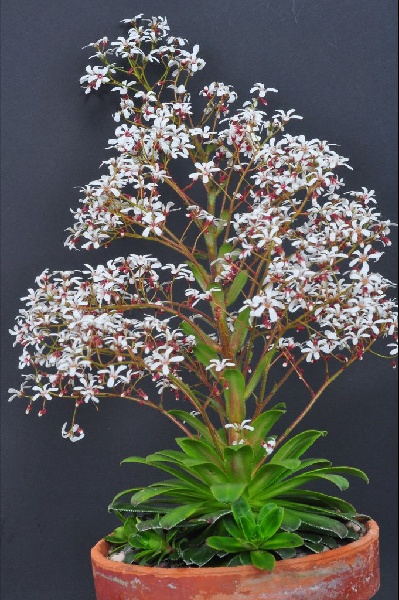 Good pans of the larger species of encrusted (silver) saxifrages are not seen that often at shows, so to be able to admire and compare excellent specimens of Saxifraga cotyledon and S. longifolia side by side in the same class was a real treat. While S. longifolia is monocarpic, producing a huge spike of pristine flowers from its beautifully silvered rosette before its inevitable demise, S. cotyledon (John Richards) is a good perennial as new rosettes develop (as seen here) during the growing season to replace those that die after flowering. Both are easy to cultivate in gritty compost in a pot or in a sunny place outside, but for best effect should be planted on their side in a wall or niche in a crevice bed or trough where their impressive plumes of flowers can be seen cascading downwards.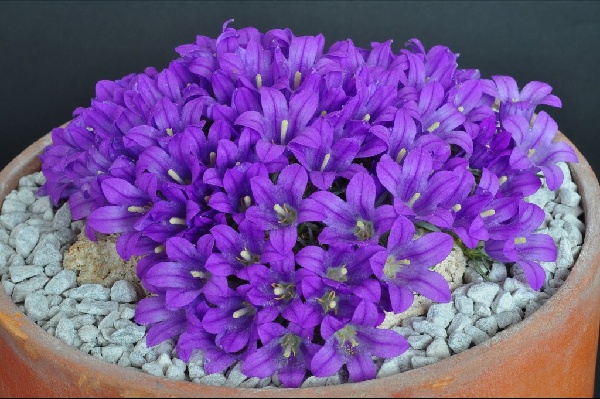 Totally different in almost every respect is Edraianthus dinaricus, an elite cushion-forming member of the campanula family. A splendid example shown by Ian Leslie and glowing with vitality won the Goffey Cup, awarded to the best plant in a small pan. Ian grows this plant in a compost containing lumps of tufa and some dolomite lime.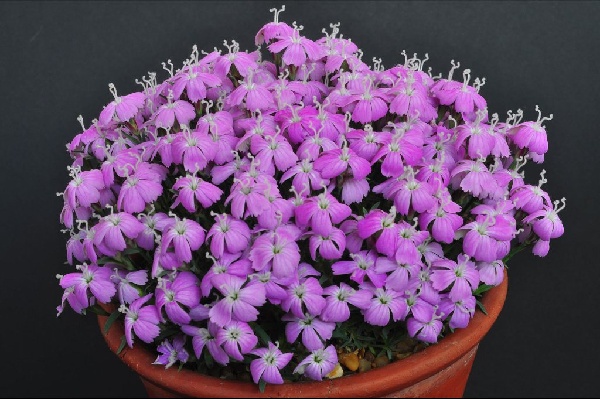 Finally, I would like to highlight the other plant to which a Certificate of Merit was awarded at this show, the beautiful Dianthus brevicaulis, exhibited by Alan Furness. This species is easily identified by the singular appearance of its solitary, almost stalkless flowers with their pair of twisted styles, which extend well beyond the petals and look uncannily like the filaments of an incandescent light bulb. It comes from Turkey where it grows in mountain screes and rocks up to 2500m.
John Good