Southport AGS Show, 2010
The precise definition of an alpine is a difficult

It was a crisp, bright May morning when your reporter left home to travel across the Mersey to the once thriving Edwardian seaside resort for the Show, held as usual at the southern end of the Fylde coast. Crisp enough for there to have been a pre-dawn frost but now the dew made passage across the turfy footpath to the railway station a somewhat foot-drenching experience. Those seasoned exhibitors who had travelled from the northeast complained of lower temperatures, temperatures rarely encountered so late in the year; but this year with its frost, snow and ice has been exceptional.
The sun continued to shine on Southport and as the thermometer climbed to reach a high of 15C in mid-afternoon those dozing in their motorcars were in danger of unexpected heatstroke. The Jeremiahs, of course, said the frost would be harder than ever by nightfall. Would this fickleness of climate have had an adverse effect on entries and quality?
The hall is big enough to allow for easy movement between the tables and well enough lit to satisfy all but the most poor-sighted of individuals from seeing the displays. A quick glance around from the entrance and one could see that all was well and once again the skill of the exhibitor and of those who staged the exhibits had combined to produce a show of fulsome colour and varied interest. The exhibitors, by virtue of moving specimens to frost-free overnight positions, had prevented the sort of disaster that might have turned the Show Secretary into a quivering wreck.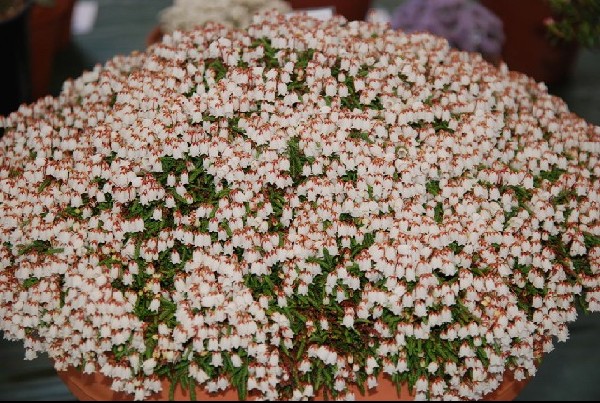 Ian Christie had lugged his huge pan of Cassiope lycopodioides (shown) beneath cover, as had various showers of Rhododendrons the flowers of which are frequently prone to damage from frost. Rhododendron 'Sarled' looked really fine, its white snowballs set off against dark-green leaves whilst the pink flowers of Rhododendron trichostomum were equally fascinating to the morning visitors who, prematurely in one instance, rushed the doors at opening.
Rarely can Rhododendron keleticum have presented such a fine display of flowers above a dome of neat foliage: what a pity that it was just beginning to show signs of flower senescence. This aging, however, was surely preferable to the brash Rhododendron yakushimanum selection that dominated the Ericaceous Class and, indeed the Sempervivums nearby.
Amongst the ferns were some wonderful examples of Adiantum trichomanes and a superb specimen of what used to be Ceterach officinarum known colloquially as the Rustyback fern, and a British native to boot.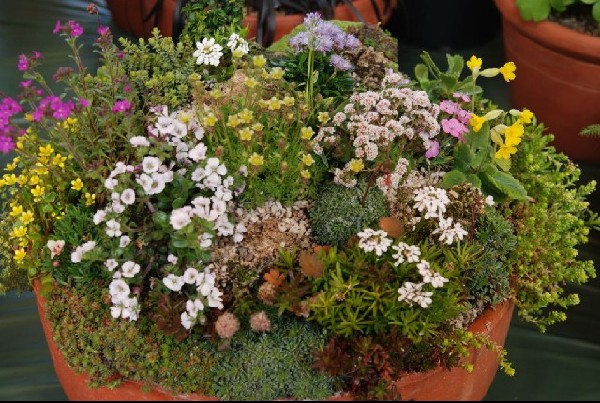 As usual the classes for foliage gave, one imagines, the judges a bit of a headache but they came up trumps and the triumphant owner of the best three pans for group effect, John Dower of Frodsham, could feel doubly pleased as he also succeeded in the miniature garden category. Judges are often challenged as to their decisions and in this instance a passer by wondered how a copper coloured Heuchera might be considered 'alpine'. He was referred simply to the comment quoted above
Unusual, perhaps even rare appearances, were made by two plants from China, Meconopsis delavayi with just a single flower but enough to convince the judges that this could not be anything other than a prize-winner and Omphalogramma delavayi both named for the indefatigable Jesuit priest, Jean Delavayi 1834 – 1895 who collected chiefly in Yunnan province and both shown by John Richards of Hexham a Northumberland town from which the pestilence of a very cold winter had only recently departed.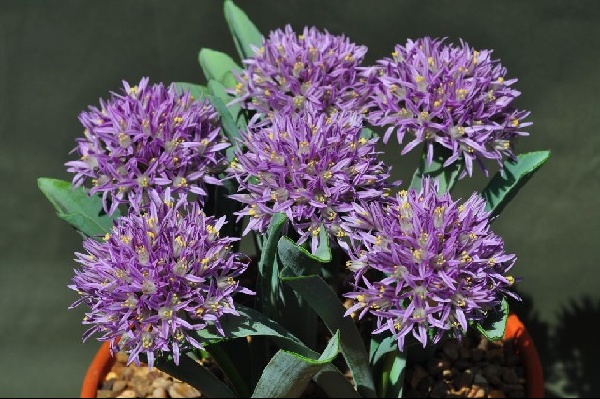 Among the monocotyledons one would expect to find a goodly number of Alliums and such expectations were upheld by some excellent examples of the genus. Two forms of Allium shelkovnikovii were competing in the same class the winner being a specimen with blue-green leaves, trimmed at the tips, and a subtle combination of blue-pink flowers with pale green undertones. This Iranian native won the Goffey Cup for the best plant in a small pot in the open section for Ivor Betteridge. In past times the Goffey Cup was awarded to the best exhibit of alpine plants by a commercial organisation but times change and for more than three decades no qualifying exhibitor has been forthcoming.
Orchids are becoming more and more prominent at Shows partly because of the range of new selections and hybrids of showy Cypripediums but mainly to an increased awareness of the cultural requirements of these lovely plants. Cypripedium 'Axel' is one such, short of stature, only about 20 cms tall in flower with delectably marked blooms of burgundy striped with pale mauve. The familiar Cypripedium calceolus ( above) in yellow and brown livery won a certificate of Merit for Brian Burrows.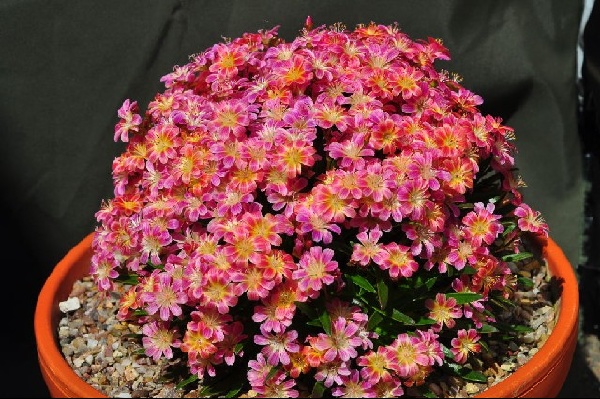 As expected, in May, Lewisias were to the front and no matter how one might be inclined to consider them as 'candyfloss' they do present a most colourful spectacle and such plants will be at the forefront when it comes to appealing to those for whom alpines are something new. Newcomers are an important result of the Society's shop-window Shows and are to be encouraged with genera that are both colourful and, relatively speaking, easy to grow. Together with Lewisias we might consider Aquilegia, Pulsatilla and Narcissus as candiateds for the beginner so it is always encouraging to find these at shows and not only in section C. All four genera were well represented a wonderfully flowered selection from Ashwood Nursery's Carousel range winning a well deserved accolade for Margaret Pickering from a town more usually associated with fish than alpines, Goole. She took the prize for the best plant in, the newly termed, Intermediate section, formerly section B.
Many of the visitors to the Show will have been delighted to see Peter Cordall's display of photographs from the Galung La a pass above a valley opening off the to south of the Chengdu to Lhasa highway, a region he visited in 2009.
These days when our Society is pleased to take under its wing a far wider range of small and hardy plants than ever the founding fathers would have considered proper, the interest is spread across a broad range with greater appeal and challenges than even the immediate post war members could have dreamed. Roy's enlightened comment is truer, perhaps, than he might have realised 47 years ago.
Peter Cunnington