South West (Exeter) AGS Show, 2005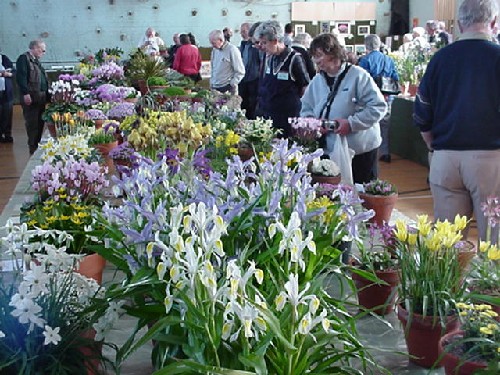 The show hall being only a mile off the M5 combined with the more than adequate car parking facilities made all the difference after a long journey. Almost from the M5, AGS direction signs become obvious, making it easy for first time exhibitors to locate the hall. The first impression of the show was one of colour, intense colour in some cases. Vivid reds of Tulips, bright yellows of Dionysias and Narcissus balanced by softer tones of pastel blue and softer yellows of Juno Iris. Perfume played its part as well. One contributor, Erythronium helenae is not only one of the most attractive of the Genus, it could easily be described as the most fragrant.
Large pans of easily available 'Garden' plants sat check-by-jowl with the more esoteric exhibits. Anemone x seemannii; Tulipa clusiana var chrysantha; Trillium chloropetalum and Sanguinaria Canadensis being a few that spring to mind. If terrestrial Orchids are your thing, this is the show for you to visit. This year the season was right and a dedicated trophy for members of this family usually ensures a good showing. This year was no exception and to illustrate the overall quality the Farrer Medal was awarded to Orchis pauciflorus, which came from the Graham Lovell Salver winning exhibit shown by Carl Hardwick.
The Artistic section was well represented, with what seemed like every available area of wall space being covered with Artwork of some kind. From needlepoint, through water-colour and pastels to photography ('real' and computer enhanced) – if nothing else it realigned the spine from the perma-stoop of label reading.
With 16 Trade stands including a turned wood specialist and the ever popular Tombola, Exeter close enough for the 'less interested' partners, all combined with good refreshment facilities at the show, this is a happy, welcoming venue. This was my first visit but certainly not my last.
Ray Drew