South West (Exeter) AGS Show, 2011
After three days of almost continual sunshine the plants heaved a sigh of relief with cooler and overcast conditions and rain threatening most of the day. The Exeter show has always been friendly and well run and apart from a slight problem with the new caterers it was no different this time. Di & Bob Dark and all their willing helpers can congratulate themselves once again and the successful show advertising campaign run by Bob & Di resulted in not only a large attendance but a heaving trade stand area where the nurseries did good business. Parking was made easier this year with the tennis courts being utilized for exhibitors when after dropping off their plants they could move their cars out of the way so there were no hair tearing moments for other exhibitors. Inside the hall the competition was fierce but the local group was rewarded for all its hard work when one of its own members Cyril Dart took the Farrer Medal amongst a total of 44 exhibitors benching 366 plants. The artistic section at this show continues to grow with a new photographic class for three close up photos of alpine plants introduced and a total of 179 pictured exhibited in the Open Section.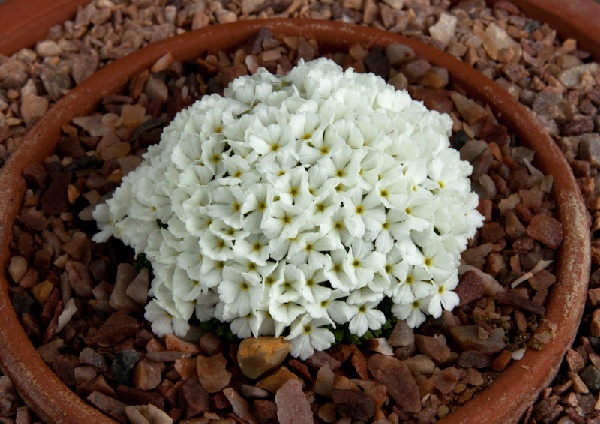 In 1995 I exhibited Androsace bryomorpha at a Morecambe show grown from seed collected in Tadzhikistan. Although it was a tiny plant it was hidden under a dome of white flowers and members of the public gathered around to comment at its size. That was an ancestor of both plants exhibited here grown via cuttings from the original. Of the two on the bench the superb exhibit staged by Eric Jarrett, who obtained his plant 5 years ago, was awarded a well deserved Certificate of Merit. Androsace bryomorpha comes from the Yazgulem Range in central Pamir, Tadjikistan where it grows in dolomitic cliffs at around 2800m – 3100m.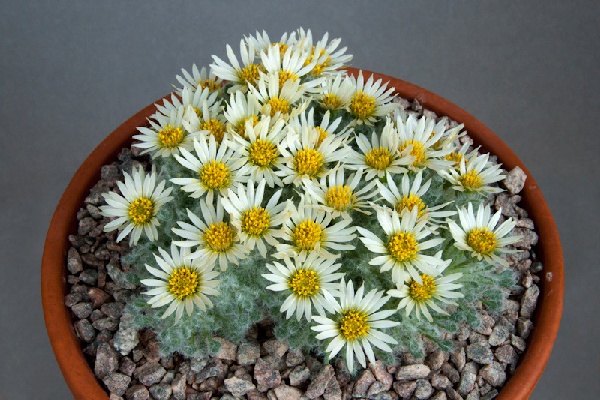 Townsendias are a favourite of mine and when grown well can be show stopping and one such plant was exhibited by Dorothy Sample. Townsendia (?) spathulata 'Cottonballs' are found growing grow in the East Beartooth mountains of Southern Montana at an elevation around 6500'. There is a strip of steep limestone ridges that run along the exposed edge of the mountain. The plants grow on top of the ridges in shallow limestone scree. Brian Welzenbach of Bozeman, Montana U.S.A .discovered these plants only in seed four years ago when the area was drier than normal. He said "I have hiked the area extensively, and their range is very small, perhaps only a 1/2 mile strip of limestone." The exhibited plant made a dome 19cm across of soft hairy foliage covered with large whitish flowers. It is quick growing but needs careful watering and no moisture at all on the foliage. It will set seed if hand pollenated. The term 'Cottonball' suggested by Brian Welzenbach refers to the cotton-like hairy foliage and at present plants are with the Composite section at Kew awaiting further identification. The exhibited plant not only was the best in a 19 cm pot but was also awarded a Certificate of Merit.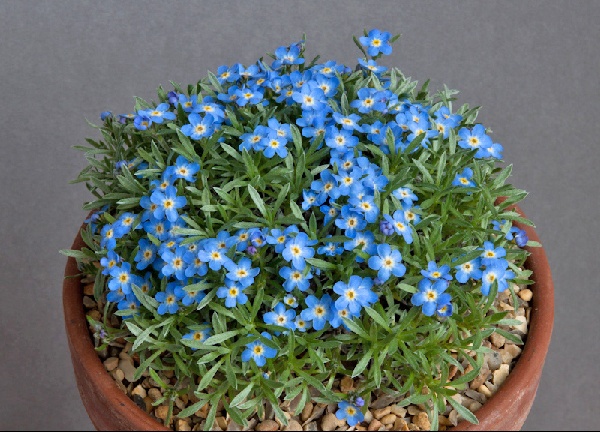 Paul and Gill Ranson always have excellent plants on show and amongst their dionysias another cushion species shone out with the North American Eritrichium howardii. Although just slightly easier to grown than its more condensed compatriate E. nanum it still takes a lot of skill to grow it to any reasonable size and the Ransons had done it here. In its limestone habitat in Montana & Wyoming it makes loose tufted mounds to 8cm high but the exhibited plant was more compact than in the wild and the blue flowers on very short stems made a lovely contrast to the silvery-green leaves. This was another cushion that impressed the judges and deservedly was awarded a Certificate of Merit.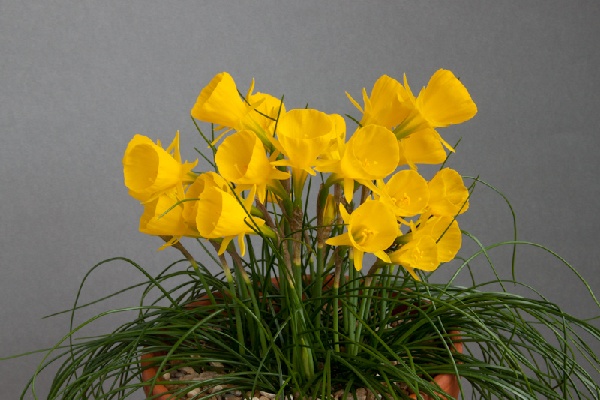 Narcissus bulbocodium comes in many guises and the species obesus can be found under a variety of cultivar names. The exhibit that was awarded the best plant in section C was staged by Mike Quest. The original clone was purchased in 1985 from a local show sales table by Lee Martin eventually winning a Farrer Medal for him and Julie. Lee has distributed the bulbs over the years and it is now in the trade. This lovely exhibit packed with large yellow crinoline-like hoops should be looked for at future spring shows when Farrer Medals are awarded.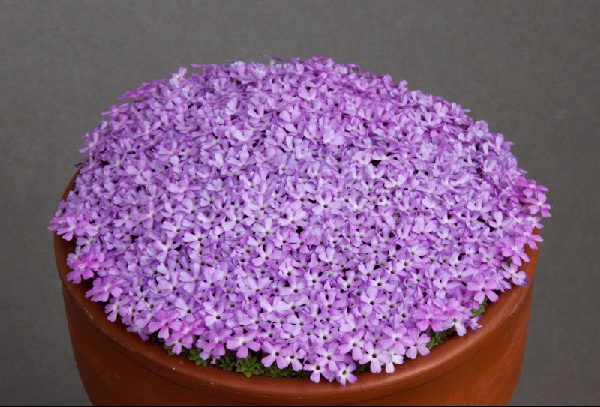 Dionysias are always predominant at this show and the judges have a hard job to pick the best. Domes galore you might say but one of these popular plants Dionysia bryoides 'Woodside' went against the trend making a practically flat mat but still covered with flowers. Although an old selection, it was raised by Geoff. Rollinson, it still looks great when grown well. Chas. and Rita Carter who exhibited this plant obtained it 10 years ago and grow all their dionysias in a mix of John Innes No2, Perlite, Vermiculite, river sand, Seramis, and cornish grit. In what proportions? That's a secret!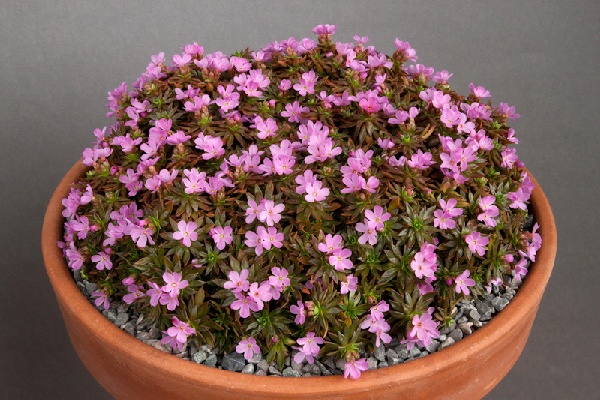 Androsace (Douglasia) laevigata when grown well can make a lovely large mat or dome and an exhibit in the large six pan class was outstanding. In its native habitat around Mount Hood and in the Columbia River Gorge in northwestern U.S.A. it creeps over rocky alpine ledges making large mats but there it is free of our common aphids that shelter under the foliage when gown under cover in the U.K. Lee & Julie Martin grew the exhibited plant from seed sown ten years ago and it is kept in an open frame or just with a top cover which helps to keep it aphid free but close attention has to be paid to removing last year's dead foliage underneath the current year's as soon as possible to prevent any die back.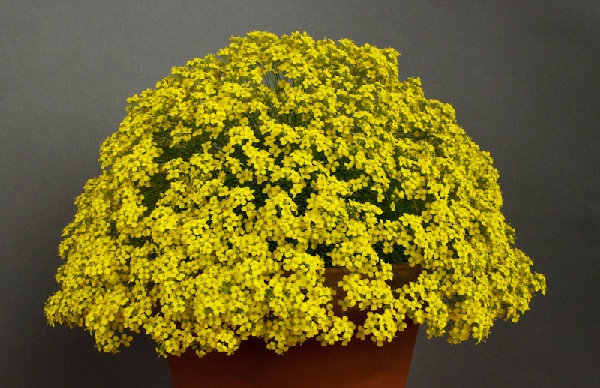 Draba longisiliqua is endemic to the limestone areas of the northern Caucasus where it grows on steep rock faces or under overhangs at 900 - 2600 m and Vojtech Holubec suggests it should be grown as a dionysia. Judging by the exhibited plant that won the Farrer Medal it is also endemic to southwest of England. Here was a huge dome covered with yellow flowers and exhibited by a local group member Cyril Dart. It had been grown from one of several cuttings taken 5 years ago and potted upwards every year using a John Innes compost. The foliage does look grey and almost dead over winter but patience is a virtue and a Farrer Medal is the reward.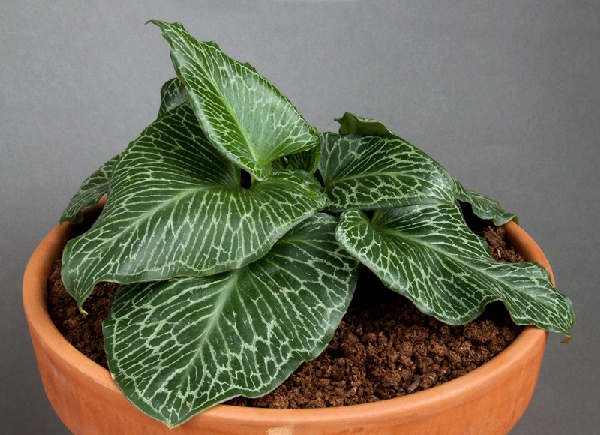 I am always attracted to the unusual foliage plants and Arum pictum 'Primrose Warburg' was certainly unusual and not to be confused with the common garden plant Arum italicum 'Pictum'. It is a sun loving species from the western Mediterranean areas, has large, flat marbeled leaves and flowers in the autumn. The two plants exhibited by Ivor Betteridge came from a nurseryman but originated from Ray Drew who swapped a plant of the plain leaved form of Arum pictum with Primrose Warburg (the person) for this well marked leaf form. After her death, he named it after her and showed it to the Joint Rock (P.C. Bulletin 68 page 277). Ray told me it always flowers well but suffered badly in pots last winter in temperatures of -13C but seems to have come through where planted in the garden.
Graham Nicholls