South West AGS Show, 2006 (Exeter)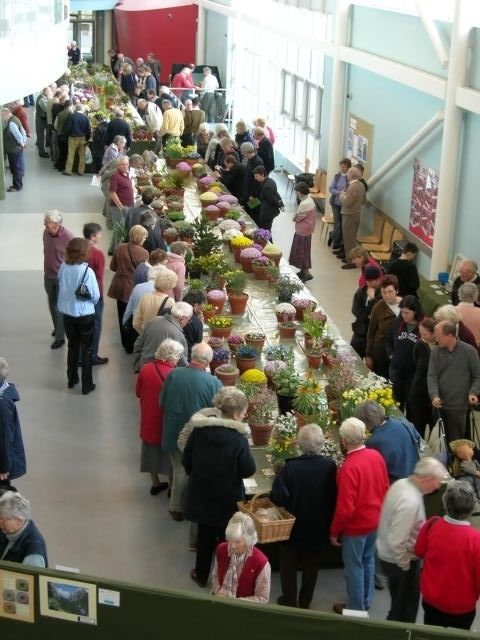 In spite of having to change venues at the eleventh hour the South West show lived up to its fine reputation. Plenty of natural light, the benches in one long line and the artistic section featuring as a picturesque backdrop gave a great deal of enjoyment to exhibitors and visitors alike.
As is to be expected at this time of the year bulbs, especially fritillaries, were well represented although dionysias and primulas were close behind.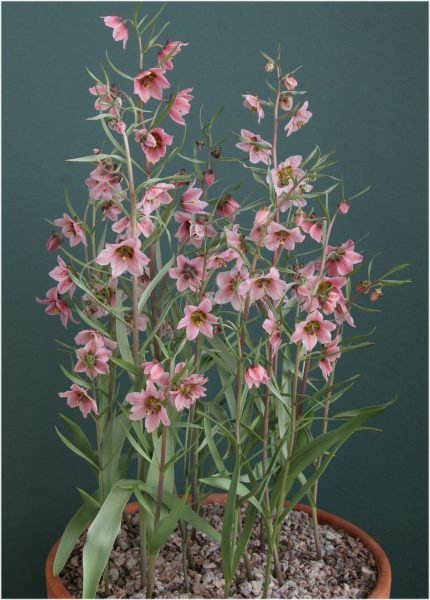 Martin and Anna Sheader exhibited a large pot of Fritillaria ariana grown from seed collected in Afganistan and sown in January 1999 which demonstrated that you haven't to wait a lifetime before fritillaria seedlings flower. Another exhibit of Fritillaria ariana by this skillful couple won the Farrer medal. The rare Fritillaria crassifolia ssp poluninii, smallest of the four subspecies from northern Iraq and western Iran, where it grows on limestone screes also caused much interest, one of the exhibits being awarded a Certificate of Merit.
.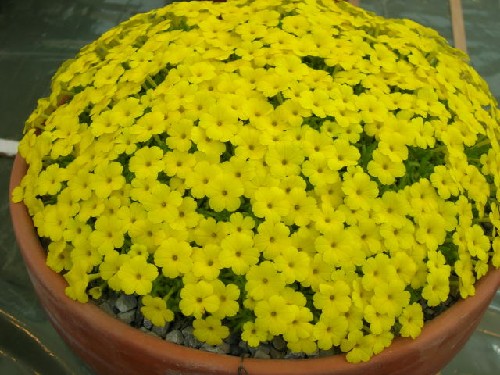 Dionysias large and small dominated the Primulaceae classes. Dionysia aretiodes 'Bevere', Dionysia 'Monika' and Dionysia viscudula G.W.H. 1305 were outstanding and Dionysia odora PN/MK 9953/2 won the East Devon Trophy for the best plant in the small pan classes. With such a wonderful exhibits it was inevitable that the Exeter Trophy for the most first prize points went to Paul and Gill Ranson
In the Primula classes there were several exhibits of the old favourite Primula 'Clarence Elliott' which is just at home in the rock garden as on the showbench. Primula 'Jackie Richards' with largish pale blue flowers helped local member Jenny Bourne win the Dartmoor Trophy for most first prize points in section B.
The AGS medal class for small pans was well contested causing a great deal of discussion and chewing over of opinions by the judges before the final decision was made.
Saxifrages were a bit thin on the ground but a large plant of
Saxifraga
x 'Tenerife' took the eye. As usual quite a few orchids were on show and I had to admire the beautiful
Orchis brancifortii
staged by Barry Tattersall which was deservedly awarded a Certificate of Merit.
Graham Nicholls