South West AGS Show, 2016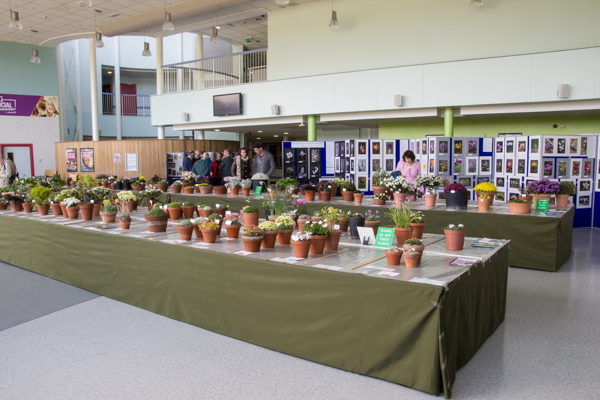 This year's show fell on a bright day, at the end of a spell of anticyclonic weather which saw damaging ground frosts locally and more significant cold 'upcountry'. Far to the south and west of other AGS shows, this is an important event in our region's horticultural calendar, and the willingness of both show and trade exhibitors to travel down here is appreciated by all. Efficient, friendly organization by Kana and Jonathan Webster and their team, a well stocked members' plant table and good refreshments ensured the day went well.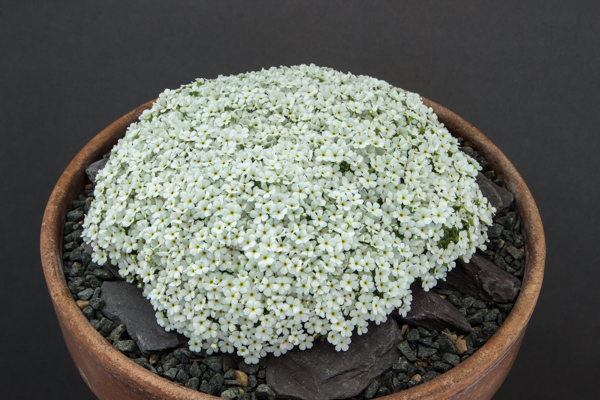 At the heart of traditional AGS interest was Alan & Janet Cook's Farrer Medal winning Androsace vandellii (ex Nuria). A familiar, if demanding European cushion plant for the alpine house, this large specimen was at the peak of flowering, with scarcely a glimpse of green to be had between the white flowers, shown to perfection against dark grey slate.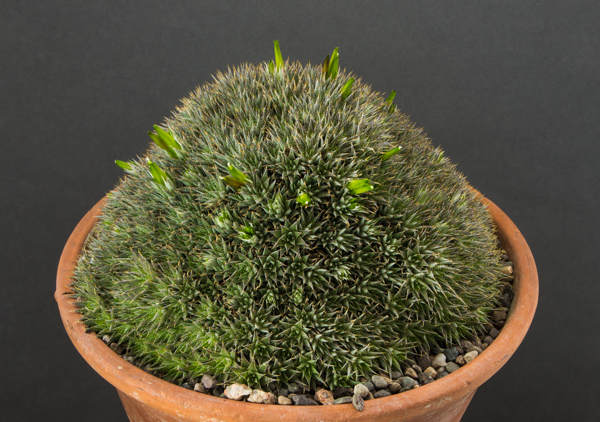 Baffled curiosity seemed to be the reaction of most visitors to another cushion plant a few metres down the bench. Deuterocohnia brevifolia, shown by Roger Clarke, is an extraordinary bromeliad from middle altitudes in rather dry regions of northern Argentina and Bolivia. Prickly rosettes 2-3 cm across are crowded into a dome sparsely studded with conical green flowers showing exserted stamens and stigmas. It is, perhaps, to Puya chilensis what Androsace vandellii is to candelabra primulas. Remarkably tolerant of cold (but absolutely not of wetness), this plant is quite well known among succulent growers, yet hardly at all in alpine circles, illustrating the rather arbitrary limits we all tend to place upon our horticultural interests.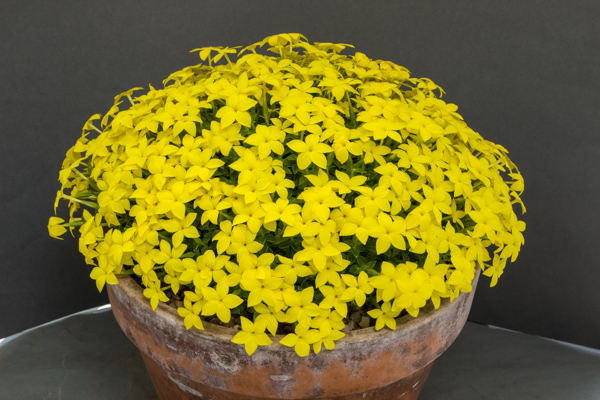 Tim Lever's superb pan of Sebaea thomasii, which received a Certificate of Merit, is almost an old friend to show regulars nationally, and as such familiar enough to receive only a brief admiring – or covetous – glance from some. But this is the only show a significant number of south west members, not to mention non-members, are able to reach, so its copious bright yellow, gentian-like flowers with the delightful scent of some powerful drain cleaning product were appropriately feted. Small plants have been available from Aberconway Nursery for several years, and there were reports around the hall of encouraging early success with this species, planted out unprotected in crevices. Native to moist sites in the Drakensberg, Tim feels we should aim for maximum light while avoiding summer heat and dryness.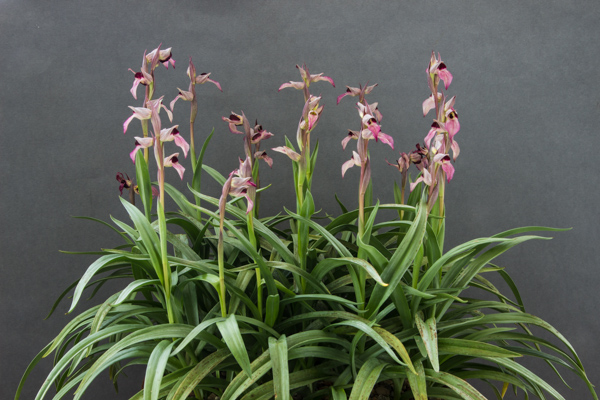 Orchids were, for some reason, in short supply, but Lee & Julie Martin's large, full and uniformly flowered pan of the tongue orchid Serapias lingua [right] was an impressive sight. At a time of year when we might have hoped for more bearded irises than exhibitors were able to muster, Tim Lever's well-flowered pot of the Balkan Iris reichenbachii in its yellow phase was a seasonal pleasure, gaining him a further Certificate of Merit.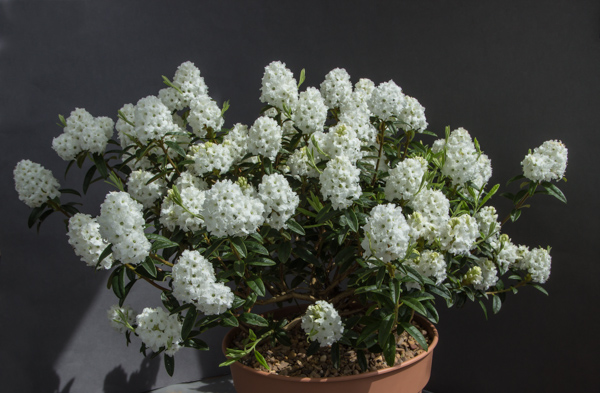 Among woody plants, several specimens of the very low-growing, Chinese Daphne modesta (Martin & Anna Sheader) gained our admiration, although perhaps their yellow flowers were a little too far past their peak for the judges' liking. There was no such doubt over Clive Dart's spectacular, Certificate of Merit-winning Rhododendron 'Arctic Tern' [left]. The copious, pristine 'white-with-a-hint of-green' flowers of this hybrid (classified as x Ledodendron in the bad old days of Ledum was deemed a distinct genus) were thoroughly impressive.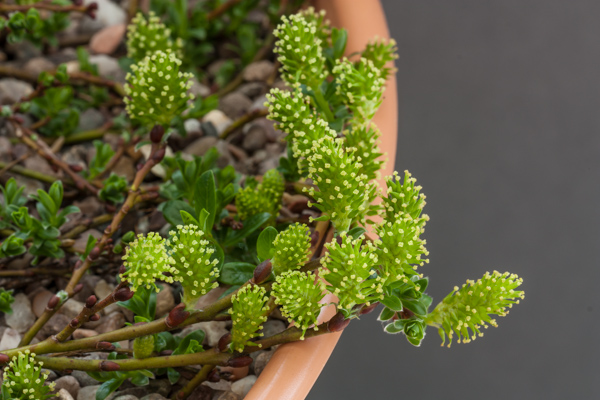 Our favourite shrub, however, was Ivan Pinnick's large pan of Salix repens. This was an exceptionally low-growing form of a rhizomatous British native which varies in height from well over 1m to just a few centimetres. Ivan obtained it as a small plant from the erstwhile Lamberton Nurseries, the stock originating on St Kilda. He tells us it grows equally well outside on the Isle of Wight or in his alpine house, but if outdoors he brings it under glass before shows to shelter the catkins from rain. He feels that last year's repotting, with a nutrient-rich top dressing of John Innes no. 3, has not affected its compact form, yet contributed to the prolific crop of catkins seen at the show.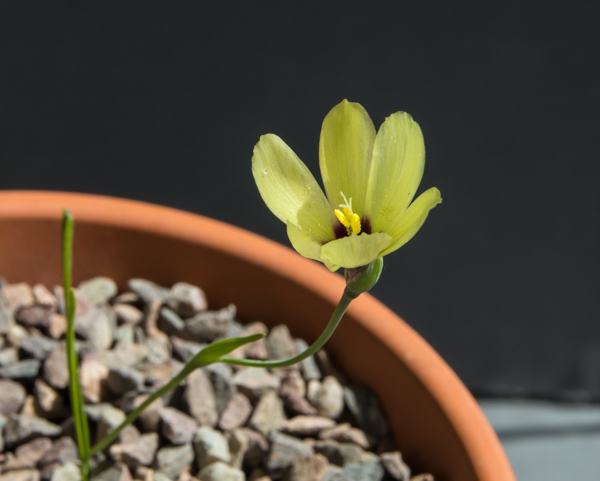 With bulbs and corms few and far between, the 'new or rare' class provided one seriously interesting rarity, Geissorhiza darlingensis. Known from a single site near Darling, Western Cape, this small irid was raised from seed by George Elder 13 years ago, then further stock was reared from his own seed over the following years. Grown under a fairly typical regime for winter-growing South Africans, a few leaves and one flower the size of a small crocus were all there was to show for his considerable efforts. He reports that germination was not the greatest problem; getting corms through their first dormancy was much trickier. None of this will come as a great surprise to anyone with experience of this intransigent genus. Viewed with bright windows behind, the colour appeared a bit 'jopanty' - a useful term rapidly gaining horticultural currency, and meaning a rather indeterminate, washed-out colour somewhere between beige and grubby pale yellow or pink. Viewed from the other side, however, the colour was revealed as clear light yellow, beautifully set off by a deep maroon centre. This pattern is highly suggestive of pollination by monkey beetles. Indeed, the flower strongly recalls another irid endemic to the same area, Babiana pygmaea.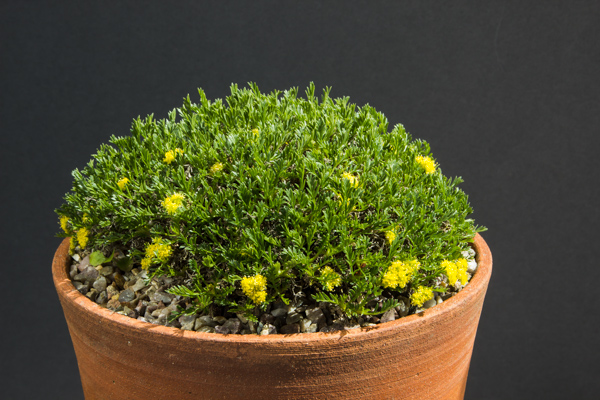 First place in the 'new or rare' class went to Eric Jarrett's Shoshonea pulvinata, a mat-forming umbellifer from ranges in the rain shadow to the east of the central Rockies. Dark green foliage showed off the modest yellow umbels to maximum effect. Most associated with the Absaroka and Owl Creek ranges of northern Wyoming, it grows on exposed limestone sites with other cushions and mats. It's unlikely to have much future in Britain outside the alpine house: 'Died quickly with me' someone muttered to us. Eric reports that it is not easy to propagate.
In similar looking, if moister vein, another cushion umbellifer, Anisotome imbricata, formed part of a group of three fellfield plants from the Southern Alps of New Zealand, exhibited with useful cultural notes by Paul & Gill Ransom. Headlines: plunge in alpine house; well- drained, acidic compost with humus; good light; moist summer, drier – but not dry – at other times; repot regularly.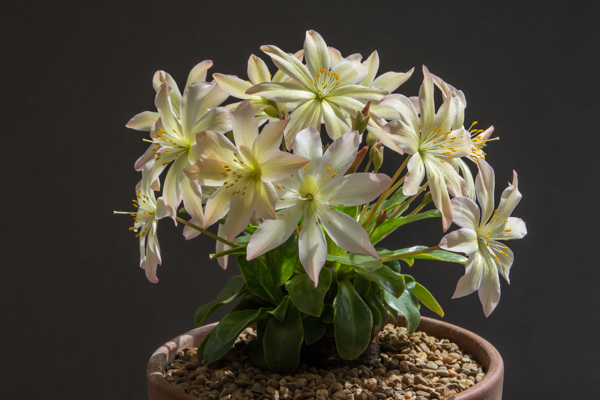 Two artistic displays, each with a 'greatest hits' flavour, added to everyone's enjoyment of the day. Jean Morris' large and impressive needlework exhibit was complemented by Jon Evans' splendid personal exhibit of digital photographs, filling the gap left by the sad demise of the photographic classes. When we spoke to the latter after the main work of the show photographer was over, he was excited by the prospect of taking back-lit photographs of two fine specimens of Lewisia tweedyi (Alan & Janet Cook [pictured] / Lee & Julia Martin). Over to you then, Jon...
Authors: Sarah and Julian Sutton
Photographer: Jon Evans