South West AGS Show, 2015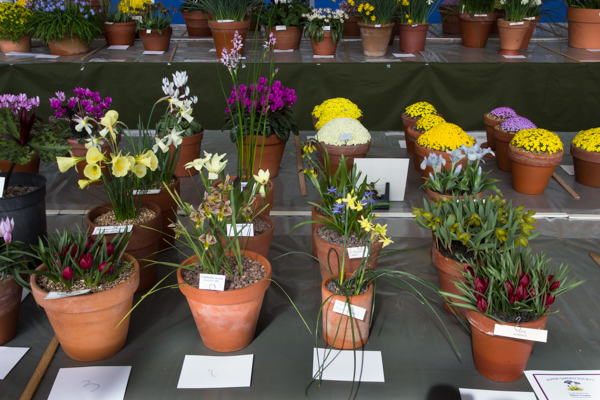 After days of incessant wind and rain it was almost a miracle to drive to/arrive at the venue and find everything calm, with patches of blue sky showing. Enough to make a pair of sailors' trousers, as we used to tell our children on holiday when they complained about the weather. I like this venue because it is flat ‒ no steps to climb and easy access to the hall (unlike the previous one). Although, unless you are an early bird, parking near the hall can be problematic. This said, the supply of various carts and trolleys is a big help. Personally having no show standard entries for this date (unusually), I found it extraordinary to see the numerous plants on view in various car boots. Must do better next year, I told myself. This was once again a very successful show: all credit to Kana & Jon Webster and their team for their hard work. Thanks as well to the team of cooks who supplied the judges with a superb meal ‒ most participants went back for seconds.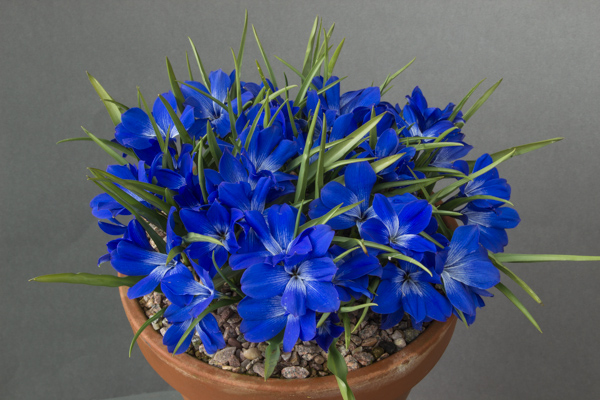 As always at this time of the year bulbs put on a lovely display, with various exhibits of Tecophilaea cyanocrocus providing splashes of rich blue. Jim Loring (Weston-Super-Mare) won the Cornwall Trophy for the best plant in the Intermediate Section with his impressive pan, demonstrating that this bulb isn't so difficult to grow after all. It is a very rare Chilean native, growing at 2,000 to 3,000 m (6,600 to 9,800 ft) on dry, stony slopes in the Andes. There were long-standing rumours that it was extinct in the wild but it has since been rediscovered in one small area. With so many exhibits of this plant nowadays, it seems strange that the bulbs remain expensive and, also that (it is rumoured) some judges consider them too easily grown. Please tell me the secret!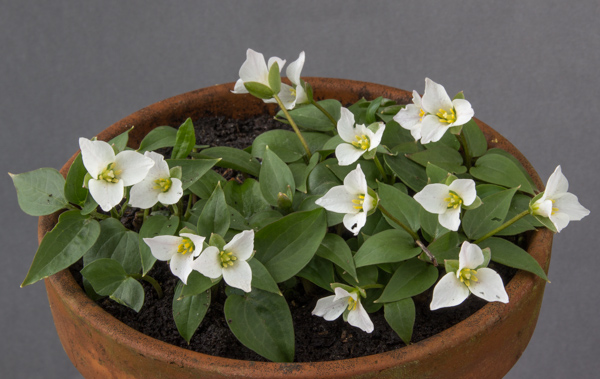 Although exhibits in the Novice Section were thin on the ground, a fine pan of Trillium rivale was shown by Pam Weston (Talaton), winning her the Otter Trophy for the best plant therein. A four-year old plant obtained from a plant sale at a local group meeting, it is grown in a John Innes no. 1 compost and is left outside all winter. Another fine exhibit of this trillium from the western United States was shown by Lee and Julie Martin from Pevensey, this example grown from their own seed sown in August 2000. Unlike the previous exhibitor, Lee and Julie grow their plant in a mix of sand, perlite, bark and leaf-mould. The pot is overwintered in a frame and should never dry out.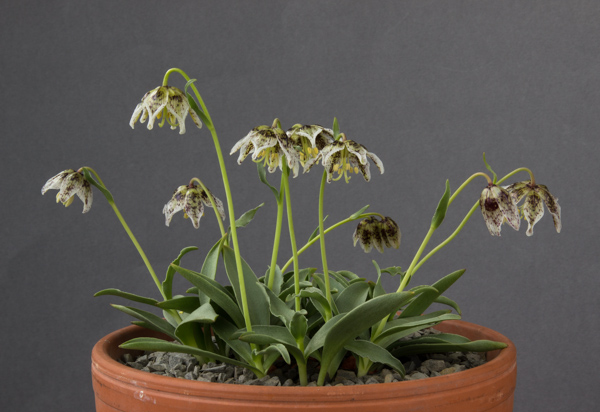 Another bulbous plant from the western United States that took my eye was exhibited by Bob and Rannveig Wallis. Fritillaria purdyi is endemic to California and quite difficult to grow in cultivation. It was raised from their own seed, sown in October 2010. Germination occured in 2011 and the seedlings were grown on undisturbed until 2013 before potting up. They are grown in a compost containing Seramis and are fed with a seaweed fertiliser twice a week during the growing season.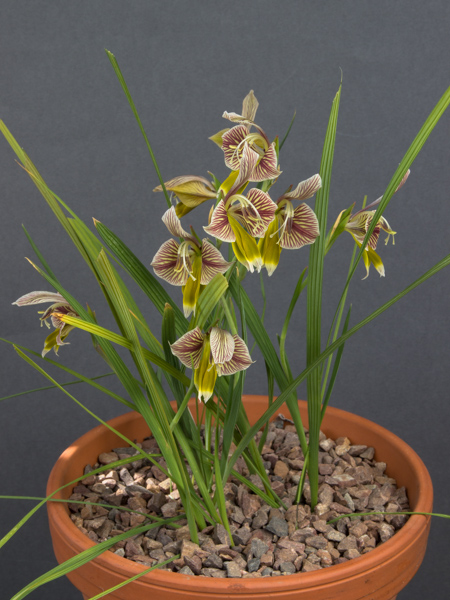 In the class for three pans of bulbous plants George Elder exhibited an unusual but colourful and fragrant gladiolus from the western cape of South Africa, G. uysiae. Despite a slight doubt regarding hardiness, it survives winters very well in his Cardiff alpine house. He raised it from seed sown in October 2002, purchased from Silverhill Seeds and it grows in a compost of John Innes No.2, sand and perlite and is fed with a high potash fertiliser and kept dry over winter.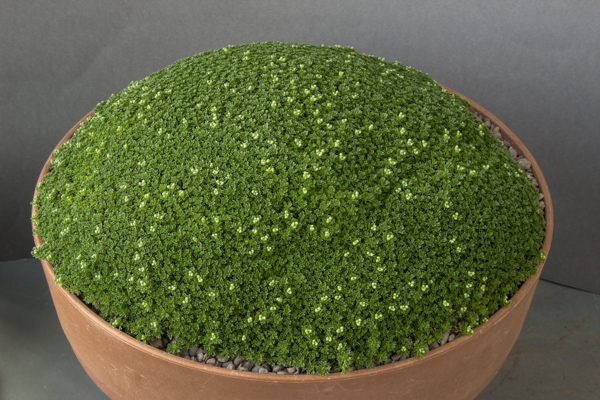 My eye was drawn to a large pan of Lepidium nanum at least 10 years old and benched by Martin and Anna Sheader (Southampton). Although not in peak flower it had so many buds that it was of potential Farrer Medal standard. Timing its optimum exhibition date is difficult since it has the frustrating habit of flowering at a different time every year. It grows in the montane deserts of Utah and Nevada where its habitat is amongst gypsum, limestone, quartzite or chalky soils. This fine plant was grown from Alplains seed and received a Certificate of Merit.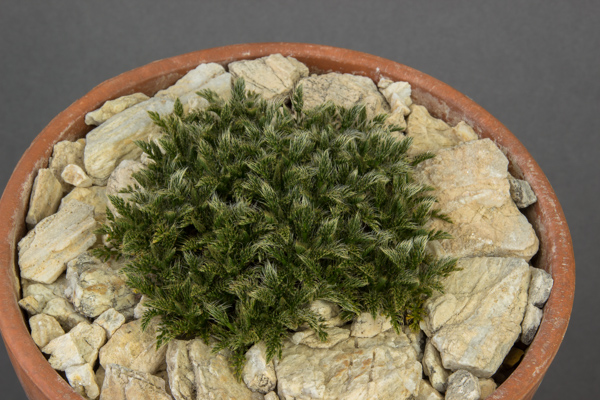 In the small pan class for foliage plants one entry stood out not only because of its difficulty but also for its beautiful, finely cut, tiny silver-grey leaves. Anisotome imbricata var. imbricata was staged by Paul and Gill Ranson who acquired it from a nursery several years ago. It spends summer mostly in an open frame but overwinters in the alpine house. This plant comes from the rocky, peaty fellfields of New Zealand's South Island. The flowers are tiny and insignificant but it makes a lovely foliage plant.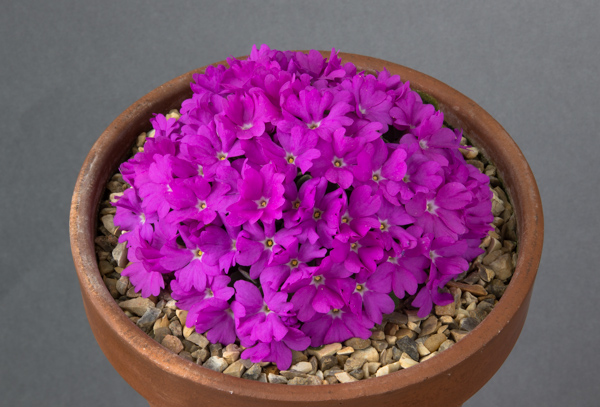 Primulaceae were well represented overall, the East Devon Trophy for the best plant in a pan not exceeding 19 cm going to Peter Summers' Primula allionii 'Timsbury Glow'. He purchased it about five years ago from me and grew it to such a high standard that it outshone all other contenders on the day. 'Timsbury Glow' was selected eight seedlings that germinated from seed in just one pod collected from Brian Burrow's selection 'Angela Burrow' and sown in January 2006. This was chosen for its strong colour and free-flowering habit. Peter grows it in a 50% mix of John Innes no. 3 and coarse grit.
I haven't grown dionysias for some years but it was interesting to see a superb exhibit of D. aretioides in the large pan class (which incidentally was the very first one I ever entered). This huge yellow dome was staged by Alan and Janet Cook of Dinton and was the cultivar 'Bevere', introduced by Ron Beeston when he ran his Worcester nursery. It rarely appears on the show bench nowadays but is an excellent choice for beginners to try their hand at as it grows quickly and cuttings root fairly easy.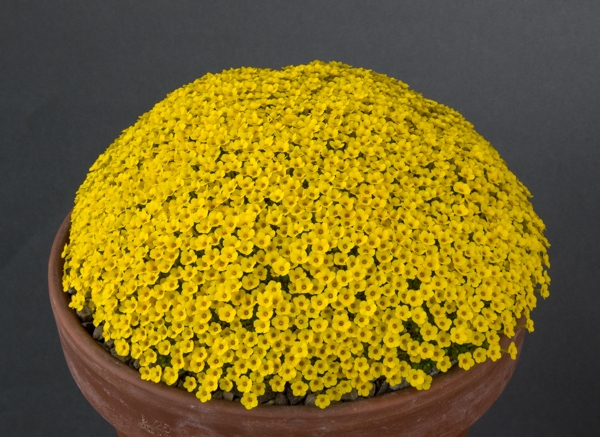 The Farrer Medal went to a magnificent large pan of Dionysia 'Inka Gold' shown by those Dionysia growers supreme Paul and Gill Ranson. 'Inka Gold' is a seedling of D. odora KMZ9511 which was introduced in 1995 but has not been collected since. It was raised by Michael Kammerlander of Wűrzburg (hence the German spelling) from seed sown in 2003. Although open-pollinated it is almost certain that the pollen parent was D. tapetodes. This particular seedling was selected as having the darkest colour and named appropriately by Michael's wife Maria. The exhibited plant was given to the Ransons by Michael as young plant when they visited his home in 2006. It is grown in the company of some of their other dionysias in an 8' x 6' greenhouse with maximum ventilation provided by office type fans and is watered via the plunge. The Ransons have been able to propagate it and have passed plants on to other growers. They also won the Exeter Trophy for the most first prize points in the Open Section.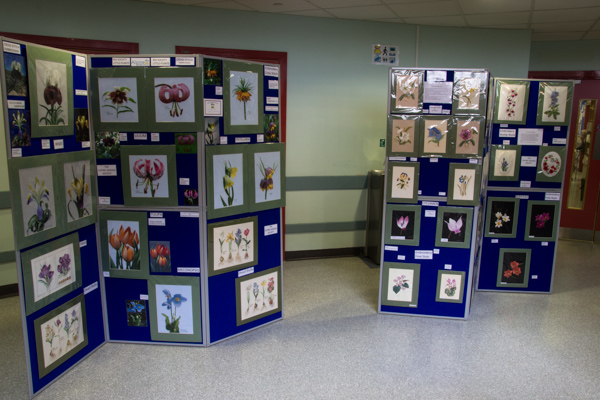 Putting plants to one side, the Artistic Section once again large, very competitive entry. In addition Jean Morris put on one of her fabulous displays of embroidery and again charmed the visiting public with her sublime skills, rewarded by a unanimous Large Gold Medal.
Author: Graham Nicholls
Photographer: Jon Evans