South West AGS Show, 2014
Notwithstanding an unexpected cancellation of the usual venue, a return to West Exe Technology College was appreciated by all, and despite the number of exhibits being down on typical year, this was a well-supported event. No stairs to climb. A well-lit show hall, suitably full of top quality plants, surrounded by a substantial Artistic Section display. A steady stream of locals and visitors from afar enjoyed the diverse range of plants on offer. In addition to the show benches, the plant sales area was brim full of plants for sale from various nurseries.
A very popular non-competitive display of embroidery was staged by Jean Morris, which caught the eye of the public and judges alike. Jean's exhibits are very popular, constantly evolving and not always offered with any thought of an award. The judging team acknowledged the considerable efforts here, not just as works of art but for their educational value: a Large Gold Award was well deserved. Jean also took the Marjorie Blamey Trophy for the most first prize points in the Artistic Section, while John & Clare Dower claimed the Diamond Jubilee Trophy for most first prize points in the Intermediate Section.
Primulaceae formed the mainstay of the competitive plant show with a healthy supporting cast and while there not so many bulbous plants as we normally see (several regular exhibitors were abroad), that said, the major honours were still keenly fought out among monocot entries.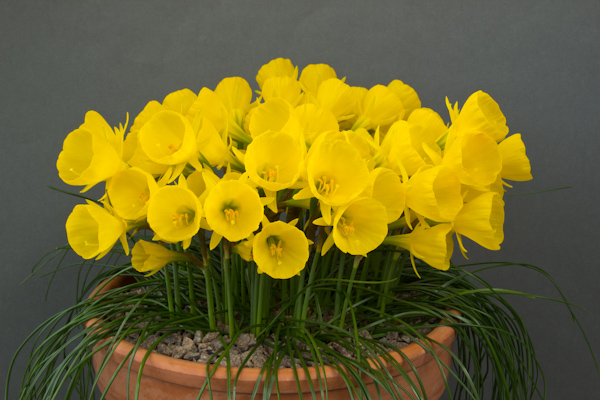 Narcissus obesus in various clones is frequently in contention for the Farrer Medal at March Shows up and down the country. Lee & Julie Martin are no strangers to success with this species but this was certainly not of the overnight sort. Following an initial purchase of six bulbs from a local group sales table in 1985, it then took another eight years to gain the first coveted medal. This latest award winning pan was devised in 2011, when a sizeable handful of pea-sized offsets were potted up and grown on in a standard compost of equal parts loam, leaf-mould and grit. Three years later, with every bulb flowering for the first time, it was a masterful display of pure flower power. If anyone was left wondering how it managed to look 'just so' from either side of the bench, religious turning of the pot in the plunge ensures a perfectly symmetric display of flowers. This popular clone is now appropriately registered as Narcissus obesus 'Lee Martin'.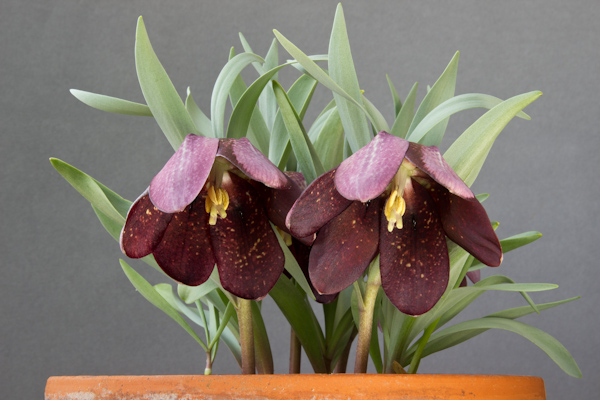 Peter Erskine gained a Certificate of Merit for Fritillaria tubiformis but I have singled out his exemplary pan of Fritillaria yuminensis for mention here. A single bulb of a particularly striking blue for, was once again the starting point, selected from a range of flowering bulbs offered by Kath Dryden in 2000. Vegetative increase of this clone has been slow but after obtaining pollen from another clone, seed-raised plants have been raised and another long wait beckons as the better forms are bulked up!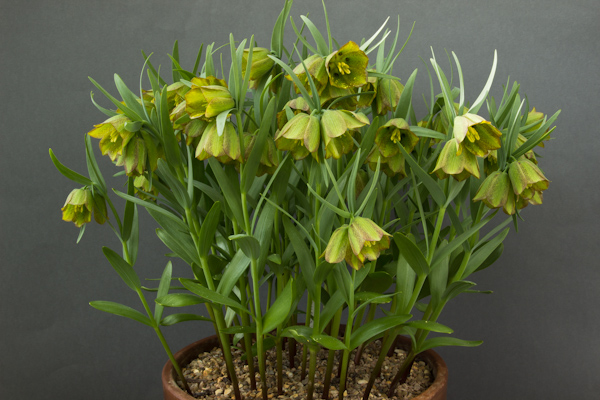 Fritillaria graeca subsp. thessala is a garden-worthy species but can thrive given pot treatment ‒ it sometimes helps to know your plant does not require any special attention! Cyril Dart obtained a single bulb of this particular species some seven years previously (at that time unidentified) and after having increased this threefold, he consigned the trio to a pot in a small greenhouse and a life of relative neglect. A regularly replenished growing medium of 50:50 JI No 3 /grit has overcome the need for supplementary feeding. Patience had led to the gradual build-up of the striking potful seen at Exeter, fully deserving of its Certificate of Merit.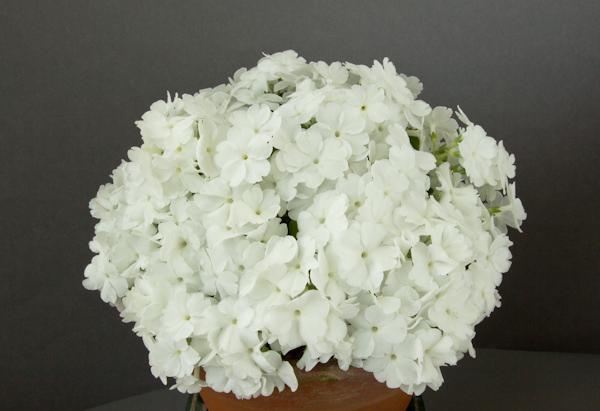 Cyril also staged Primula 'Tony', a 1986, pure white, Margaret Earle filling a 19cm pan and smothered in bloom. Annual repotting for the past three years had paid off handsomely. Grown in a clay pot /sand plunge regime, with water never applied directly to the pot but via the plunge (to which an automated drip feed provides moisture as required) had produced exemplary results.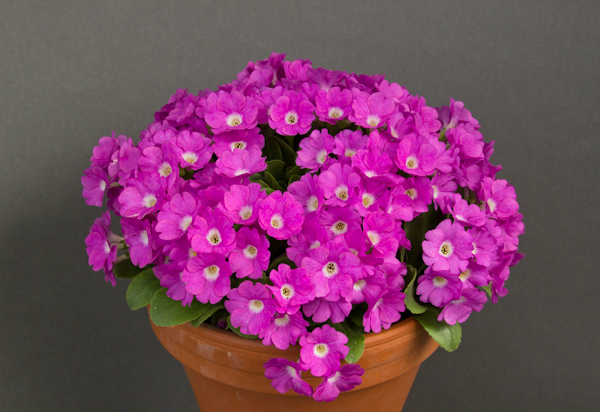 The seldom shown Primula 'Janet Aldrich' gained a Certificate of Merit for Dorothy Sample. This hybrid, raised by David Philbey, first bloomed in 1995, its seed parent P. Lismore 79/26 and the pollen parent thought to be P. x pubescens 'Harlow Car'. It takes a while to establish and flower well enough to exhibit. Dot has grown her plant for four years in an alpine house using a 70:30 mix of John Innes no.3 and perlite. It eventually becomes quite woody, indicating that the time has come for it to be used for cuttings, starting more or less from scratch.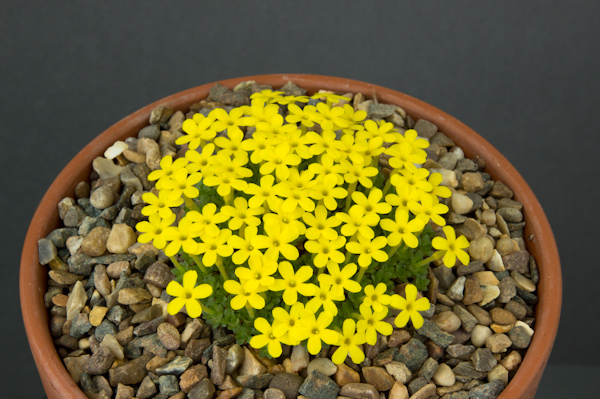 Paul and Gill Ranson had a car boot load of entries that ensured that the Exeter Trophy (Open Section aggregate) and Peter Edwards Memorial (Primulaceae aggregate) artwork remained on their wall for another year. Their customary cohort of dionysias was fronted by the East Devon trophy-winning Dionysia bryoides, adjudged the best plant in a 19cm pot. But it was a less commonly encountered species, Dionysia haussknechtii, that caught my attention, for all that it was probably the smallest and youngest of their exhibits, grown on a mere three years since being acquired. It is, to quote Paul, "a temperamental species" and is consequently not seen as frequently as other species on the showbench. A standard mix of 20% John Innes no. 2, 10% Seramis, 10% perlite and 60% grit was used for clay pot culture in a small greenhouse, where it receives maximum ventilation. Desk fans are in permanent use and light summer shading further helps to keep plants cool. Water is only ever given via the sand plunge, a very occasional dilute high potash / low nitrogen feed aside.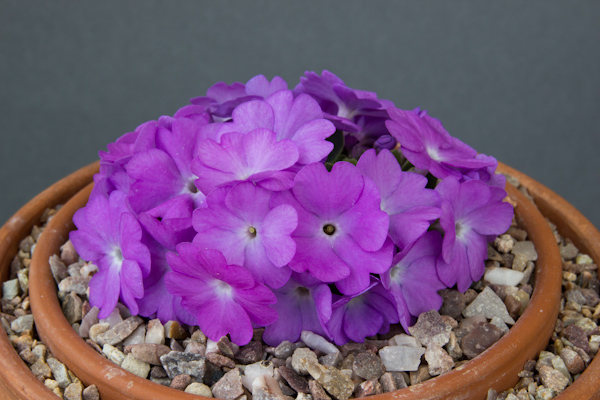 The smallest recipient of a Certificate of Merit was Primula 'Purple Emperor', a Ken Wooster cross made in 1949 between P. allionii and P. 'Linda Pope'. Extremely slow to form a cushion of any size, it had taken Eric Jarrett many years to produce the diminutive specimen on display. Interestingly, the cross is exactly the same as P. 'Fairy Rose' (dating from 1948), also grown by the exhibitor but completely different to the plant in question, not least in its toothed petals. Both plants are grown permanently in a large alpine house, in a mix of 60-70% mineral base (a mix of Cornish grit, perlite and sharp sand in equal measure) with 30-40% John Innes no. 3. They are kept on the dryish side during the winter but plenty of water is given when in active growth.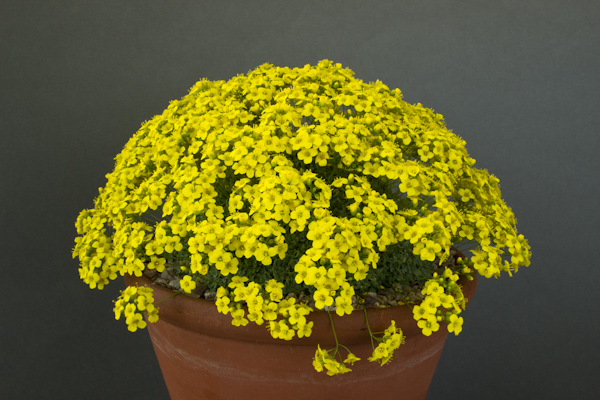 Eric also exhibited a hybrid Draba derived from seed set on a plant of Draba longisiliqua. Seed was sown in December 2008 and germinated the following spring. The first flowers were produced two years later and it was obvious from the colour (pale yellow) that the progeny were hybrids. It was also apparent that the other parent was Draba ossetica (in flower at the same time). Sadly only one of the seedlings survived, now matured into the plant exhibited. Certain of these Caucasian species are demonstrably inter-fertile when introduced from their isolated stations, for the spontaneous cross D. mollissima x ossetica has also arisen more than once.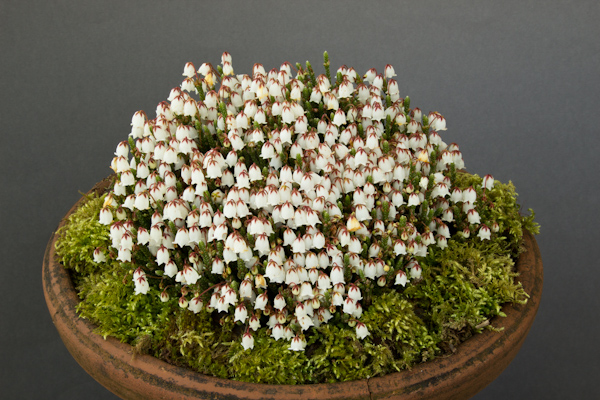 Ericaceae exhibits were a little thin on the ground but Barry Starling's Cassiope 'Muirhead' ensured the Bill Tubbs Trophy went to a worthy home. George Elder completed a successful trip from Cardiff, taking the Veitch trophy for his three-pan bulbous exhibit.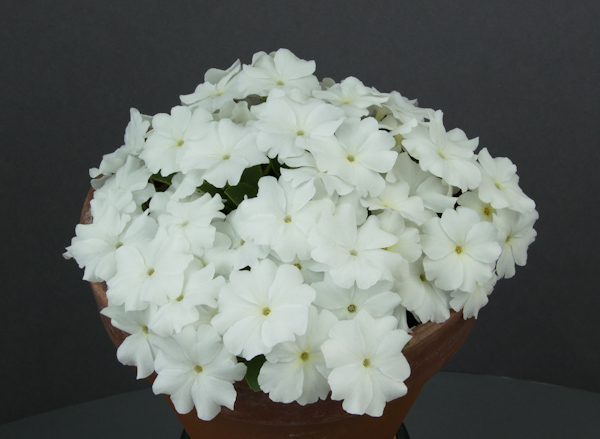 Peter Summers was amongst the victors in the Intermediate Section awards, taking the Dartmoor Trophy for most first prize points and the Cornwall Trophy for his Primula 'Aire Mist', another glistening white P. allionii hybrid that was voted the best plant in that section.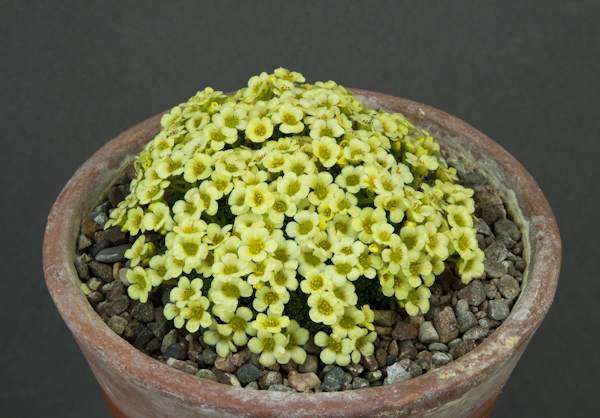 The Novice Section was well supported by local growers, though dominated by Cornish grower Duncan Bennett, who staged an impressive range of plants and won the Dartington Trophy a second time. Narcissus 'Xit' also took the Otter Trophy for the best plant in the Novice Section. Saxifraga 'Allendale Chick' was also in fine fettle, grown in Duncan's routine manner. A mix of 50% John Innes no. 1 with 50% sand/grit is used, with a quarter-strength high potash feed applied monthly.
Author: Jim Almond
Photographer: Jon Evans