South West AGS Show, 2013
I left home early with frost on the ground, and dense fog masking the Mendip Hills. In the distance a 'red sky in the morning' warned of rain, which started as I neared the motorway and accompanied me all the way south-west to Exeter. Luckily Kana and Jon Webster had organised an assortment of trolleys for transporting the plants indoors. The one I used reminded me of childhood escapades involving a box mounted on pram wheels, and had similarly tricky steering. As the rain came down more heavily, so the trolleys were whizzed at double quick time along the corridors to the show hall. (It would greatly help if more of these could be made available at the end of the show when exhibitors are all trying to take plants to their cars at the same time, though this is only a very minor complaint.) A breakfast of tea/coffee, toast and marmalade awaited in a room off the hall that initially looked like the waiting room of a doctor's surgery, but with the chairs moved round was made welcoming and informal. I always enjoy this show: the well lit hall gives everyone a good view of the plants; the trade stands are exceptional; and of course it is held in the West Country.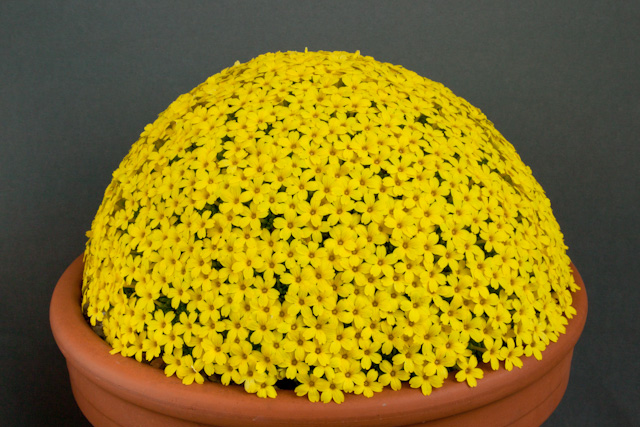 The wet then bitterly cold weather over the preceding six months had taken its toll of dionysias (often a feature of this event), with very few large pans benched. In spite of this a superb pan of Dionysia aretioides, exhibited by Eric Jarrett, took the judges eye and gained a Certificate of Merit. This species was the first of the genus that I grew way back in the 1980s and I always recommend it as one of the easiest, for it grows quickly into a large plant and propagation by cuttings is fairly straightforward.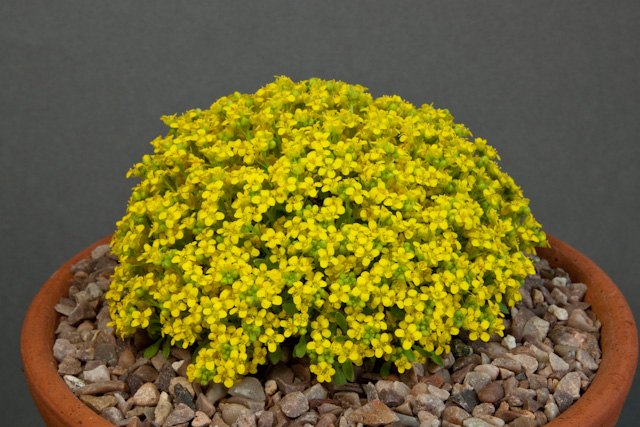 Staying with yellow flowers, but on a much smaller scale, the rarely seen Dielsiocharis kotschyi, also exhibited by Eric, has Draba-like flowers but an oilseed rape 'scent'. It is found in the same habitats as dionysias in Iran, often high up on cliffs and overhangs, and from a distance looks very similar, having deceived various plant-hunters who have made a difficult climb, only to find this changeling upon arrival. The plant exhibited, far more compact and floriferous than examples one recalls on the show bench from long ago, was grown in the same compost as a dionysia − 75% - 80% grit, with the remainder made up of a John Innes no. 2. It is grown in a well ventilated alpine house and is best propagated by cuttings taken in late spring.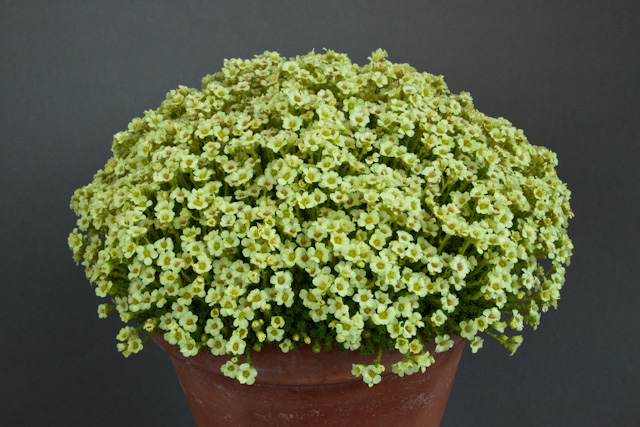 Another magnificent yellow flowered plant in the large Open Section was an impressive dome of Saxifraga 'Allendale Goblin', benched by Alan & Janet Cook. This is one of the many hybrids raised by Ray Fairbairn in the 1990s, and represents a cross between S. kotschyi and S. poluniniana.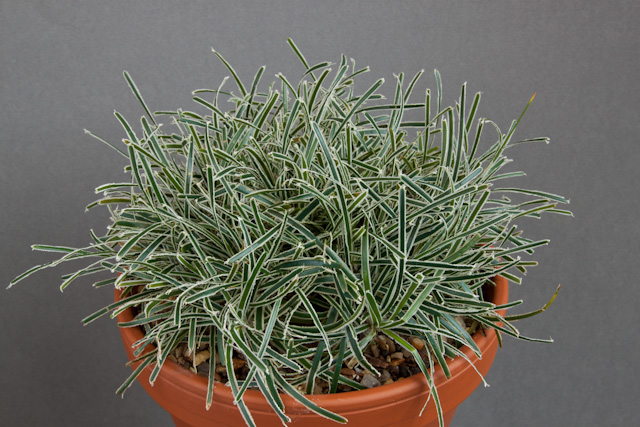 I always look for something unusual and Mavis and Sam Lloyd didn't let me down. Ficinia 'Ice Crystal', a new ornamental grass that forms a tight mound and grows to around 30cm, was exhibited in the foliage plant class. It has most unusual silvery-green leaves, paler at their edges to give a variegated effect, hence the ice crystal epithet. 'A plant in a pin-striped suit', someone said. This plant was purchased from a well-known Midlands nursery and had so pleased its owners that they bought another. This promptly died but a further replacement wasn't available: the nursery's stocks had sold out.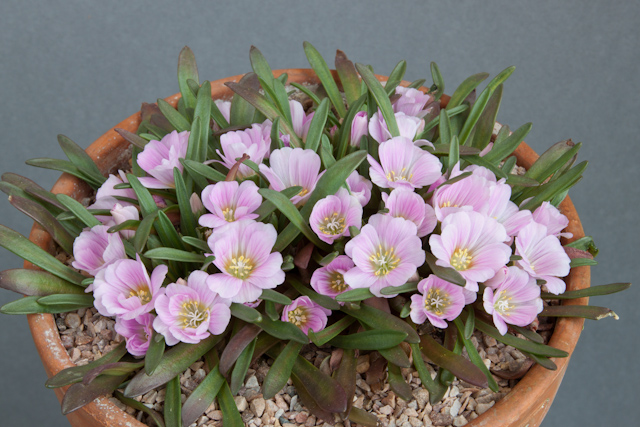 A lovely pink flowered Lewisia brachycalyx, exhibited by Graham Nicholls, received a Certificate of Merit. Many years ago only plants with white flowers were cultivated. But the late Sonia Collins (of Lakeside, Arizona) showed Graham some pink flowered plants in the White Mountains of that state. She gave him several plants and although the originals have long since died, this variant has been maintained from seed. A mixture of 50/50 grit and John Innes no.1 is suitable. After the plant dies down for the summer it is kept dry until September, then watered cautiously. It continues to grow slowly throughout the winter, and is one of the earliest of the genus to flower the following spring.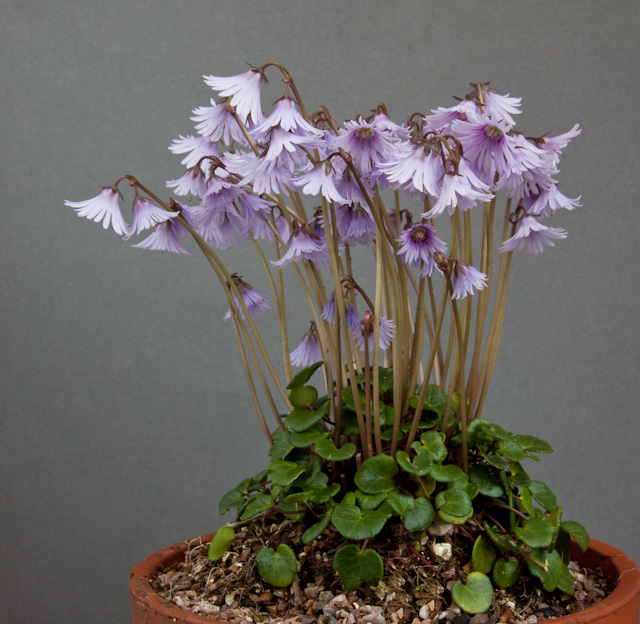 In the Novice Section C the outstanding plant was a Soldanella, shown by Pam Weston, that won the Otter Trophy. Its identity was in doubt, although it looked very similar to S. 'Sudden Spring' . Instead of a meandering habit of growth, as is typical of S. pusilla, it formed a tight clump in the centre of the pot. This isn't a plant I can grow in the open garden. But in a shady place in the alpine house, kept unfailingly moist in spring and summer, it grows well and a large specimen can soon be achieved.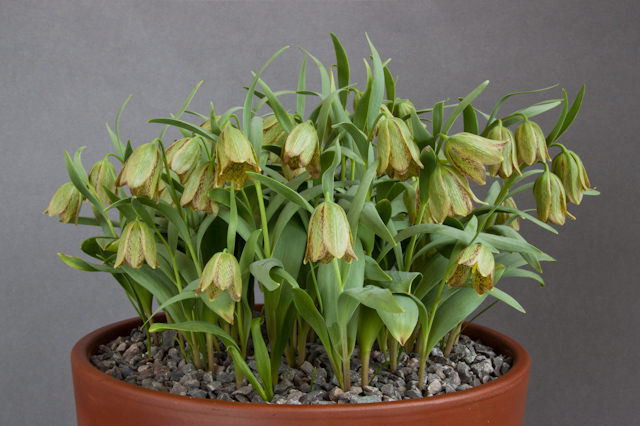 Lee & Julie Martin always come up with first-rate plants and their outstanding pan of Fritillaria hermonis 'Lebanon form' was the recipient of a Certificate of Merit. A couple of bulbs, given to them many years ago by Don & Heather Hyde, had over the years steadily increased and now gave a tremendous display, demonstrating the rewards of persistence and good cultivation. A gritty, alkaline, loam-based compost is used, left unwatered from late spring through to the end of August.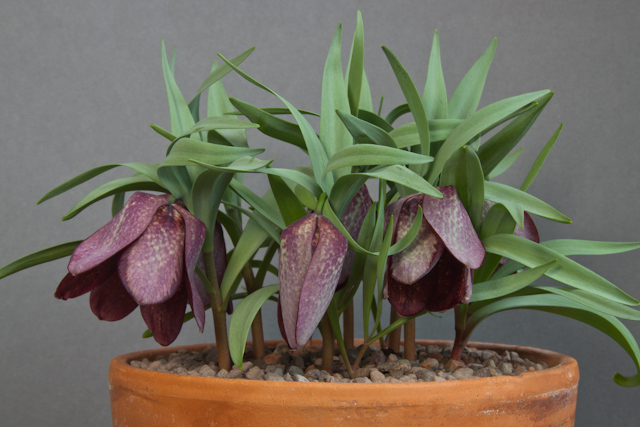 Another much-admired member of the genus was Peter Erskine's F. tubiformis, winner of the East Devon Trophy for the best plant in a 19cm pot. It inhabits seasonally dry subalpine meadows in south-eastern France and northern Italy, growing on limestone at 1,500-2,000m. This typically short stemmed species had large bells almost touching the topdressing.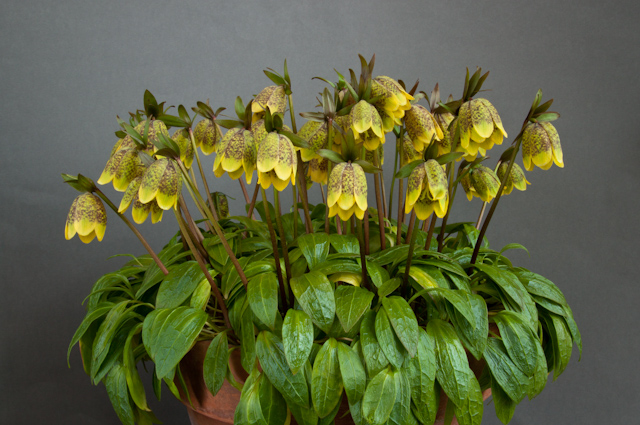 Having been awarded the Farrer Medal a week earlier at the North Midland Show, Brian & Jo Walker's Fritillaria davidii was still in excellent condition, and was voted best in show (the Medal cannot be given twice in one season to the same plant). Ordinarily the leaves would be starting to die down by this time of the year, for the plant comes into growth very early indeed, and unlike any other Fritillaria forms a carpet of glossy foliage. It was first seen on the show bench a dozen years ago, when exhibited by Bob & Rannveig Wallis. Their Iris iberica subsp. iberica, a particularly dwarf, early-blooming form of this beautiful species, but with the usual large flowers, was the third Certificate of Merit recipient. Native to Georgia, where the exhibitors have seen it near Tbilisi, growing in summer-dry grassland, it often produces its first flower in mid-March, sending up a succession of these rather than a single, bravura performance.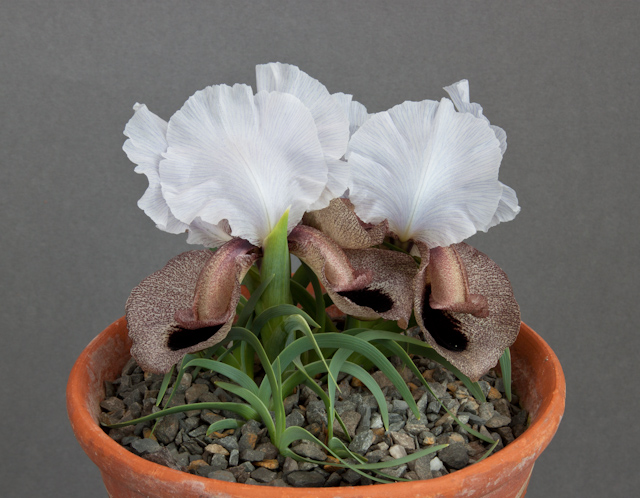 As with all their Oncocyclus irises it is grown in a mix of John Innes no. 2 and grit sand with added John Innes Base fertiliser. The small rhizome rests on the top layer of the compost, with the upper surface just visible, then the pot is topped up with 6mm grit. Kept plunged in sand in a 50cm high concrete 'bunker' within a net-sided polytunnel, it is first watered in October and after that only intermittently through the winter, depending on the state of growth of the leaves. Watering is stepped up from around February in an average year: a short dormancy is ensured by the withholding of water from July until September. It can be repotted at this time, but prefers a minimum of disturbance. Full strength Tomato fertiliser is applied occasionally in the spring.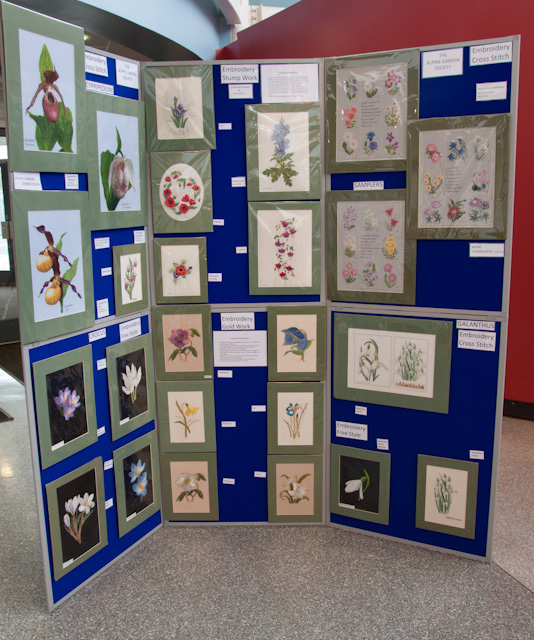 Finally, mention must be made of Jean Morris, who received a Gold Award for her wonderful exhibit of embroidery. So much time and hard work has gone into this, not just the embroidery but the staging of the exhibit which she does at many of the shows. Well done Jean!
Author: Graham Nicholls
Photographer: Jon Evans