South West AGS Show, 2012
March 2012 having gone down as one of the driest and sunniest in history, it was perhaps no surprise that the day of the show was cold and grey: British readers will know that it ushered in one of the coldest, wettest Aprils on record.
No matter, for on entering the show hall, one soon forgot about the drought orders that various parts of the country had been threatened with and enjoyed the spectacle within.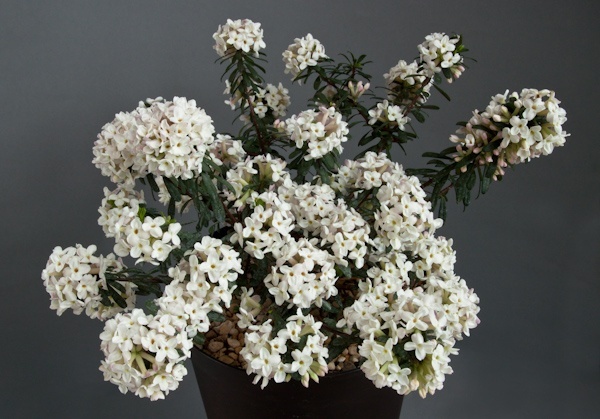 I was immediately attracted to a new Daphne, entered in the class for a non-ericaceous shrub by Robin White. Daphne 'Colington Crown' was indeed a very striking plant. A hybrid between D. eschmannii (itself a hybrid between D. cneorum and D. blagayana) and surprisingly, D. petraea, it occurred in Cyril Lafong's Fifeshire garden a few years ago. To me it looked like a potentially fairly large, low-growing shrub, probably more suited to the open garden when it reaches full maturity, rather that a pot. The large, scented, clustered flowers were suggestive of a very good Viburnum rather than a Daphne. None of this swayed the judges, who awarded it the Farrer Medal. The same exhibitor also went on to win with D. 'Weber's Findling' and the very attractive, western Chinese, yellow-flowered D. modesta. As far as the judges were concerned, it was emphatically a 'Daphne Day'.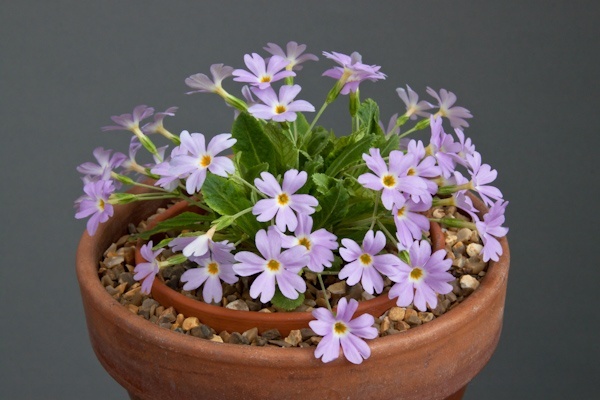 I always try to inspect the classes for Intermediate and Novice exhibitors since many of these will, one hopes, go on to compete in the Open Section in due course. I was impressed by the standard and quality of various exhibits, in particular Peter Summers' plant of Primula kialensis. A plant resembling a delicate version of P. yunnanensis and originally introduced by Farrer in 1915, although a contender for the best plant in the Novice Section, it ceded that award to Margaret Grimbly's Pleione bulbocodioides [below]. (Peter still managed to carry off the Dartmoor Trophy for most points in the Intermediate Section.)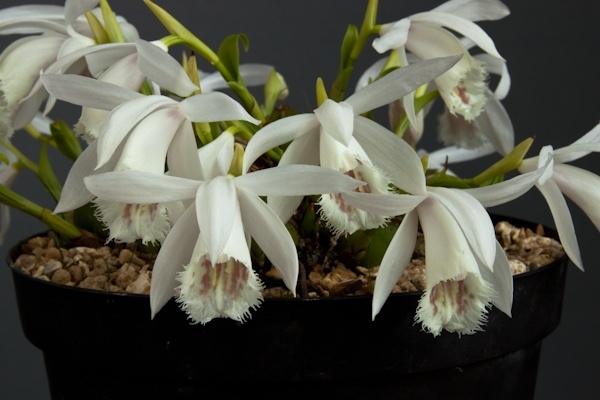 The Cornwall Trophy for the best plant in the Intermediate Section was also awarded to a Pleione, but in this case P. formosana, grown by Alan Flack. It was interesting to see the different approaches adopted by growers, for whereas P. bulbocodioides had been grown in the conventional manner, with the individual pseudoulbs grown on individually, this grouping of P. formosana had been left to bulk up naturally, resulting in dense clump of bulbs. Surprisingly, this did not appear to have reduced the amount of flowers produced.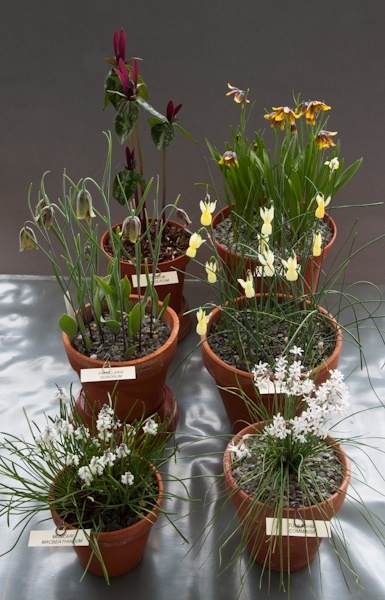 That well-known team of Bob and Rannveig Wallis, having just missed out on the premier award with their phenomenal Iris suaveolens (a former Farrer Medal plant), consoled themselves by winning the Ivor Barton Memorial Trophy for six pans of monocotyledonous plants. Although the exhibit contained an assortment of interesting and well-grown plants, the one I particularly liked was their Muscari macbeathianum. This has now been around for a few years but it is still quite rare on the show bench; seldom has it been grown as well as this. Another plant of theirs that caused some debate was Fritillaria orientalis. This formed part of a winning three-pan class 20, where debate over the fact that this exhibit was rather lax was quickly dispelled when it was explained that this was how it grew in nature. As a cliff dweller, the foliage and flowers hang down, making it look a trifle unruly when grown in a pot. To me it was a plant 'having a bad hair day' but charming nonetheless.
Somewhat surprising, for a show at this time of the year, there were no six-pan exhibits in either the large or small AGS medal classes. This doubtless benefited other classes by freeing-up plants that might otherwise have been deployed there. A particularly good three-pan, shown by Lee and Julie Martin, brought together Narcissus bulbocodium subsp. obesus, Alkanna aucheriana and Androsace idahoensis x laevigata. These exhibitors are well known for their skill in producing excellent pans of the irst-named, having won the premier award with it; the example shown, although slightly smaller than we have seen, was still a fine example on how to grow this showiest of dwarf daffodils.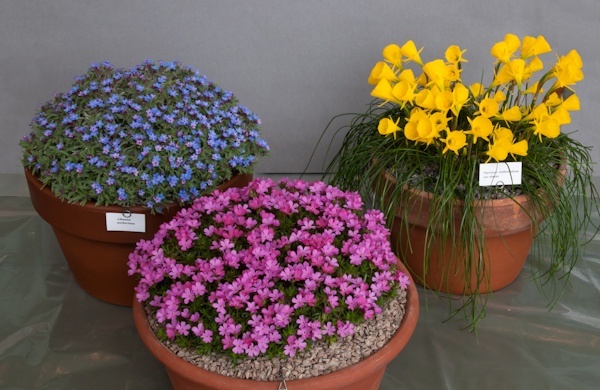 The Alkanna could have done with a few more flowers open and would have been superb in two weeks time but it was good to see it on the show bench again: it appears all too rarely. It was, however, the Androsace that stood out in this exhibit with its bright pink flowers almost completely covering the loose cushion. A chance hybrid between the two species, it only makes rare appearances at shows: I'm sure that all who saw this exhibit put it down on their 'wants' list.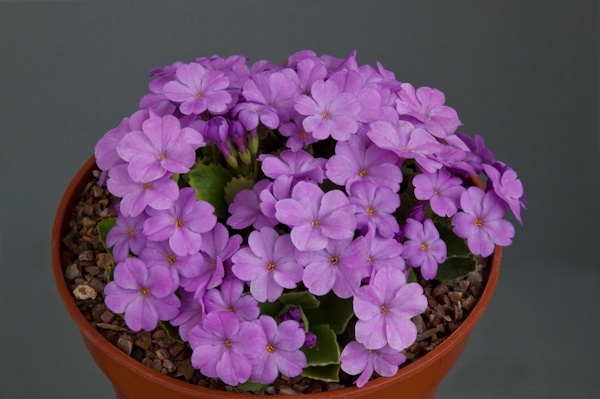 All who have regularly attended AGS shows will be well aware of the exquisite needlecraft of Jean Morris. It was very refreshing then that she had entered the plant classes with some superb exhibits, with her Primula 'Milkmaid', P. allionii KRD668/87 and P. 'Stella' [left] easily winning their class. This was only the start: she went on to carry off the Peter Edwards Memorial Trophy for most points in the Primulaceae classes. I hope she will continue to enter the plant classes in the future.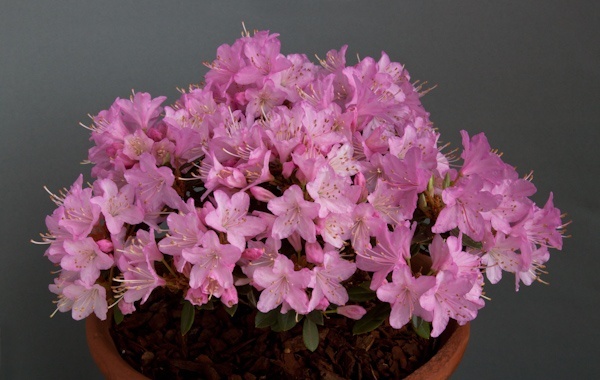 Some people who attend the shows assert that you only have a chance of winning if you enter rare or difficult plants. Just to prove them completely wrong, one only needed to look at class 31 where a Rhododendron 'Pintail' carried off the honours. Although by no means rare, and considered an easy hybrid to grow, it was presented in perfect condition, well-deserved its first prize placing. Shown by Sam and Mavis Lloyd, it stood out as an excellent example of what can be achieved with care and attention.
I was also impressed by the winning exhibit in the six varieties of cut alpine flowers (not mentioned much in these reports). Barry Starling's exhibit was superb with all the components in perfect condition. Particularly memorable were Rhododendron kongboense with it dark raspberry pink flowers complemented by the yellow of R. luteifolium, both rare in cultivation. As if this was not enough, there was also a superb form of Erythronium revolutum from God's Valley (Oregon) and the pale pink- flowered Shortia 'Leona'. My immediate reaction was that, given these represented the exhibitor's cut flowers, what must his garden be like?
Finally I would like to take this opportunity to complete this report by extending thanks to Bob and Di Dark. As show secretaries over the last 20 years, they have built this show up to its present level. During this time they have had to cope with what must be the most difficult situation for any show secretaries: a shift in location. One is bad enough, yet they have overcome no fewer than five moves. I am saddened to learn that family commitments have necessitated a move to Yorkshire. All of us who have attended this most enjoyable show thank them for all their efforts and wish them all the best for the future.
Eric Jarrett