South Wales AGS show, 2011
At various points on my route down to Caerleon, through Herefordshire and beyond, the multitudinous catkins along the roadsides were pollen-heavy and at their finest. Forsythia and winter jasmine were unusually, simultaneously in good flower, while a short run of milder days had triggered a growth-surge on many fronts. Only a fortnight previously, entries for this earliest of competitive Shows, now in its tenth year, would have been far fewer. Curious juxtapositions were also evident on the showbench: who would have expected to see the autumnal (and prolongedly freeze-susceptible) Petrocosmea rosettifolia in full flower, long after its typical autumnal zenith, or else the Nepalese Saxifraga lowndesii in a divergent pale pink manifestation (TJR 874/05), so different from Ron McBeath's sendings (also from the Marsyandi valley), or those sent back by Colonel Lowndes, much richer pink but apparently the same thing, c. 60 years ago?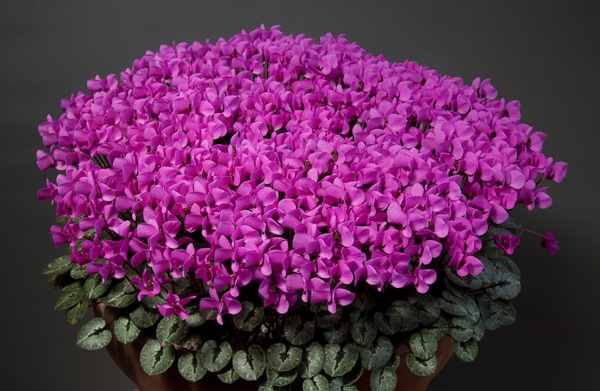 Some Cyclamen were defoliated, or else discomfited, even under glass, by the extremes of the 2010-11 winter, so all the more reason to celebrate surely the finest specimen of the Turkish C. alpinum (Ian Robertson) ever to grace an AGS Show, a 15 year old, unanimous Farrer Medal winner, with perhaps 400 or more flowers to its credit, half the (flower) size of the size of another Cyclamen Society Expedition derivative shown by the same exhibitor in a small pan class. Intensely fragrant, and with not a flower turning pale or pushing up out of place, there was little or no debate concerning its premier placing.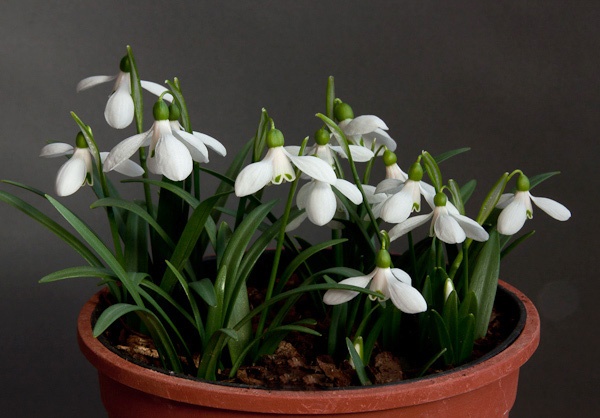 Late January to mid February is traditionally prime snowdrop time in much of Britain, and fervent followers of the cult had convened at a scattering of events, public and private, over the previous fortnight. A few were present at Caerleon, where there were welcome (small) pots of rarely-cultivated species such as G. koenenianus and G. lagodechianus. The latter (shown left), evidenced by an impeccably sourced group of representatives (Bob & Rannveig Wallis), was very dwarf in stature, and prescriptively narrow-leaved, but the inner tepals had divergent markings, varying in tone from dark to yellowish green, and in depth and extent from the classic 'Chinese bridge' to just a couple of disconnected stripes either side of the sinus: the outers were sometimes narrowish, but in other examples broadly spoon-shaped: none had contracted with age.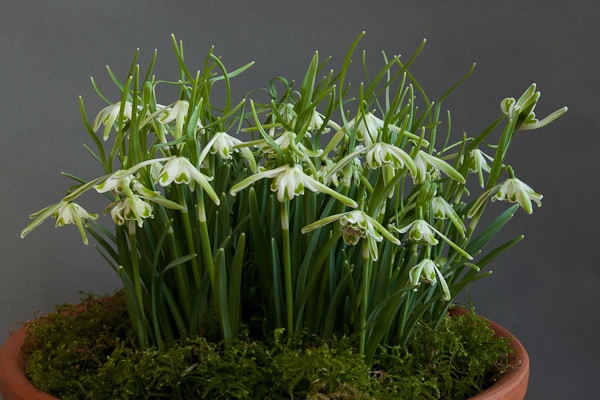 A chick grit top-dressed pot of an old favourite, G. 'S. Arnott' (Cyril Dart) was widely admired, but the Galanthus Goblet was contended between two pots within a three pan entry. A large clump of G. nivalis 'Walrus' (Bob & Rannveig Wallis) upheld one of the few aberrant snowdrops your reporter views affectionately, despite a sad susceptibility to sudden dieback, possibly a consequence of Botrytis afflicting congested clumps, and its loose naming (walruses, strictly speaking, have two ivory tusks, not three greenish ones).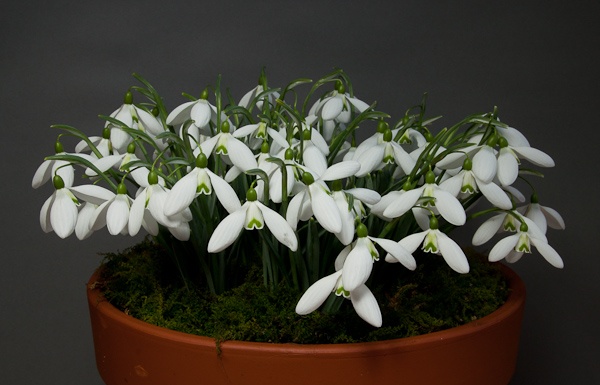 The eventual winner, G. Mighty Atom Group 'Ione Hecker', is thought, like so many fine snowdrops, to be of Suffolk origin, though it later came from E.B. Anderson's Lower Slaughter garden, and is one of those with large (twice or thrice the magnitude of an average snowdrop) flowers on short stems that arch under the weight of their carriage.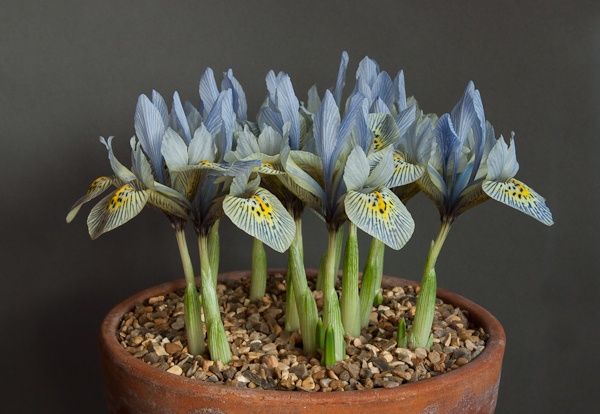 Mrs Hecker was a past AGS Director of Shows; E.B. Anderson was a past President, and his 1958 hybrid Iris 'Katharine Hodgkin' (shown) was one of many Reticulata (subgenus Hermodactyloides, taxonomically) variants that brightened the benches in all three Sections at Caerleon. Often they have finished even this early in the year; this time they were at their best. Impermanent though some are in the garden, they often date back 50 or more years, and the Dutch have notably kept them going, adding other one-time rarities such as the Lincolnshire-raised 'Sheila Ann Germaney' (early 1980s) and the Scottish-bred 'Frank Elder' (early 1970s), but sometimes mixing the names on their labels (two very showy pots of the latter masqueraded as 'Katharine Hodgkin', which can be easily distinguished by the extensive 'warm' yellow ground to the falls, and the nowadays typically violet-streaked standards. As an Iris expert intoned over my shoulder many years ago, when I bought one or two at a very much higher price than is currently charged, 'Less obviously virused than some stocks, I s'pose').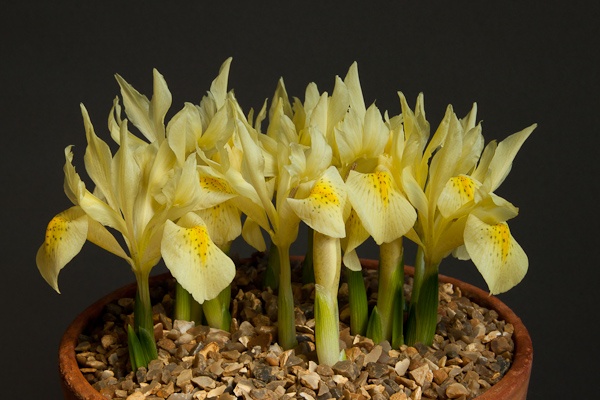 Both parents were also on show and on sale, Iris winogradowii (Cecelia Coller) in a buttery yellow, typical expression (Jānis Rukšāns' has selected out a paler stock of late)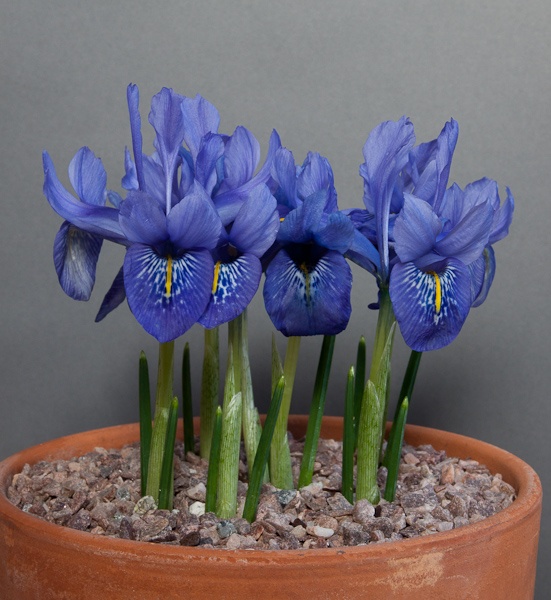 and Iris histrioides in the form of two equally lovely clones, 'Angel's Tears' ('French blue', traceable to Walter Blom & Sons in 1974, and exhibited here by Michael & Ann Morton, shown right) and 'Lady Beatrix Stanley' ('Moorish blue', from the snowdrop champion whose name it bears c. 1930, shown by Jon Evans).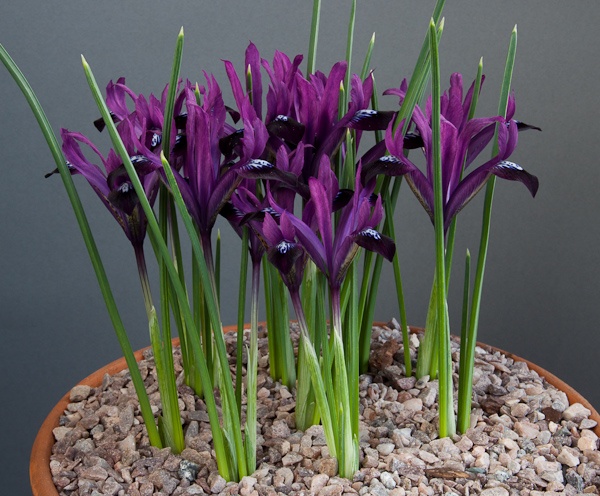 He also showed a good pan of Iris 'Clairette' (which received an Award of Merit in 1953, and has elegant sky blue and palest blue flowers); they followed up with I. reticulata 'Purple Gem' (given in some references as an I. bakeriana hybrid, like 'Clairette', from Van Tubergen in the 1950s, with inky violet standards, and plum-purple, slender falls - shown left).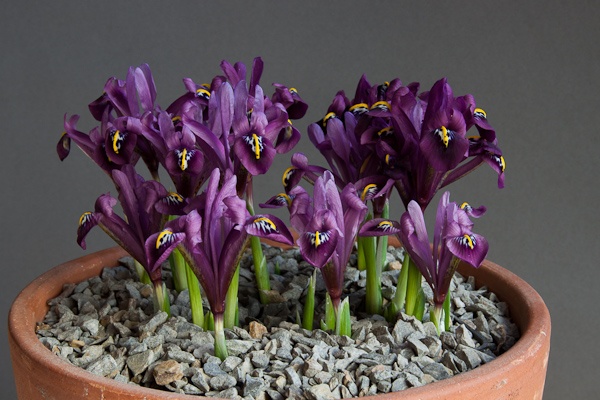 Akin in colour to 'Purple Gem', but much dwarfer and fetchingly chubbier, with a promisingly clumping habit, was a Certificate of Merit-winning version of I. reticulata (Bob & Rannveig Wallis) found near to Tunceli in eastern central Turkey. Introductions of a range of others, some dwarfer still and strikingly bicoloured, were plentiful in the 1960s especially, but very few have endured, with only their hybridized offspring lasting the course, though their collections have usefully extended knowledge of this catch-all species, several of whose elements are destined to gain independent status.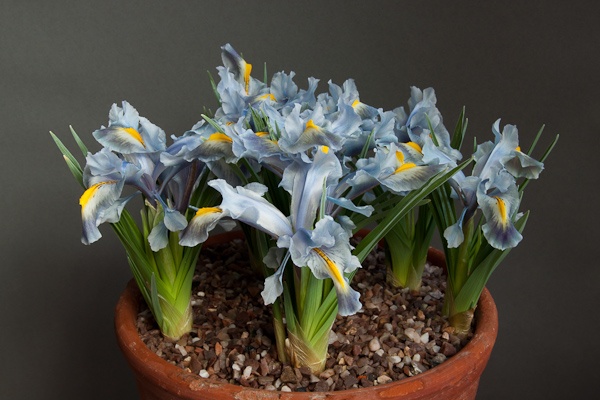 Another Certificate of Merit went to a very distant relative but relatively reliable 1920s Van Tubergen Juno hybrid between two Turkish species, I. aucheri and I. persica, the greyish-blue, large-flowered I. 'Sindpers' (Eric Jarrett). Illuminated by rich yellow style cresting, and all the more enjoyable in that the 12 fat shoots weren't crammed together, which would have squashed the flowers together, rather than allowing them space to develop to their full potential, it too can suffer from viral afflictions, but the material seen was clean as the proverbial whistle. There were only perhaps half a dozen junos in the showhall this time round (on previous occasions we have seen up to three times as many) but this entry was at least the equal of any past contender.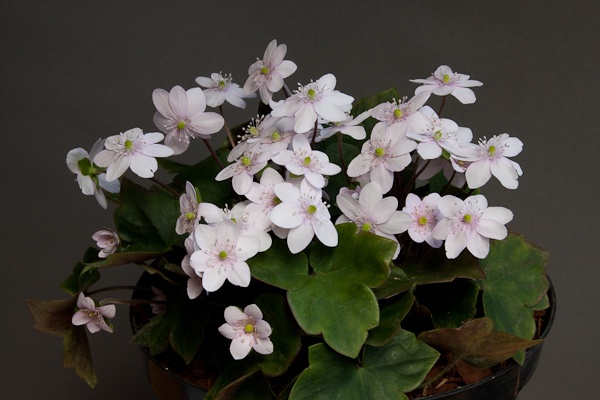 No Helleborus thibetanus (mine had turned from pink- to greenish-flowered a few days beforehand); only a scattering of winter aconites; and Ranunculus calandrinioides (which last year appeared on the showbench as late as April, but this winter took a battering, as did its Atlas Mts compadre Asphodelus acaulis) absent, there was even so a handsome entry in the Ranunculaceae class, with a heavily-budded Callianthemum anemonoides enjoyable in its nascent state. Longer-lasting – the flowers had been out for a few weeks, and there were still others to come, tucked down within the folds of the still serviceable, velvety leaves – a palest lavender-pink version of the slightly improbable, east-west cross Hepatica nobilis x yamatutae (Robin White) had seven or occasionally eight-petalled flowers in a central cluster. First seen in public, in several versions, some four years ago at an RHS February Flower Show (courtesy of Ashwood Nurseries; the flowers ran the gamut from the cobalt blue of the seed parent through rich pink to the white of its Chinese pairing), this as yet unnamed hybrid flowers in its third, or in some instances second year from seed, and shows considerable promise, both in flower and in leaf.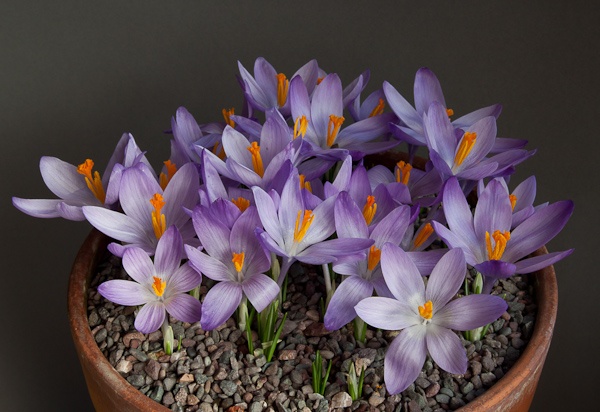 There were some very good examples of crocuses, the most creditable shown by George Elder (Cardiff), who has raised many of his stocks from seed over the past 10-15 years, and brings them regularly to Shows as distant as Loughborough. This time round he presented the lilac-lavender, Greek C. veluchensis (sown 1997), and the more easterly through to Albanian, yellow-flowered C. cvijicii (sown 1996).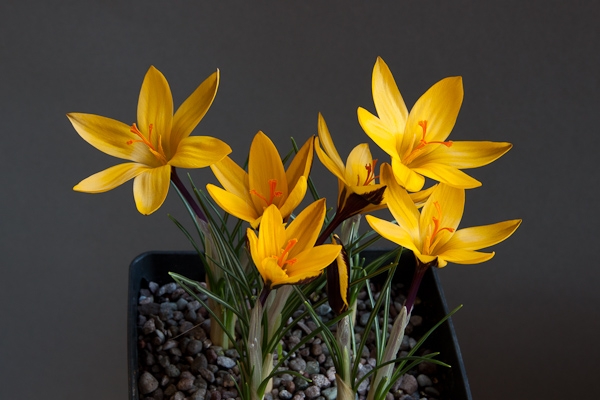 Bred by Lithuanian bulb specialist Leonid Bondarenko, and first distributed some 10 years ago, Crocus 'Jānis Rukšāns' (David Robbins) is a vibrant representative of a cross between the bluish C. reticulatus and the yellow C. angustifolius, the sterile but free-flowering progeny of which range from creamy- to bright-yellow, with a heavily striped or merging, purplish to deepest brown reverse. Named for his Latvian friend, whose recently-published book on the genus is the first significant treatment since Brian Mathew's 1982 monograph, this early-flowering selection has rich yellow, pointed tepals, so heavily blackish-brown stained on their backs that the stripes form an even, merged marking, with just a narrow yellow border reflecting the interior colour scheme. Reportedly a succession of up to10 flowers can be expected from a single corm.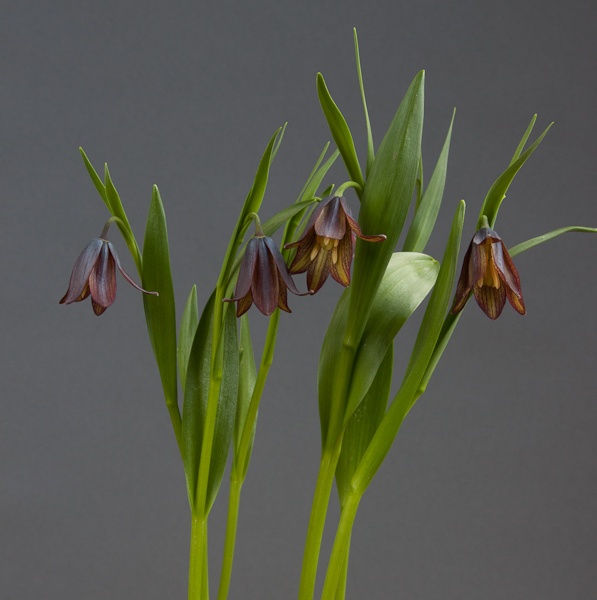 In the same three pan entry, a graceful, 12 cm tall NW Iranian Fritillaria either represents a new taxon, or else is a pronouncedly atypical, recently-introduced version of F. uva-vulpis, a Turco-Iranian species hitherto represented in cultivation by just a couple of introductions, taller of stem and with rather dumpy, slightly constricted and yellow-flanged flowers. This findling, from cultivated fields (it's bulbiferous; long-standing methods of cultivation serve to distribute the bulbils more widely), has elegantly-flared, maroon-purple flowers reminiscent of F. minuta from the same general area, but the style is club-shaped, not trifid, the interior of the flower is brownish-yellow and finely striped, and the fewer, glossy leaves (none arising from the base) aren't arranged in an upper whorl. With a quiet, compelling charm, and easily grown, its future in cultivation is promising and assured; furthermore, it comes into flower earlier than almost any other.
Robert Rolfe - images, Jon Evans