South Wales AGS Show, 2005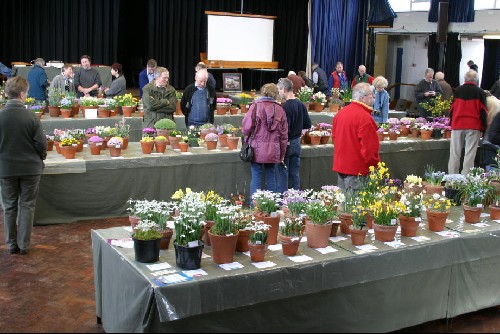 The remarkable range and quality of alpines on show was an indication of another early spring, and may well indicate that such springs will be regarded as normal in a globally warmed future. It is not impossible that a January Show might be planned in years to come, and several exhibitors noted that some of their earliest subjects would have provided a brave display on such an early date, mostly early species of Galanthus, Narcissus and Iris. Nevertheless, as expected, these genera also played an important part in this late-winter Show, accompanied by other such early genera as Crocus, Leucojum, Colchicum and Eranthis. Nevertheless, some of the plants on display might be thought to be more typical of a mid March Show, including several 'mid-season' dionysias, Primula allionii varieties, and a good range of Fritillaria. More typical of such an early date, perhaps, were some lovely adonis, and two magnificent Epigaea gaultherioides, both grown from the same packet of seed and benched by the same exhibitor. Asphodelus acaulis has recently been offered in the trade, and a number of plants were displayed by several exhibitors, none of whom (including your reporter) had mastered the trick of getting them to open their salmon-pink flowers in time to bewitch the judges. Not surprisingly, Crocus sieberi ssp. sublimis 'tricolor' appeared throughout the hall, as it can now be obtained cheaply and in bulk. Less commonly encountered is Crocus dalmaticus, but such was the display from five very similar pans staged by our Assistant Editor, that it may prove to be similarly profligate, should it be targeted by the trade. It was good to see some quality plants staged in section B, although once again the dearth of plants in section C does not bode well for a continued throughput of exhibitors in the decades to come.
Although preceded by several early non-competitive displays within the Principality, this was only the fourth South Wales Show, and the joint Show Secretaries are to be congratulated on building up such a loyal band of helpers and exhibitors at a location far to the east of their home in west Wales. This is the second venue that the Show has occupied, and the school hall is entirely suitable for the purpose, providing spacious, well-lit accommodation for the plants, and an excellent range of ancillary facilities.
John Richards