South Wales AGS Show, 2007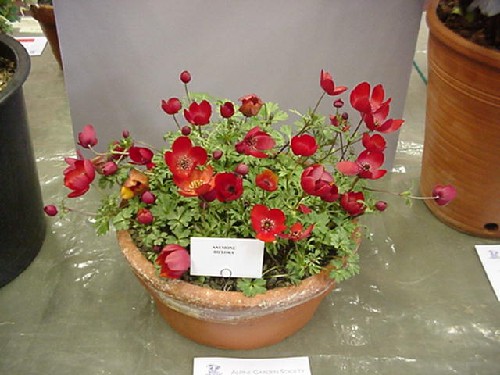 'It's been a funny old season', reminiscent of a Jimmy Greaves comment on Football, seemed to be on everyone's lips at this, the first show of what does promise to be a very funny old season indeed.  Many of the earlier plants already over for another year – before it has really had time to start and others, traditionally later risers, in flower and being held in abeyance due to the cool weather experienced by many. None the less, this proved to be an incredibly good show.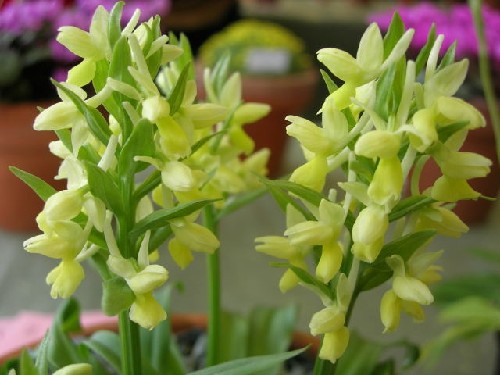 Four Certificates of Merit paid tribute to that – a large pan of the difficult Iranian Anemone biflora, in its red form shown by the local exhibitor Jim Archibald (above); a super pot full of Dactylorhiza romana, grown in a cold frame with no artificial frost protection shown by Barry Tattersall (left); a delightful pan of the Japanese woodlander Eranthis pinnatifida, with pretty white flowers over grey/green filigree foliage shown by Ray Drew and a stunning plant of Daphne kamtschatica var jezoensis, a Farrer candidate shown by Roger Norman.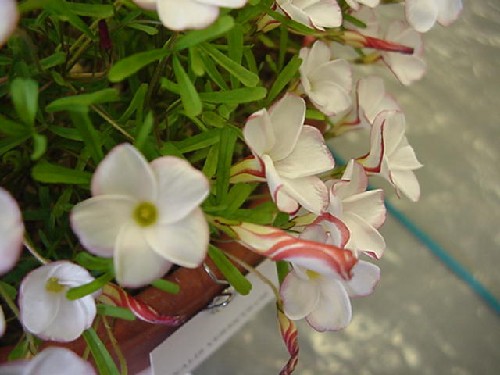 The Caerleon Cup is awarded at this show for the most 1st prize points accrued in section C, this year won by Brendan Wade of Chesham. Brendan is only 13 years old but is already a familiar face on the Showing circuit – Section B beware! The Gwent Trophy is awarded for most 1st prize points in section B, this was won by Peter Summers of Chipping Sodbury. Peter had a number of very good plants on display, one notable was a pot full of Oxalis versicolor, a South African gem with substantial white flowers intermixed with red and white candy-twist flower buds to add to the sumptuous effect (right)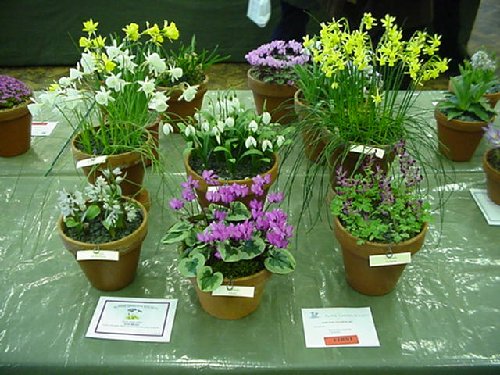 Rannveig and Bob Wallis are the local show secretaries for this event but still somehow find time to stage a staggering number of notable plants. The AGS Seed Distribution Award went to one of Rannveigs raisings, a Narcissus triandrus x cantabricus selection, as did the AGS Medal for their 6 pan entry in class 30.

Galanthus 'Straffan' , awarded the Galanthus Goblet, made its way to the Show from Nottingham with its owner, Robert Rolfe - by train -  now there's dedication.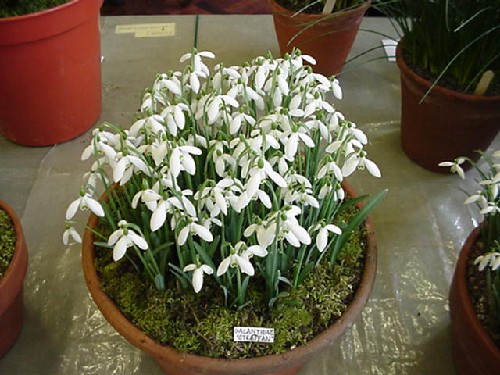 The Farrer Medal was awarded to a venerable plant of Adonis amurensis, benefiting from a late seasons start in the Essex garden of Ray Drew.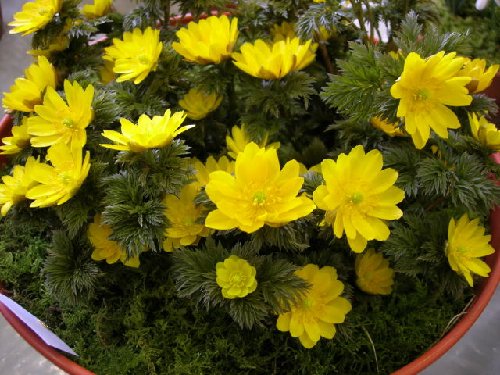 Considering its rather distant location, this Show not only attracts a number of good, interesting plants but also exhibitors from all over the Country – a great start to a funny old season.
Ray Drew