South Wales AGS Show, 2016
Inevitably at the early AGS shows the discussion eventually turns to 'the season'. Has it been colder than usual? How much rain has there been? What has this done to the plants? This past winter, however, must surely qualify as one of the oddest with which AGS exhibitors have had to contend. Unusually high levels of rainfall and temperatures persisting in double figures, including at night (in southern England, anyway), and the resulting levels of high humidity, left both plants and plants-people bewildered. The small band of loyal exhibitors at the South Wales Show was unfazed however, and the show benches were filled with some superb alpines.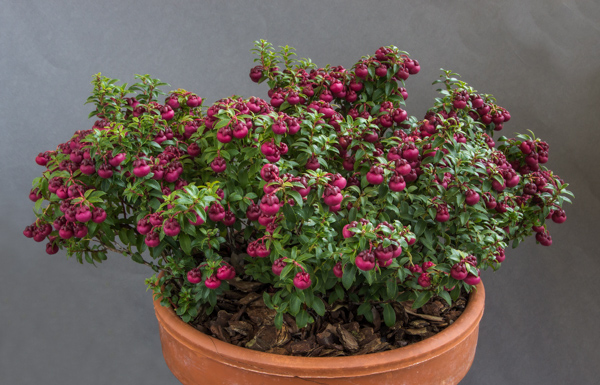 One only had to look at the diversity of Tim Lever's offering at the first of this year's shows to see the impact the bizarre weather has had on different plants. At one end of a bench was Gaultheria 'John Saxton', a hybrid of G. crassa, still flush with the same berries that earned it the accolade of best in show at Newcastle last October, although this time Tim had to be content with a red sticker. Further down was his Tecophilea cyanocrocus [below]. Following extensive collection during the 1950s this Chilean native was believed to be extinct in the wild, until a large, albeit highly localised population was found near Santiago at the start of the new millennium. It is, unsurprisingly, a popular bulb and it was a treat to see it well before its typical flowering period of late March/early April.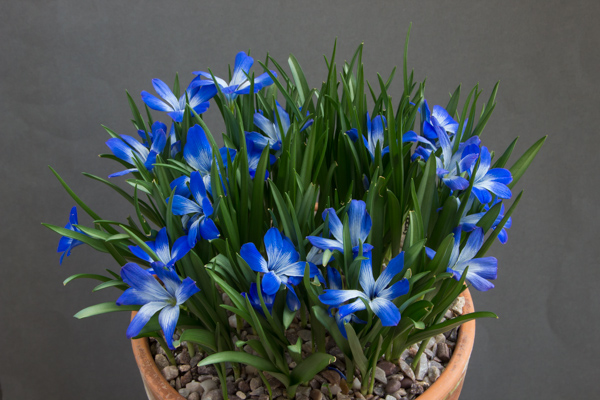 Many AGS members were disappointed with the news that the photographic section has been discontinued at the shows. Fortunately, visitors to the South Wales Show did not miss out on what would have been Jon Evans' entries for this year. His exhibit of photographs from 2015, which received a deserved Gold Award, contained images of both plants in the wild and in cultivation and provided a reminder of the plants that we have to look forward to as the year progresses.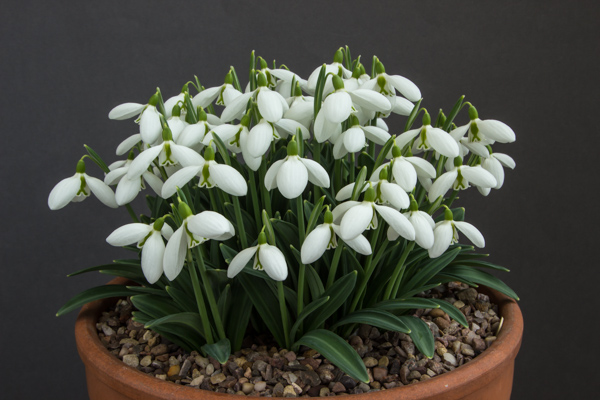 Unsurprisingly, bulbs made up the majority of entries on the show benches and this year they were the recipients of all the awards. Don Peace, who also received the Isca Prize for most first prize points in the Open Section, enjoyed renewed success with Galanthus plicatus 'Sophie North', possibly one of the most attractive of the snowdrops (and poignantly named after one of the sixteen children killed in Dunblane in 1996). Not only did Don regain the Galanthus Goblet with this plant – in addition to numerous firsts – but he also notched up another Farrer Medal.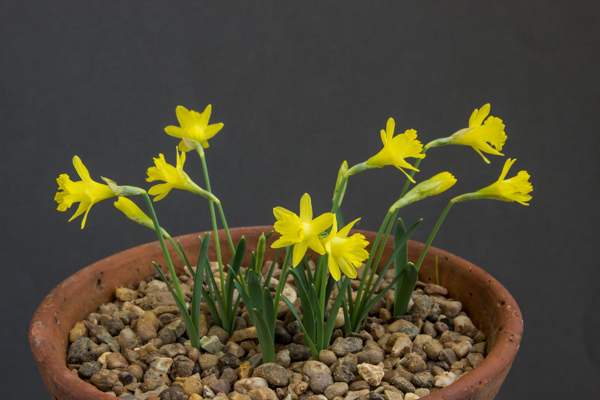 It was the turn of the South Wales show to host the Narcissus Salver for the best pan of Narcissus, the recipient of which was Peter Furneaux's N. 'Mitzy', a N. cyclamineus hybrid that performs well in the garden. My favourite Narcissus on display though was N. asturiensis (Van Tubergen's clone) [left], exhibited by Alistair Forsyth in the Intermediate Section. Given its diminutive stature (the stems are typically less than six inches tall) this Narcissus is perhaps best enjoyed in a pot, and for me thrives in a standard mixture of one part John Innes no.3 and two parts grit or perlite.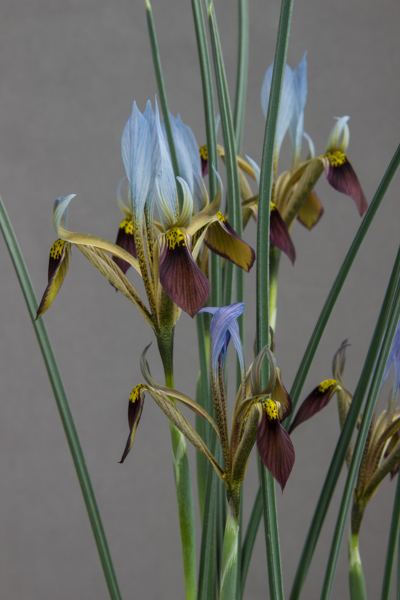 For the two Certificates of Merit the judges looked to superb irises that were on show. First, I. svetlanae exhibited by Ivor Betteridge, which sports flowers of a deeper yellow than the more common I. winogradowii. Colin and Elaine Barr's I. pamphylica [right], in comparison, had alluring pale blue standards, gradually fading through to a coppery-green colour. This 'reticulata' can be found, rather locally, growing near the edges of pine forests at the not unclimbable height of around 800m in south-western Turkey. A deep pot is part of the secret to success with this plant.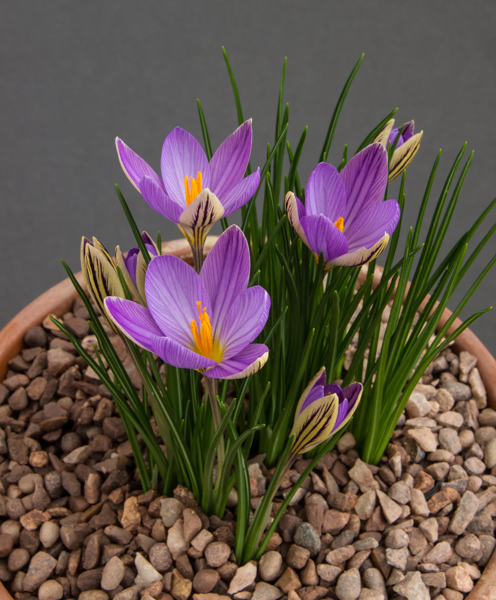 It is not only the more unusual members of the Iridaceae that warrant mention here. A number of easy, but no less impressive, crocuses graced the show benches. In the encouragingly strong Novice Section, Roy Skidmore's C. imperati subsp. suaveolens, which can be found growing in western Italy, earned the exhibitor what will surely be the first of many first prizes in 2016. Early visitors to the show hall were able to enjoy the feathering on the underside of the petals before the flowers had fully opened.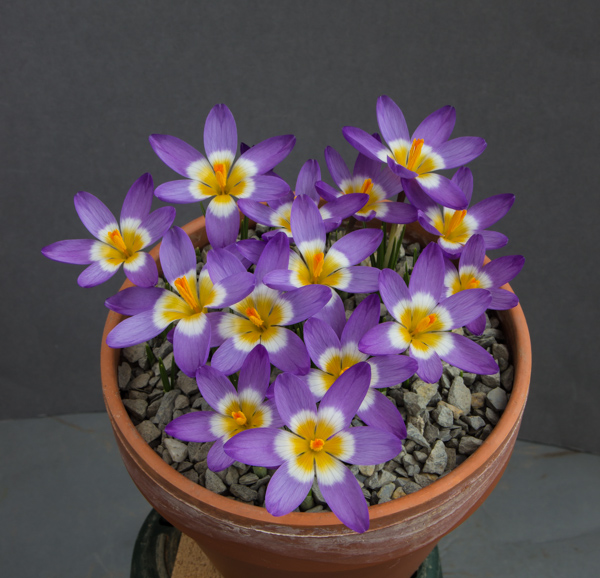 Another popular garden crocus with Italian origins was Ian Robertson's very handsome C. napolitanus, a southern Italian representative of C. vernus (although its identity was queried). Unlike my own crocuses, which have been emerging fitfully one at a time since before Christmas (a habit which prolongs the display but renders them useless as an exhibit), Ian could boast a potful of uniform flowers that had peaked just in time for judging. Possibly the most attractive representative of the genus shown, however, and again one that will happily grow in most gardens, was Bob and Rannveig Wallis' C.sieberi subsp. sublimis 'Tricolor' [right], nowadays readily available and easily grown.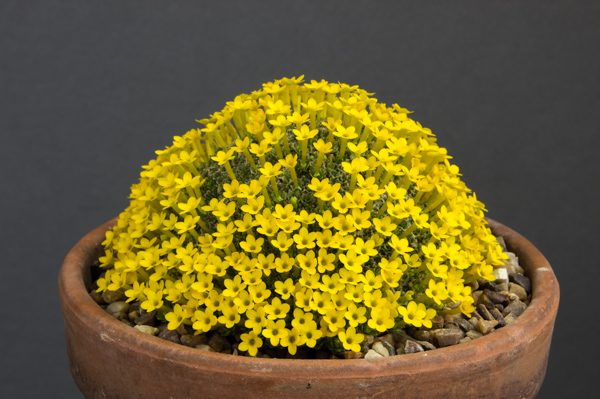 In previous years South Wales has seen some of the finest dionysias that AGS members can produce. This year, however, only a handful of these tricky cushions, with the best examples found in the small pan classes. Paul and Gill Ranson, who must rank among the Society's premier growers of Dionysia, had a very fine D. tapetodes (PMR10R1314/21), which had been raised from seed sown in 2010. A plastic bowl was used to protect the sensitive cushions from the Welsh rain as they made the journey from car to show hall. It is little things like this that can be the difference between a prize-winning plant and some rather expensive compost!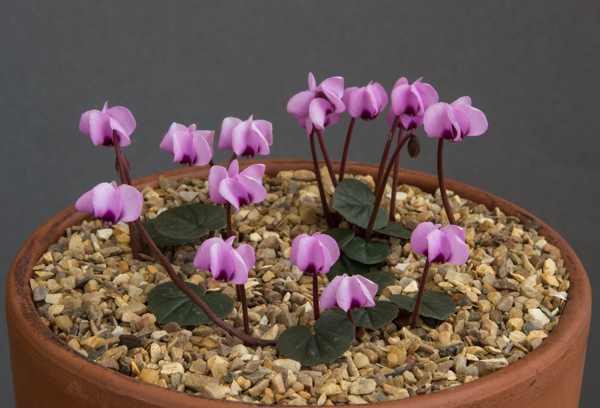 Cyclamen is another genus that has previously dominated the South Wales show benches, but this year those on display were relegated to a supporting role. There were a number of examples of C. libanoticum, challenging its reputation as a plant that can be tricky to flower. The most interesting Cyclamen for me, however, was Anne Vale's C. kuznetzovii [right] in the class for new or rare plants in cultivation. Found growing in Crimea, outside the usual range of C. coum, to which it is very similar in appearance, its exact status as a distinct species is debated. Like C. coum, this is incredibly hardy and will, one hopes, become a common sight on the show bench, and in the garden, in the near future.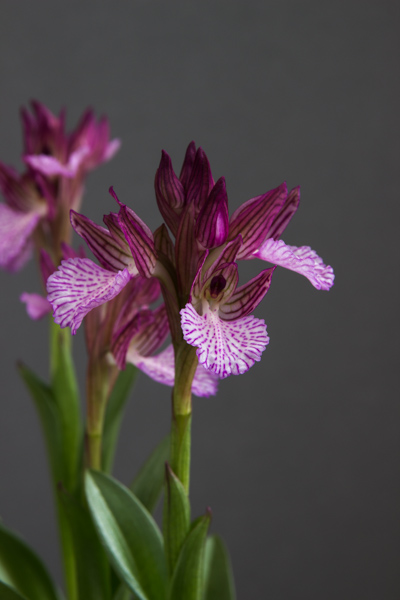 Barry Tattersall's orchids have long been another highlight of the South Wales Show. The yellow-flowered Dactylorhiza romana, which flowers earlier than other members of this genus, made a welcome reappearance. Like D. romana, Anacamptis papilionacea (commonly known as the pink butterfly orchid) has a primarily Mediterranean distribution. With its pink and red patterned flowers it is a contender for the accolade of most attractive terrestrial orchid, and that it fairly readily increases means that you do not have to wait long before you can enjoy the kind of display that contributed towards Barry's first prize in the three pan Orchidaceae class.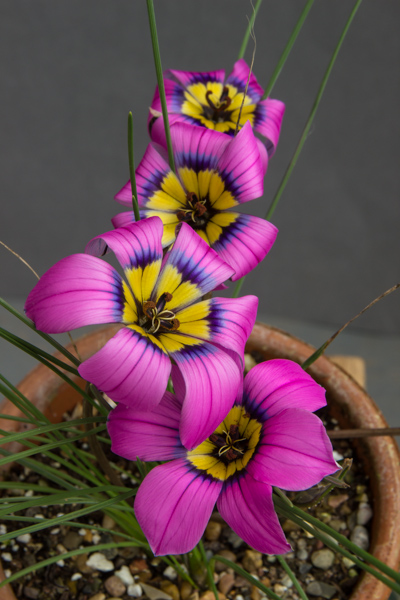 To finish, I mention two final bulbs that caught my eye. At the other end of the 'showiness' scale to A. papilionaceae was Bob and Rannveig Wallis' Gagea peduncularis [below], a plant that sports bright yellow, star-shaped flowers. It is another bulb that is found mainly in the Mediterranean, and in the early 2000s was found growing as far west as Italy. Last but by no means least is Peter Furneaux's Romulea komsburgensis. At the start of the day only one of the electric pink flowers was open, but more emerged as the show progressed and this South African bulb was soon attracting the attention of everyone in the show hall. As its natural range suggests, protecting R. komsburgensis from winter frosts is essential, although this has not been a major issue for many of us this year!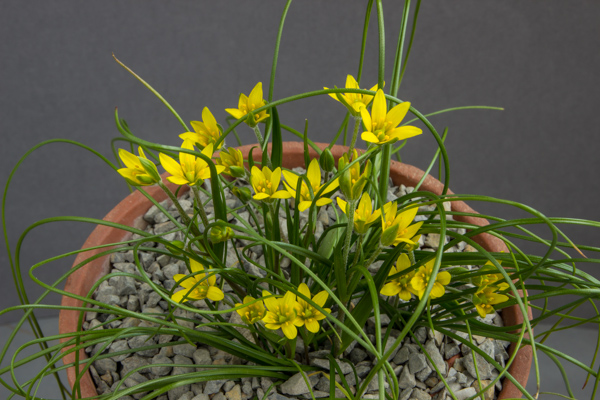 Before ending this report, special thanks must go to show secretaries Bob and Rannveig, their small team of helpers, and to the show photographer Jon Evans. For many members, the shows have become the heart of the Society and without the volunteers who devote so much time and energy to making them a success, these fantastic displays will become a thing of the past.
Author: Rob Amos
Photographer: Jon Evans