South Wales AGS Show, 2014
Twelve months ago, when writing the report for this show, I remember reporting on how wet the winter had been and how sodden and submerged the countryside was along the way. That was as nothing compared to this year! Driving down into the latest storm of the winter, as yet another deep area of low pressure barrelled in off the Atlantic, the fields around were progressively deeper and deeper underwater as we approached our destination. We only hoped that we were not the only ones venturing out for the first show of the season and that other brave souls would make the trip to put a good display on the benches!
Arriving on the dull grey morning of the show (at least the wind had dropped) we were pleasantly surprised, as hours more and more plants appeared on the tables. By the time that judging commenced the benches had filled out nicely, even needing the odd bit of rearrangement to accommodate the extra entries in some classes. The overall impression this year was of a large bias towards bulbs, with about nine out of every ten exhibits arising from some sort of underground storage organ. However this made for a very colourful display and some very interesting plants.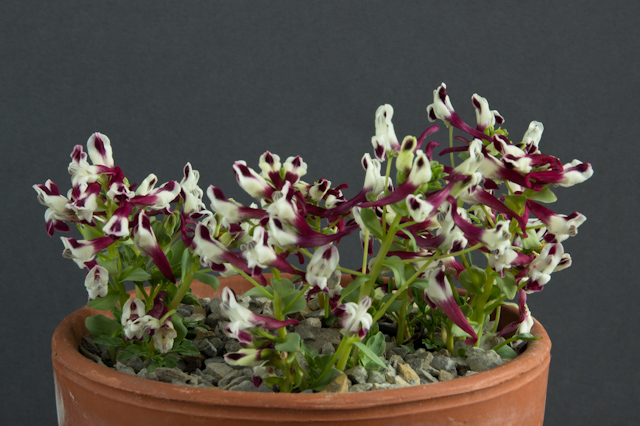 One well represented genus on the benches was Corydalis. There were several floriferous examples. Bob and Rannveig Wallis exhibited a beautiful specimen of Corydalis seisumsiana as part of a first prize winning three-pan entry. Originally described from Armenia, this plant also occurs in the mountains around the Caspian Sea. It is usually found in flower close to snow patches in short turf between 1500-2200m. A member of the Leonticoides section of this genus, it produces one large tuber under the ground that very rarely splits. Flowering stems radiate out under the ground from the central tuber and emerge at some distance from this source. In pots this effectively means around the edges, unless steered into a central positioning by a subsoil funnel or smaller, inverted pot with its base knocked off, put in place at repotting time, in mid-autumn. This example is grown in a mixture of John Innes no. 2 and grit sand, with watering starting in November. The plant received an Award of Merit from the Joint Rock Committee.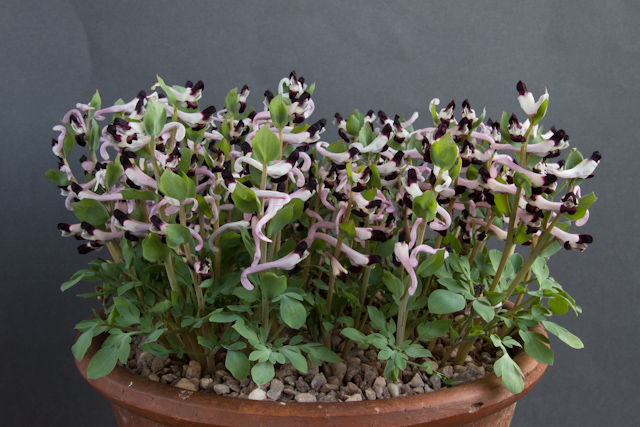 Another beautiful example from the same section was shown by Robert Rolfe. Corydalis popovii received a first prize and a Certificate of Merit on the bench. In the wild, it grows in clay soils at 600-1500m in western Tadjikistan, south-eastern Turkmenistan and south-eastern Uzbekistan. It has been in cultivation for some time and can be relied upon when it flowers well to put on a wonderful display of large, heavily scented flowers. One of two almost identical specimens shown, it is cultivated under glass in a well-ventilated alpine house and repotted every year as the tuber grows. Cross-fertilisation is necessary in order to produce seed, and Rannveig Wallis's diligent efforts with an artist's brush later on in the day, using one of her plant's as a pollen provider, proved fruitful.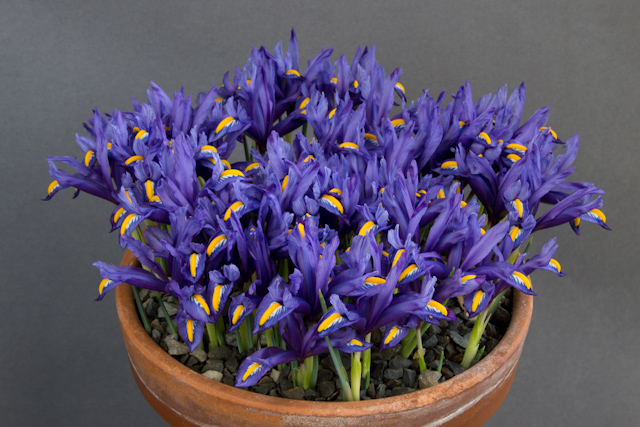 As well as the Corydalis, the genus Iris was very well represented on the show bench, ranging from the stately minimalism of the junos, with their few beautifully formed flowers, through to other less tricky sections producing pots crammed with blooms. The Farrer Medal, along with an Award of Merit from the Joint Rock Committee, went to a beautifully flowered pan of Iris hyrcana grown by Bob & Rannveig Wallis.
This Iris is very closely allied to Iris reticulata and is named for the Hyrcanian forest region around the Caspian Sea where it grows on stony slopes in full sun. It rushes rapidly into flower as the winter snows melt and can be treated much as Iris reticulata, viz. grown in a well-drained compost with a dry summer and watering recommencing, frugally at first, in September on. However getting it to flower like this is no easy task in a country where the prevailing winter conditions rarely match those experienced in the wild. In this mild winter, it had been held back by a combination of careful watering and keeping it cold, before it could be released to race into full flower in little more than two days.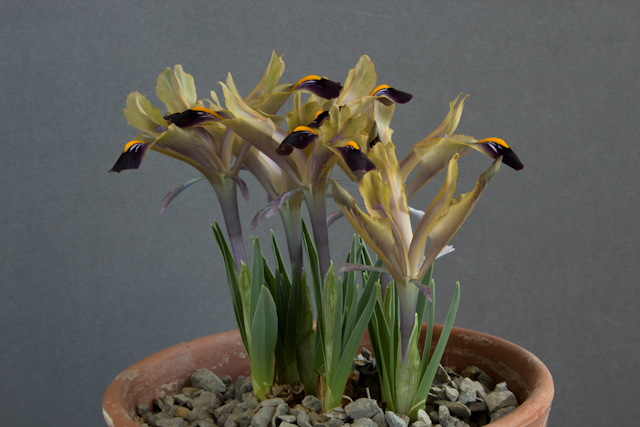 A second Iris in the same first prize winning six-pan entry came from the much more challenging Juno section. Iris galatica caught the eye with its strangely shaded, greenish flowers. It originates from Turkey, growing in rocky steppe between 900-1700m. As with most of the junos, preventing it from rotting during our wet winters can be a challenge. To this end Bob and Rannveig grow the bulbs resting on a mixture of grit and John Innes no. 2, topped with a thick layer of pure grit. Cautious watering triggers growth in October, following a dry summer dormancy.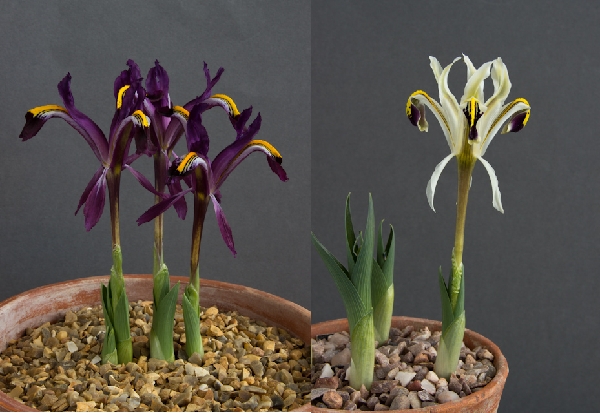 Elsewhere on the benches were two examples of Iris rosenbachiana also from the Juno section. These illustrated the variation of flower colour that can occur. In the one pan Iris class in the Open Section, a deep purple form won Peter Summers a first prize. Over in the Intermediate Section in the class for a plant grown from seed, a beautiful white form grown from Jim & Jenny Archibald seed did equally as well for Peter Taggart. Both are grown plunged in sand under glass with plenty of ventilation and part-shaded in the summer.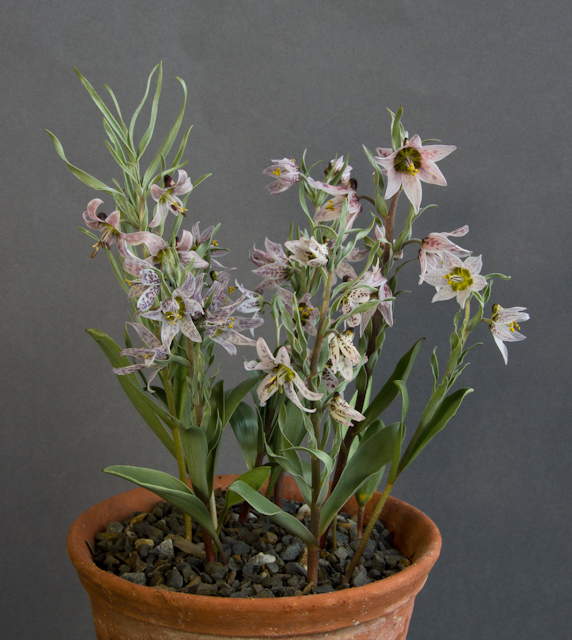 Continuing with the bulb theme a plant that particularly caught my eye was Fritillaria karelinii, another offering from the Wallises. This is a member of the Rhinopetalum section of Fritillaria, which is characterized by well-developed, large nectar glands at the back of the flower. What struck me when studying these flowers was that each flower had a single mature nectary on one of its tepals, the other five having little or no swelling, giving the flower a slightly off-centre appearance. This plant comes from north-east of the Caspian Sea and over into China, growing in sandy desert steppe where the temperature can swing from one extreme to the other from winter into summer, going from -40 to +40°C. In cultivation it is grown in a mineral soil and is given as close to hot desert conditions as a British summer will allow before being started into growth late, in December.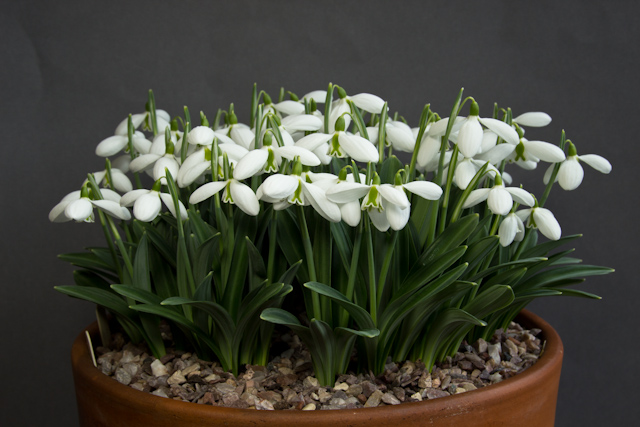 As Caerleon is such an early show it has on occasion in the past, after deep cold winters, been dominated by snowdrops. This was not the case this year although they still made a striking contribution. A wonderful pot of Galanthus 'Sophie North' from Don Peace won a first prize and the Galanthus Goblet. This reliably produces an excellent showing of well-formed blooms in February.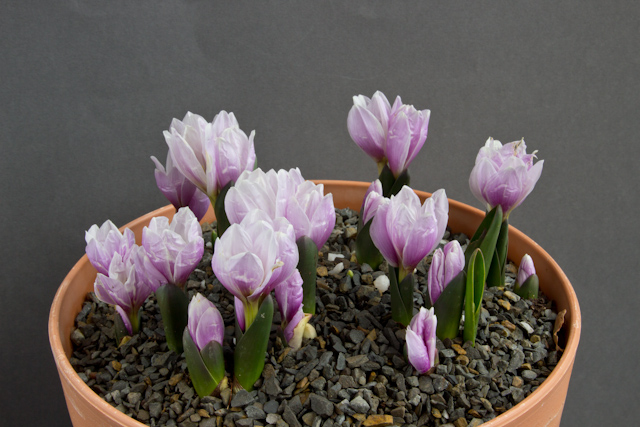 A final contribution from the stables of Bob and Rannveig was a large pan of Colchicum szovitsii just opening its flowers. This is another snow-melt plant found in Turkey and Iran, growing on the banks of streams alongside Primula auriculata. In the early spring it can take almost any amount of water: Bob says it can often be seen in the wild at this time growing under cold oxygenated water on its first day of flowering. In cultivation it is watered from September through until the leaves die back. As the tips of the leaves break the surface in the spring, abundant water is supplied to simulate the snows melting and bring it into flower.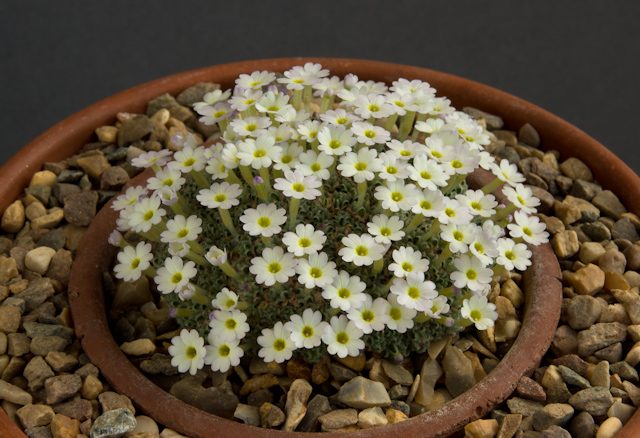 Finishing on a non-bulbous note, some of my favourite plants, dionysias, were on show. February and early March are the best time of the year to appreciate them for their variety and sheer flower power. Of particular note, Paul and Gill Ranson won a first with an attractive hybrid, the first I have encountered involving the wonderfully furry D. esfandiarii as the seed parent. The green-blue, furry cushion was covered with creamy white, yellow eyed flowers, touched with the faintest tint of pink at the edges. Raised from seed sown in 2011 from Michael Kammerlander, it clearly shows the influence of its seed parent in its foliage form but is much freer flowering than D. esfandiarii itself.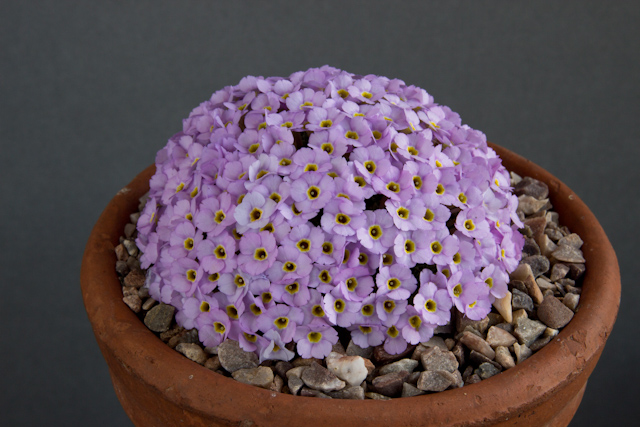 Eric Jarrett showed an attractive cushion of Dionysia 'Corona'. This is turning out to be a reliable plant that can be grown to a reasonable size, always flowering magnificently. It is a little bit more temperamental than D. 'Monika' or D. curviflora but for those who have had success with these, as a step up it is well worth giving a trial.
Author: Tim Lever
Photographer: Jon Evans