South Wales AGS Show, 2013
Getting back on the road after a long, cold, dull winter for the first competitive show of the season was an exciting prospect. En route there was extensive evidence of quite how dreadful the weather had been recently, with field after field submerged in water, justifying the old expression February Fill Dyke. However, to coincide with the show, the sun made its first significant appearance of the year and shone from leaving home through to my arrival (and beyond) in South Wales. An omen of things to come, I trust!
Heavy snow in parts of South Wales earlier this year made it seem likely that we would see primarily snowdrops on display. Yet as the benches started to fill up early on this frosty morning, it was evident that this would not be the case. (Joint show secretary Bob Wallis suggested that successive deluges and stormy conditions had thwarted exhibitors who would ordinarily have lifted clumps from the open ground, leaving the stalwart snowdrops running at least two weeks behind schedule, with the early risers less than pristine.) In their stead came hosts of other colourful bulbs (Crocus and reticulate Iris were particularly well represented), Cyclamen, Saxifraga and Dionysia, each of them adding an extra splash of interest.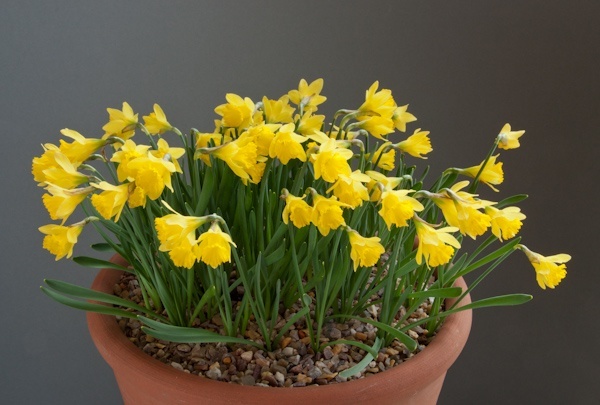 With the first of the wild daffodils (Narcissus pseudonarcissus) opening back home, and N. cyclamineus well into its flowering season, it was good to see an exceptional pan of N. asturiensis crammed full of flower. This was one of four exhibits awarded a Certificate of Merit, and there can have been few if any finer exhibits of this miniature trumpet daffodils at the Society's shows over the years. This clone, dating back to 1937 when Robert Gathorne-Hardy visited northern Spain, increases by division of the small bulbs more reliably than almost any other. According to Douglas Blanchard (in a lecture given in April 1959): 'The normal form of this is a sturdy little bright yellow flower about 3 inches high which is a real yellow trumpet daffodil, slightly waisted, in miniature... there are various forms of it. The one known as 'Navarre' has longer and more winding perianth segments which are set nearer the ovary than in the better-known form'. Eric Jarrett, the exhibitor of the fine group on show, has grown it for many years and finds it a strong grower that bulks up reasonably quickly if grown in a 1:1:2 mix of silver sand, perlite and John Innes no. 3. After flowering the pot is kept under the staging of his alpine house, plunged in damp sand, with repotting taking place early in August, followed by a September/October soaking in response to tentative root growth.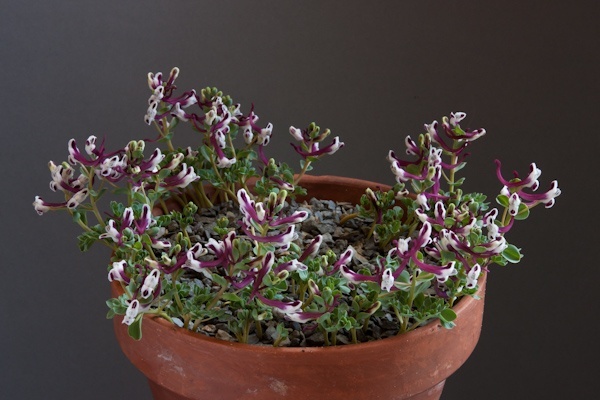 Separated by just a single bench, a very different plant to catch the eye was Corydalis nariniana, shown by Bob & Rannveig Wallis. Native to eastern Turkey and Armenia, it grows at high altitude in stony soils with little in the way of competition and is very much a snow-melt plant, its roots and shoots burgeoning underground through the winter, ready to burst forth at the first signs of spring. As the shoots emanate radially from the tuber, emerging either at random or wherever their further subsoil progress is blocked by rock, this is a difficult plant to get looking at its best in a pot. Often the centre can look bare, with a halo of flowers and foliage around the edge, though judicious deployment of large pot shards or other constraining barriers, introduced when repotting takes place in late autumn, can induce a much more satisfactory clustering. Generating seed requires careful hand-pollination, transferring pollen from a second clone, because in common with others in Section Leonticoides, this species (at first grown under the invalid name C. persica) is self incompatible. Once flowering finishes and summer arrives, the plant is kept bone dry in full sun to mirror the conditions experienced in its native habitat.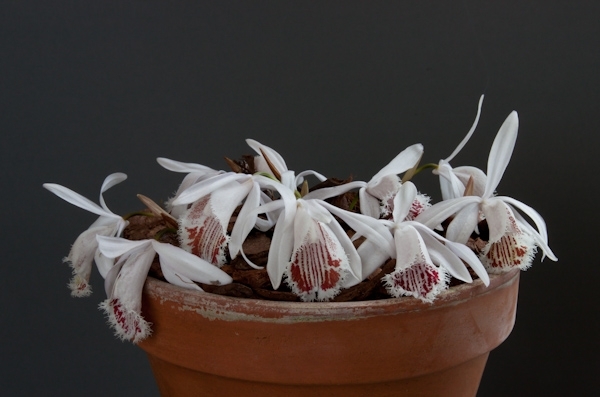 The South Wales Show has occasionally hosted orchids from as far afield as southern Africa, Papua New Guinea and South America. This time round, a typically very early flowering Himalayan, the beautifully marked Pleione humilis, graced the benches thanks to Ian Robertson. With each pseudobulb producing up to three flowers, it made a fine display.
Grown in a mixture of moss and fine bark, it is kept frost-free and barely moist through the winter. Water is only applied after the flowers fade and the leaves and roots start to emerge: it blooms 4-8 weeks before the mainstays of the genus come to their best, and has a delicacy forfeited in some of the larger, brasher-coloured hybrids, which certainly have their place, contributing much to but forfeit the quality of delicacy time and again.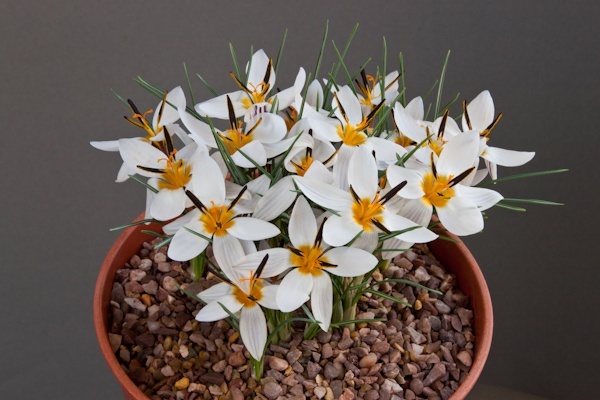 Among the bulbs was a fine pan of Crocus biflorus subsp. nubigena shown by Robert Rolfe: it is native to SW Turkey and a scattering of Aegean islands. This Norman Stevens collection had the black anthers and powerful cinnamon/clove fragrance that typify this taxon, at first described as a separate species, and recently reasserted as such, rather than subjugate to the multifarious C. biflorus.
Last year it missed the shows, since for the first time ever came into bloom on New Years Day. Thankfully, this year, it held off for a little longer and managed to coincide with the show. Elsewhere the same exhibitor showed the smaller but also black-barbed C. reticulatus subsp. hittiticus, another Turkish native from further east in the Cilician Taurus. Both require a dry summer and cold glass protection the year round.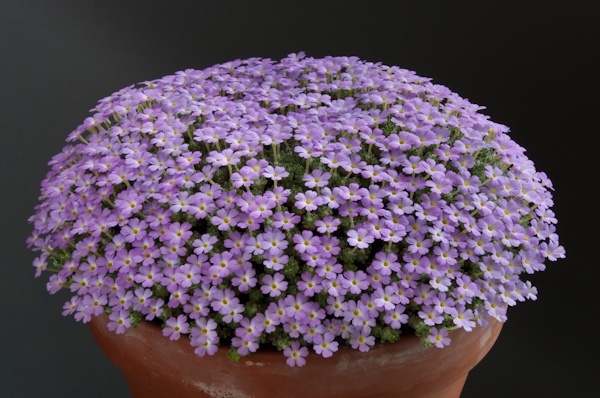 As many of you will know, I particularly enjoy growing dionysias (along with many other cushion plants!) and as such was happy to see a fine selection on display. It was particularly good to see a six-year old plant of Dionysia archibaldii JLMS 02-87/PMR1 (this would have been included within D. bazoftica before this epithet was reduced to a synonym) win the Farrer Medal for Paul & Gill Ranson. Paul raised two distinct seedlings from the original JLMS collection. The other seedling reared more closely resembled the original 1966, JCA introduction of D. archibaldii while this plant proved the stronger, more show-worthy specimen. It is one of the relatively few lilac-pink flowered Iranian species, the majority of which are yellow.
At the early spring shows I always hope to witness a fine-flowered example of the 1971 introduction D. afghanica, which first recruited me to the ranks of Dionysia enthusiasts. Unfortunately it is always one of the first to bloom, and as such long past its best even by the earliest show. My own plants started in early January this year and were long over by mid-February. Unsurprisingly there were no representatives in sight. However nowadays there is a fairly large choice of named hybrids with D. afghanica heritage.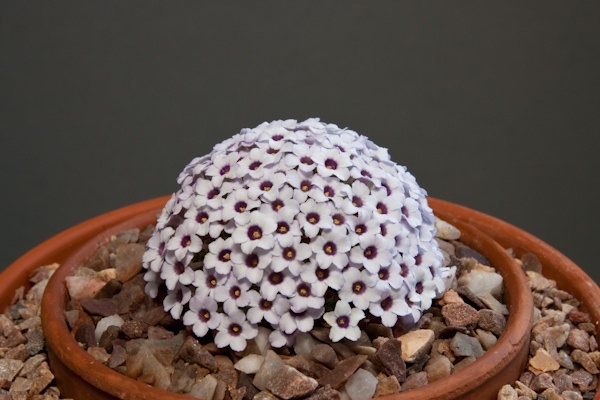 A beautiful cushion of D. 'Mike Bramley', grown by Eric Jarrett, with beautiful pastel lilac flowers enlivened by a dark eye, is one of the closest to the original introduction and is named in memory of an excellent alpine plantsman, who with his wife Ju excelled in their cultivation.
Several other examples of D. afghanica-derived hybrids were also on show. The proliferation of hybrids of D. afghanica is mainly thanks to Michael Kammerlander who has done a great deal of work to nurture these, in the process raising some fantastic plants. Two examples from Paul & Gill Ranson, the yellow Dionysia MK01458/3 [below left] and the whitish D. MK06458/2 [below right] are both derived from the same seed parent in different years and along with D. 'Mike Bramley' illustrate the range of colours that are emerging from Michael's breeding work. For 20 and more years he has distributed such material: an extraordinary and unmatched achievement.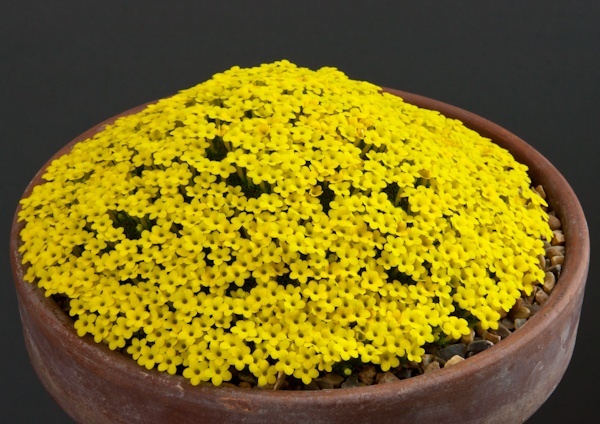 While D. afghanica hybrids are predominantly beautiful plants, they certainly figure among the more difficult to cultivate of the genus, unforgiving if even slightly over-watered, and difficult to root from cuttings. Dionysia tapetodes 'Brimstone' (Paul & Gill Ranson) on the other hand seems to be more compliant. Bred by John Dixon, this is an efarinous form of D. tapetodes which forms a very tight cushion and reliably covers itself in yellow flowers. As it is slow growing it can take some time to produce big plants (the plant exhibited was around 9 years old) but the time and effort is amply repaid by the display that is produced. All donysias are best grown in a very well-drained compost, and plunged in sand in an alpine house with plenty of ventilation. Dionysia tapetodes clones, along with those of D. curviflora and D. aretioides, make good starting points for newcomers to this beautiful, challenging genus, some introductions dating back to the 1960s but still cultivated to an exemplary standard.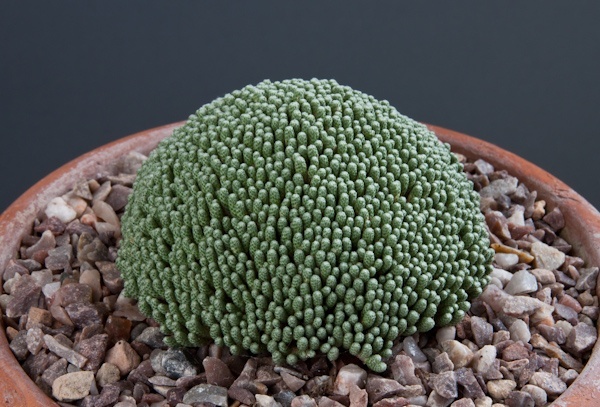 Another group of plants that I enjoy growing more and more are the cushion and mat-forming South American genera. A particularly intriguing plant was Benthamiella azorella from Eric Jarrett. Grown for foliage effect, in similar conditions to those for dionysias, it is very slow growing and has taken 5-6 years to reach 8cm across. The form of the cushion, with tiny, columnar, tightly-packed rosettes made up of minute adpressed leaves, is particularly attractive.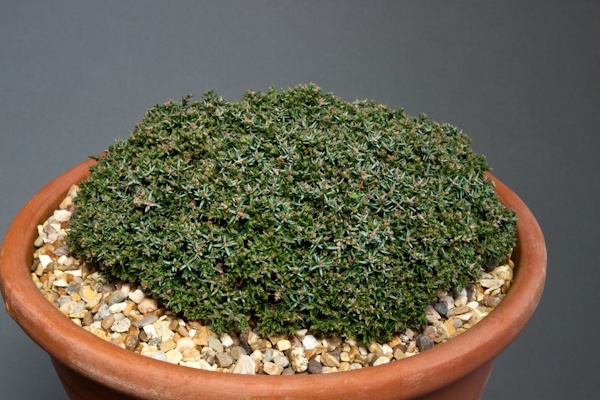 In the dwarf conifer section one plant that stood out was a truly dwarf conifer from David Richards. Juniperus horizontalis 'Neumann' grows at little more than a centimetre a year, and the specimen on show was around 20 years old. It is kept moist out of doors in all but the most extreme of weather and is moved to a shady position if the sun should decide to shine too much!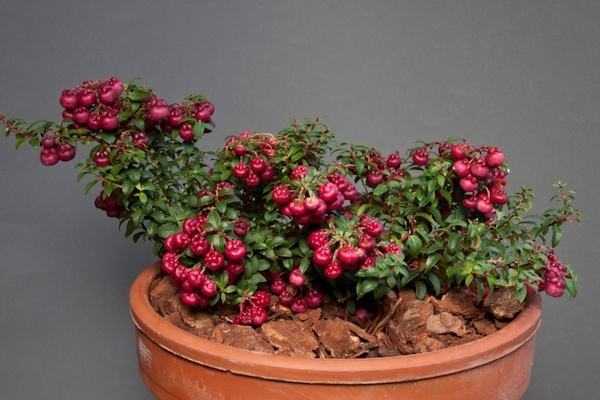 An unusual entrant at an early spring show was Gaultheria crassa 'John Saxton', shown by Keith & Rachel Lever. This plant was looking as good in February as it had in the autumn shows in 2012. Unsurprisingly there is no Ericaceous class at the South Wales show, so it was entered in the dwarf shrub class. Because the plant had been shown at Ponteland, it was tucked away back home on a high alpine bench for the winter instead of in its usual shade tunnel. This made life very difficult for the mice and voles who usually make a feast of its berries in the winter!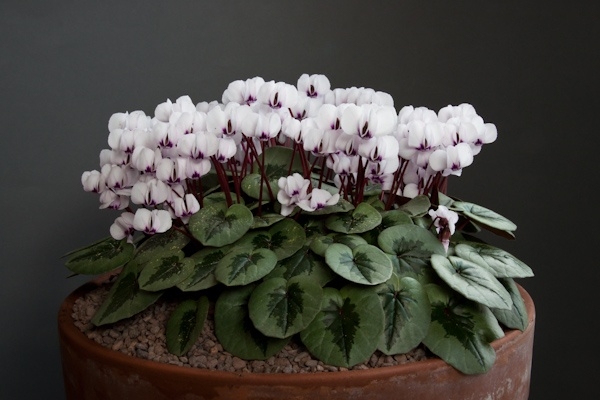 Finally, an early spring show would hardly be complete without the glorious Cyclamen coum. An 18 year old plant of Cyclamen coum f. album from Ian Robertson won the Cyclamen Society Salver and took everyone's breath away!
Author: Tim Lever
Photographer: Jon Evans