South Wales AGS Show, 2012
After a reasonably mild January, we were hit with a blast of true winter a week before the show, which moderated to damp, windy conditions on the day of the show. This topsy-turvy weather put a brake on many plants and most likely gave show secretaries Bob and Rannveig Wallis a few sleepless nights. They need not have worried: true to form the entries rolled in. I too was pessimistic but this changed on arrival. The car park, which I expected to find fairly empty, was nearly full and I had to search for a parking spot. The usual large Dionysia and Cyclamen exhibits were much reduced: instead the swathes of colour from many vibrant spring bulbs demonstrated that Nature can still come to the rescue when all seems lost.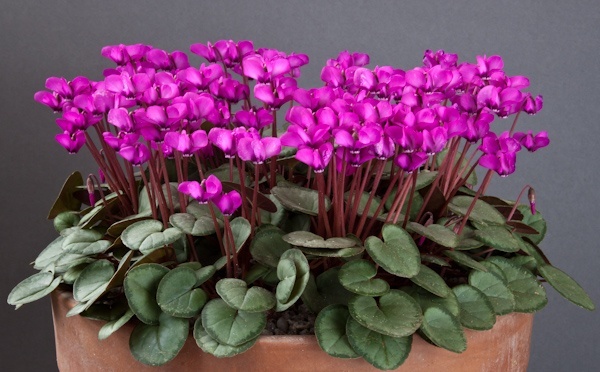 Ian Robertson can always be relied on to produce some excellent cyclamen at this show. A large pan of Cyclamen coum, smothered with flowers, demonstrated his patience and growing skills. This specimen, grown from seed listed with the qualifier 'Nymans' in the Cyclamen Society's seed exchange, was from seed sown in October 1995. Regarding its cultivation, he covers the bottom of the pot with 1-2cm of 1cm pumice and tops up the pot with a 1:1:1 mixture of John Innes No.2, perlite and shredded, composted beech leaves. To this a little bonemeal is added.
The top of the tuber is 2-3 cm below the surface, which is top-dressed with grit. The pot occupies a sand plunge, but is removed from time to time and dunked in a 'bath' of water up to the level of the tuber's base, especially at flowering time. A quarter-strength solution of Tomorite is given twice, in March. The leaves are removed as they turn yellow: in early July, the top layers of grit and compost are removed to two-thirds the way down the tuber and replaced with new stocks. And that's all there is to it!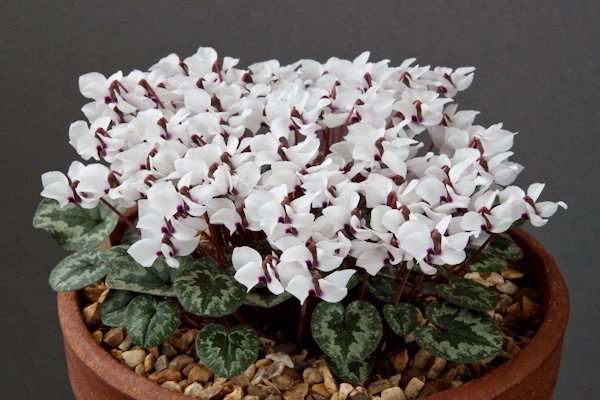 Another Cyclamen that caught my eye was staged by David Richards in the small pan section and was awarded a Certificate of Merit. Cyclamen alpinum forma leucanthum grows at 350-1,500m in south-western Turkey and surely could never be as floriferous in the wild as it was here. Seed collected from another of David's plants was sown in 2002: cultivation isn't too dissimilar to the regimen employed by Ian Robertson. The compost used is 50% John Innes No.2 and a 50% mixture of vermiculite, bark, leaf-mould and pine needles. Watering is very carefully carried out with the pot stood in a tray for 10 minutes when the plant is obviously rather thirsty. Extra care is necessary in winter, for if kept too wet, the roots easily rot off.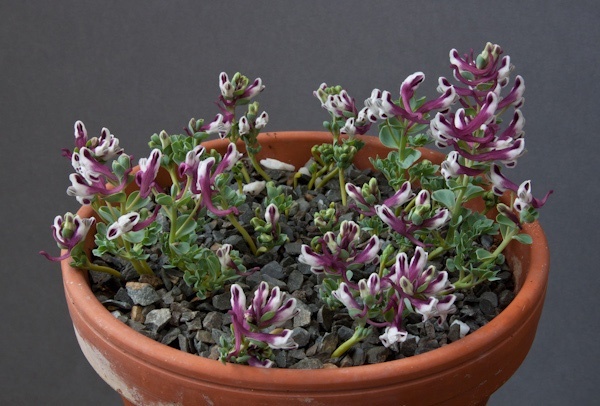 Corydalis nariniana, another lovely plant from Turkey (the easternmost parts in this case), Armenia and north-western Iran, was amongst a group of three species staged by Bob & Rannveig Wallis. In its natural habitat it grows in stony soil, rushing into flower during the snowmelt. The stems grow from a single tuber that gets bigger each year but one problem with exhibiting is that they are inclined to spread out rather than grow upright. This called for imaginative thinking and on the day the carefully positioned grit proved a winning strategy.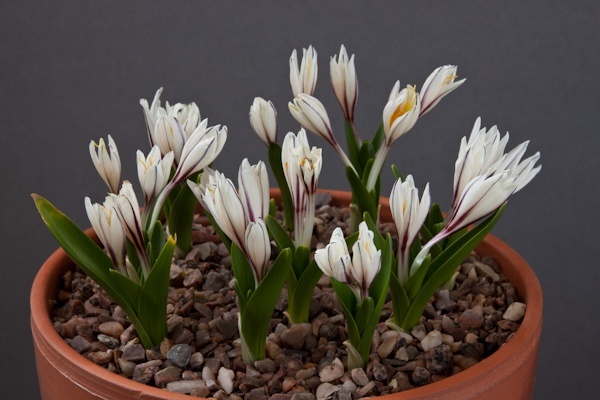 A very attractive potful Colchicum kesselringii was exhibited by Don Peace and received the show's other Certificate of Merit. Originally obtained from Jânis Rukšâns as a single tuber, it proved very slow to bulk up, resulting in a long wait for a good potful. Grown in Don's basic bulb mix of two parts John Innes No. 2 and one part grit, it has white, sometimes pink-suffused flowers (several per corm) in February and March, each tepal distinctively blazed with a purple median stripe. Narrow leaves provide a delicate foil. As with all the spring-bloomers, it needs good drainage and full sun. Its habitat is montane steppe in Central Asia.
There were barely half a dozen crocuses on display but they included one little-seen on the showbench, C. reticulatus subsp. reticulatus. Entered as a non-competitive exhibit by Robert Rolfe, this was of Serbian origin and had attractively wispy-tipped flowers of good size, strikingly feathered blackish-purple on the exteriors. Representing a 1988 find, it evidently multiplies quite well when grown under glass (coming from an altitude of just 150m, it is happier indoors than outside, allowing its pronounced fragrance to be savoured). Known from localities as far apart as Trieste in northern Italy and the Caucasus, it is only in the collections of specialists that anything like a representative range can be found in cultivation. The flowers, white in this form, can also be various shades of lilac: the previously mentioned Jānis Rukšāns, one of the few nurserymen to list stock, has a bright lilac-blue, heavily striped version from Moldova. Bowles cautioned that some versions are small and squinny: there are plenty of exceptions that make raising corms from seed worthwhile. This has appeared intermittently in the AGS Seed List and elsewhere in recent years.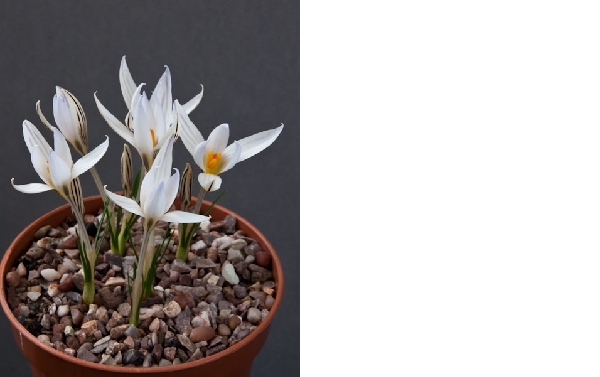 In the new and rare' classes several dionysias were exhibited. Dionysia viva, exhibited by Eric Jarrett, reminded me somewhat of D. aretioides (however it appears to be unrelated), the very first species I grew when trying – and failing miserably – to master these plants. It was originally collected, under licence, by Dieter Zschummel during the T4Z 2002 expedition to the Zagros Mountains of western Iran. It has remained rare in cultivation, despite proving to be one of the 'easier' species, probably because few forms are as compact and attractive as the one seen at Caerleon.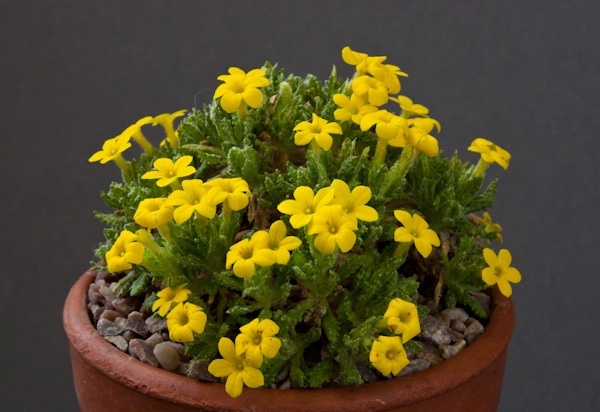 It is considered by revisionist Magnus Lidén to be closely related to D. bornmuelleri and has been placed by him in Section Dionysiopsis. It differs from the latter in being smaller and less hairy and is well-separated on floral characters. Grown in a compost of 80% grit, perlite and coarse sand, mixed with 20% JI No.2, it is housed throughout the year in an alpine house. Requiring only an annual repot and the removal of any stems that die back, this was surely its most distinguished public appearance to date.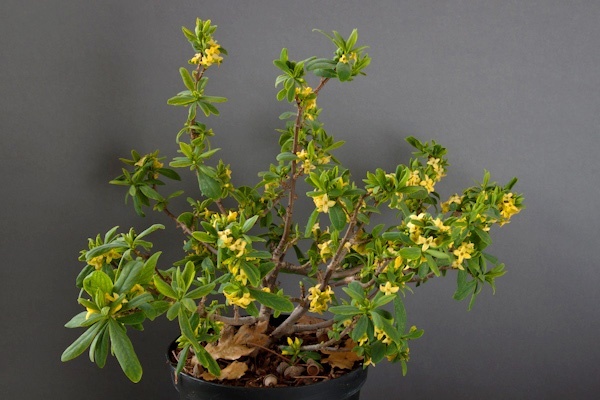 Daphnes on the showbench always deliver a vivid splash of colour and here visitors could admire a large, mature specimen of D. jezoensis, exhibited by Robin White. With winter not yet over the fragrant, bright yellow flowers brought a ray of sunshine into the hall (outside the rain poured down!). Native to northern Japan, where it generally grows in subalpine woodland, it is slow-growing, expanding maybe 5-7.5 cm in a season, and can cause a grower new to this species to experience palpitations when it drops its leaves in summer. A new complement is produced from late summer onwards, while the early-appearing floral display can last up to ten weeks. The compost should be humus-rich, while liquid feeding once flowering is over and new growth starts is recommended.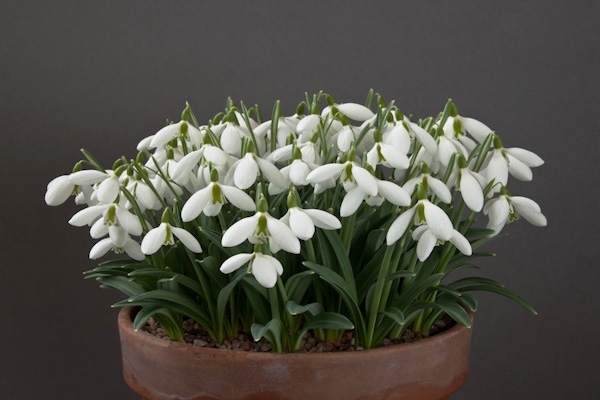 The Farrer Medal was awarded to a magnificent panful of Galanthus plicatus 'Sophie North' staged by Don Pearce. This snowdrop was brought to public attention by Evelyn Stevens, whose Sherriffmuir garden is remarkable, harbouring a national collection of Meconopsis as well as naturalised snowdrops in a woodland setting. A specimen was taken to an RHS Show in 1996 and immediately caught the attention of snowdrop experts. At that time it was named G. plicatus subsp. byzantinus but it was subsequently named in memory of one of the children killed in the Dunblane Primary School tragedy.A sturdy snowdrop of short stature with distinctly broad, glaucous leaves and large dumpy flowers, it is an outstanding and choice clone.
In recent years there has been much discussion over whether cacti could be classed as alpines. Some species most certainly do grow at alpine levels and these have slowly been appearing on the showbench in flower. More recently the discussion has entered a second phase: should they be classed and exhibited as foliage plants, given their absence of true leaves? One such example, exhibited by Clive Dart in the three plants for foliage and group effect, was Rebutia aylostera from Bolivia and Argentina, helped earn him a first prize. Much argument was overheard querying when is foliage not foliage. I fear this will run and run.
Graham Nicholls