South Wales AGS Show, 2010
It was 2002 when it was decided to promote the non competitive exhibit held in Wales to a full AGS competitive show. The 'risk assessment' indicated that the show would have the possibility of cancellation in one year in five. To date this has proved to be to pessimistic, but what about this year? The coldest winter in over 30 years and most of the British Isles covered in snow must have an effect. It was with these thoughts in mind when I made my way to Caerleon on another cold grey day. On entering the show hall it did not take long to realize that although, understandably, down in numbers, the range and quality of the exhibits was outstanding.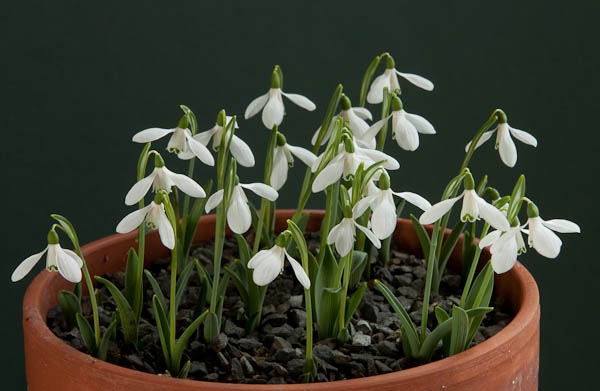 As expected there was a very good selection of Galanthus and Cyclamen. Amongst the former there were many of the newer (expensive) forms but it was a delightful small species that was awarded the title of best Galanthus. Bob and Rannveig Wallis's pan of Galanthus koenenianus had been grown from seed collected from bulbs given to them by the original collector Manfred Koenen. It is not an easy plant to grow, requiring cool conditions during the summer months.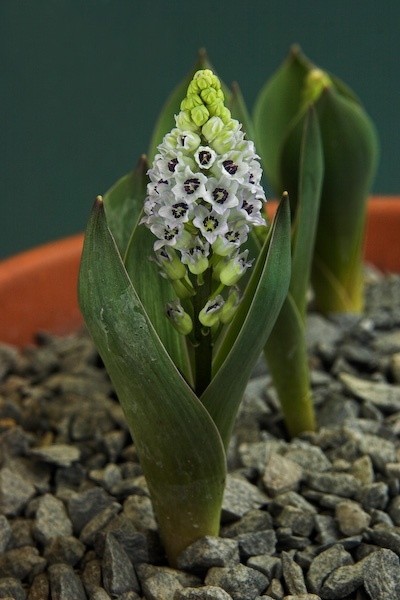 This pan formed part of their successful 6 pan exhibit amongst which the Hyacinthella glabrescens attracted many favorable comments with its iridescent blue flowers set off by dark green leaves. The exhibit was rightfully awarded the AGS Medal.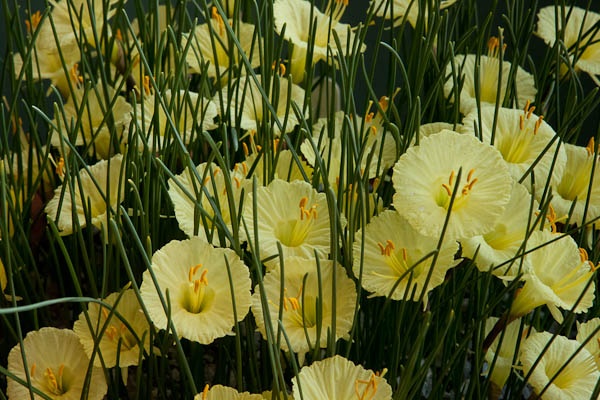 The couple rounded of their day with the Narcissus Salver being awarded to their superb pan of Narcissus romeuxii 'Julia Jane'. A plant that has the reputation for being a little slow to bulk up, hard to believe for anyone witnessing this exhibit.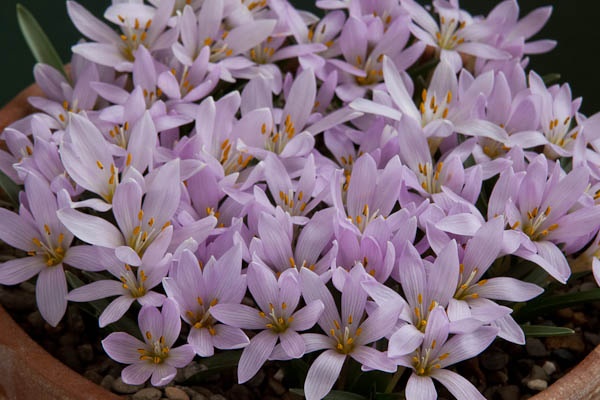 The judges were unanimous in awarding the Farrer medal to a beautiful pan of Colchicum hungaricum exhibited by Jim and Jenny Archibald.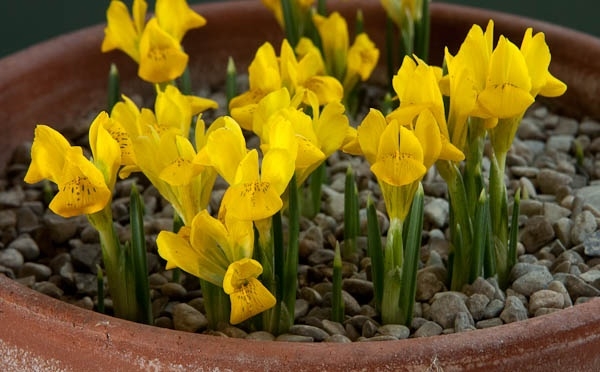 The same couple also picked up a Certificate of Merit for a pan of Iris danfordiae. It was good to see the true plant as most seen these days are the considerably larger Dutch grown forms which seldom persist in gardens. By common consent this was probably the one plant that most people wanted to take home.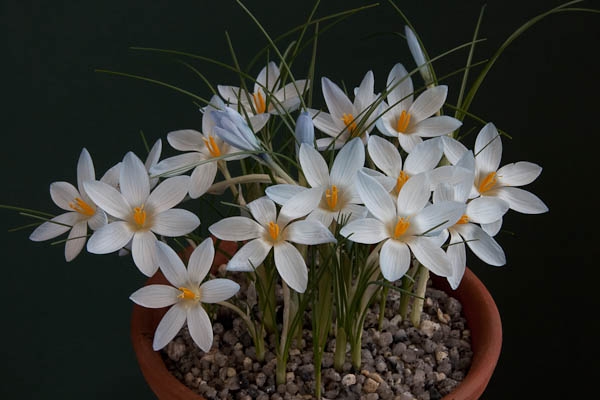 The variety of Crocus on show was very impressive, many not seen for some time. It was obvious that this group of plants would do well and this was borne out by the fact that two of the three Certificates of Merit were given to Crocus. Peter Erskine gained one with his pan of Crocus baytopiorum a plant that misses even this early show most years. Usually mild temperatures combined with poor light levels produce a drawn and floppy plant. Not so in this case as the very low temperatures and reasonable light levels as the buds developed produced a near perfect example of this lovely plant.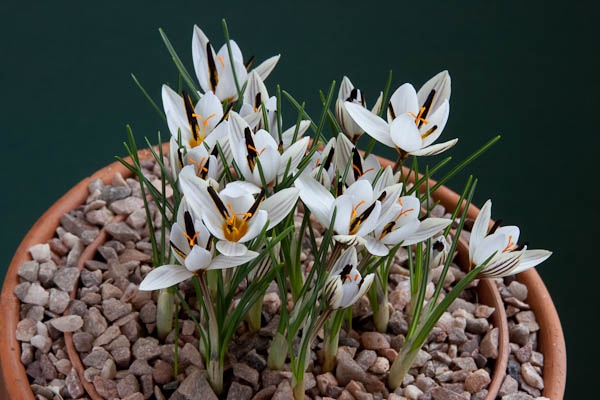 Crocus biflorus ssp. nubigena, as part of Robert Rolf's 3 pan exhibit, was also awarded a C of M. This combined with Hyacinthoides aristidis and Iris histrioides 'Sheila Ann Germaney' proved worthy winner in this tightly contested class.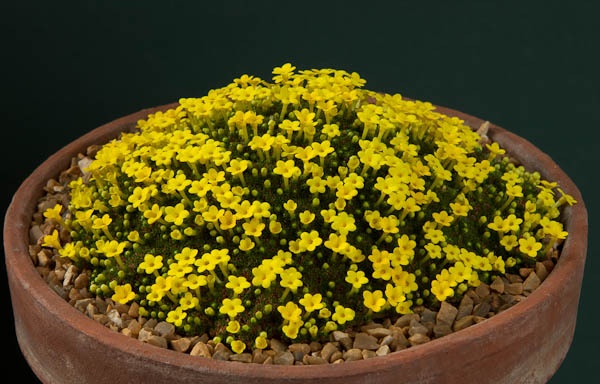 Undeniably this was predominately a bulb show. The surprise came when a couple, not noted for their strength with this form of plant, won the aggregate for most firsts in the open section. It was the quality of their Dionysia's that helped Paul and Gill Ranson on their way to the Isca Prize. It was interesting to see Dionysia archibaldii ssp. bazoftica on display each plant having a different flower colour, giving some indication of the variability that occurs within the species. Their D. tapetodes 'Sulphur' was in perfect condition with many of its pale yellow flowers set against the dark green cushion with even more buds to open later easily won its class.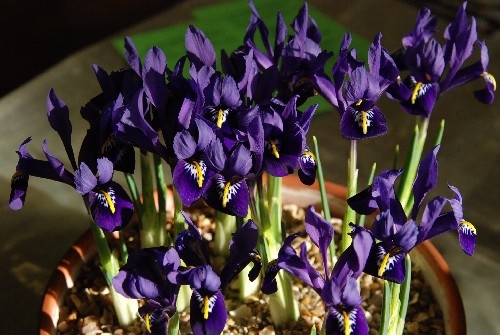 The winner of the Gwent Trophy for most first prize points in the intermediate section went to Peter Summers whose Iris reticulata 'Harmony' showed what can be achieved with what is a readily available plant.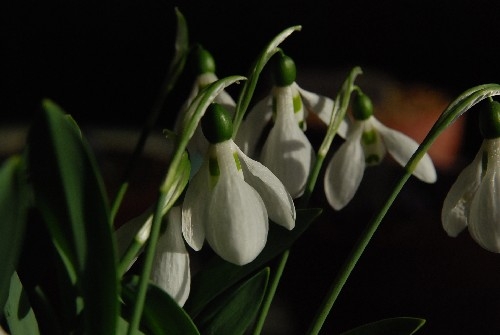 Christine Mullins beautifully grown Galanthus elwesii helped to give her the Caerleon Cup for most points in the novice section.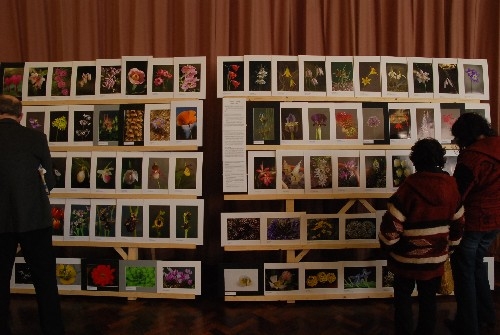 We were also privileged to see an excellent display of photographs of alpine plants displayed by one of our well known show photographer, Jon Evans. This type of display adds greatly to the overall effect and impression of the show and should be encouraged.
Towards the end of the show the sun shone through the hall windows and alighted on a pan of the common aconite Eranthis hyemalis which appeared to light up as if a small pool of sunshine was there. An indication that just perhaps the end of this very long winter is not too far away.
My final mention must go the members of the South Wales group, one of the smaller AGS groups, whose efforts and support helped to make the day so enjoyable. So efficient were they that it is alleged that one of the show secretaries had time to walk around muttering "there must be something wrong or forgotten as I have nothing to do".
Please do it again next year.
Eric Jarrett