South Wales AGS Show , 2009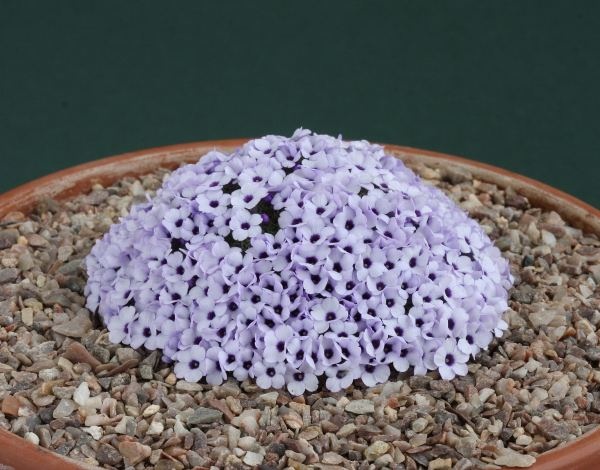 Despite the recent alpine-like weather the vast majority of exhibitors had been experiencing in recent weeks, the South Wales Show did not fail at providing an excellent display of colour and setting a high standard for the rest of the shows in 2009. Early bulbs, particularly snowdrops and crocuses, dominated the show bench, supported by a wide variety of other plants including cyclamen, early saxifrages and orchids.
Unfortunately, Section C was reduced to only one entry this year, a pan of Galanthus shown by Christine Mullins, however Section B remained solid and the Open Section continued to demonstrate that it takes more than a bit of snow to stop dedicated growers from displaying at an AGS show.
The South Wales Show saw the first plant being awarded the 80th Anniversary Award, for best plant in a 19cm pot. This award is to be given at every show in 2009 as part of the eightieth anniversary celebrations. In this case, it went to Mike and Christine Brown for West Kirby for their pan of Dionysia afganica, which was bought as a small cutting in May 2000.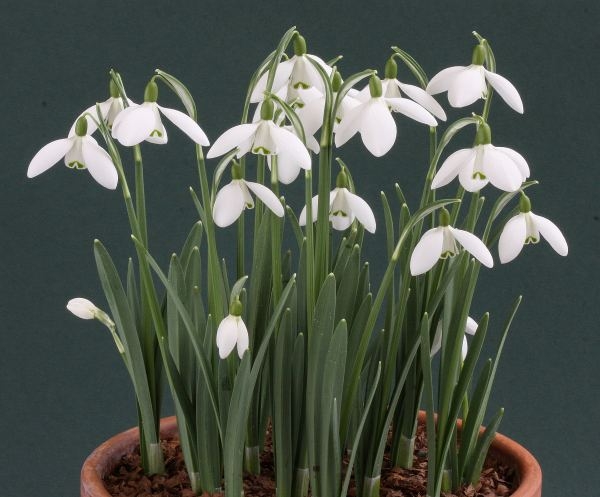 Mike and Christine were also very successful with their Galanthus, winning the Galanthus Goblet, for best pan of Galanthus, with Galanthus 'Ketton'.
Cyclamen alpinum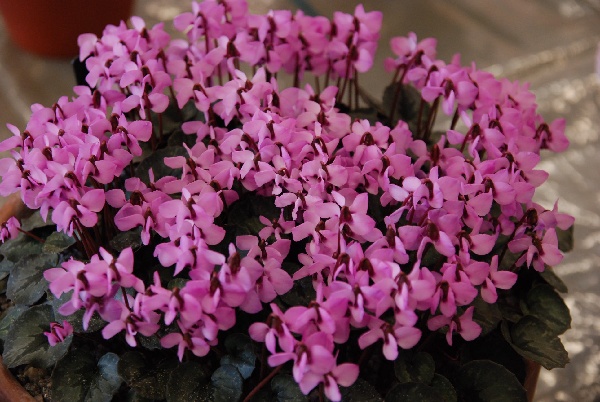 Unlike previous years, cyclamen did not dominate the show bench however there were still some excellent plants on display. Ian Robertson, who also successfully competes at Cyclamen Society shows, achieved a number of awards for his cyclamen at the South Wales show, including a first for his Cyclamen alpinum.
Helleborus torquatus 'Tinkerbell' –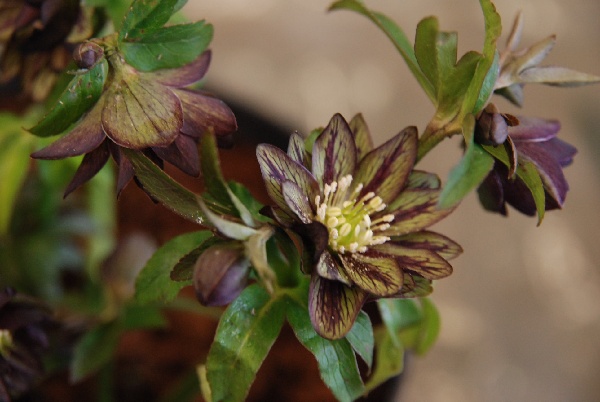 It was not just early flowering bulbs that proved to be popular on the show bench this year. Robin White's Helleborus torquatus 'Tinkerbell', one of a class of three, proved that you don't have to be a bulb to be successful at one of the early shows.
Corybas diemenicus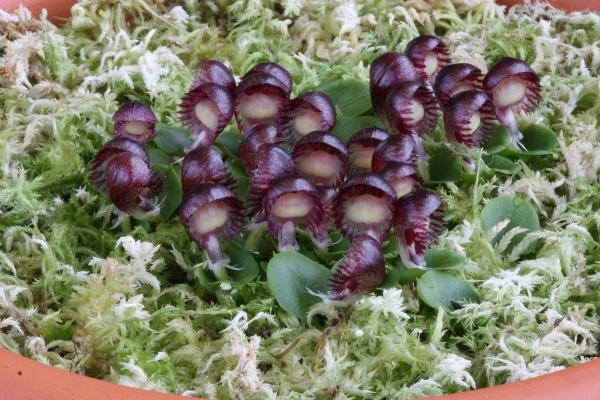 Richard Manuel has been displaying Corybas diemenicus since the South Wales show started, this year achieving a well deserved Certificate of Merit. Originating from Australasia, Corybas diemenicus is relatively easy to grow and flowers in winter in humid conditions. Richard grows his Corybas in well drained soil, with a lot of perlite and grit. His collection of Corybas diemenicus increases rapidly every year, allowing him to put on a consistently good display of this plant.
Iris hrycana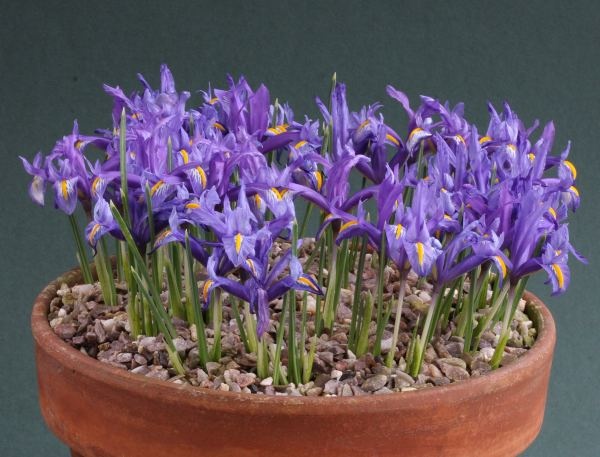 Irises proved to be incredibly popular at this years show, with many winning the bulbous classes and one being named as best plant in show. Eric Jarrett's exhibit originally came for RHS Wisley as a single bulb and is now between ten and fifteen years old. He grows it in a standard mix of perlite, sand and John Innes No. 3, in an open frame which is covered for two months of the year. There are a number of forms of Iris hrycana, Eric's specimen is darker than many. Another exhibit of Iris hrycana, displayed by Bob and Rannveig Wallis, is a smaller form of the species. There is some doubt about whether these plants merit taxonomic separation from I reticulata apart from that fact that they represent the smaller end of the size spectrum and all occur in the Talysh mountains and adjacent ranges of NW Iran.
Crocus chrysanthus 'Cream Beauty'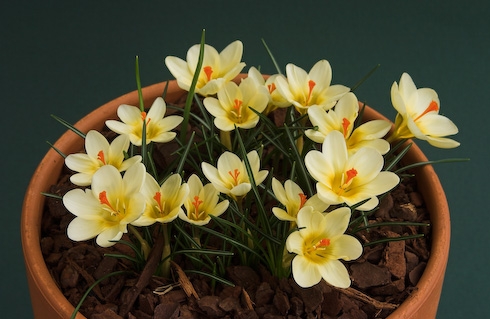 Ann and Michael had an extremely successful show, winning the Gwent Trophy for most points in Section B. Amongst their firsts was a well grown Crocus chrysanthus 'Cream Beauty', a reasonably easy to grow crocus which is readily available from many nurseries. Crocus chrysanthus is also on the 2008/09 AGS seed list.
Galanthus x whittington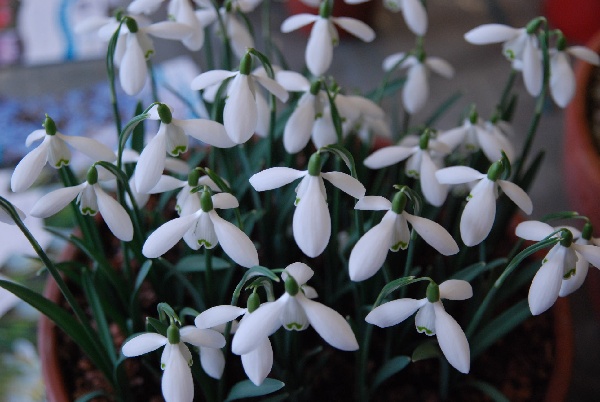 Another success for Mike and Christine Brown was Galanthus x whittington. It came from a friend's garden in Whittington, Shropshire and is believed to be Galanthus nivalis x plicatus hybrid, very similar to Galanthus 'Straffan'. This particular plant is very uniform and reliable and is an excellent garden plant, proving that you don't need near impossible and specialised plants to win prizes.
Crocus reticulatus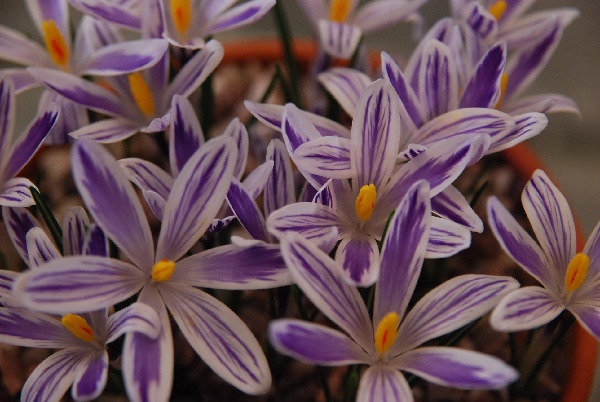 The crocuses in the small Open Section certainly caught the eye of many people who attended the South Wales Show. The extraordinarily delicate nature of the plants, combined with the fascinating colours and variety made them irresistible when walking past. When looking at George Elder's Crocus reticulatus it is easy to see why this was the case, as the unusual alternate patterning of feathering and blocks of brilliant purple against a pure white background attracted the attention of both keen alpine enthusiasts and the public.
Crocus biflorus subsp. nubigena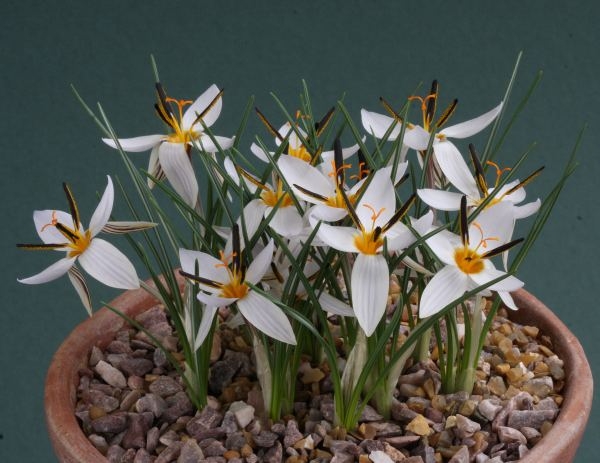 There are around fourteen subspecies of Crocus biflorus, subsp. nubigena is the earliest flowering one, usually bringing some much welcome colour in January. It is found 1500m on Honazola Dag in limestone rich soils in open pine woodland habitats. Robert Rolfe's plant was one corm in 1995 and is now just under fifteen years old. It increases, therefore, very slowly, however when a reasonable number flower, the display is well worth the wait. Alpine plants are characterized by their small nature and when looking at plants such as Crocus biflorus subsp. nubigena, it is easy to see how these small plants can captivate people to the extent that they do.
Robert Amos