Pershore AGS Show, 2006
On a warm summer's day, with schools of swifts skeetering overhead, raspberries in full crop on the adjacent pick-your-own fields, and radio coverage of a Wimbledon final audible from several vehicles in the exhibitors car park, thoughts of a protracted winter and damaging frosts barely registered. But realistically, several of the more eye-catching exhibits at this year's Pershore Show would have been discomfited at the very least, had they not been grown frost-free (which, for purists, translates as 'mollycoddled'.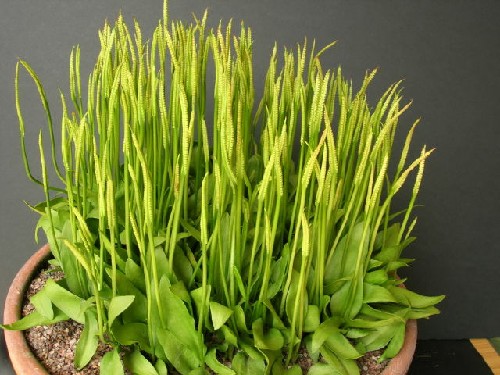 However beautifully grown – and it was, resoundingly so - the reddish-flowered, cold-sensitive Streptocarpus dunnii (a contender for the Glebelands Trophy, awarded to the weirdest plant on display) lay at the boundaries of eligibility for an alpine plant display, ditto a splendid pan of the mottle-leaved Ledebouria violacea, and a Love-in-the-Mist aping, rich blue bellfower relative, Wahlenbergia stricta. In the event, the award went to an indisputably hardy, unarguably bizarre British native, the Adder's Tongue fern (Ophioglossum vulgatum - right), which its owner had found in his Essex lawn, then five years ago transferred to a clay pan where, watered with a concoction based upon horse manure, it had spread to form a mat 25 cm across, less remarkable for the fleshy, mid green, entire basal leaves than for its slender, reedmace-like spikes of bright green, carried in unusual abundance.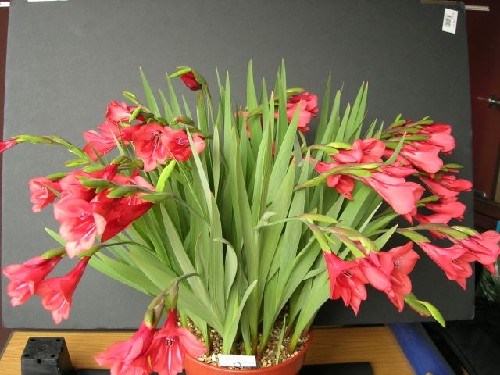 This was an especially well-attended, encouragingly well-supported high summer event, nonetheless made possible by stalwart exhibitors such as Cecilia Coller, who easily won the Hilliard Cup (yet again) for most first prize points in the Open Section, garnering both the small and large six pan exhibit wards en route: her abundant pan of the Drakensberg endemic Gladiolus flanaganii was notable in the latter.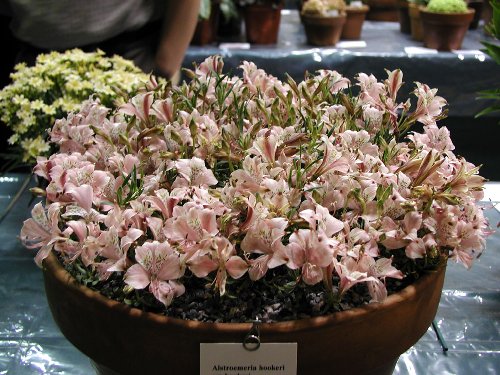 From South Africa to South America; there were fewer alstroemerias on display than in most recent years, but the unanimous vote for best plant in Show went to a beautifully even, large expanse of Alstroemeria hookeri subsp. hookeri. This was from seed sown seven years ago, and appeared in a peak of condition seen on the showbench very few times hitherto: the same exhibitors (Lee & Julie Martin) also clipped some sprigs of the more salmon pink, slightly larger flowered subsp. cummingiana as the plum component in their six pan cut flower entry. (Had they not won the premier award with the alstroemeria, they had another contender as runner-up; a suitably-compact, full of flower Thymus cilicicus.)
The vagaries of the season are even more apparent in summer than in spring; one expects first-rate exhibits shown for foliage effect, but who would have anticipated a ridiculously healthy specimen of the notoriously fickle Daphne glomerata, or a well-flowered specimen of the Partridge Berry (Mitchella repens) only a few feet from another South African curiosity (a bulb with broad, flattened  leaves and a secund spike of greenish-white flowers, Resnova megaphylla?
For more pictures, go to Pershore Show Photgallery.
Robert Rolfe