Pershore AGS Show, 2016
This, the second July show to be held in a large, shaded glasshouse at Pershore College, attracted a good number of exhibitors and visitors. After a wet June, it was good to have a dry day; the weather was initially cool and overcast, but from late morning onwards the sun shone, almost convincing us that summer had returned. The show 'hall' provided excellent lighting and cool conditions for the plants as well as sufficient space for plant sales and refreshments. The benches were much more colourful this year, with a good mix of greenery and flower. Summer shows are always difficult for the exhibitor, for whereas in spring we have shows almost weekly, by summer they are well spaced, so it is decidedly hit and miss whether star plants make it to a show. Speaking to exhibitors I heard accounts of potential exhibits that had been kept cool, or even refrigerated in the week leading up to the show, or, at the other extreme, plants pushed by additional heat to encourage flowers to open.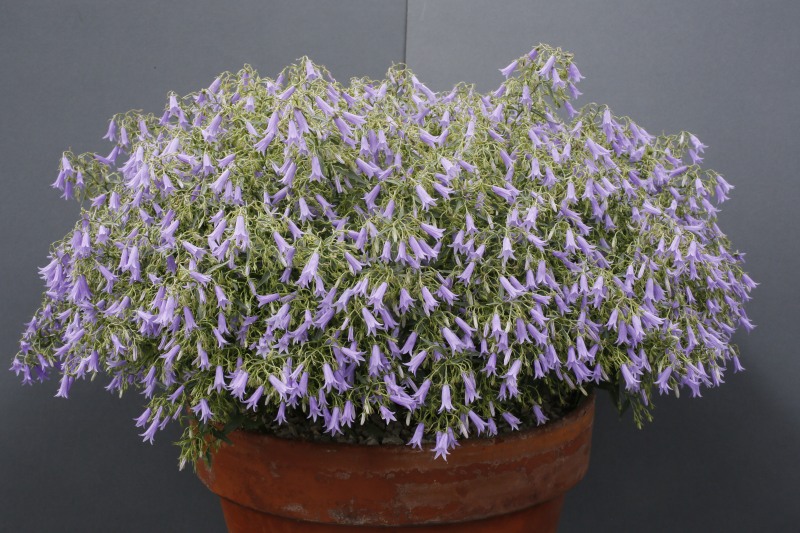 One such, a 36cm pot of Campanula tommasiniana shown by Peter Farkasch, was awarded best-in-show and the Farrer Medal. This 18 year-old specimen was one of the earliest plants acquired when he first became interested in alpines. It grew in a trough for about four years, after which it was potted up and grown under glass. The leaves and stems die back in winter and Peter waits until new growth is evident in spring before removing the previous year's growth, subsequently feeding with bone meal and Vitax Q4. Watering continues throughout the year, increasing in spring and summer. The plant was 'encouraged' into full flower by supplementary heating in the days leading up to the show. This attractive species has an extremely limited distribution in the wild, where it is restricted to the craggy mountains of Croatia's Istrian Peninsula at 600-1,500m.
Four Certificates of Merit were awarded to Physoplexis comosa, Albuca humilis, Dionysia tapetodes 'Peter Edwards' and to a miniature garden. The Physoplexis, shown by Alan and Janet Cook, was impressive with its many clusters of distinctively-shaped flowers – a remarkable number given that the plant was confined to a 19cm pot.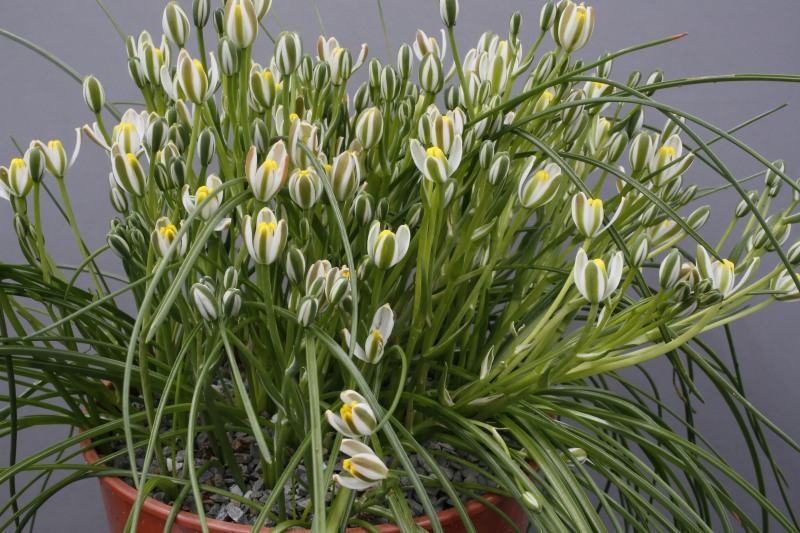 Albuca humilis was shown by top bulb growers Bob and Rannveig Wallis. The plant exhibited was extremely attractive, almost in peak flower (it would have needed to full sun to prevent some blooms from half-closing) and with an interesting and unusual marzipan scent. The species grows in the mountains of the Eastern Cape, South Africa.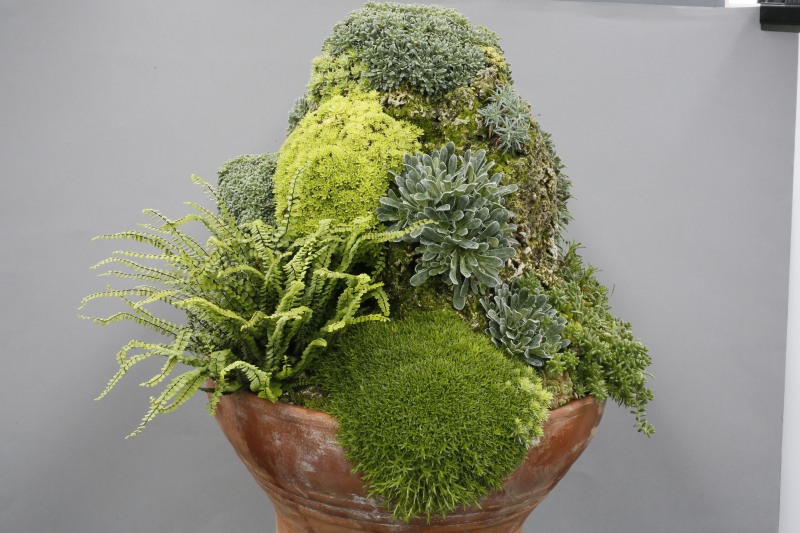 The other two plants selected were out of flower (or almost so in the second case). The large, domed cushion of Dionysia tapetodes 'Peter Edwards', shown by Paul and Gill Ranson, is attractive both in and out of flower, the sulphur-coloured farina covering the leaves, enhancing the rosettes and cushion. The fourth Certificate went to a miniature garden shown by Michael Sullivan. I cannot recall this award being given to a miniature garden before. There was only a single shrub in flower, Fuchsia 'Tom Thumb', but the overall planting of a diverse collection of rock plants (with silver saxifrages particularly well used) on a block of tufa was extremely well done. The garden appeared to be well established, with healthy mature compact plants carpeting the surfaces of the jutting rocks.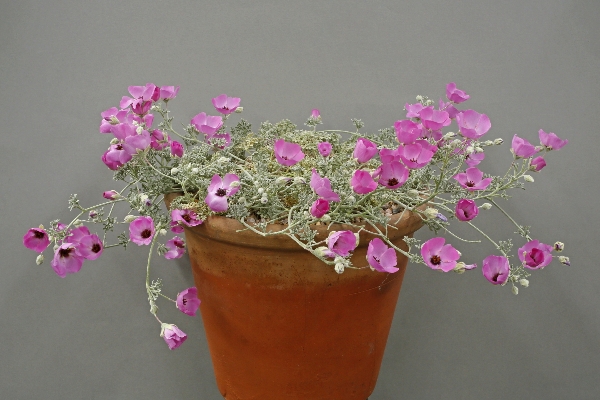 In the class for a plant from the Americas, Robert Rolfe exhibited an attractive member of the mallow family, Lecanophora ruiz-lealii, with eye-catching, gaudy pink, slightly scented flowers. This is a dryland species from the central Patagonian steppe, originating from a Vojtěch Holubec collection at Rίo Mayo (Chubut Province, Argentina). This isolated military garrison town sits in a large depression in the steppe and has little to recommend it to tourists – apart from the springtime flora, which washes the surrounding steppe with colour and perfumes the air with the heady scent of junellias. One hopes L. ruiz-lealii will become established in cultivation; Robert's plants produced fertile seed when they first flowered but only one has survived and this is apparently self-incompatible, the flowers dislocate halfway down the pedicel, fruitless, despite the daily attentions of honey bees.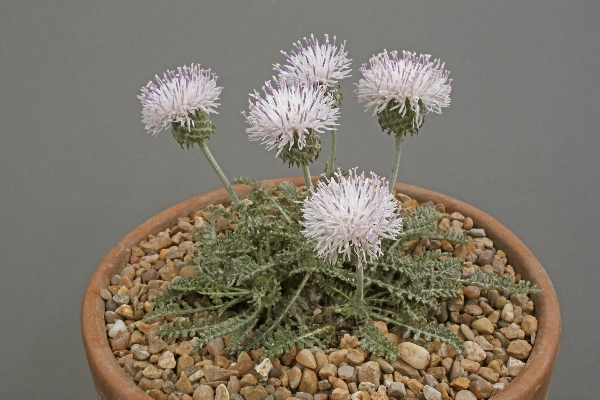 A neat little plant of Jurinea cadmea was shown by Peter Hood in the small Open Section Compositae (Asteraceae) class. This is an attractive member of the family has relatively large flower heads held just above the foliage. Endemic to Turkish Boz Dağ, it grows on rocky slopes at 1,650-1,750m and can have purple-pink, pale pink or (as in this case) white flowers. The plant shown was from Jurášek seed and had responded well to an open compost (John Innes no. 2 and grit) in an unheated greenhouse. The foliage is slightly sticky, making cleaning of the leaves in preparation for shows somewhat difficult. This beautiful species should be propagated and I understand that Peter hopes to collect seed this year.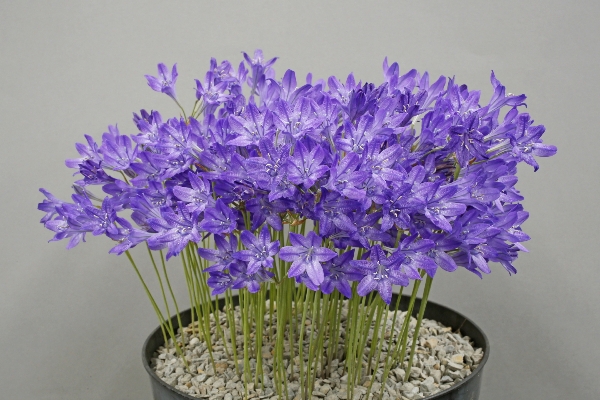 There are plants that have a quiet beauty and need to be searched out on the show bench – and there are others that scream out, blast you with colour and demand attention. Tritelia laxa 'Dexter' [right] and T. laxa 'Double Dexter' fall into this second category. Both were shown by Bob and Rannveig Wallis. The seed was originally from the SRGC Seed Distribution, where it was listed as Brodiaea congesta. Subsequently it was identified as a dwarf form of Tritelia laxa and named after a breed of miniature cattle – the Dexter. The flowers are brilliant blue with a glittering sheen to the tepals. 'Double Dexter' arose as a floriferous chance seedling from the exhibitors' original stock and has neatly doubled, deeper blue flowers. 'Dexter' does well in raised beds, crevice/rock gardens and in troughs as well as in pots under cover.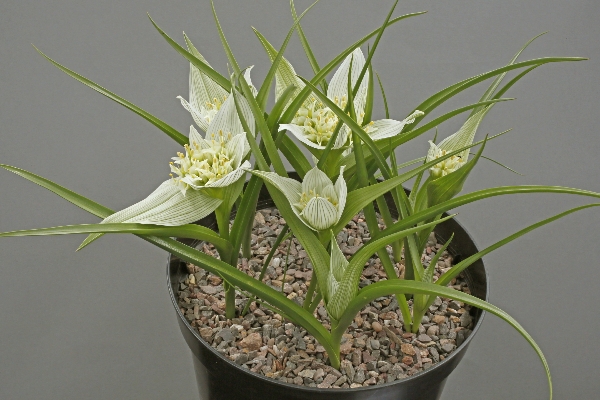 George Elder exhibited a well-flowered pan of Androcymbium striatum. This member of the Colchicaceae grows in damp, rocky soils in the mountains of the Eastern Cape, South Africa. Not an easy plant to grow and to flower well, in cultivation the flower stems are often hopelessly etiolated and sprawling but outdoor cultivation from mid-spring onwards had benefitted the exhibit, despite the overcast late spring. The small flowers nestle within large, white, green-striped bracts, giving the inflorescence an unusual, irregular appearance.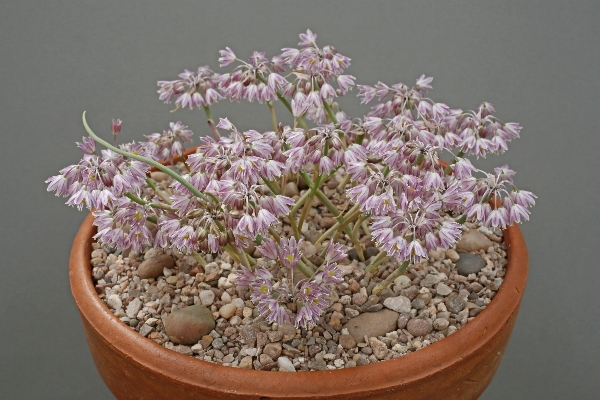 After exhibiting separately for many years, Vic and Janet Aspland have now joined forces. They showed an interesting range of plants, including a number of cacti. Many cacti make excellent rock plants and are cold hardy, with some growing high in the mountains. They make a wonderful, colourful addition to the unheated alpine house and show bench – though some would disagree! Of the many plants benched by Vic and Janet, a diminutive onion, Allium olympicum, attracted attention. The species is recorded from Turkey where it is found in pastures and conifer scrub. Descriptions put this species as growing to 30cm tall but as exhibited it was uniformly small at less than 10cm. This dwarf form was grown from seed obtained from the NARGS Seed List.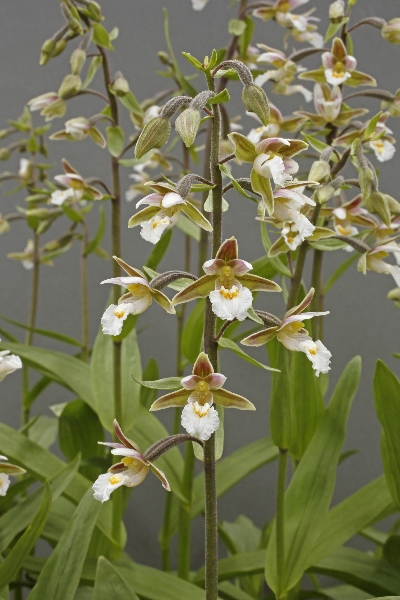 It was too late in the season for some orchids, but a few well-grown plants were exhibited. Brian and Shelagh Smethurst showed a large pan of Epipactis palustris, with neat, clean foliage, the flowers in perfect condition. This species clumps up fairly quickly. The plant shown was about six years old and was grown in a mix of John Innes compost, leaf-mould and bark, kept well watered when in growth. Even when dormant, the plant is kept slightly damp and overwintered in the garage. (The Himalayan E. royleana was also shown in very early flower.)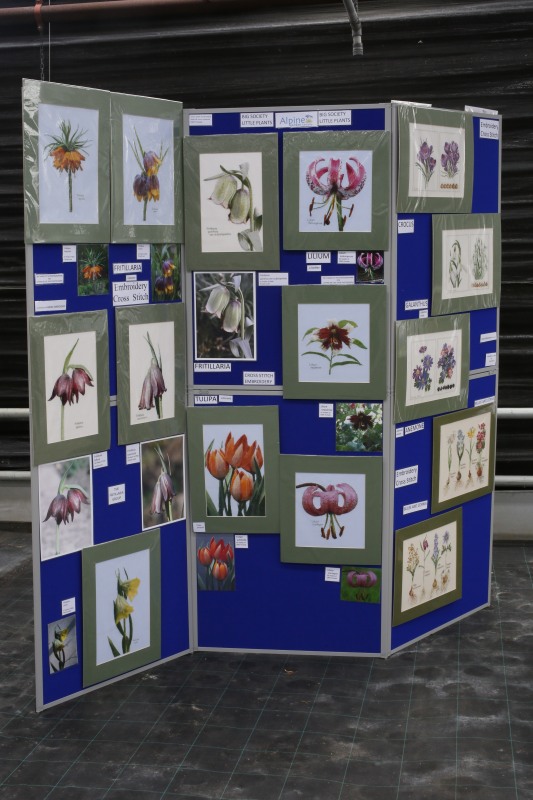 Once again Jean Morris put together a colourful display of embroidery, for which she was awarded a Gold Medal.
Author: Martin Sheader
Photographer: Doug Joyce