Pershore AGS Show, 2015
After a five year tenancy in Tewkesbury, this high summer show returned to Pershore College or, more accurately, to a warehouse-sized commercial glasshouse deep within the campus, surrounded by similar structures and trial plots. Extensively shrouded − thank goodness; it was even so very warm within for much of the day − but nonetheless with good light and far more space than had been the case when it was held in its previous college lecture theatre, this venue easily accommodated a generous selection of nursery stands (in years past it had been necessary to hire a marquee for these, at considerable expense).
The four long runs of benches had plenty of space from one to the next, and visitors were able to mingle relaxedly and chat freely without blocking the progress of others; quite a change from the onlooker traffic jams experienced in smaller show halls. Adding to the congenial ambience there were elements of a county fete – apple and pear juice from the college orchard were served; an enterprising array of straw hats was sported; and while limited seating was provided, one woman brought along a picnic blanket, laid this on the floor at the end of one set of benches and settled down there with her young daughter.
Exhibitors had travelled from various parts of England, including Northumberland, Yorkshire, Wales and the Isle of Wight, but of course their plants originated from much, much further afield, with every continent bar Antarctica represented. Alan Newton had travelled further than most, and brought with him this year's novelty, a dwarf terrestrial orchid from Taiwan and the Ryukyu Islands rejoicing in the name of Anoectochilus formosanus. Echoing the foliage of a more familiar orchid, the North American Rattlesnake Plantain, Goodyera oblongifolia, and Chinese, non-orchidaceous Paris luquanensis, its intricately-veined leaves are white-chased, whereas those of other species are pink-, even bronze-patterned. None of them are reliably hardy (A. burmannicus, named by my forbear, gets to 2,200m; the more widely-grown representative featured here is from bamboo and broad-leaved evergreen forests reaching at most 1,500m) but the judging trio took an indulgent view of this elfin ember of its 30-strong clan, a number of them summer or autumn-flowering. A light, ericaceous compost is required, kept moist (as hinted at by the moss topdressing).
Alan also won the popular small three-pan cushion plant class, where his combination of Androsace vandellii, A. vandellii x hirtella and Benthamiella patagonica won through over seven other entries, all of them good. Staggering how greatly the configuration of the rosettes varies from one species to another, never mind from one genus to the next. Moving to the large pan classes for plants of this sort, the word 'staggering' is doubly applicable, for the weight of the pots certainly caused their owners to adopt this gait as they ferried these from car boot to show bench. Paul and Gill Ranson, who had sensibly turned up early in order to secure a pole position near to the entrance, won the single-pan class against odds comparable with the just-mentioned class by deploying that almost white-farinose selection of Dionysia tapetodes, 'Peter Edwards', while John Dixon vanquished the opposition next door in the three-pan stakes with an efarinose version, 'Kate' (named for his daughter), an elderly Dionysia curviflora JCA 2800 that has waxed and waned over the years, and the silvery-grey, decidedly woolly D. esfandiarii SLIZE 259, unintentionally left in a soak tray too long a few weeks earlier, but seemingly benefitting from the oversight on this occasion: normally, at this time of the year when temperatures soar, it is much better left on the dry side. The combined weight of the clustered 20 or so pots exceeded that of any other area of the benching by a considerable margin: just as well that the supporting tables were sturdy, for a collapse would have wiped out some of the best cushions in the country!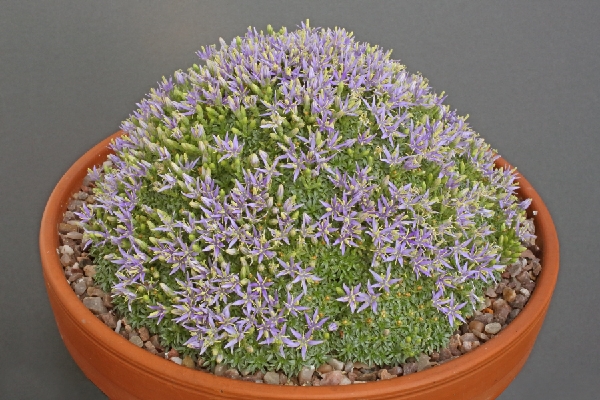 Most of these plants were flower-free but Eric Jarrett (who also won the small single-pan class with the uniquely columnar Benthamiella azorella) brought along that singular Turkish member of the Campanulaceae, Asyneuma pulvinatum, even better flowered and in a larger pot than when last seen two years ago. A prize of the 1977 MacPhail & Watson Turkish expedition (Mac. & W. 5880), it has probably never been successfully re-introduced since. Like a number of such plants in exile, it doesn't always flower reliably, or at all in some cases, and the reasons for this are not properly understood – campanulas and their ilk are typically unstinting in this regard. His Campanula asperuloides (the best of the dozen or more present) was certainly so abundantly flowered that one could not place have inserted another pin in its pincushion: the abundant halo of cream pollen adorning the bristle of styles confirmed that it was at its peak.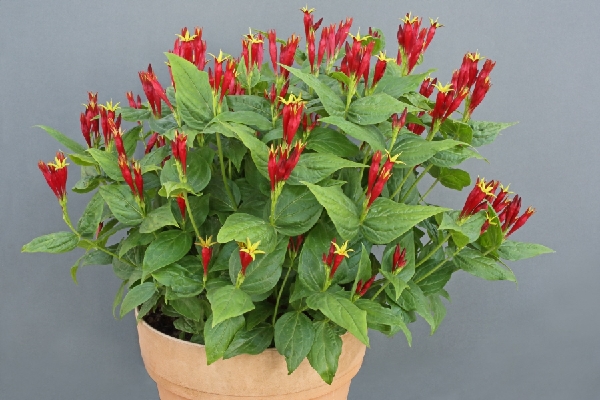 Eric received a Certificate of Merit for the Asyneuma: four plants were celebrated in this way, all bar one of them already distinguished by this accolade in years past. The showiest was Joy Bishop's Spigelia marilandica, now filling a 30cm pan with an abundance of erect shoots, clad with successive pairs of dark green, ovate leaves and topped with a succession of upward-facing, long-tubed, dusky scarlet on the exterior, orangey within flowers expanding elegantly to five-pointed stars. This was from seed supplied by a Trillium correspondent (the species is from the south-eastern United States in the main, across to eastern Texas, and ironically now very rare in its nominate state of Maryland) but forms have been selected by others and are now sold under names such as 'Red Feather' and 'Wisley Jester'.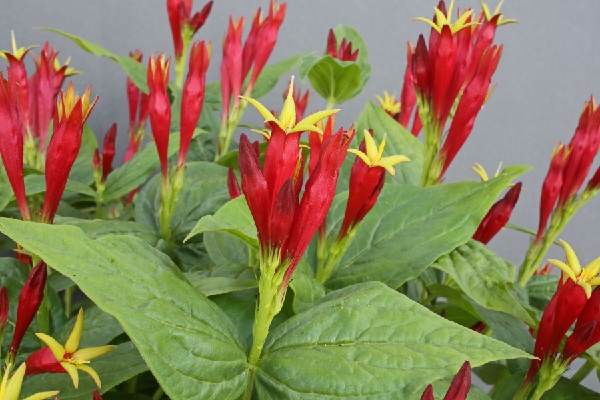 This was a fairly dwarf version of the species, which can attain a height of 60cm but as seen was barely half as tall. With strongholds along the Mississippi, it is a lowland (and mainly a woodland) species, wrongly deemed the sole member of its genus by those who have seen no others in cultivation. In truth there are some 60 others known to science, mainly distributed from this area of the USA down to Argentina, but also represented as far distant as the Malay peninsula.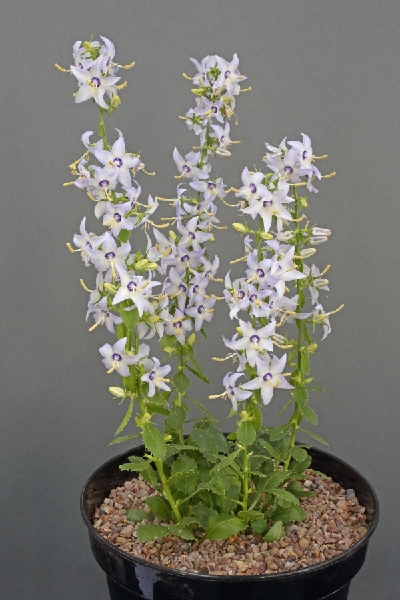 Elsewhere, in a small-three pan entry, Joy had a lovely, four-spike specimen of the primarily Greek but also north-east Italian through to Bulgarian Campanula versicolor [left], sourced from that enterprising Wiltshire nursery Parham Bungalow Plants. The flowers are displayed in virtual candles, with up to 30 apiece as seen, clustered, outward-facing, palish-blue with a darker bullseye, and with pronouncedly-exserted styles. Described from plants grown in England just over 200 years ago, the introduction courtesy of that champion of the Greek flora Professor J. Sibthorp, it has a wide altitudinal range (c. 400-2,100m) and is adaptable to a variety of sites in the garden: I've seen it growing in calcareous walls and on steep, rocky banks, whereas Joy reckons her best plants are those positioned in troughs, where they are soundly perennial. Her exhibit also boasted a well-flowered clump of the North American Primula rusbyi, remarkably in continuous flower ever since she had last exhibited it, almost two months earlier, at the late April London Show. My plant has also recently come into flower, but after a well-deserved late spring rest: what other member of the genus can boast such a late season repeat display and still present itself in fine condition?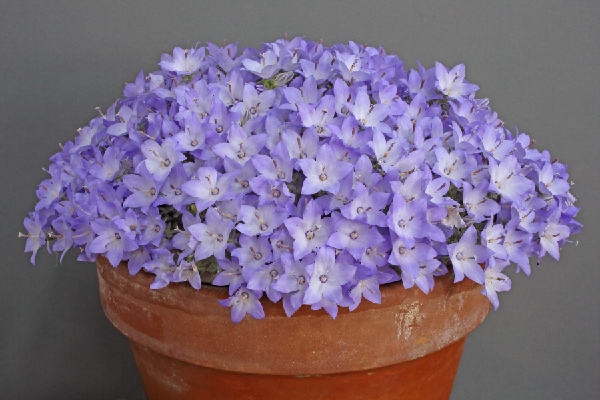 She also exhibited a mature Campanula fragilis, perhaps the best selection (most deeply blue-tinged, most opulent) of the various ones on display, though it was Edward Spencer's abundantly-flowered mound that impressed in particular, winning him his first Farrer Medal. In the stifling conditions that caused both plants and their exhibitors to wilt, it was necessary to remove two dozen spent flowers prior to assessment, but this said there were hundreds of others in their prime, and unlike any of its other examples, this was a vibrant dome that hadn't succumbed to the principal fault of cultivated plants, which all too often are bare at the centre, the stems splayed outwards due to the weight of their display.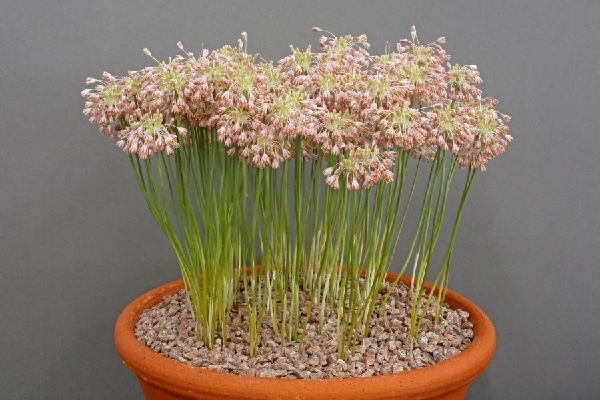 Also taken up for consideration was the prime component of Lee and Julie Martin's large three-pan entry, which also included noteworthy examples of Thymus cilicicus and Campanula raineri x pulla. Obtained from a nursery as the Californian Allium serra, it cannot be that species (the so-called 'jewelled onion', a serpentine endemic from the Coast Ranges with bright pink flowers) and is surely a form of the European/Asian A. paniculatum (this has naturalised further afield, California included). Misquoting very slightly Doris Day's 1956 hit song, this was manifestly not a case of Qué serra, sera'. Around 20cm tall – other forms in commerce are at least twice this height – and with cascades of pale pinkish-brown flowers, it was immaculate as seen, though in truth Lee had spent hours removing all the dying foliage, a pre-requisite when exhibiting this and many genuinely NW American species.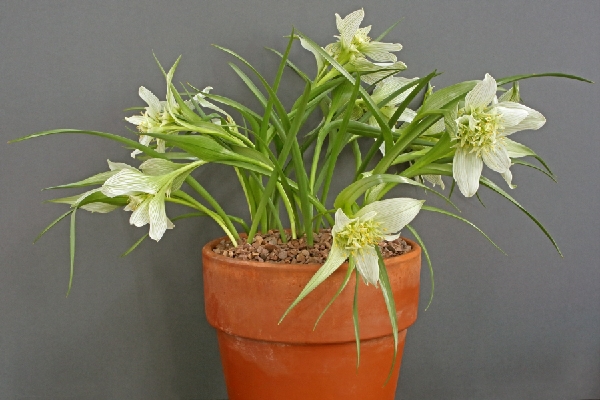 George Elder's now mature clump of Androcymbium striatum, from a December 2001 sowing, was the final Certificate of Merit recipient. Often associated with the Eastern Cape, its full range is much wider, stretching north to Ethiopia (from where it was first described) and across to Angola. Provenance will be important when it comes to hardiness, those that were introduced from its highest occurrences (c. 3,000m) taking unheated conditions easily in their stride. The foliage does not emerge until late May, after frost is no longer a threat in most seasons, and the exhibitor plans to leave the pot outdoors at this stage in future in order to stave off etiolation of the shoots.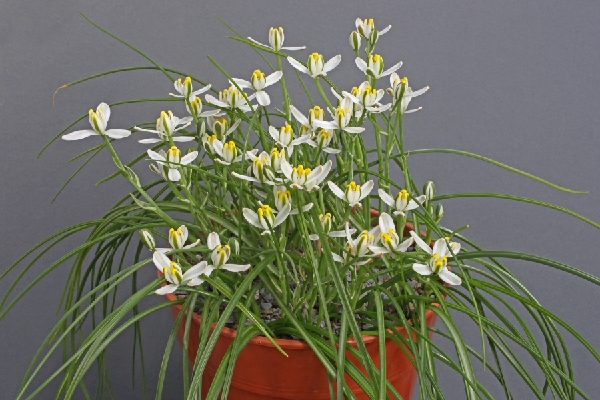 On the subject of staving off unwelcome distortions, it is very much to be hoped that the 2007 study that recommended incorporating the genus within Colchicum is resolutely ignored, just as it would be a great pity to see another distinguished South African in the same class, Bob and Rannveig Wallis's Albuca humilis, subsumed within Ornithogalum. This is one of the first dwarf bulbs from the Drakensberg to have become established in British gardens, from Helen Milford's M 2057 introduction 80 years ago, and remains a personal favourite since I first grew it from AGS Distribution seed in the early 1970s. It too is a native of the Drakensberg, from Eastern Cape to Kwazulu-Natal, growing in seasonally damp, gravelly sites and sparse grassland at up to 2,800m.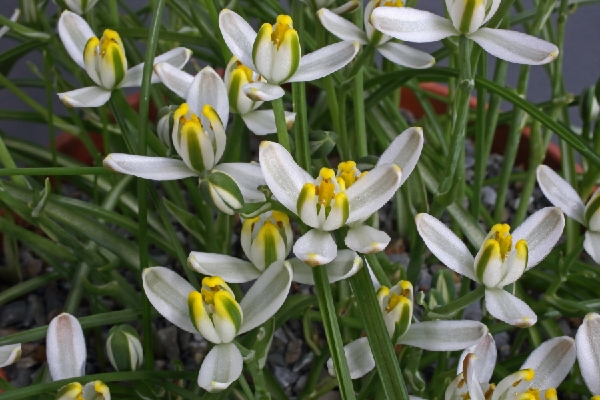 The scent they exude is alluring − not so sickly as marzipan, despite comparisons with this. Almond essence is more like it. This was a fairly robust form but others are only some 5cm tall in flower: I bought several pots of one such from Aberconwy Nursery, carried them home in triumph (all bore seed, and flowering can be achieved in the second year from sowing) then discovered the next morning that a snail had enjoyed a midnight feast – not only are the bulbs susceptible to winter wet, but molluscs can be added to the list of threats. The taller, yellow A. shawii was also trotted out by several exhibitors: hybrids between the two species have been manufactured.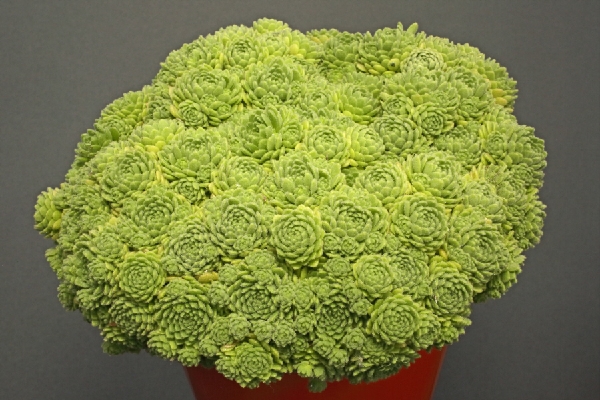 While few on the ground/the show bench, there were some very creditable entries in the Novice Section, Neville Morris's Rosularia chrysantha devoid of its whitish flowers but exemplary for all that, the slightly furred rosettes overlapping its pot and healthy as could be wished. This had been purchased as Sempervivum 'Rosie' – if for no other reason, exhibiting occasionally facilitates the correct re-identification of your plants!
Moving up a gear, it is worth noting that several plants that have previously been highlights of shows held around this time were only to be found in the Intermediate Section. Pauline Carless had a very promising Ourisia polyantha 'Cliftonville Scarlet' (I recall a time, almost 20 years ago, when it was still a novelty, and a plant no larger was considered for the Farrer Medal), while Lawrence Peet had a very laudable run of campanulas, from that showiest of hybrids C. 'Joe Elliott', through a more bud than flower but very well grown C. zoysii, and in particular a 20cm wide clump of C. pulla, the flowers almost navy over a carpet of neat foliage. It's not that I didn't from time to time admire the proliferation of miniature hostas and other foliage plants that were also to be found here. But I'd much rather see a preponderance of bona fide alpines for all that.
We should salute the efforts of the very small team who made this show possible, for it fills an important gap in the 'alpine' year, both horticulturally and socially, that enjoys widespread support but could well do with more helpers. Having been a peripatetic fixture for just over 20 years, one hopes that its future is secure and that plants only at their best long after the main season is over will continue to be paraded in their summer finery.
Author: Robert Rolfe
Photographer: Doug Joyce